In January I go through all my dried herbs and spices discarding those that have lost flavor and aromas. While I'm going through my ritual I'm also thinking about what spice blends I want to have on hand for the new year. I prefer mixing my own spice blends because I mix up smaller amounts so I always have the freshest spice mixes and blends. If you cook a particular type of cuisine you might want to have premixed blends handy This year I'm going to be cooking more Greek-inspired recipes and definitely want to make my own mix.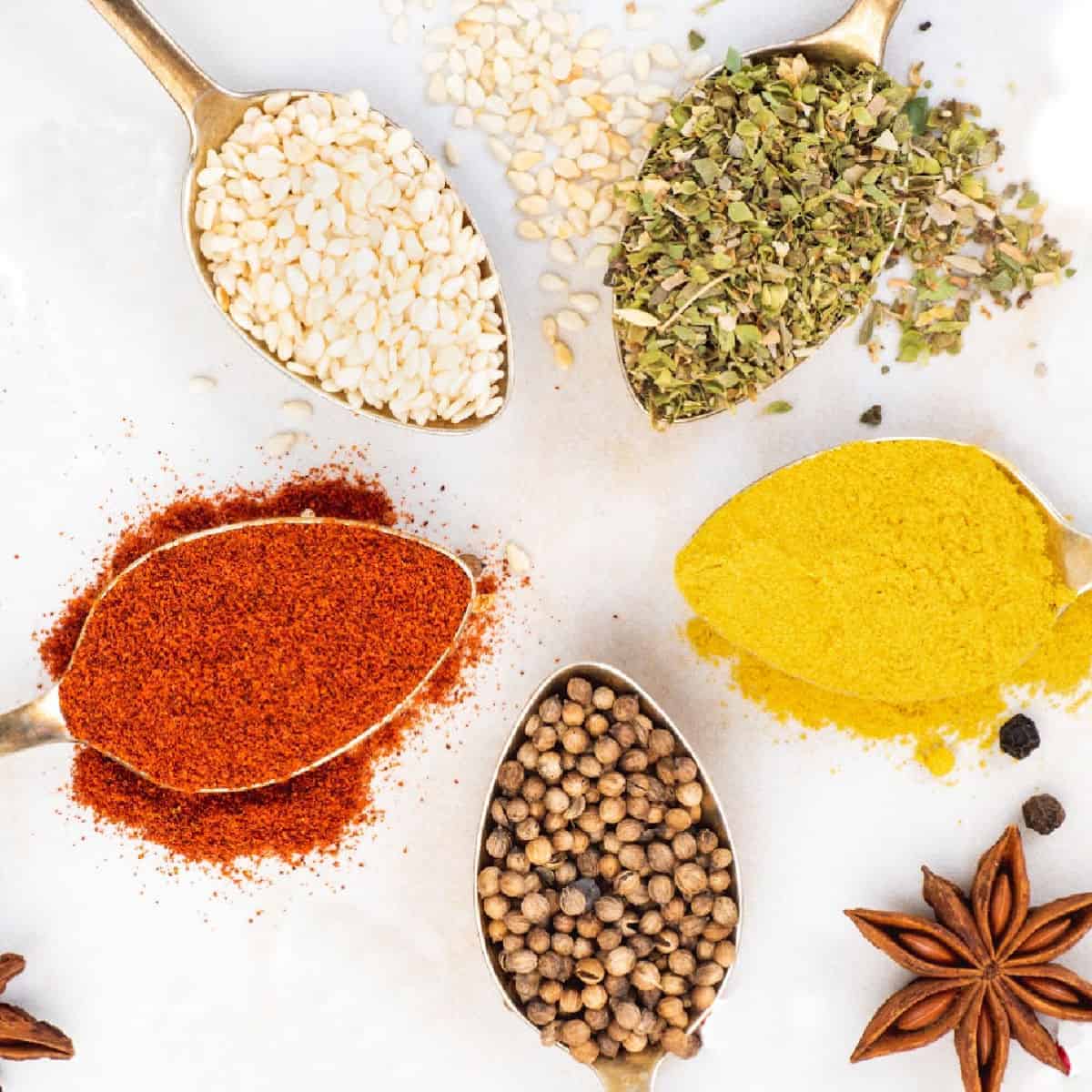 Are you are burnt out on holiday flavors? These DIY blends below can be cut in half, doubled, or tripled.
How to make herb and spice blends
In a small bowl or mason jar bowl, stir together all ingredients.
For best flavor store the mixed blends in an airtight container for up to six months.
1. Spice Mix for Asian Recipes
The simple 1:1 ratio makes this easy to make just enough. The Asian spice blend is great for use in Chinese and Vietnamese recipes. This blend is a great dry rub on chicken, fish, or pork.
1 tablespoon anise seeds
1 tablespoon fennel seed
1 tablespoon ground cinnamon
1 tablespoon whole cloves
1 tablespoon whole peppercorns
2. Spice Blend for Cajun Recipes
Use this blend to add some heat for chicken, steaks, pork, or roasted vegetables recipes.
2 tablespoons salt
⅛ teaspoon cayenne pepper
1 teaspoon black pepper
1 teaspoon chili powder
2 teaspoons garlic powder
3. Seasoning Mix for Creole Recipes
This blend is commonly used in Gumbos and Jambalaya.
2 teaspoons ground paprika
2 teaspoons garlic powder
1 teaspoon onion powder
1 teaspoon dried thyme
1 teaspoon dried oregano
1 teaspoon cayenne pepper
1 teaspoon salt
4. Seasoning Mix for Greek Recipes
This seasoning is amazing on steaks, roasts, chicken, and fish. Sprinkle on all cooked vegetables, also great added into soups, stews, casseroles, and great mixed into scrambled eggs.
¾ teaspoon dried oregano
½ teaspoon dried mint
½ teaspoon dried thyme
¼ teaspoon dried minced onion
¼ teaspoon dried basil
¼ teaspoon dried marjoram
5. Classic Italian Seasoning Mix
A fabulous all-purpose seasoning used in spaghetti sauce, pizza sauce, homemade Italian-style meatballs, fish, and chicken.
3 tablespoons dried basil
1 tablespoon dried oregano
2 teaspoons dried marjoram
2 teaspoons dried thyme
List of dried herbs and spices used to create these five spice blends
These 18 dried whole and spices and herbs are the base for the 5 core blends listed above.
anise seeds
basil
cayenne pepper
chili powder
cinnamon
cloves
fennel seed
garlic powder
marjoram
mint
onion powder
onion, minced
oregano
paprika
pepper, ground
peppercorns, whole
salt
thyme
Food Safety
Consumer Reports has a great article on finding lead and other heavy metals in some dried herbs. Basil is one herb they recommend, if possible to grow and dry yourself. I usually grow a few fresh herbs each year but now I think I'll start drying the herbs I use most often.
Here is the link to the CR report "Your Herbs and Spices Might Contain Arsenic, Cadmium, and Lead".
Can I substitute dried herbs for fresh when using in recipes?
Yes, the standard substitution is one teaspoon of dried herbs for a tablespoon of fresh herbs.