This easy Fettuccine Alfredo recipe is perfect weekdays or weekends alike. Turn a few simple ingredients into a heavenly dinner.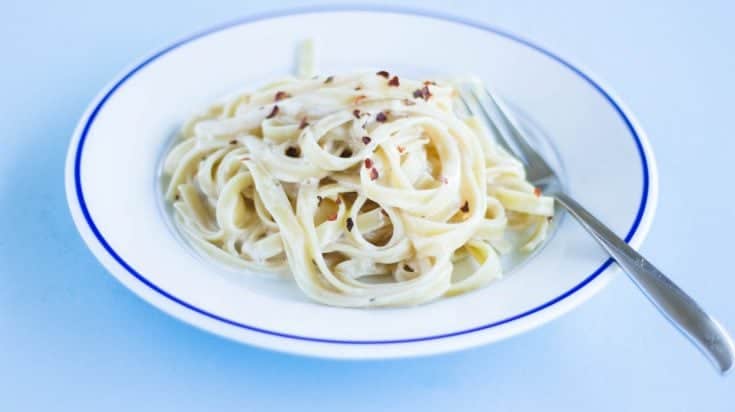 Yield: 4 servings
Fettuccine Alfredo
Prep Time: 15 minutes

Cook Time: 10 minutes

Total Time: 25 minutes

This is my recipe from Italy. It doesn't get much simpler than this
Ingredients
1 box dried fettuccine
3 tablespoons butter
2/3 cup cream
1/2 cup grated Parmesan cheese
1/2 cup grated Gruyere
1/8 teaspoon garlic powder
2 ounces Boursin Garlic & Herb Cheese
red pepper flakes
Instructions
1. Cook pasta according to box instructions

2. Melt butter in large skillet, melt the Boursin, and then stir in cream.

3. Remove from heat and add in the Parmesan and Gruyere stirring until melted and smooth.

4. Add cooked pasta to the skillet and toss to coat the Fettuccine.

5. Sprinkle red pepper flakeson top of each serving of Fettuccine Alfredo.
Notes
For a heartier dish add cooked chicken and Broccoli.