Greek Yogurt Cheesecake is simple quick and just a bit healthier than a traditional cheesecake without giving up the creamy cheesecake taste. The crust is made with vanilla wafers with added lemon paste which pairs nicely with the black berry topping. I keep several variety of St. Dalfour fruit spread in my pantry for a super quick cheesecake topping.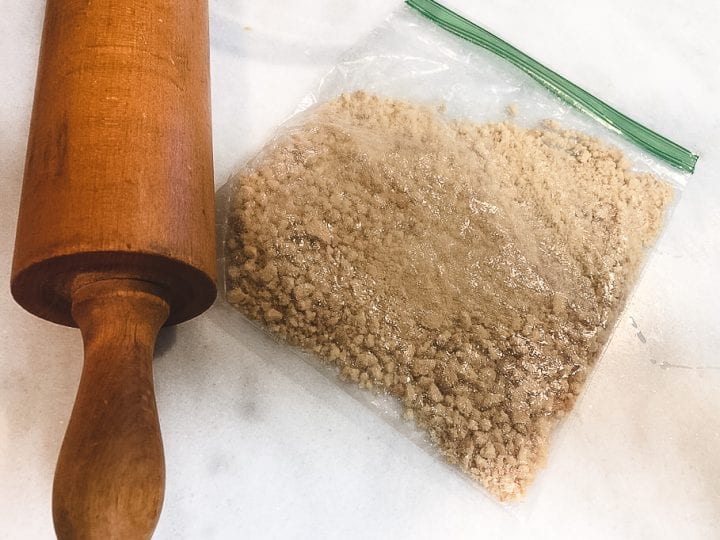 How to make the Vanilla Wafer Crust
The old fashion way is to break up the wafers into small pieces and put into a large plastic bag, then roll a rolling pin over the bag to crush the wafers. Turn the bag over several time to get all the crumbs finely crushed. The quick way is to use a small food processor like the 3.5 cup Kitchenaid processor, however this involves a little clean-up afterwards. I'll use my processor when making a larger cheesecake crust, and the bag method when making a small 5-6 inch cheesecake.
Crush 20-22 vanilla wafers in a plastic bag or food processor.
Add the butter and lemon extract and mix until moist.
Press this into the bottom of a greased 6 in Springform pan.
Press down gently, but firmly until the crust is evenly distributed on the bottom of the pan
Bake in a 325 degree oven for 5 minutes, set aside while you make the cheesecake batter
You use the same process for a graham cracker crust.
More Cheesecakes
Small Banana Chocolate Chip Cheesecake
Easy Cream Cheese Pie with Lemon and Sour Cream Topping