Ever wonder how many ways you can cook eggs? Well, there are so many ways to cook an egg it can be overwhelming, so in the spirit of simplicity, I have listed six simple ways I prefer to cook an egg.
Let's start cooking perfect eggs and enjoy them for breakfast, lunch, or dinner.
For an easy and popular party or potluck egg dish try my simple deviled eggs recipe.
Table of Contents
How to Scramble Eggs
This is probably one of the first ways you learned to cook eggs and one of the most versatile.
In a small bowl beat eggs with a whisk or fork until yolks and whites are broken, mixed, and slightly foamy.
Add a small amount of milk and mix.
Heat butter in a skillet until melted and the skillet is hot enough to sizzle when a drop of the egg is added.
Add the eggs to skillet and reduce heat, stirring the eggs with a wooden spoon until cooked to desired firmness.
I also like to add a small amount of cream cheese to the eggs during cooking to give a creamier richer texture and flavor.
A simple scrambled egg topped with chopped tomatoes and sliced avocado is quick and healthy breakfast.
If you are curious about how to make fluffy scrambled eggs you have come to the right place. It's easy with just these few simple tips.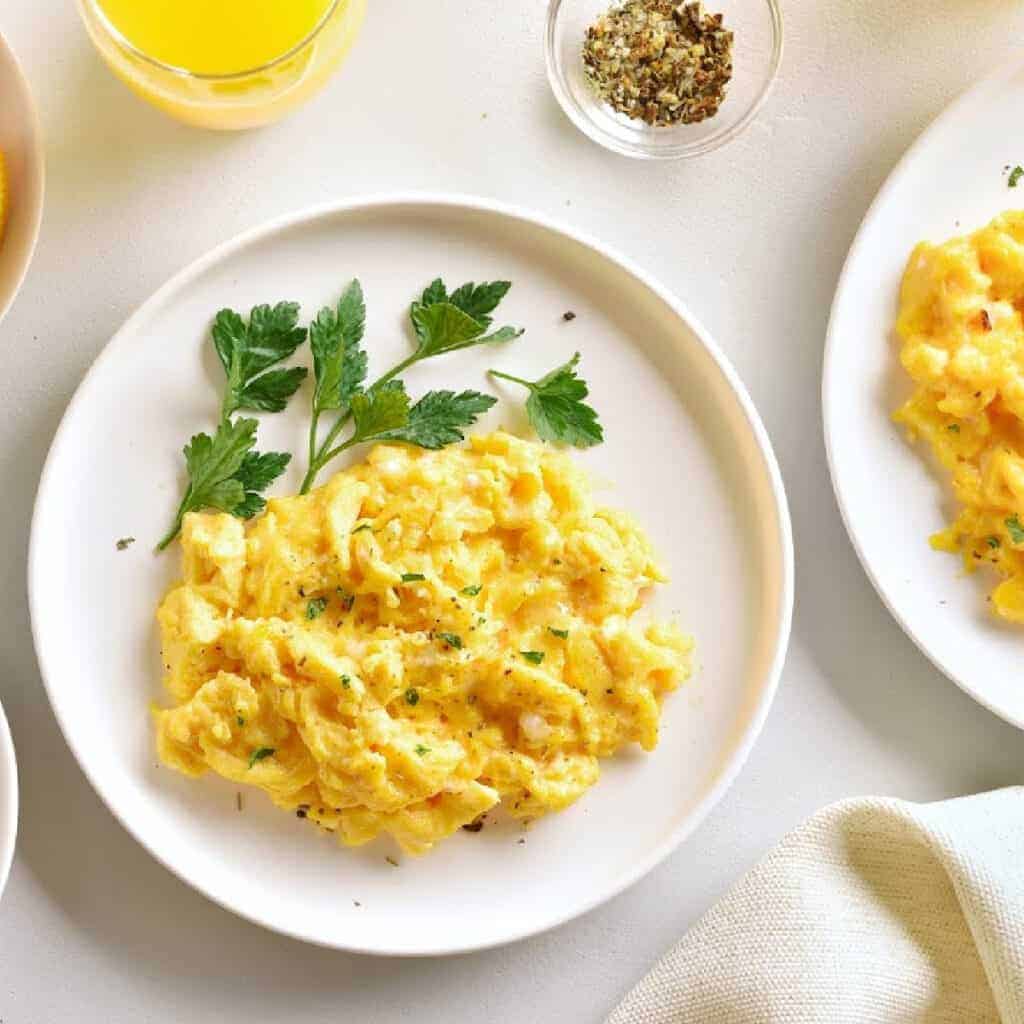 How to Bake Eggs (Shirred Eggs)

Melt 1 teaspoon of butter in a muffin cup and break one or two eggs into the cup.
Sprinkle with salt and pepper or another seasoning, I like to use a little basil with a couple of chopped cherry tomatoes.
Bake in a 350-degree oven until eggs are firm but not hard, about 15 minutes.
Optional additions: Sprinkle grated cheese on top of eggs before baking.
Tip: Spooning liquid over eggs while they bake can help prevent drying.
How to Fry an Egg
Heat butter in a skillet (cast-iron preferred) until melted and the skillet is hot enough to sizzle when a drop of the egg is added.
When butter is melted crack eggs into a small bowl and slide the egg into the heated skillet. Reduce heat to low.
Cook eggs until the whites are set.
Flip eggs with the spatula and continue to cook until yolk reaches desired firmness.
To test egg yolk, gently press with the spatula to check for firmness
Growing up we only fried eggs in a cast-iron skillet, who knew my Dad was a Cowboy!
Tip: If heat is set too high, it results in a rubbery and tough egg.
How to Hard Boil Eggs
Place eggs in a medium saucepan and cover eggs with cool water. Over medium heat bring the water to a boil.
Remove from heat and cover the saucepan. sit for about 14 minutes.
Remove eggs from the saucepan using a slotted spoon and place them in a colander.
Gently tap the end of the egg to form a little crack and run cold water over eggs to cool down. Cracking the shell a little bit makes for easier peeling.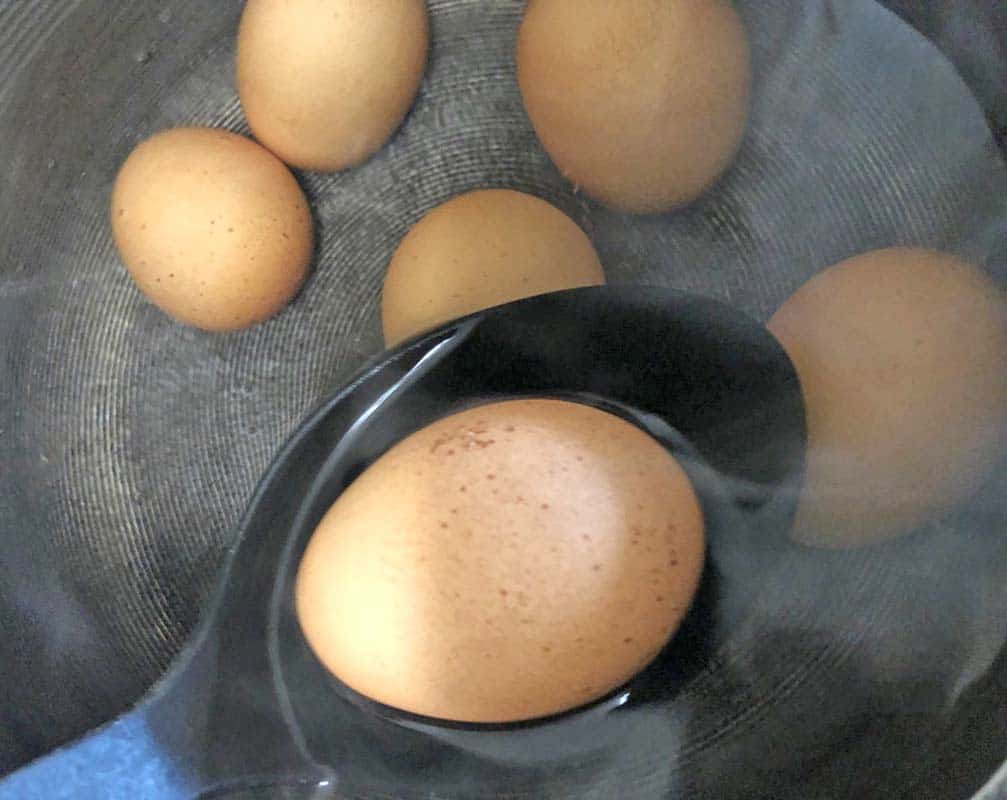 Perfect Soft Boiled Eggs
Place eggs in a small saucepan and barely cover eggs with water. If cooking more than two eggs, use a medium saucepan. Over medium heat bring the water to a boil.
Remove from heat and cover the saucepan. Let sit for about 5-6 minutes, depending on how soft you want the yolk. A 6-minute egg results in a smooth and creamy yolk that is perfect.
Remove eggs from the saucepan using a slotted spoon and transfer to a colander. Pour cool water over the eggs to cool down just enough to handle without burning your fingers.
Gently tap the end of the egg and peel.
Place the peeled egg over buttered toast and split open to let the creamy yolk cover the toast.
How to Cook A Poached Egg
Fill a small saucepan with water and bring to a boil. Reduce heat to a slow simmer.
Crack an egg in a small bowl.
Add 1 teaspoon of vinegar to the water, and crack the egg into a small bowl or ramekin.
Stir the water with a wooden spoon to create a swirling effect in the water.
Gently slide the cracked egg into the swirling water. Maintain a slow simmer.
Let the egg cook until it has reached the desired firmness. Continue cooking for about 3 ½ minutes for a poached egg with a soft runny yolk.
Use a slotted spoon to remove the egg and set the spoon on a paper towel to drain the remaining water.
Serve immediately.
Eggs Anytime
Gruyere and Olive Quiche Recipe for a Simple Summer Meal
Does the color of the eggs shell affect the egg's nutrients?
No, it's the breed of the hen that determines the color of her eggs. Nutrient levels are not significantly different in white and brown shell eggs.
What does it mean when an egg floats in water?
An egg can float in water when its air cell has enlarged sufficiently to keep it buoyant. This means the egg is old, but it may be perfectly safe to use. Crack the egg into a bowl and examine it for an off-odor or unusual appearance before deciding to use or discard it. A spoiled egg will have an unpleasant odor when you break open the shell, either when raw or cooked.
What makes hard-boiled eggs hard to peel?

The fresher the egg, the more difficult it is to peel after hard cooking. That's because the air cell, found at the large end of the shell between the shell membranes, increases in size the longer the raw egg is stored. As the contents of the egg contracts and the air cell enlarges, the shell becomes easier to peel. For this reason, older eggs make better candidates for hard cooking.
Whats the shelf life of pickled eggs ?

Pickled eggs are hard-boiled eggs marinated in vinegar and pickling spices, spicy cider, or juice from pickles or pickled beets.
Studies done at the American Egg Board substantiate that unopened containers of commercially pickled eggs keep for several months on the shelf. After opening, keep refrigerated and use within 7 days. Home-prepared pickled eggs must be kept refrigerated and used within 7 days. Home canning of pickled eggs is not recommended.
Handy Egg Storage Chart
| | | |
| --- | --- | --- |
| Product | Refrigerator | Freezer |
| Raw eggs in the shell | 3 to 5 weeks | Do not freeze. |
| Raw egg whites | 2 to 4 days | 12 months |
| Raw egg yolks | 2 to 4 days | Yolks do not freeze well. |
| Hard-cooked eggs | 1 week | Do not freeze. |
| Casseroles made with eggs | 3 to 4 days | After baking, 2 to 3 months. |
| Eggnog, store-bought | 3 to 5 days | 6 months |
| Eggnog, homemade | 2 to 4 days | Do not freeze. |
| Pies, pumpkin or pecan | 3 to 4 days | After baking, 1 to 2 months. |
| Pies, custard and chiffon | 3 to 4 days | Do not freeze. |
| Quiche with any kind of filling | 3 to 4 days | After baking, 1 to 2 months. |
information is from USDA