Fresh Lemon Berry Trifle is an elegant and grown-up dessert, yet so easy to make. The versatile Trifle can be made with any combinations of fresh fruit and homemade whipped cream or custard. The abundance of fresh fruit this time of year makes this a perfect summer treat. To save a few minutes you can use a premade whipped cream. However, for a more delicate and fresh flavor, I highly recommend going the homemade route.
What is Trifle?
Trifle is an easy dessert made with fruit, a thin layer of cake or ladyfingers, and a custard or cream layer.

How to Build a Perfect Berry Trifle:
Prepare all the separate elements before you begin to assemble the trifle.
Start with the right glassware. Those big glass dishes can be overwhelming when you just need a dessert for two people. Smaller individual trifle bowls are available and every smaller household should own a pair.
When making a berry trifle use a denser cake like a pound cake for the base. Brownies work well if you prefer a sweeter base. I avoid a light an airy cake which may very well end up a soggy mess and ruin the look of your pretty Trifle. Cut the cake base into a circle using a cookie cutter or cut in small cubes to make it easier to assemble.
After adding the pound cake base add a light fluffy cream layer then a layer of berries. The quickest way to make the whipped cream is using an immersion blender (this is the one I use), it's compact and easy to use. I've linked to my homemade lemon curd recipe which is super simple and can be made a couple of days ahead.
Repeat the steps until the dessert cups are filled to the top, ending with a layer of cream. Garnish fresh fruit and a sprinkle of graham cracker crumbs.
If you want something a little more like a berry sauce, place all the berry ingredients in a small saucepan, add a teaspoon of cornstarch and bring to a simmer. Stir constantly for a couple of minutes, then let cool down before layering.
Alternate Cream Layer
If your short on time or just want a healthier alternative made with less fat, replace the lemon cream layer with vanilla yogurt and mix in the lemon curd. For an even simpler dish, ready in a just a few minutes try a creamy lemon yogurt, the result is a lemon berry trifle in under 10 minutes.
Trifle Make Ahead Tips:
Wash your berries in the morning on the day you want to serve the Trifle. Before layering make sure they are completely dry.
You can also whip up the lemon cream in the morning after washing the berries. The cream may lose a little volume, but you can revive with a quick whip right before layering.
If making a berry sauce you can make this a day ahead and cover and refrigerate until ready to assemble the trifle.
Homemade lemon curd can be made a couple of days ahead or you can purchase pre-made jars at most grocery stores.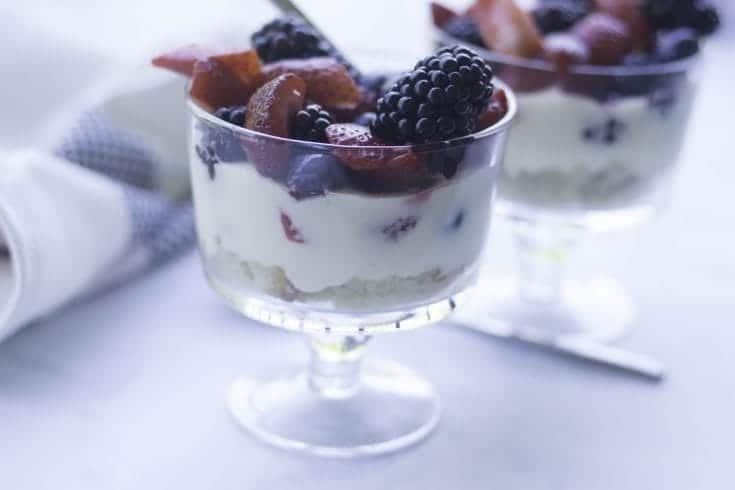 Yield:

2 servings
Lemon Berry Trifle for Two
Assembly Time:
10 minutes
A quick and easy dessert for two. Creamy lemon filling topped with summer ripe berries.
Ingredients
Berry Layer
1 cup fresh blackberries
½ cup blueberries
1 cup fresh strawberries, hulled and sliced thick
2 teaspoons lemon juice
1 teaspoon sugar
Lemon Cream Layer
½ cup heavy whipping cream
1 teaspoon powdered sugar
¼ teaspoon vanilla extract
⅓ cup lemon curd
Cake Layer
2 slices of pound cake, about ½ of an inch thick
Instructions
Reserve a few fresh berries to place on top of the final cream layer. In a medium bowl combine the berries, lemon juice, and sugar. Lightly stir to coat and let sit while preparing the cream layer. This gives the fresh berries time to release their juices.
In a medium bowl add the whipped cream, sugar, and vanilla. Using an immersion blender or hand mixer beat on medium speed until soft peaks form.
In a separate medium bowl, add the lemon curd and slowly fold in the whipped cream mixture.
Add a layer of pound cake to each small dessert bowl.
Add a layer of lemon cream and a layer of berries with juice.
Cover with plastic wrap and refrigerate until well chilled.


Nutrition Information:
Yield:
2
Serving Size:
1
Amount Per Serving:
Calories:

639
Total Fat:

37g
Saturated Fat:

20g
Trans Fat:

1g
Unsaturated Fat:

13g
Cholesterol:

162mg
Sodium:

323mg
Carbohydrates:

74g
Fiber:

7g
Sugar:

54g
Protein:

8g
The nutritional information provided here are estimates and are not calculated by a registered dietician.