Serve these meatball appetizers just to hear all the YUMS!! coming from your guests in between bites. Have recipe cards ready or let them know you found the recipe here.
If you don't have the time to make the meatballs from scratch then you can always use frozen home style or spicy meatballs. For an office potluck lunch I have taken the frozen meatballs and sauce to work, then plugged in slow cooker in the morning and by lunch my potluck dish is ready.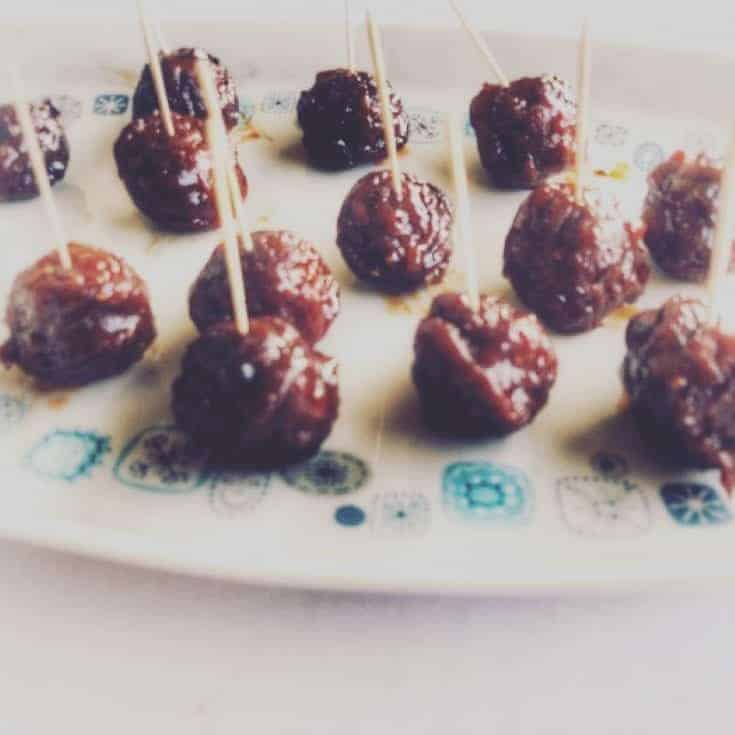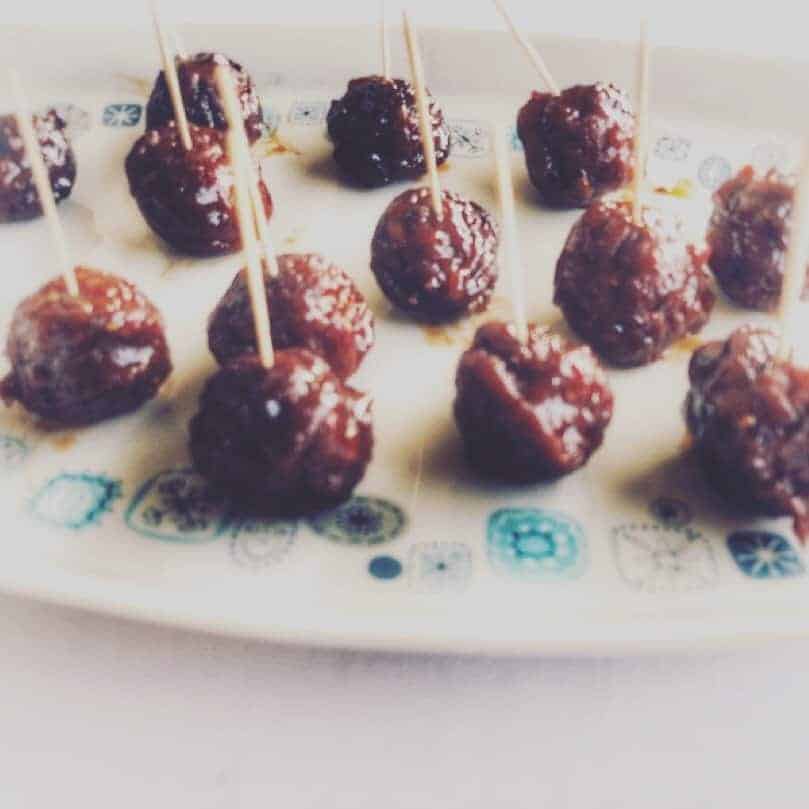 Yield:

28 meatballs
Simple Slow Cooker Meatball Appetizers
Total Time:
4 hours
5 minutes
Bite size party platter meatballs.
Ingredients
1 bag small fully cooked homestyle meatballs
1 cup raspberry jam
1 cup apricot preserves
1/2 cup BBQ sauce
1/2 Cup Ketchup
Instructions
In a smalll 2 quart slow cooker layer meatballs and sauce alternately. Cook on low for 4hours.
when done arrange on serving dish and insert toothpicks for easy potluck appetizers
This recipe can be made ahead of time. These spicy meatballs are also great tucked into a french roll for a meatball sandwich.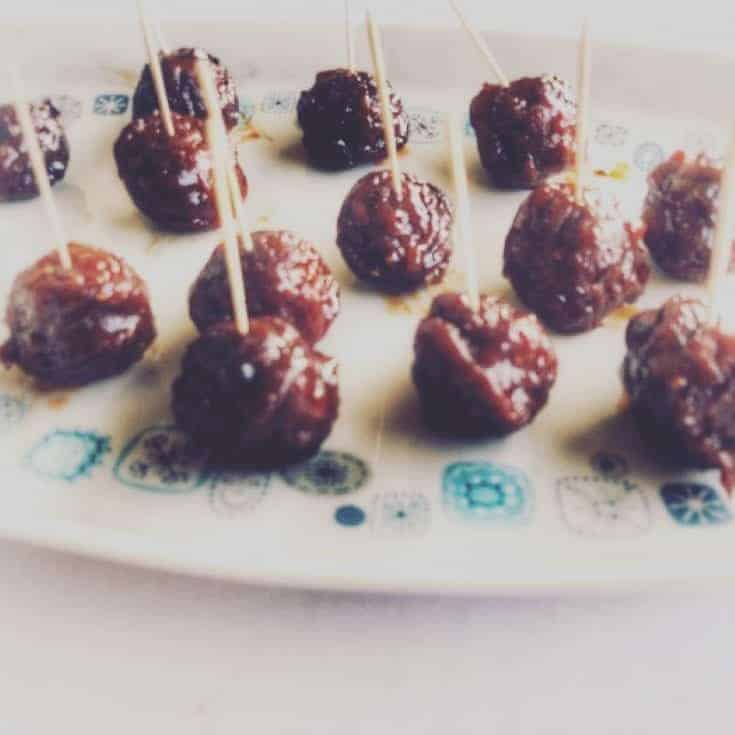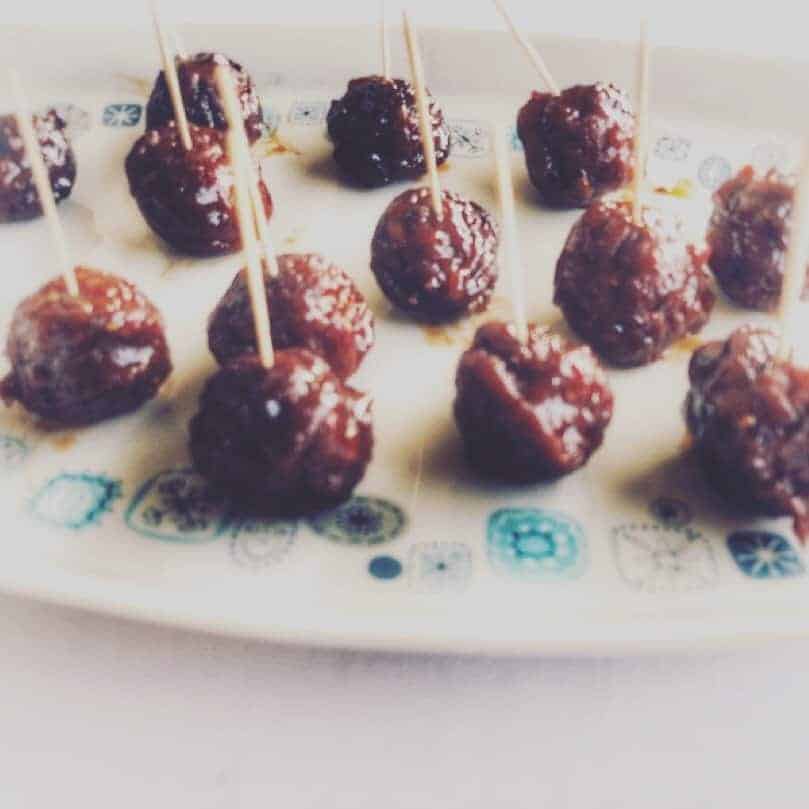 Yield:

48 meatballs
Potluck Spicy Meatballs
Total Time:
1 hour
20 minutes
Homemade bite size meatball appetizers.
Ingredients
Meatballs
2 pounds lean ground beef
1 tablespoon chili powder
2 eggs
4 cloves garlic
1 tablespoon chili powder
1/4 teaspoon black pepper
1 teaspoon salt
1 cup bread crumbs
2 tablespoons butter
1 tablespoon olive oil
1 1/2 cups apricot preserves
Meatball Sauce
1 1/2 cups raspberry jam
1 cups bbq sauce
1 cup ketchup
Instructions
Prehe`at oven to 350
In a large skillet, heat the olive oil and melt the butter over a medium heat.
Add onion and garlic and cook until onions are soft, about 5 minutes.
Transfer the skillet mixture to a large bowl.
Add the eggs, bread crumbs, chili powder,cayenne, saldt and pepper, and mix well.
Add the grou`nd beef and mix until all the ingredients ar combined.
make small 1 inch diameter meatballs and place on a broiler safe pan.
Bake for about 30 minutes or until the internal temperature reaches 165 degrees.
In a smedium size bowl mix together the jams, ketchup and BBQ sauce,
In a 5 quart slow cooker add a layer of the sauce and then a layer of meatballs until all the sauce covers the meatballs.
Cook on low for about 5 hours.
Notes
Serve as an hor'd'oeuvres for your next potluck.