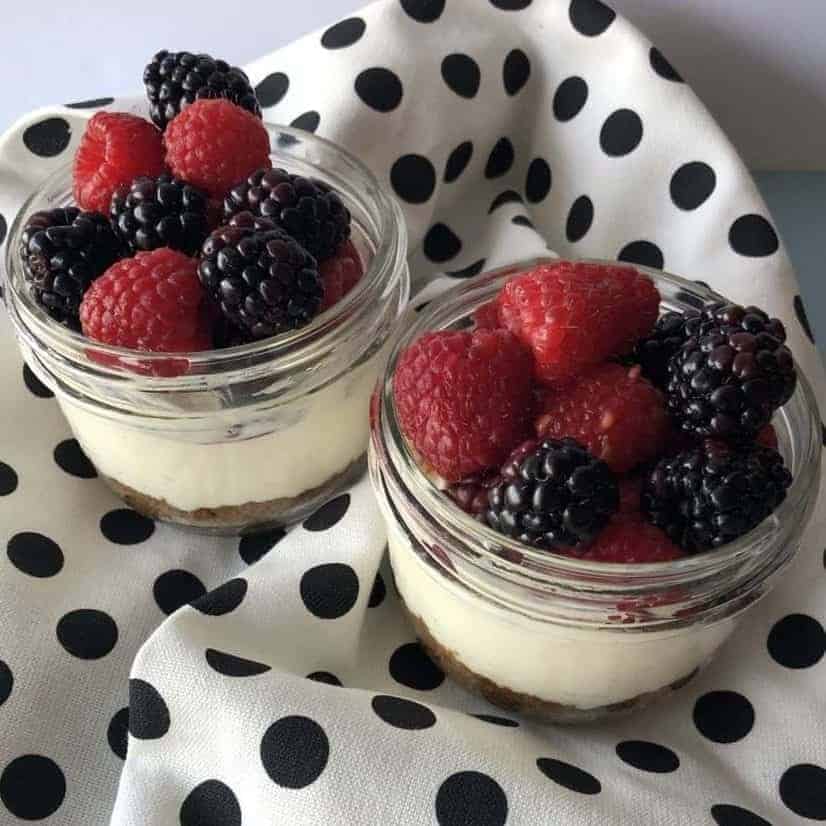 Easy and creamy no-bake strawberry cheesecake topped with fresh berries is an easy summer dessert. Serve these in half-pint wide mouth mason jars or another single-serving baking dish.
A perfect simple dessert for any time of the year. If fresh fruit is not available try frozen berries or other seasonal fruit. For an alternate and simple topping, a raspberry jam or a lemon curd works nicely.
Ginger snap cookies give this mousse a little extra flavor zing or this recipe also works well with a basic graham cracker crust.
Ingredients
What you need to make the Ginger Snap Crust:
10 gingersnap cookies
3 tablespoons butter, melted
What you need to make the filling:
8-ounce cream cheese, room temperature
3/4 cup heavy cream
3 tablespoons sugar
1 tablespoon lemon juice
1 teaspoon vanilla extract
Instructions
How to Make the Crust
Break ginger snaps into small pieces and pulse in a food processor or blender until finely ground

In a medium bowl, mix together crumbs and melted butter. Mix until crumbs are moistened.

Divide evenly between four (4) half-pint wide mouth mason jars. Press on the mixture with your fingers or the bottom of a small glass to compact the crust.
How to Make the Filling
In a large bowl, combine cream cheese and sugar, and blend until combined and smooth.

In a small bowl add the heavy cream and whisk until soft peaks are formed.

Add in the vanilla, lemon juice and whipped heavy cream to the cream cheese mixture. Mix together.

Spoon the cream cheese mixture evenly into each mason jar. Cover lightly and refrigerate for 2 hours before serving. Top with fresh fruit before serving.
My tasty Cheesecake Mouse recipe takes just 15 minutes to prepare and should be chilled for about 2 hours before serving.