Growing up, old fashion chicken and dumplings stew was in frequent rotation during the chilly Fall weather. Chicken and Dumplings is an old fashion comfort food that's so easy to make!
How to make Dumplings from Scratch

When I was young Mom made the dumplings from scratch, in her later years she switched over to using Bisquick. I always have Bisquick in the cupboard and the ingredients handy to make a quick batch of dumplings from scratch. I give my dumplings a little extra yumminess by adding apple juice and butter. If your feeling like experimenting make a half batch of from scratch and half batch Bisquick, and compare the flavor.
If you want a simple from scratch dumpling recipe, try this one.
1 cup all purpose flour , 1 tablespoon baking powder, 1 teaspoon salt , 1 whole egg, beaten , 1 cup milk
Combine flour, baking powder and salt. Make a well in the center and add the beaten egg and milk. With a large fork spoon mix until well blended.
use a tablespoon or small cookie scoop to drop the dumpling dough into the stew. Cook 10 minutes uncovered. Cover pot and cook another 10 minutes.
Should you use precooked chicken or cook your own?
here are three options:
If you have some chicken in the fridge and a little time go ahead and cook your own chicken. Rub a little olive oil or butter under skin and season with salt and pepper. After seasoning the chicken, pan-fry or roast. When thoroughly cooked, skin and cut the chicken up into large pieces.
You can also boil the chicken in water and use the liquid instead of store bought chicken broth.
Short on time? Buy already cooked whole chicken from a hot bar or deli counter at your local grocery store. Skin and cut the chicken up into large pieces.
In a 4-5 quart Dutch oven heat the milk and stir in 2 tablespoons of Bisquick Mix. This will be the base for a nice thick sauce.
Add the chicken stock and carrots and simmer for 10 minutes. Next add the peas, and cooked chicken and add the dumpling dough with a tablespoon or cookie scoop. Drop the dough on top of the stew, don't push it down into the liquid.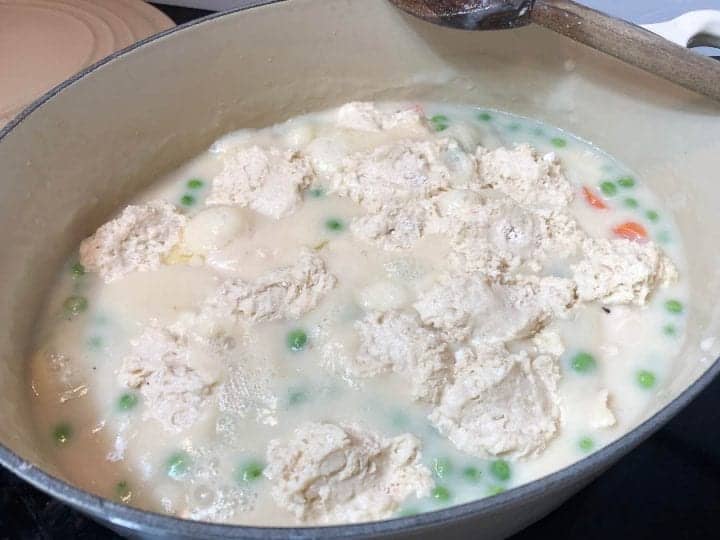 Cook uncovered over low heat 10 minutes, cover and cook for an additional 10 minutes. Once you cover the pot set a timer and don't lift the lid until the 10 minutes have passed.
Other comfort food recipes to try