Maple Pumpkin Butter Recipe
It's October and pumpkins are everywhere! Learn how to make pumpkin butter with this super simple slow cooker recipe. My little 2-quart slow cooker is perfect for these types of small-batch recipes.
Easy jams and butters with the flavor of Fall include the yummy small batch pear sauce, homemade lemon curd, easy apple butter, and small batch of cranberry orange jam.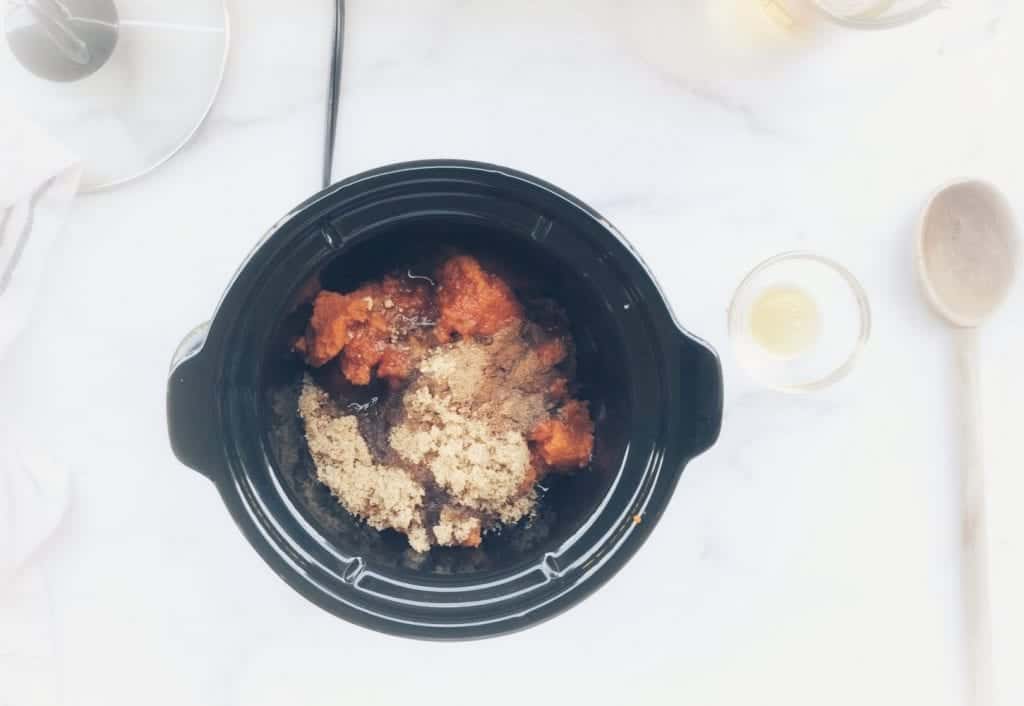 Ingredients
Canned Pumpkin: Use only 100% pure pumpkin, don't use the pumpkin pie filling.
Brown sugar: Light brown sugar for sweetness.
Maple syrup: Use pure maple syrup. If this is not something you normally buy you can order small 2-ounce sample sizes from places like Cost Plus or Amazon.
Vanilla extract: Never use imitation vanilla, use pure vanilla extract.
Apple juice: I always have a small bottle of Martinelli's Apple Juice in the pantry. If I don't use the whole bottle within a couple of days, I freeze the juice in 1/4 cup portions. Extra large ice cube trays are perfect for freezing small amounts of juice.
Pumpkin Spice: You can mix your own using ground cinnamon, ground ginger, ground allspice, and ground nutmeg or purchase an already mixed pumpkin spice.
Can I make pumpkin butter on the stovetop?
You can certainly make this recipe on the stovetop by cooking on medium heat till it comes to a boil, then reducing the heat to low and cook for about 15-20 minutes or until you have the desired consistency and depth of flavor.
How long will pumpkin butter stay fresh?
Pumpkin butter freezes well, I've never frozen it for more than a month, so not sure how it will hold up long term. It will however store nicely in the refrigerator for a couple of weeks. Prepare your mason jars by washing in warm soapy water and boiling for a few minutes and let dry before filling.
What's the difference between canned pumpkin pie filling and pumpkin puree?
Canned pumpkin puree contains only the pureed pumpkin meat, no added spices. Pumpkin pie filling includes the typical spices (cinnamon, ginger, cloves, allspice, nutmeg, and sugar) used when making a pie. Using a puree instead of a pie filling gives you control over the spices. For me, I prefer a heavier cinnamon taste. and I'll leave out the cloves when making a pie or butter.
Can I substitute fresh pumpkin?
Fresh pumpkin needs to be first roasted and then the flesh scooped out before making the pumpkin butter. Don't use the large pumpkins you find in the pumpkin patch or in stores around Halloween, they are way too stringy. Use 2-3 smaller sugar pumpkins that weigh about 2 pounds each, these are perfect for pies and butter. Cut the stem off the pumpkin and slice the body of the pumpkin in half and scoop out the seeds.
Next, cut the halves again so each pumpkin is cut into 4 pieces. Place the pumpkin quarters on a parchment-lined baking sheet, with the inside of the pumpkin facing down. Roast in a 350ºF degree preheated oven for about 45 minutes. The pumpkin should be tender. Remove from oven and let cool down before scooping out the pumpkin meat. . If the pumpkin puree is still too thick, gradually add more water until you have achieved the desired consistency.
More Easy Jams and Butters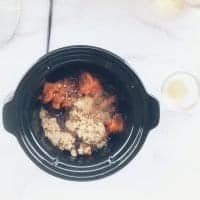 Slow Cooker Pumpkin Butter
Simple slow cooker pumpkin butter for your holiday table. Great
as a spread on scones or to add some pumpkin goodness to pumpkin bread.




Print
Pin
Rate
Ingredients
2

15-ounce can Libby's 100% pure pumpkin puree (not the pie filling)

½

cup

brown sugar

2

tablespoons

maple syrup

1

teaspoon

vanilla extract

½

cup

apple juice

¾

teaspoon

ground cinnamon

¼

teaspoon

ground ginger

⅛

teaspoon

ground allspice

¼

teaspoon

ground nutmeg
Instructions
In a small 2-quart slow cooker add all the ingredients and stir to mix well.

Cook on high setting for 45 minutes.

Taste and if desired, add more spice to your personal taste as needed.

Reduce setting to low, stir, cover, and continue cooking for 2 hours.

Let cool slightly and pour into 4 (8-ounce) prepared mason jars and refrigerate for up to 2 weeks.
Notes
Canned Pumpkin: You want to use 100% pure pumpkin puree, not pumpkin filling. Slow Cooker Time: Cook the mixture on low for several hours, stirring occasionally. The slow cooking process allows the flavors to meld together and creates a thick, rich consistency. Stir Occasionally: Although the slow cooker does most of the work, it's good to stir the mixture every now and then to ensure even cooking and to prevent it from burning on the edges. Adjust Consistency: If the butter is too thick, you can add a bit of apple juice or water. If it's too thin, let it cook with the lid off for a bit longer. Cool Completely: Allow the pumpkin butter to cool completely before storing it in the refrigerator. Store Properly: Pumpkin butter should be stored in the fridge and used within 2 weeks. For longer storage, it can be frozen.
Nutrition
Serving:
4
ounces
|
Calories:
204
kcal
|
Carbohydrates:
51
g
|
Protein:
1
g
|
Sodium:
2
mg
|
Fiber:
3
g
|
Sugar:
44
g
Maple Pumpkin Butter Uses
Serve warm as an Ice Cream topping
Stirred into yogurt
Spread on biscuits or buttered toast
Add to a pancake mix
Use in pumpkin bread or muffins
Dip for fresh sliced apples
As a classic pie filling
Over sliced cheesecake
How to Make Strawberry Rhubarb Jam