How To Roasted Vegetables
Cooking sheet pan roasted vegetables on parchment paper is simple to make for a easy clean up. My Roasted Vegetable Recipe with Orange Balsamic Glaze is easy and tasty for dinner any night of the week. Toss in a balsamic and oil base and roast until perfectly tender and charred. The mix of hearty and light vegetables is so great you won't even notice you're enjoying a meat-free meal.
Other roasted delights include these small batch oven roasted tomatoes and my favorite roasted carrots recipe.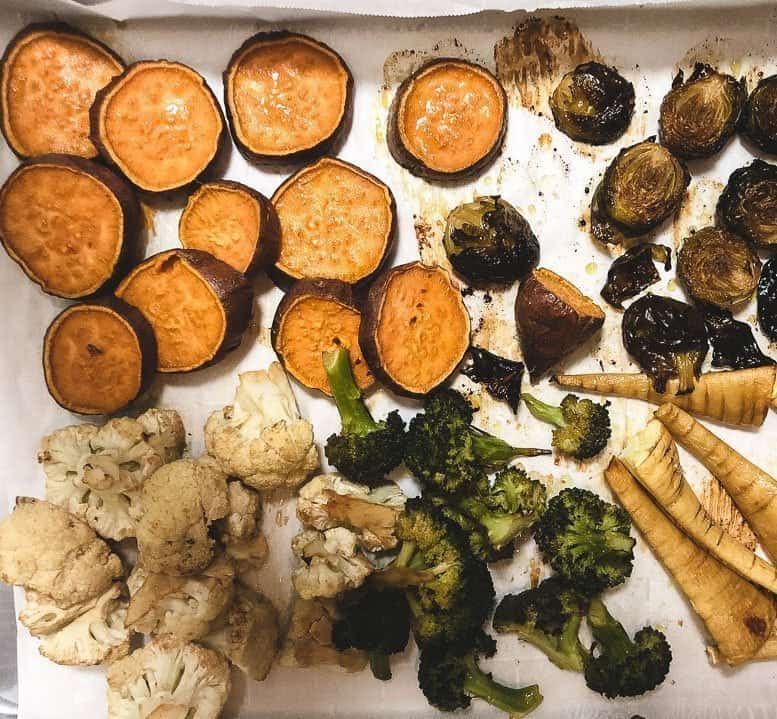 Once you know the basics you can create your own combinations of vegetables.
What are the Best Vegetables for Roasting?
Almost any vegetable can be roasted on a sheet pan.
Root vegetables like potatoes, carrots, parsnips, sweet potatoes are great to roast for a complete meal of roasted vegetables. The root vegetables become the main food item.
Broccoli, brussels sprouts, zucchini, onions, cauliflower, bell peppers, are lighter and roast faster; these are like a side dish to compliment the root vegetables.
Mix it all together and you have an amazing meal of roasted vegetables.
How to Roast Vegetables on Parchment Paper in the Oven
Roasting vegetables requires a high temperature, this allows for a beautiful color and texture without drying out the vegetables.
Use a baking sheet lined with parchment paper for easy cleanup. You can also line your pan with foil, but I prefer the parchment paper.
Toss the vegetables with oil or another glaze, make sure they're entirely coated. This recipe uses a mix of orange juice, balsamic, and olive oil to make a beautiful and flavorful glaze on the vegetables.
Use two sheet pans to roast the vegetables, one for the root vegetables that take longer and the other for the ones that cook faster. Of course, if your only making a small amount, say for one person to use half the pan for the vegetables that take longer and add the other vegetables halfway through cooking time.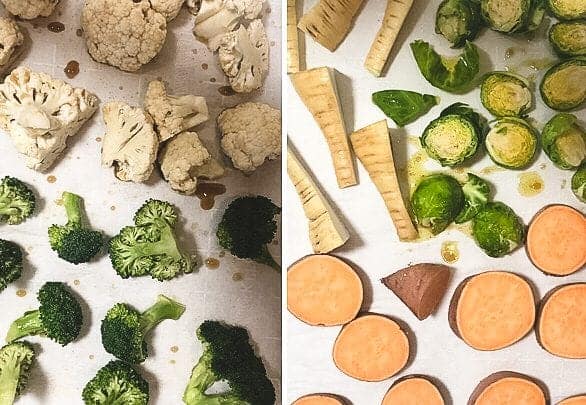 Avoid Common Mistakes When Roasting Vegetables
By being mindful of these common mistakes, you can enjoy perfectly roasted vegetables with the texture and flavor that makes them such a delightful part of a meal.
Overcrowding the Pan: Placing too many vegetables on the pan can lead to steaming rather than roasting. The vegetables need space for the hot air to circulate around them to achieve that desirable caramelized texture.
Inconsistent Cutting: Cutting the vegetables into uneven sizes will lead to uneven cooking. Some pieces may become overcooked and mushy, while others remain undercooked and hard.
Using Too Little or Too Much Oil: Too little oil can cause the vegetables to dry out, while too much can make them soggy. A proper coating ensures that they roast well without becoming either dry or greasy.
Incorrect Oven Temperature: Roasting vegetables requires a relatively high temperature to achieve a crispy, caramelized texture. If the oven temperature is too low, the vegetables might end up soft and steamed. If it's too high, they may burn quickly.
Not Seasoning Properly: Under-seasoning will result in bland vegetables, while over-seasoning can be overpowering. It's important to taste and adjust the seasoning as needed.
Not Stirring or Turning the Vegetables: Depending on the type and cut of vegetable, it may be necessary to stir or turn them partway through roasting to ensure even cooking. Neglecting this step can lead to unevenly roasted vegetables.
Using a Shallow Pan or the Wrong Type of Pan: Using a shallow pan or one without proper sides can lead to juices spilling over and causing smoke or burning. The type of pan material also affects how the vegetables cook, so it's essential to use one that's suited for roasting.
Not Drying Vegetables After Washing: If the vegetables are not properly dried after washing, the extra moisture can inhibit caramelization, leading to steamed or soggy vegetables.
Ignoring the Type and Age of the Vegetable: Different vegetables have different cooking times and temperatures, and older vegetables might take longer to cook than fresher ones. Paying attention to these factors helps ensure proper roasting.
Common Questions about Roasting Vegetables
Should you cover vegetables when roasting in the oven?
No, covering will steam the vegetables instead of roasting and you would get the crispy caramelized roasted vegetables.

What temperature do you roast vegetables?
Cooking too low and slow and the vegetables will end up mushy. Cooking at too high of a temperature will burn the vegetables. 350-375 is a good temp for roasting vegetables.
Why are my vegetables soggy?
Crowding the pan with vegetables pushed up next to each other or arranged in will steam the vegetables rather than roast them. Vegetables give off moisture and if there is no room for the moisture to escape you end up with soggy vegetables
Utensils Used
Sheet Pans – I use this jelly roll pan from Nordicware.  I have a small oven, and it fits perfectly, so I own two, and they are a must-have in my kitchen.  If you don't have a sheet pan a 12-inch cast-iron skillet works great, just be sure not to crowd the veggies.
Parchment Paper – I keep the precut and roll on hand at all times.
Large Bowl – Any large mixing bowl you have on hand is all you need.
Tongs or large slotted spoon  – Use these to transfer the vegetables from the bowl to the sheet pan.
Chefs Knife – I own a Santoku knife and it is a dream to work with; however, any sharp chef's knife is sufficient.
Cutting Board – Bamboo is easier on your knives.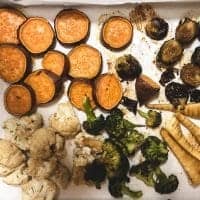 Sheet Pan Roasted Vegetables
Tasty peasant meal with fluffy rice and hearty roasted vegetables.
Print
Pin
Rate
Ingredients
1

medium sweet potato

skin on, sliced into 1/4-inch rounds

2

lsmall parsnips

trim ends rinsed and quartered

1

cup

cauliflower florets

¾-1

cup

broccoli

cut into large bite-sizes pieces

1

tablespoon

olive oil neutral oil

2

teaspoons

balsamic vinegar

2

tablespoons

fresh squeezed orange juice

½

avocado

peeled and diced

½

cup

dried long grain rice

Sea salt to taste
Instructions
Preheat oven to 400 degrees F (204 C)

Cook rice to package instructions.

Add the cut sweet potato, carrot and parsnip to a large bowl and toss to coat with the balsamic, orange juice and olive oil.

Line two baking sheets with parchment paper, the baking sheets should be large enough to lay all the vegetables out in a single layer without crowding. The vegetables need a little space so they cook up evenly.

Add the sweet potato, brussel sprouts, and parsnip to the first baking sheet and cook for 15 minutes.

Next, add the cauliflower and broccoli to the bowl with the remaining olive oil and toss to
lightly coat with the remaining balsamic and olive oil.

After the carrots, parsnips have been roasting for about 20 minutes add the broccoli and cauliflower to
the second sheet pan and sprinkle a little sea salt over the vegetables and bake for an additional 15-20 minutes.

Remove from oven and enjoy immediately. Divide the cooked rice and top with the roasted vegetables for a complete low calorie and healthy meal for two.
Notes
Cut vegetable in uniform sizes so the roast evenly.
Nutrition
Serving:
2
cups
|
Calories:
213
kcal
|
Carbohydrates:
27
g
|
Protein:
4
g
|
Fat:
11
g
|
Saturated Fat:
1
g
|
Polyunsaturated Fat:
9
g
|
Sodium:
190
mg
|
Fiber:
7
g
|
Sugar:
7
g