This is one of my favorite small-batch cookies recipes, it makes a dozen cookies.  Having a small kitchen and cooking for just the two of us, I'm always looking for simple prep options that require less space and fewer utensils.
If you enjoy this recipe then you might like my other small-batch cookie recipes.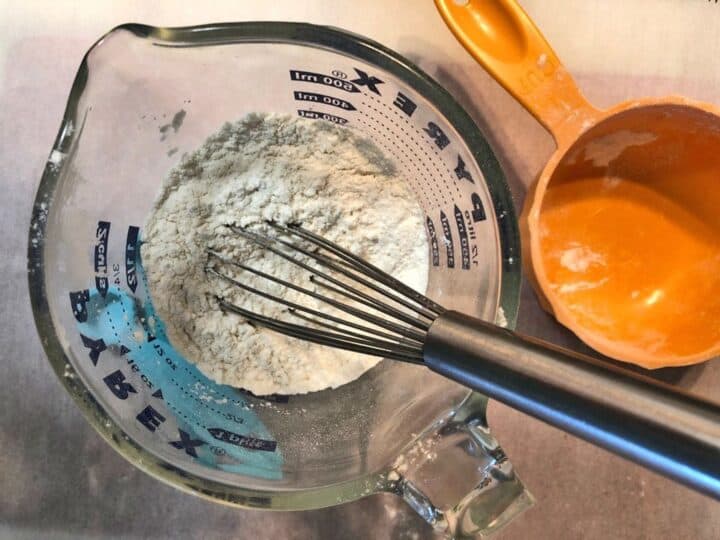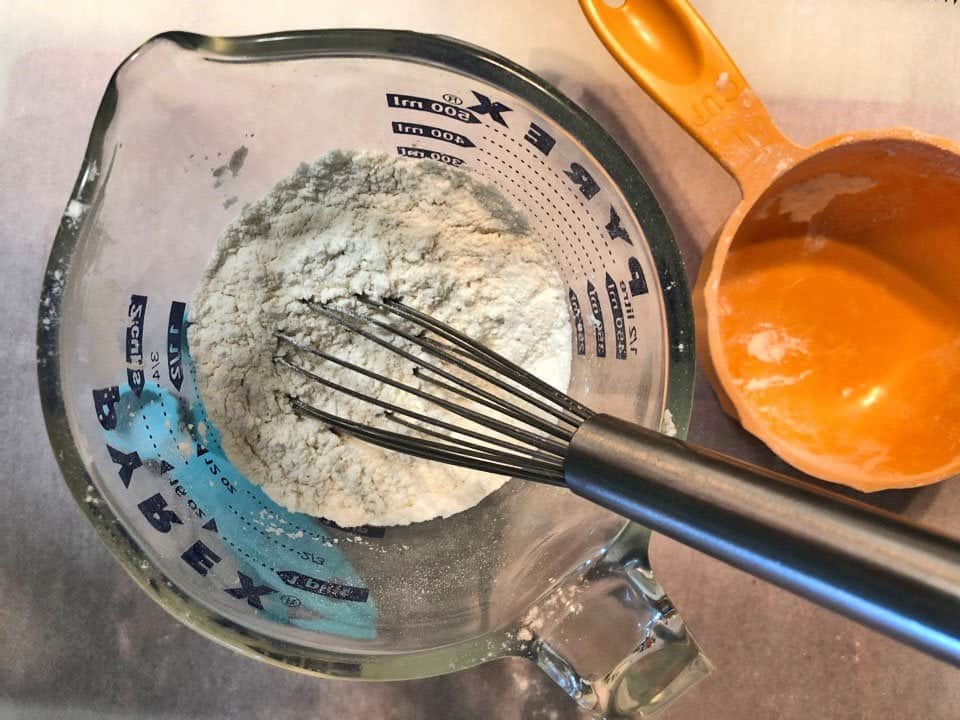 Ingredients
What you need:
all-purpose flour
baking powder
baking soda
kosher salt
unsalted butter
dark brown sugar
granulated sugar
powdered sugar
eggs
vanilla paste
semi-sweet chocolate chips
Flaky sea salt
How to make the cookies.
The first thing I do is measure out all my ingredients. Next preheat the oven and line a jelly roll pan with parchment paper. You'll need an electric hand mixer and large mixing bowl to cream the butter and sugars.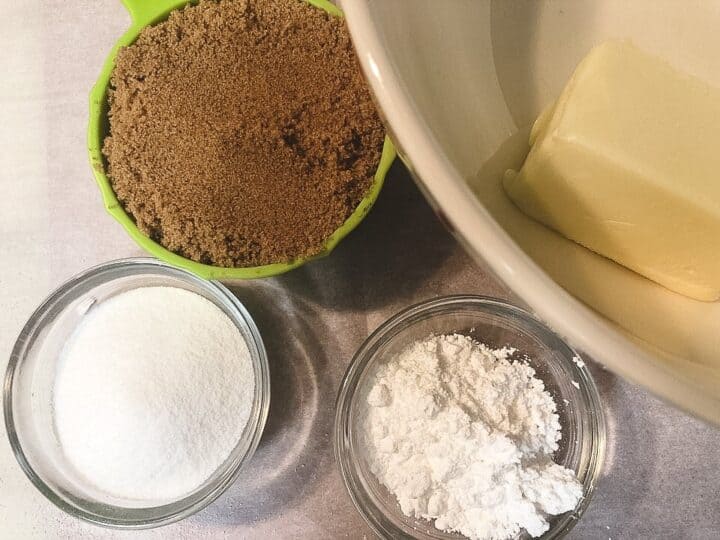 Mix in the egg and vanilla. Lower the speed on the hand mixer and gradually add in the dry ingredients. When everything is mixed together, fold in the chocolate chips with a wooden spoon.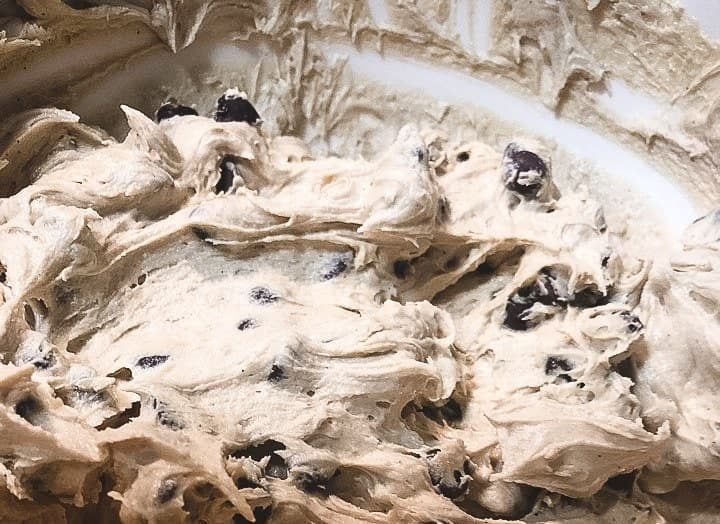 Scoop out the cookies out onto the jelly roll pan and sprinkle with sea salt.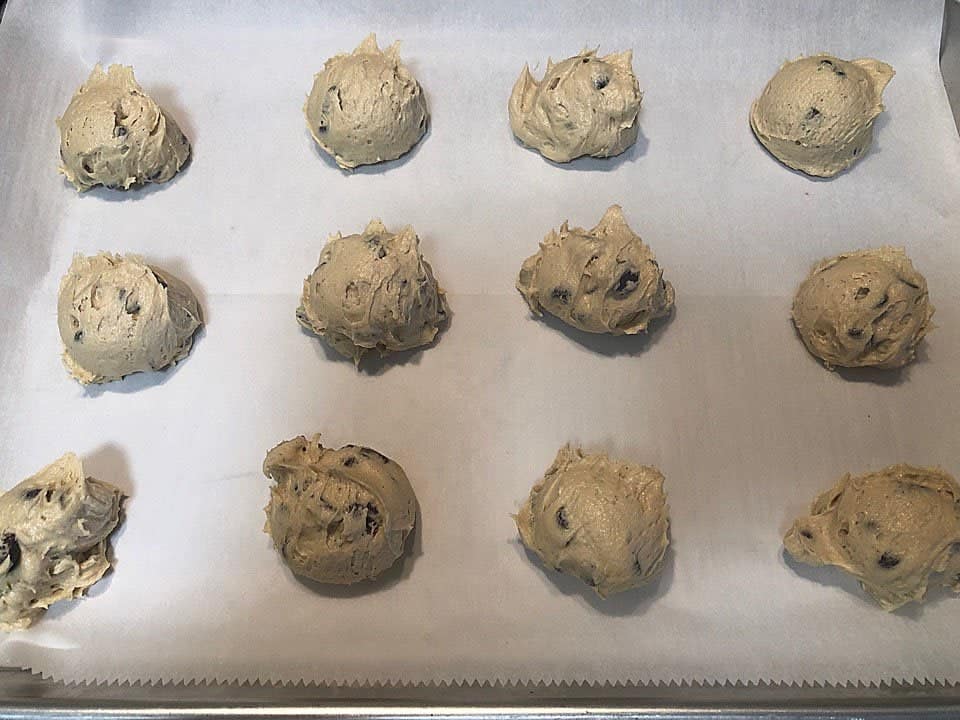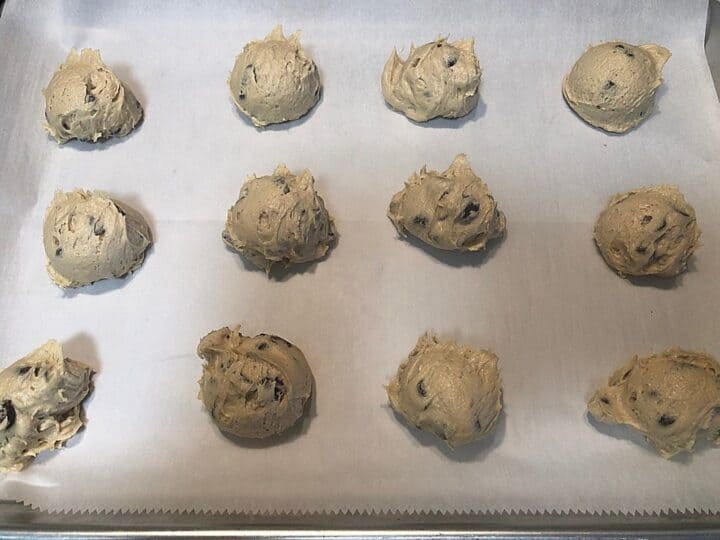 Time to bake then enjoy!
Utensils used to make the cookies:
Large Bowl
Measuring Cu
Electric Hand Mixer
Wooden Spoon
Cookie Dough Scoop
Measuring Spoon Set
Measuring Cup Set
How to cream butter and sugar by hand

Take the butter out of the fridge and let softened in a large bowl before beginning the process of creaming the butter and sugar.
Add the sugar to the butter and using a wood spoon mash it all up.
Use the back of a fork beat he butter and sugar until it's nice a smooth and fluffy, This takes probably about 5 minutes if working with one stick of butter.
This method works just fine for cookies.
Can I freeze these chocolate chip cookies?
Yes you can! let the cookies cool completely the wrap tight and store in a Ziploc freezer bag, make sure to remove the air from the bag before freezing. They should be fine for a month or two.
Tips
Always use softened butter. Let the butter sit out at room temperature for about 30 minutes. When you can press a finger into the butter and it easily makes an indent, the butter is softened.
Use dark brown sugar. Dark brown sugar has a higher molasses content, and for cookies you want the higher percentage of molasses. The brown sugar also give the cookies a nice golden brown shade and makes the cookies nice and chewy. and when it comes to cookies, the more molasses, the better. Molasses makes cookies a lovely shade of golden brown, and it's key for chewy cookies
When the cookies come out of the oven, while still warm press in a few extra chocolate chips, it looks so pretty with the extra chips on top and adds more chocolatey goodness.
Ok, friends! I hope you love and adore this recipe for a small batch chocolate chip shortcake.. I hope you make it at least a few times a month just like I do!
When making a small batch cookies recipe I usually use a 2 cup measuring cup and a small whisk to mix everything up.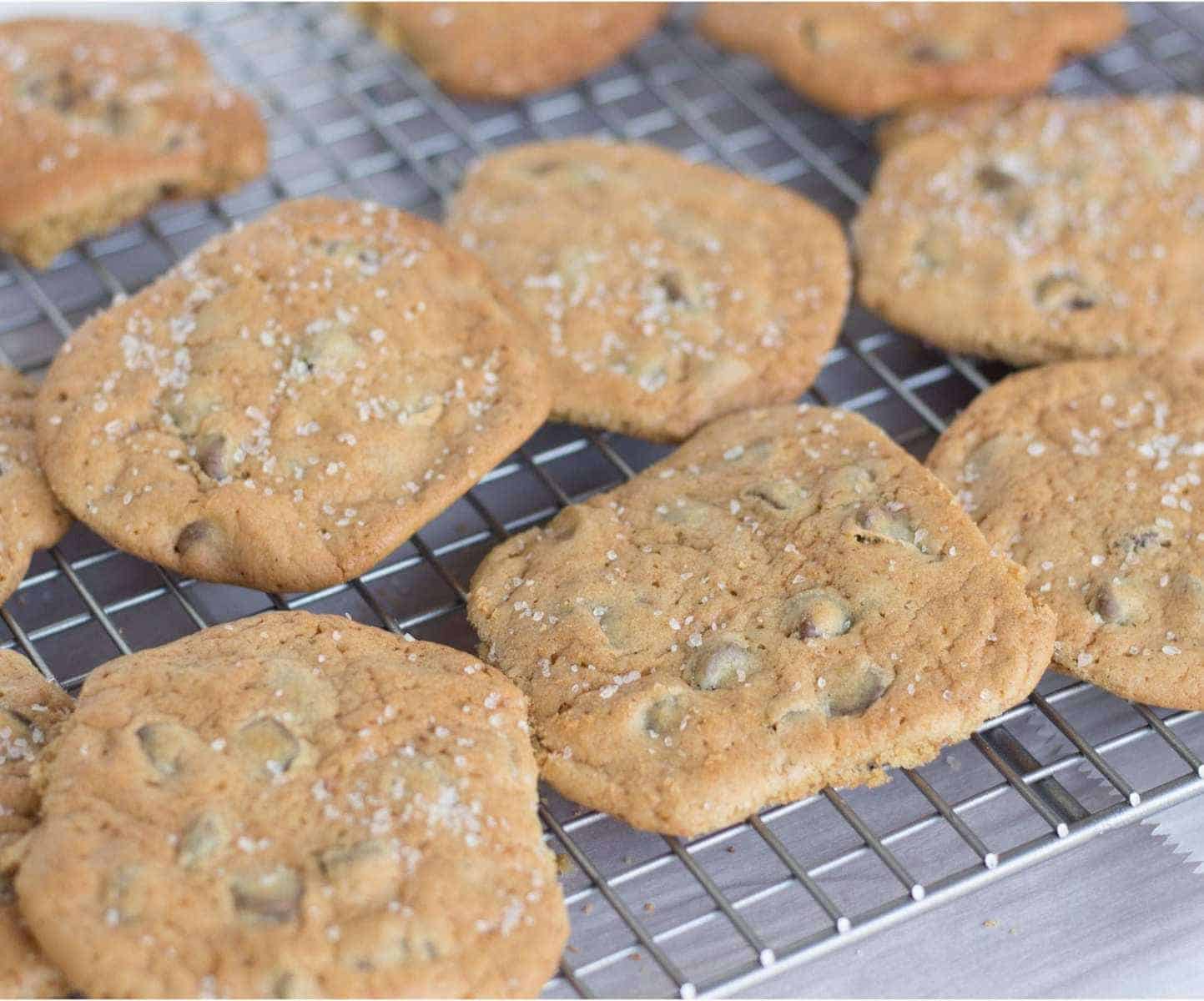 Yield:

8 cookies
Salted Chocolate Chip Cookies
A small-batch chocolate chip cookie sprinkled with sea salt. Small batch chocolate chip cookies are perfect to satisfy your cookie craving.
Ingredients
½ cup all-purpose flour
⅛ teaspoon baking powder
¼ teaspoon baking soda
⅛ teaspoon kosher salt
4 tablespoons unsalted butter, room temperature
¼ cup dark brown sugar, packed
2 tablespoons granulated sugar
1 tablespoon powdered sugar
1 egg yolk
½teaspoon vanilla paste
½ cup semi-sweet chocolate chips
Flaky sea salt
Instructions
Place racks in the middle rack of the r convenient or toaster oven and preheat to 375°.
Line a baking sheet with parchment.
In a 2 cup measuring cup whisk together the flour, baking powder, baking soda, and kosher salt and set aside.
In a large bowl, cream the butter, brown sugar, confectioners sugar, and granulated sugar. in a separate bowl using a hand mixer on medium speed to until smooth and fluffy, about 3-4 minutes.
Add the egg yolk and vanilla and beat until light and fluffy, about 5 minutes.
Reduce the hand mixer speed to low and gradually add the dry ingredients until just blended.
With a wooden spoon fold in the chocolate.
Use a small cookie scoop to place cookie dough onto the parchment-lined baking sheet.
Sprinkle the cookies with sea salt.
Bake cookies on middle rack rotating baking sheet halfway through baking, about 5 minutes. Continue baking for an additional 5-7 minutes or until just golden brown around the edges.
Let cool slightly then transfer to wire racks to cool completely. Cookies will firm up as they cool.
Nutrition Information:
Yield:
8
Serving Size:
1
Amount Per Serving:
Calories:

177
Total Fat:

10g
Saturated Fat:

6g
Trans Fat:

0g
Unsaturated Fat:

3g
Cholesterol:

38mg
Sodium:

156mg
Carbohydrates:

23g
Fiber:

1g
Sugar:

16g
Protein:

2g
The nutritional information provided here are estimates and are not calculated by a registered dietitian.
If you have some leftover chocolate chips try my small batch chocolate chip banana bread.
Small batch cookie recipes to try: