Tomato Quiche Recipe for One or Two
The recipe ingredients blend together well and make this tomato quiche an easy and elegant meal for breakfast, lunch, or dinner. You can use this recipe as a base and add in other ingredients like sauteed zucchini, spinach, or fresh basil. Make one for now and freeze the other for later.
If you are a fan of eggs for breakfast quiche with tomatoes is also tasty for lunch, or dinner. You may enjoy my cast iron skillet veggie frittata or a Mediterranean quiche for one.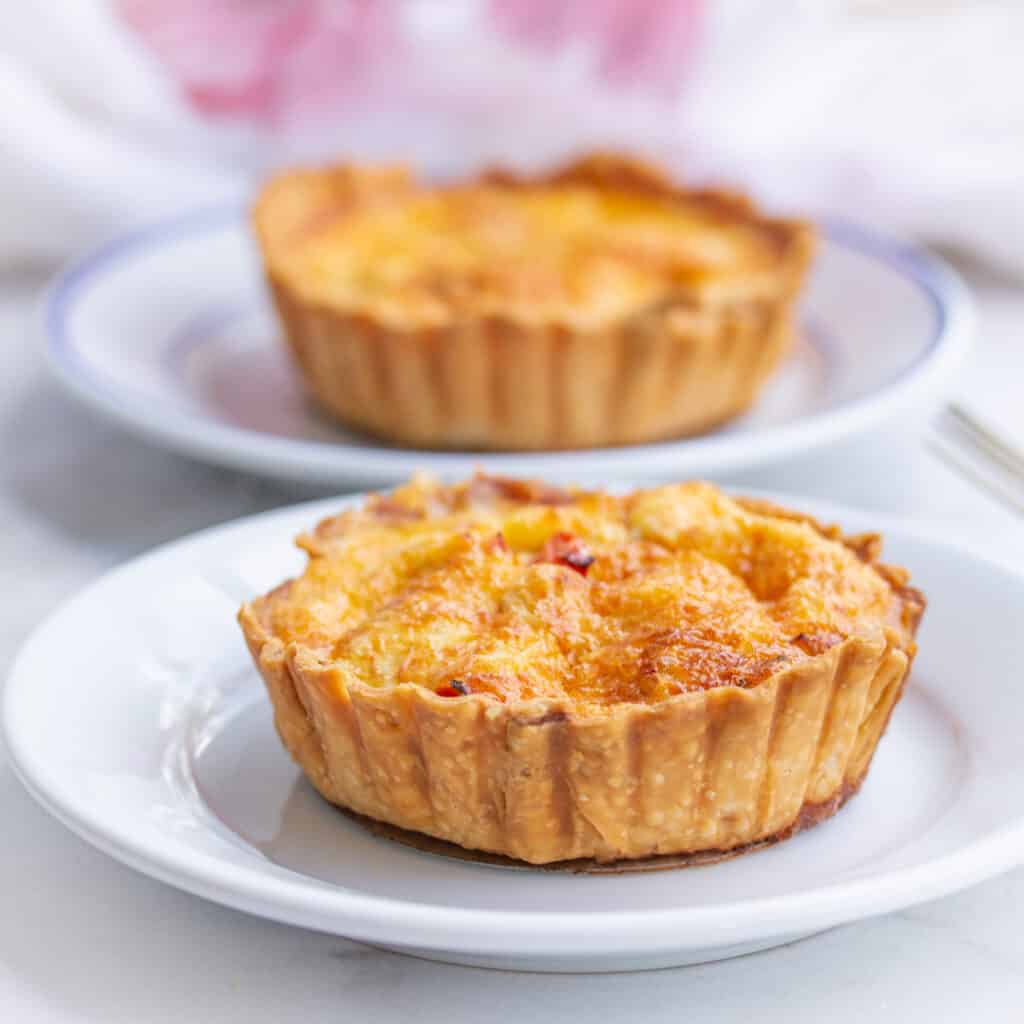 Ingredient Notes & Substitutions
Refrigerated pie dough: I use Pillsbury pie crust but you can also make your own if you prefer. When using pice crust I find I get a better crust-to-egg ratio when I roll the dough out thinner than I would for a pie. A great substitute is a frozen puff pastry.
Eggs: The eggs are the base of the dish so use fresh whole eggs.
Milk: Whole milk is best, but you won't taste a noticeable difference if you use low or nonfat milk.
Cream Cheese: Again I use a full-fat Philadelphia Cream cheese but Nuefechatal also works nice and is a little lower in fat.
Gruyere Cheese: This is my go-to cheese when making quiche because it melts and blends beautifully. Other cheeses to consider are Emmentaler and Gouda.
Parmesan Cheese: I always try to use a blend of cheeses in quiche for a nice depth of flavor. Good substitutes include Piave which is a younger cheese and also sweeter. Pecorni cheese also is a great substitute for Parmesan but it's saltier and has a sharper taste.
Green Onion: It's not critical to use green onions so go with your taste preference, a nice substitute is a sweet onion or leeks.
Garlic: Fresh minced garlic is number one, but I also occasionally use a chunky garlic paste from Gourmet Eden.
Fresh Tomatoes: You can substitute canned tomatoes but make sure to drain well and reduce the other liquids a bit otherwise you may have a little sogginess to the quiche. I like small Campari tomatoes or if season my homegrown cherry tomatoes.
Salt, Pepper, and Olive Oil
Recipe Directions
First, prepare the crust, step 1 in the recipe card.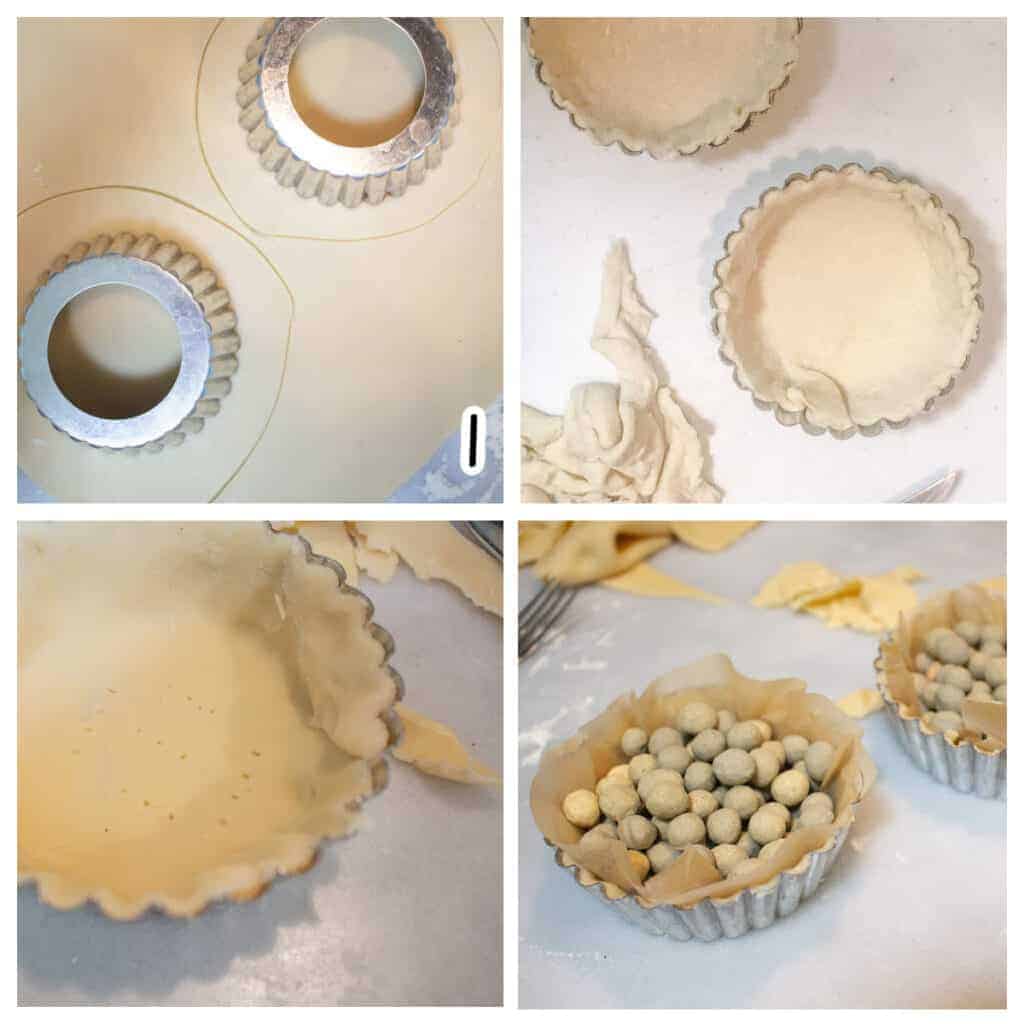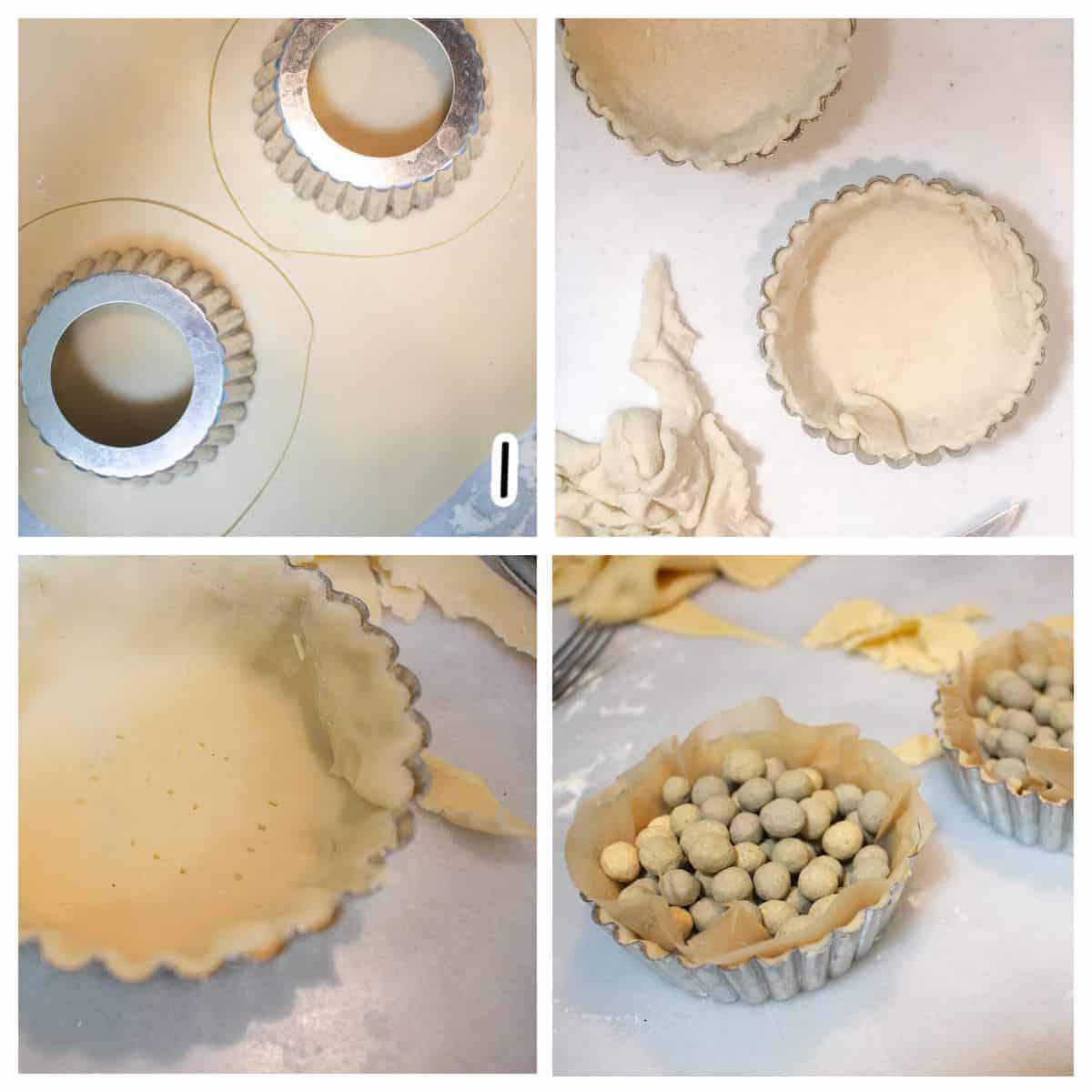 Second, prepare the filling, steps 2-7 in the recipe card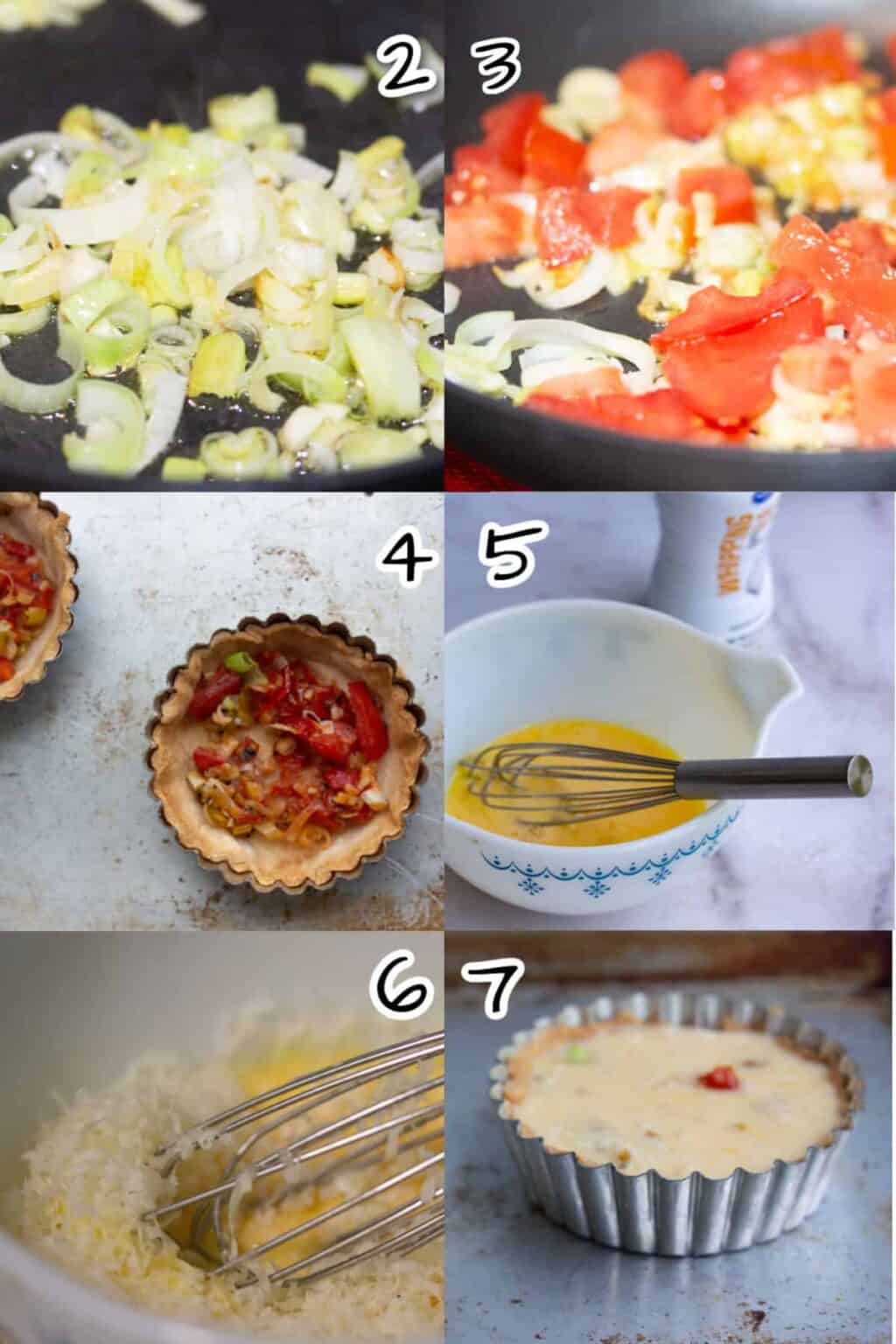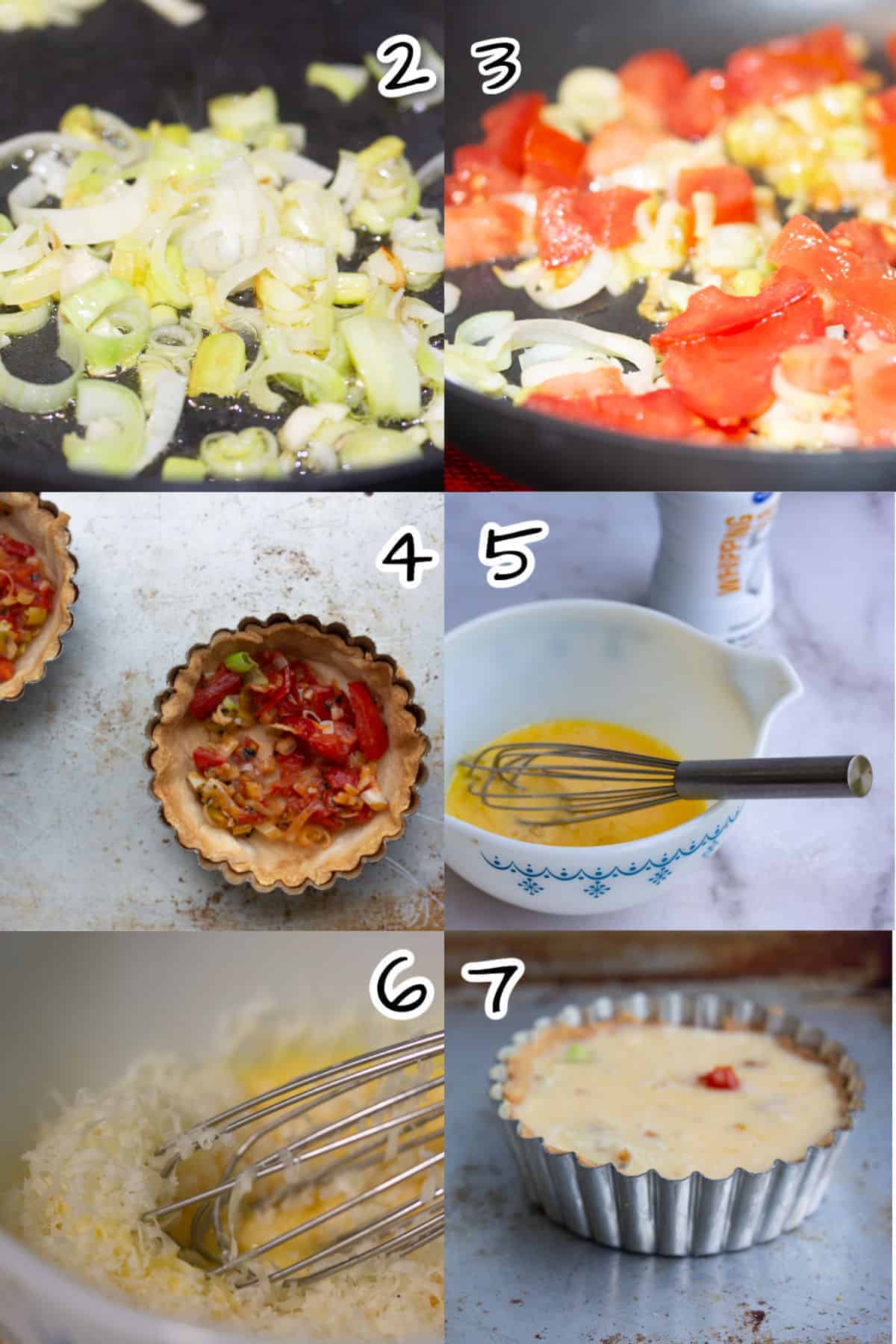 Third, Bake and cool, step 8 in the recipe card.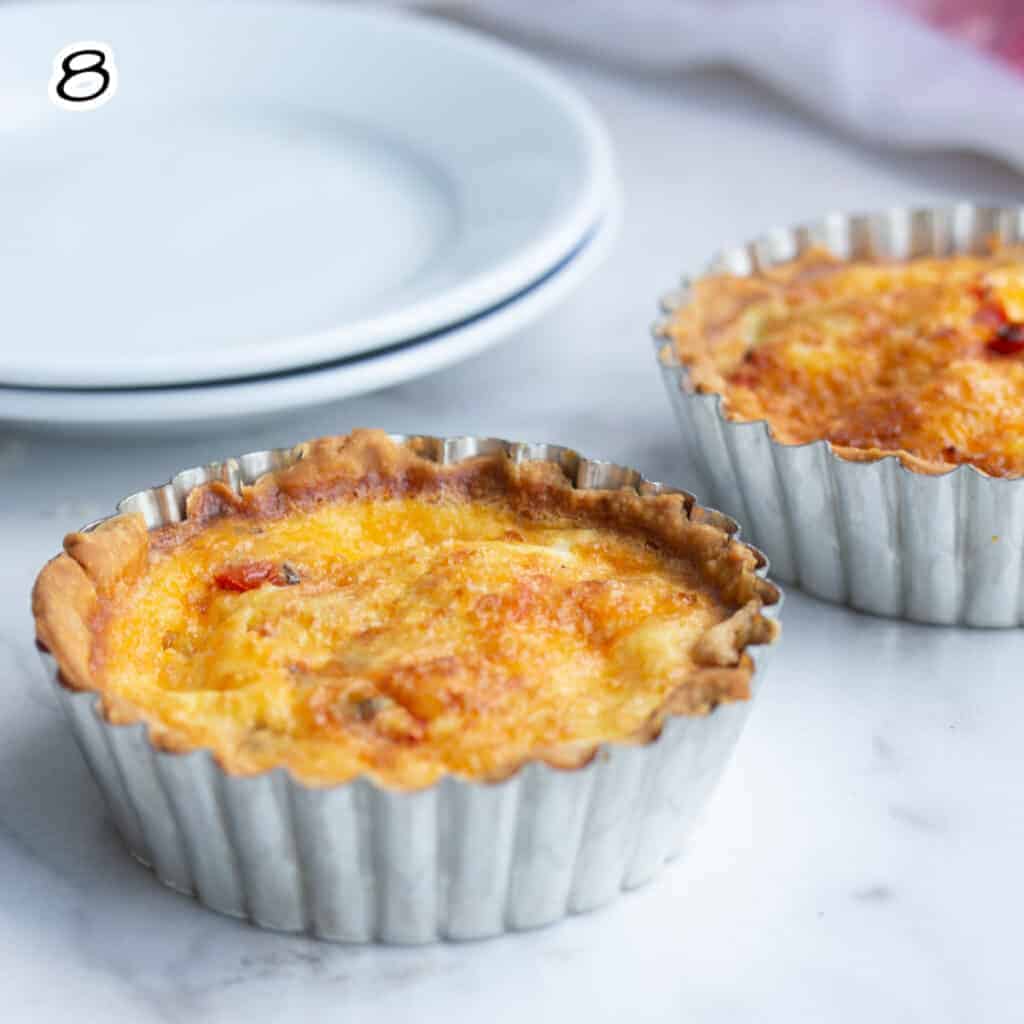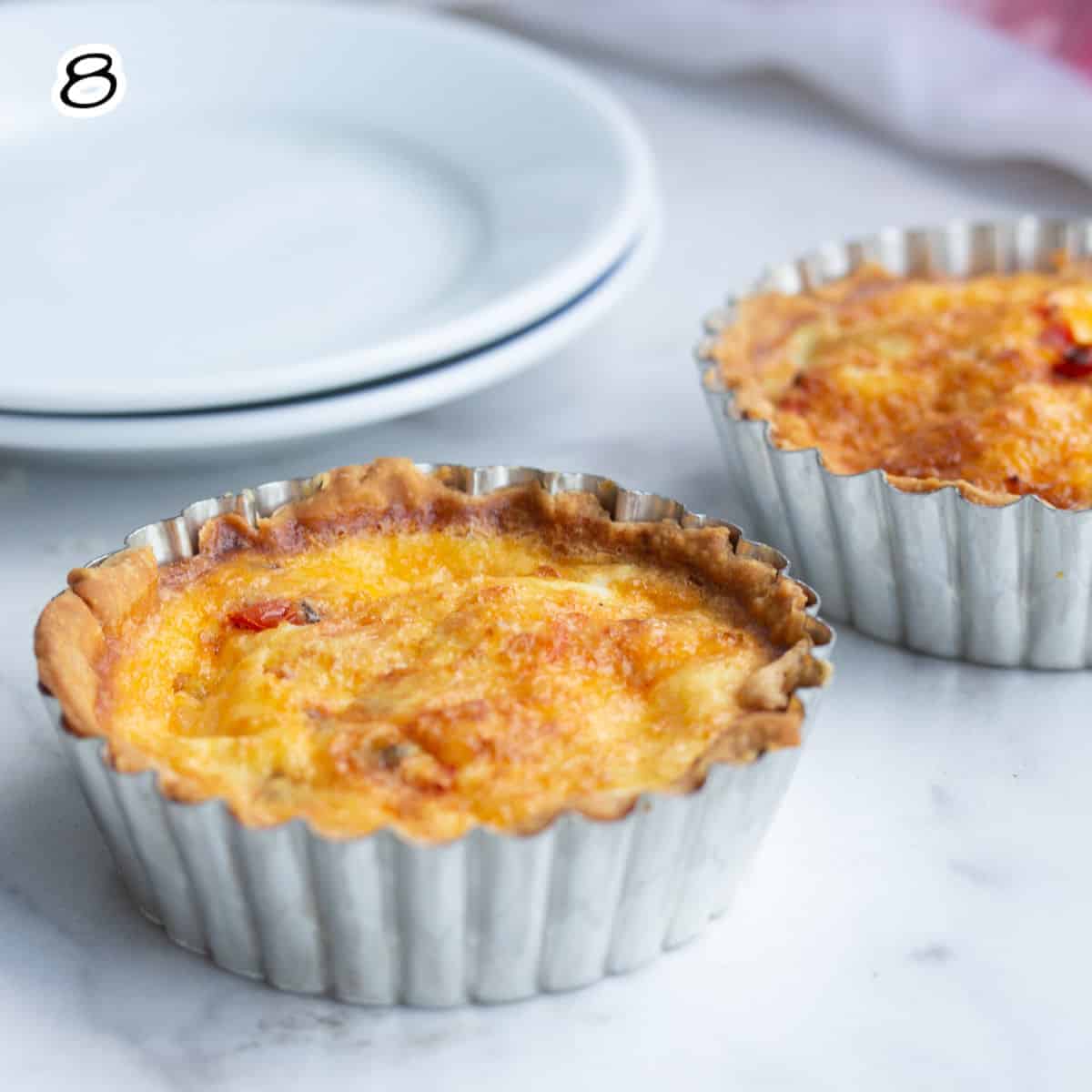 Tools Used
I used 4-inch small tart pans with removable bottoms. This can quickly be baked in a 6-inch pie plate or these handy paper baking cups. A small whisk gets the most use in my kitchen, it's a handy tool for whipping up the batter in a small bowl or measuring cup.
My pie weights are handmade in the USA and can be found at Jefferson Street Ceramics.
How to Store Quiche
The quiche is good for a couple of days stored in the refrigerator, let it cool down to room temperature, and wrap tightly in a plastic wrap to keep the moisture out.
For longer storage, you can freeze quiche for 1-2 months. After the quiche has cooled down, wrap tightly to avoid freezer burn.
Making Quiche: Frequently Asked Questions
How to make sure my quiche is velvety smooth?
The simple secret to a velvety quiche is cooking low and slow.  
More egg recipes to try
Did you make this recipe? I would love it if you left a comment or review! Be sure to sign up for the email list and follow "A Weekend Cook" on Pinterest and my Facebook page.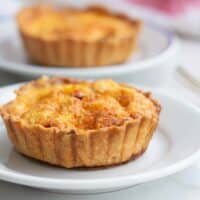 Tomato Quiche
Tomato quiche is an easy and elegant meal for breakfast, lunch, or dinner. You can use this recipe as a base and add in other ingredients like sauteed zucchini, spinach, or fresh basil.
Print
Pin
Rate
Ingredients
¼

sheet refrigerated pie dough

1

teaspoon

Olive Oil

1

Egg

1

tablespoon

Milk

¼

cup

Gruyere Cheese

grated

1

tablespoon

Parmesan Cheese

grated

1

tablespoon

green onions

sliced

1

Garlic clove minced

2

tablespoons

tomato

chopped

Salt and Pepper to taste
Instructions
Start by preheating the oven to 350° Fahrenheit.

Roll out the dough and cut to fit the individual quiche pans, leave a little overlap over the sides. Place parchment paper over the pie crust and weigh down with pie weight. Place the quiche pans on a baking sheet and Par bakes the crust for 5-8 minutes. When the crust is baked, reduce the oven heat to 325° F.

In a large heavy skillet, heat the olive oil over medium heat. Saute the onions for 2-3 minutes, stirring occasionally.  Add the garlic to the onions and cook an additional 30-40 seconds.

Add the diced tomatoes and increase heat to medium-high.  The sauce is ready when the tomatoes have begun to cook down.

Remove from the heat and let cool down slightly. Divide the tomato mixture between the two crusts.

In a large bowl whisk together the eggs and add the whipping cream and milk.

Stir in the cheeses and the tomato sauce into the egg mixture and mix well.

Spoon the egg mixture into the par-baked crust. Place the quiche pans on a sheet pan for easier handling and place them in the oven. Bake for 25 to 30 minutes, until set.

Remove from oven and let sit for at least 15 minutes before serving.
Notes
Proper Egg Blending: Achieve a well-integrated mix by whisking your eggs thoroughly. Avoid Overbaking: To ensure your quiche is creamy and fluffy, be careful not to overbake it. The quiche should be taken out of the oven when the middle is still slightly jiggly. Utilize Room Temperature Ingredients: Make sure all your ingredients are at room temperature for a more even bake and lighter texture. Cold ingredients might extend the cooking time and result in a denser quiche. Resting Period: Give your quiche some time to rest after baking. This resting period allows it to set and the moisture to be evenly redistributed, enhancing its fluffiness. Lower Rack Baking: Position your quiche on the lower oven rack to ensure a well-baked bottom crust without the risk of the top getting overcooked before the filling is done. Pre-Bake Your Crust: Implementing a technique known as blind baking can help make sure your crust is fully baked and prevent it from getting soggy due to the egg mixture. Pre-Cook Your Fillings: If you plan to add any vegetables or meats, pre-cook them to eliminate any extra moisture and fat that could interfere with the texture and consistency of your quiche.
Nutrition
Serving:
1
g
|
Calories:
496
kcal
|
Carbohydrates:
41
g
|
Protein:
13
g
|
Fat:
31
g
|
Saturated Fat:
12
g
|
Polyunsaturated Fat:
17
g
|
Cholesterol:
162
mg
|
Sodium:
595
mg
|
Fiber:
3
g
|
Sugar:
4
g
Food Safety
Check out the USDA page for purchasing, cooking, and storing eggs safely.