One simple food pleasure is an easy tomato and avocado salad sprinkled with basil and drizzled with olive oil and balsamic vinegar. Great as a side dish for two or a big salad for one. Keep it simple and let the flavors of the tomatoes and avocado sprinkled with balsamic make your taste buds happy.
If you want to be a little fancy tell people you are serving Salade de Tomates. Everything sounds a little tastier in French.
Ingredients
Ripe Tomatoes - the star of the show so make sure they are ripe and juicy
Avocado - the avocado should be just soft enough to give a little when squeezed.
Balsamic Vinegar - use the good stuff if you have it
Lemon Juice - always fresh squeezed
Olive Oil - use an extra virgin olive oil
Basil - fresh basil is preferred but dried works.
Salt and Pepper - freshly ground pepper and sea salt.
Recipe Modifications
This simple tomato salad can be modified by adding cold pasta and chicken for a complete light summer meal. Or to keep with a vegetarian theme add a few slices of cucumbers and red onion for a classic and simple tomato salad.
Add canned tuna and serve with some homemade Crostini.
The combination of tomato and avocado goes together like peas and carrots. 🙂
Suggestions for salad dressing to compliment your tomato salad
Give it a kick with bottled Zesty Italian dressing
Keep it simple with a drizzle of Balsamic Vinegar
For a classic tomato salad dressing whisk together together olive oil, red wine vinegar, parsley, basil, oregano and a dash of salt and pepper.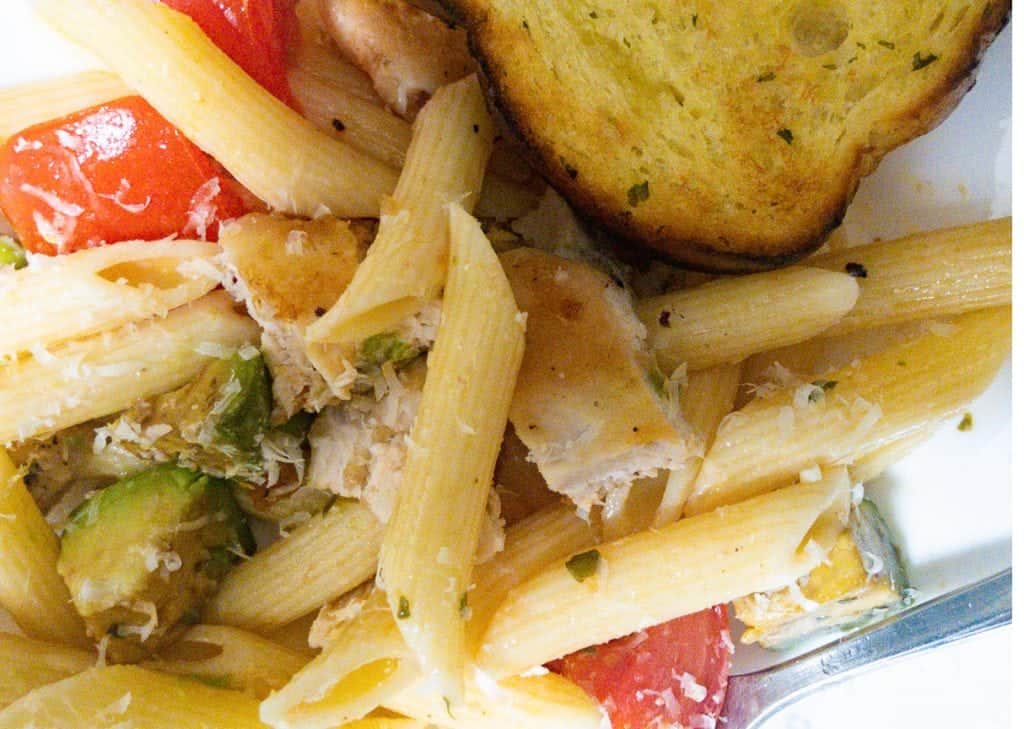 How to pick a ripe Tomato for salads.
Tomatoes ripen from the inside out, a good indication of ripeness is if it gives slightly to the touch.
A ripe tomato will also feel heavy and have smooth skin. If purchasing greenhouse-grown tomatoes the leaves should be fresh and green. A ripe tomato will give off a fresh tomato fragrance, while an unripe tomato will not have much smell at all.
For more information on tomatoes check out this post on Tomatoes on the Gardening Know How Blog.
How to pick a ripe Avocado.
The easiest way to find a ripe avocado is to apply gentle pressure, if it gives a little the avocado is ripe and ready to eat. The avocado will feel soft, but not mushy. Ready-to-eat avocados may have also appeared a little darker in color but you should go more on feel than color.
More information on how to Pick a Ripe Avocado on the California Avocado Blog.
Can you store tomatoes and avocado together?
Unfortunately, the answer is no. Tomatoes give off ethylene gas, which can cause avocados to spoil more quickly. So if you're looking to keep your avocados fresh for as long as possible, it's best to store them separately from tomatoes.
How should you store tomatoes?
I try to only buy perfectly ripe tomatoes and store in the refrigerator, don't get angry, but I do put my tomatoes in the fridge. I store in the warmest part of the refrigerator. Stored at room temperature, the tomatoes will continue to ripen, so I don't advise refrigeration for those tomatoes that still have a way to go before they reach peak ripeness.
How long will tomato salad stay fresh?
The salad is best the same day it's made, but you can easily cover a bowl with plastic wrap and store it overnight. Cut avocados and the basil will start to turn brown but will taste just fine.
What is the best tomato to use for a salad?
The best tomatoes are usually the ones you grow in your garden, but that's not always possible. If I had to pick which store-bought tomatoes it would need to be the Heirlooms, Cherry, or Campari's.
📖 Recipe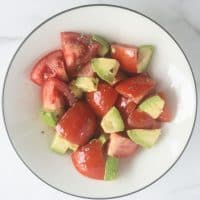 Summer Tomato & Avocado Salad
A great summer recipe and even better if your grow your tomatoes.
Print
Pin
Rate
Ingredients
2

medium tomatoes

cut in half lengthwise then each half quartered

1

tablespoon

fresh-squeezed lemon juice

⅛

teaspoon

dried basil

1

teaspoon

balsamic vinegar

1

tablespoon

olive oil

½

avocado

diced

salt and pepper to taste
Instructions
Add all the ingredients into a medium bowl and toss to thoroughly coat the tomato wedges. If you will not serve immediately wait and add the avocado right before serving.

Serve immediately or can be chilled for up to 2 hours.
Nutrition
Serving:
1
g
|
Calories:
167
kcal
|
Carbohydrates:
10
g
|
Protein:
2
g
|
Fat:
14
g
|
Saturated Fat:
2
g
|
Polyunsaturated Fat:
12
g
|
Sodium:
158
mg
|
Fiber:
5
g
|
Sugar:
4
g
If you like this Easy Summer Tomato salad you might also enjoy my Spring Tomato & Basil Pasta Salad