The  Dutch Oven is traditionally made of cast iron, and the most common varieties are the plain cast iron, think Lodge or enameled cast iron think Le Creuset. A Dutch oven is in my opinion, a kitchen essential and is ideal for cooking stews, chicken, roasts, or for braising meats.  If you're reading this post you most likely are considering buying your first one or looking for a replacement.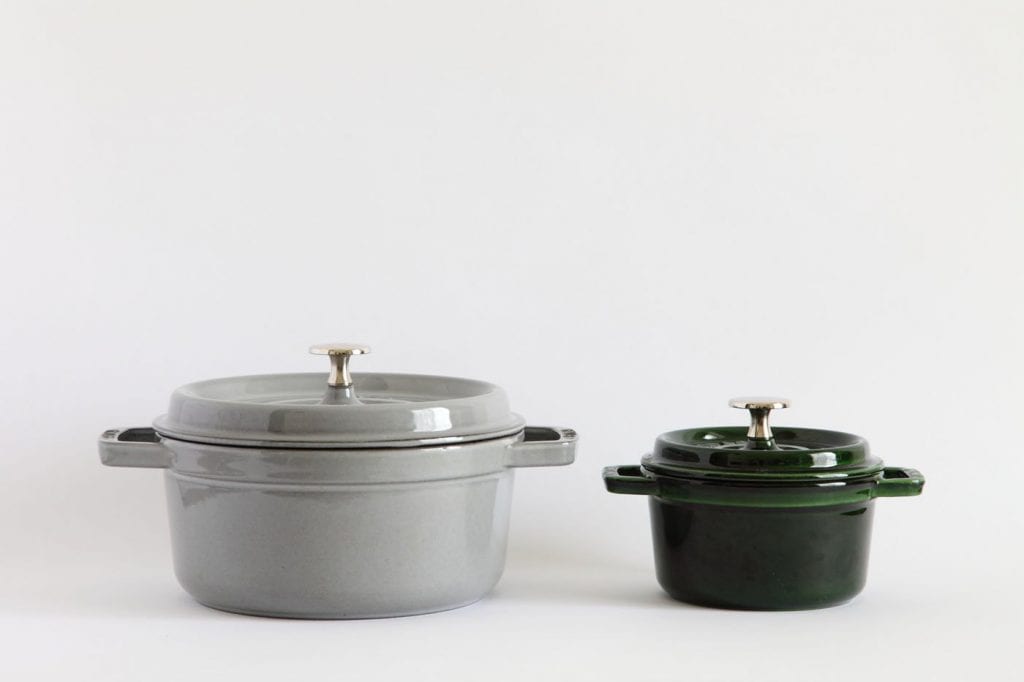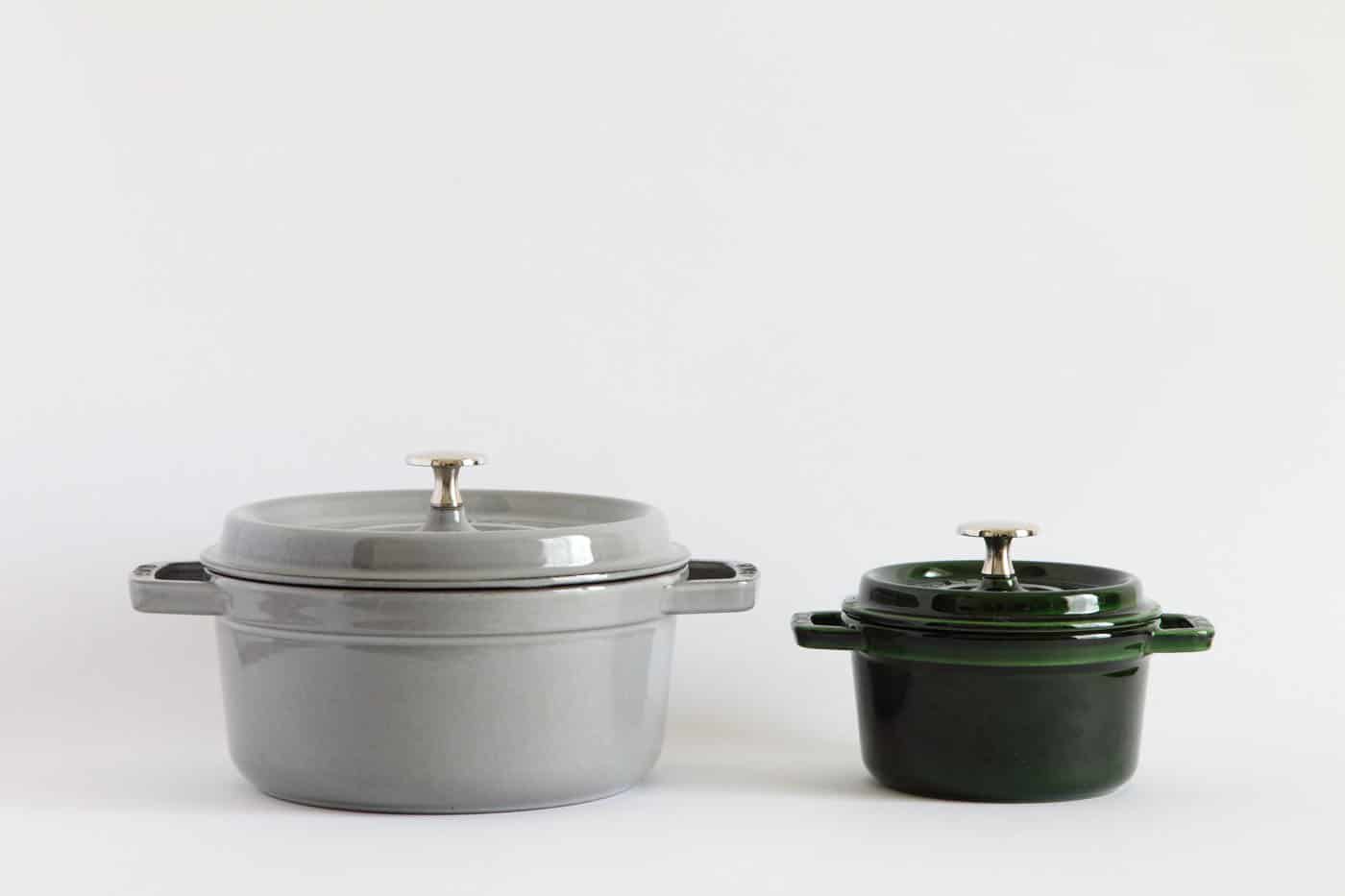 An economical version is the plain cast-iron variety which will need seasoning before using or you can purchase one that has been pre-seasoned.  I prefer the enameled version because I don't need to worry about acidic foods like tomatoes or wine reacting with the cast iron, plus I like pretty things. 
Enameled cast iron cookware won't require any pre-seasoning and are ready for use after a first wash with warm soapy water.  Another plus of the more pricey versions is that they look beautiful, so pretty you'll want to display them as kitchen art.  Don't forget these pretty pots are naturally non-stick and much easier to clean.
The Dutch Oven releases heat evenly across the cooking surface and is ideal for slow cooking.
Dutch Ovens Are the Original Slow Cookers
While they are not a "set it and forget it" cooking vessel, they still work in much the same way as an electric slow cooker. The bottom and sides all conduct heat similar to a slow cooker. The heavy lid traps in moisture and prevents foods from drying out and is perfect for that slow and low cooking. As a result, tough meats are cooked to perfect tenderness, and the flavor deepens and develops over a longer time over a lower heat.
A Dutch oven can also be heated to high temperatures and used to brown or caramelize ingredients. This is something a slow cooker just can't do. Really, a Dutch oven is the best of both worlds. I love my Dutch ovens a lot!
What Size Dutch Oven to Buy
I own two Le Creuset Dutch Ovens, one French oven, sometimes called a soup pot. My 2.75 quart is French oven and a 3.5-quart round and 5-quart oval version. My 2.75 quart gets by far the most use.

My 5 quart can cook a small roast or a full chicken easily.  Anything bigger would be too much for my two-person home. 2.75 is used pasta sauces, stews, and soup recipes.  My most recent additions are the  1.5 quarts Staub petite french oven, which will be used mostly for cooking Risotto and vegetables, and a 3.5-quart essential oven.  Remember the larger, the heavier these pups get, so consider the weight when the vessel is full before you go out and get the 12-quart luxury model.
If your cooking for 4-6 then you might be better getting the 7-quart, just make sure you can lift it without struggling or at the very least have someone strong standing by to be your kitchen helper.
These Dutch Ovens will last a lifetime if taken care of properly. I take pretty good care of my cookware, but I've taken to hiding them from my husband, especially since he ruined my beloved 2 quart round which by the way made perfect rice and was replaced with the purchase of the 1.5 quarts Staub.
Must Haves in an Enameled Cast Iron Dutch Oven
The lid should fit properly, so moisture won't be able to escape.
The oven should feel heavy and sturdy with solid sides and an equally thick and smooth bottom.
The handles and knob need to be sturdy, firmly attached, and oven-safe. Also, you need to be able to easily grab the handles with oven mitts, because boy oh boy they do get hot!
The best quality you can afford.
Shop for A Bargain
A Dutch Oven can easily last a lifetime. It's worth spending a little more to find the best quality and value your pocketbook can handle. That being said here are some ways stretch your dollars and find a good deal on a high-quality Dutch oven.
Factory Seconds may have a few small flaws but are otherwise perfect. The best places to find seconds are at Le Creuset outlet stores or discount stores like Marshalls, Home Goods, or T. J. Maxx.
Buy used on sites like eBay, shipping can be expensive so make sure you're really getting a bargain. Don't forget to check garage sales and estate sales. Also, browse secondhand shops and antique malls for that rare Lodge or Wagner vintage find.
Bargains can be found at retail stores that have discontinued colors on clearance.
Le Creuset may be considered to be the most popular, however, other brands worth a look include Lodge, Staub, Tramontina, and Bruntmor.
Keeping your Cast Iron Dutch Oven Maintained Properly
Allow the dutch oven to cool before washing.
Wash by hand in warm, soapy water to preserve the finish
For light stains, rub with a dampened cloth and baking soda.
For harder to remove stains, fill with warm water, and let it soak for 20 to 30 minutes before washing.
On really stubborn stains like baked-on food residue, you probably need to soak overnight. Next, use a soft abrasive pad or brush to remove stains. Don't use scourers, metallic pads, or harsh abrasive cleaning agents, which might scratch or chip the enamel.
Never store your Dutch oven while still damp.
Don't stack your cookware. If unavoidable, use rubber bumpers (often included in the packing materials) to protect the interior.
Periodically check handles and knobs, and if anything feels loose, tighten the screws.
With proper care, an enameled cast iron Dutch Oven will last a lifetime.
What's the best size dutch oven for two people?
The 1.5 or 2-quart Dutch oven is perfect for small recipes like side dishes, sauces, and some desserts. For meals, I recommend a 2.75 or 4-quart for singles or couples. The larger size will make a small roast and one-pan meals nicely.