Easy Puff Pastry Cherry Turnovers Recipe
Homemade turnovers are a classic pastry dessert, but sometimes you don't have time to make them from scratch. That's when store-bought puff pastry comes in handy! These cherry turnovers are easy to make and absolutely delicious. Plus, they're perfect for any occasion – whether you're celebrating a special occasion or just looking for something sweet and tasty to enjoy. Give them a try!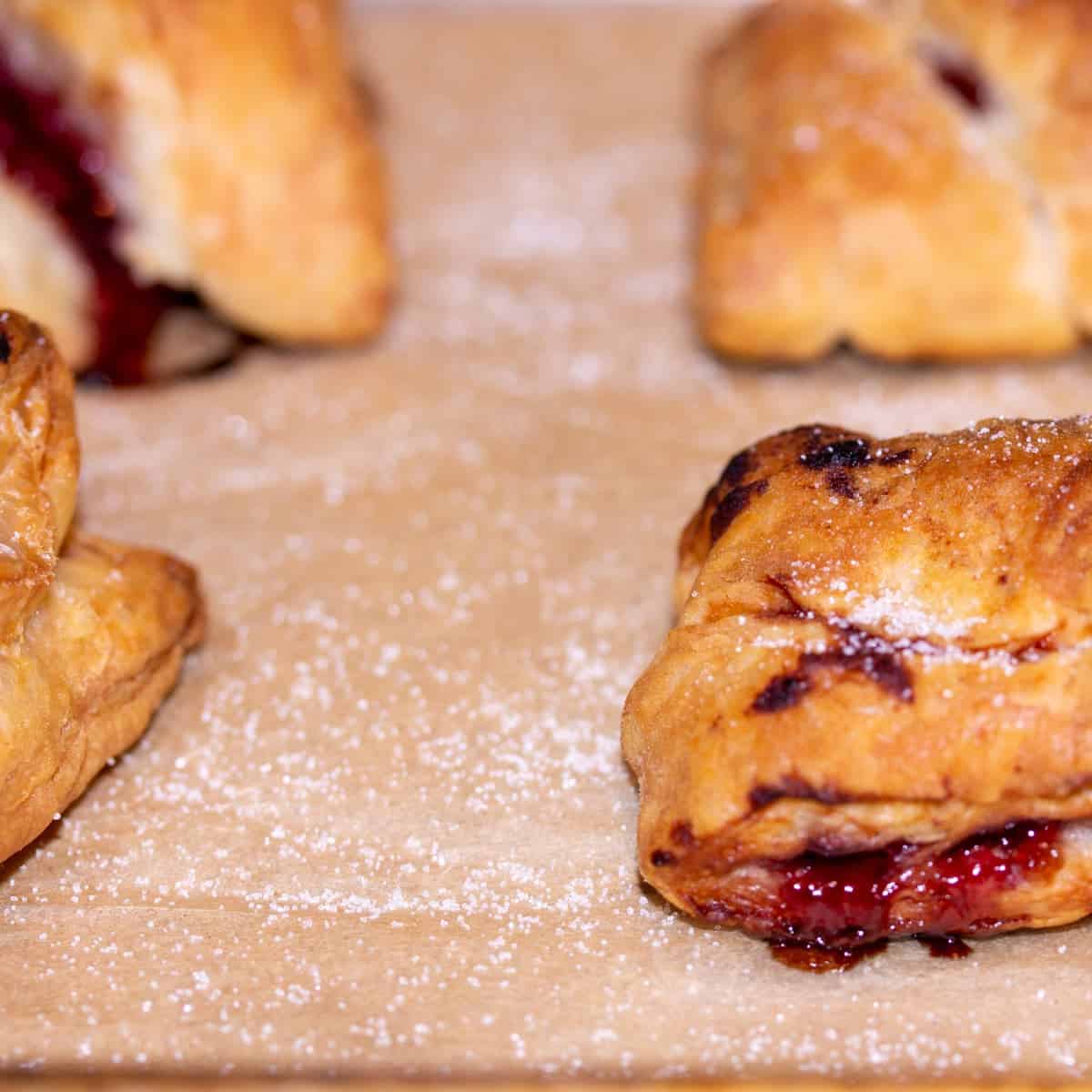 With just three simple ingredients these are the easiest Puff pastry cherry turnovers recipe you will ever make. They are flaky with a hint of tartness from the cherry preserves. These little two-bite cherry turnovers will go fast so make a double batch!
What type of puff pastry should I use?
I use a Pepperidge Farms frozen puff pastry sheets, and they taste great, flaky and buttery which is what you want in a puff pastry. I can keep a package of puff pastry in the freezer and whip up a Last minute quick batch of turnovers for a Sunday morning treat.
Have leftover puff pastry? Try these super easy chocolate croissants.
Ingredients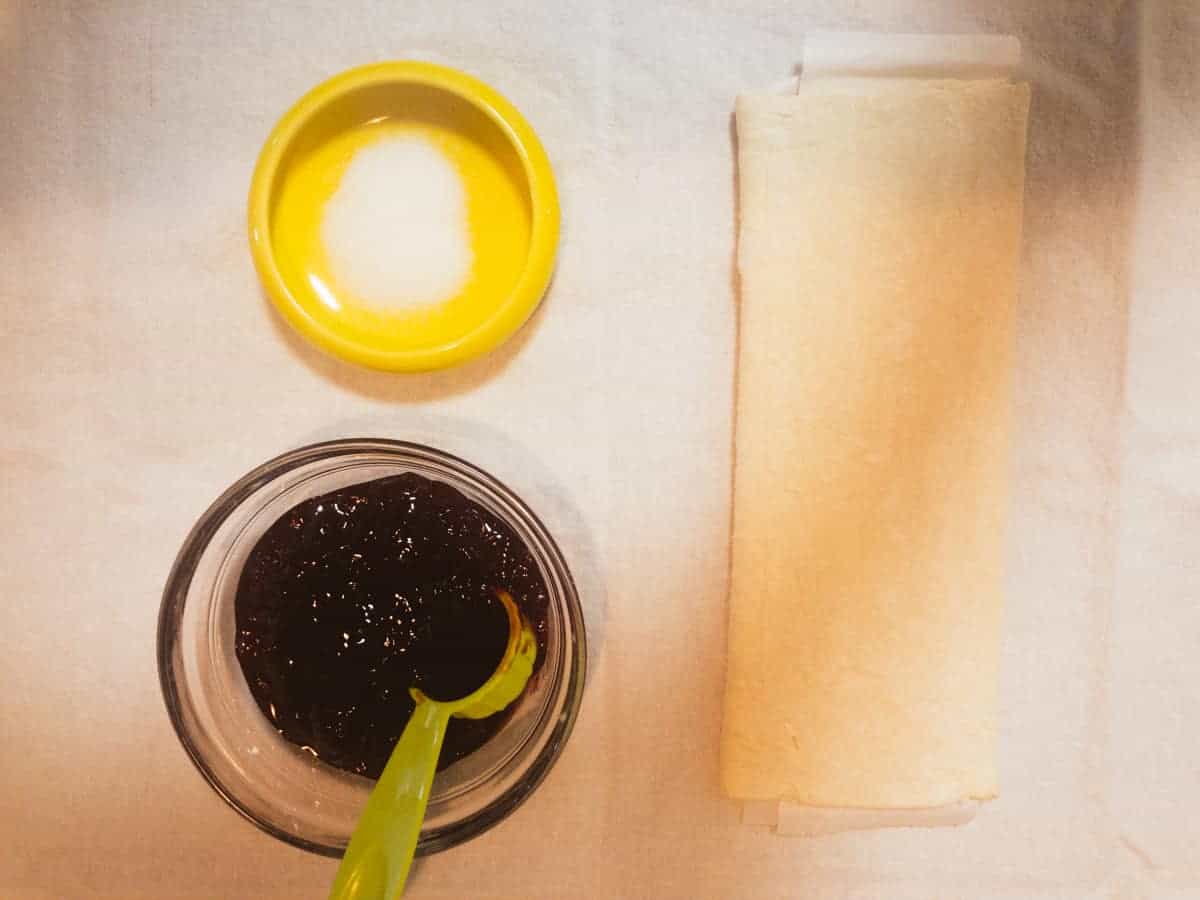 The beauty of this recipe is that all you need:
1 sheet frozen puff pastry, thawed
12 teaspoons cherry preserves
1 teaspoon sugar
Frozen puff pastry sheets – my go-to is the Pepperidge Farms brand, it never disappoints and is easy to find in your local grocery store.
Fruit preserves – something with nice chunks of fruit like the cherry preserves made by Bonne Marian or Dalfour. A lower sugar content will give you a made from scratch flavor. I also make these with my homemade lemon curd or even with little bits of Hersey bars.
Sugar – just a bit to sprinkle on the warm turnovers when the come out of the oven.

Quick Tip
Don't overfill otherwise you will have a cherry explosion with cherry preserves bursting out of the delicate pastry.

Instructions
Thaw the puff pastry and roll out so it's just a bit thinner. Next, cut into evenly sized triangles or rectangles, Cut smaller for bite size and larger for hand size.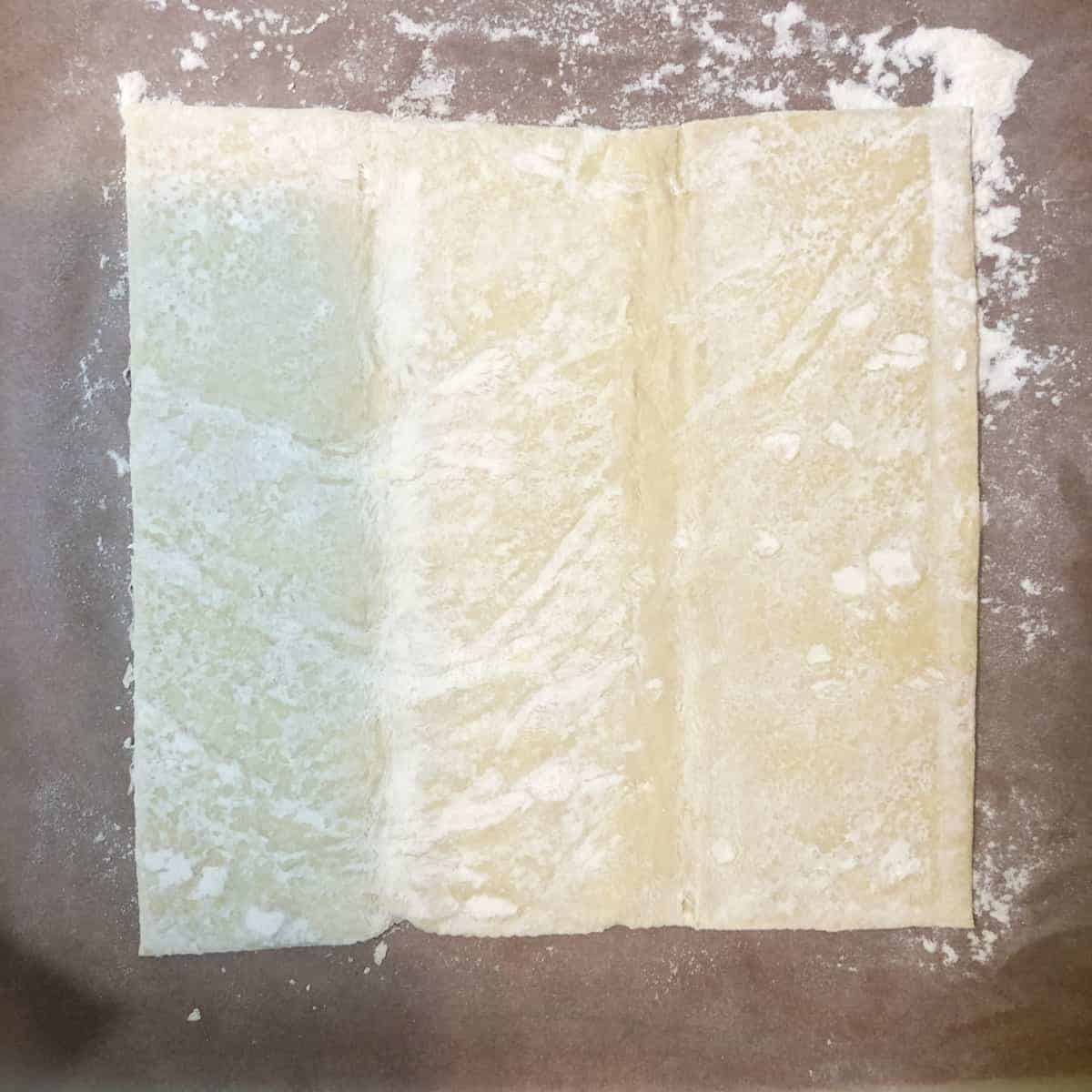 Preheat oven to 350 degrees Fahrenheit

Place a dollop of preserves in the middle of the pastry dough and roll up in croissant shape, triangles, or squares.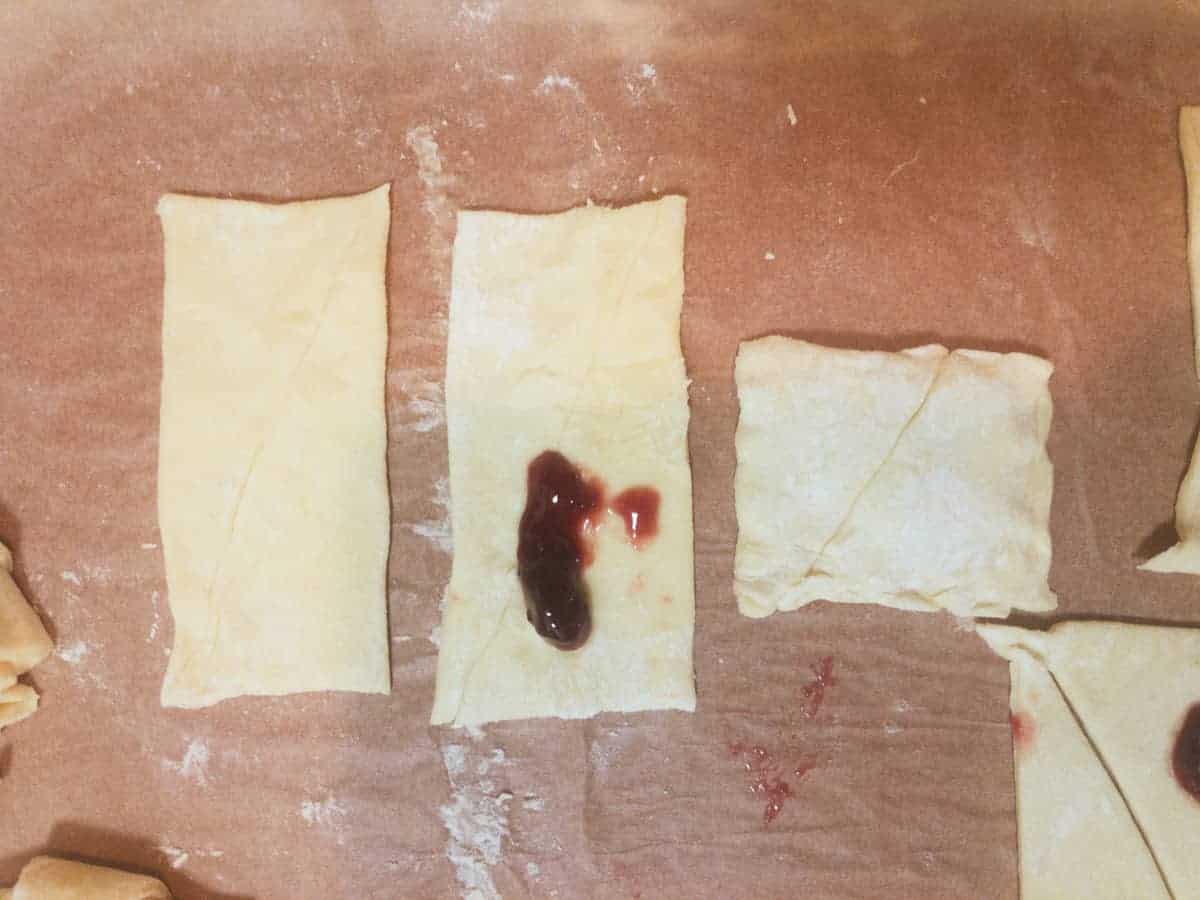 Transfer to a parchment lined baking sheet and bake at 350 degrees Fahrenheit for about 15 minutes or golden brown. I made 12 small turnovers so baked these on a quarter sheet pan in two batches. If you have a larger you can use a half sheet pan and bake in one batch.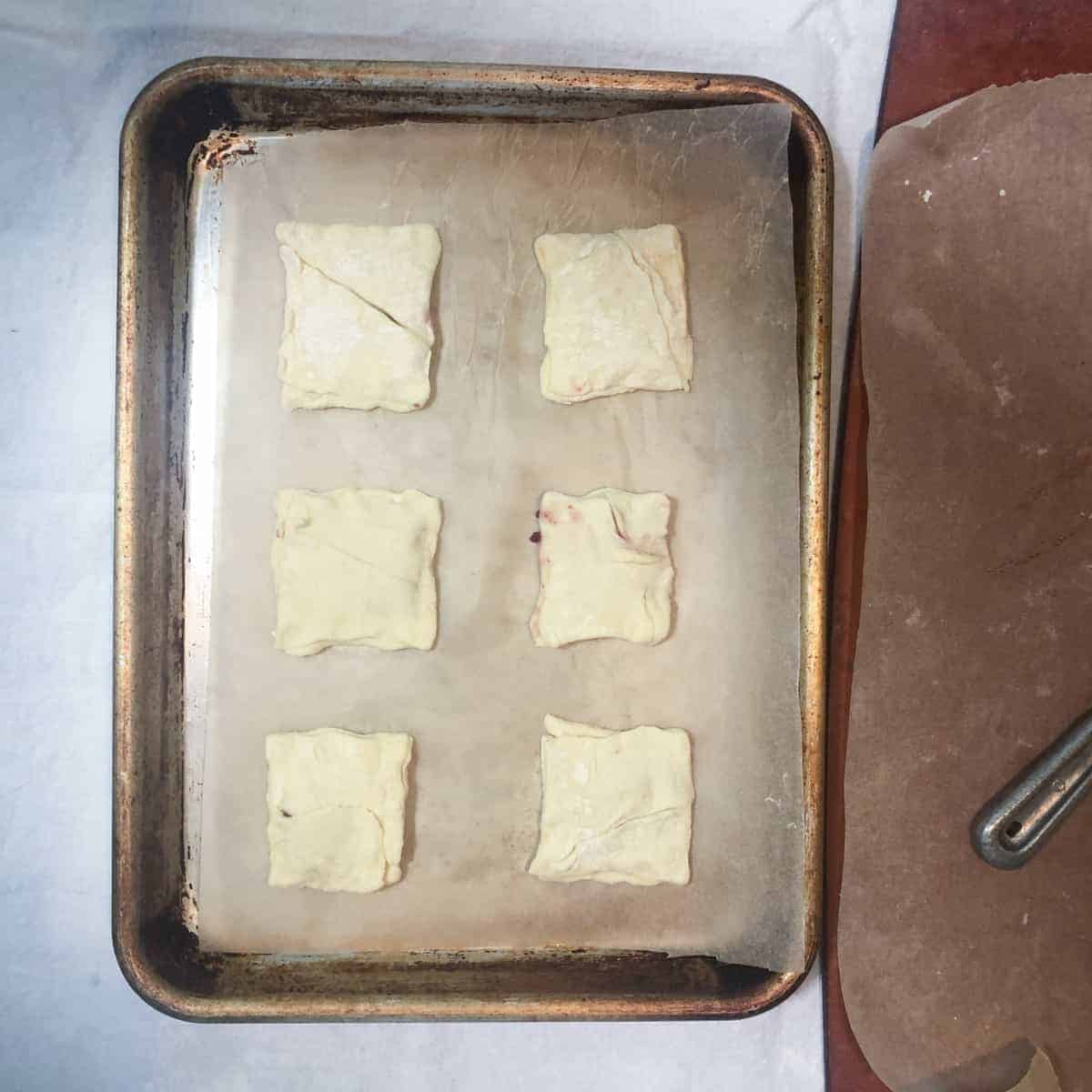 Let cool for a few minutes before biting into to turnover.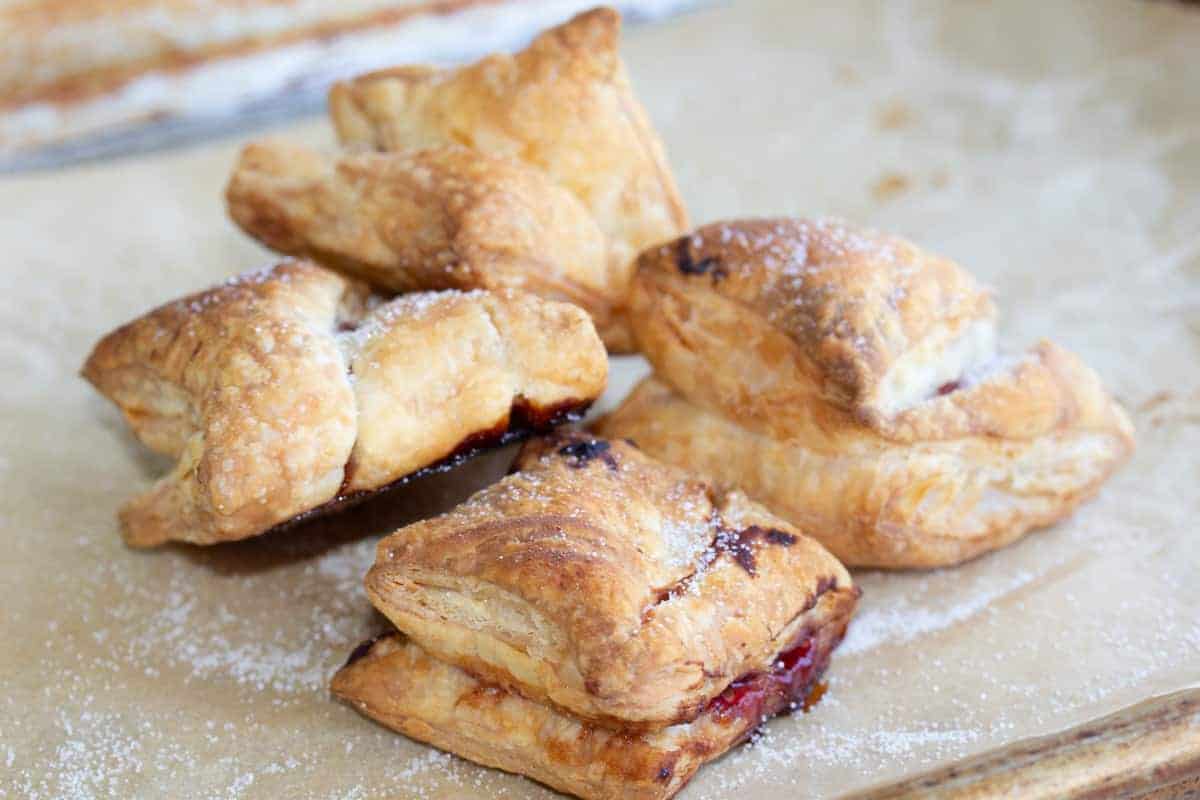 Is there a fast way to defrost frozen puff pastry?
Wrap a sheet of puff pastry in a paper towel and microwave on high for 20-30 seconds. The pastry should be room temp so it's pliable for rolling, however it needs to be chilled before baking.
Why didn't my puff pastry puff up?
Usually it's from baking in an oven that isn't hot enough. High heat is needed to create the steam in the oven so the pastry rises. Always check your oven temperature with an oven thermometer to test your ovens accuracy.
More Easy Recipes Made with Frozen Puff Pastry
Did you make this recipe? I would love it if you left a comment or review! Be sure to sign up for the email list and follow "A Weekend Cook" on Pinterest and my Facebook page.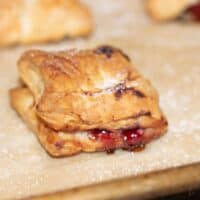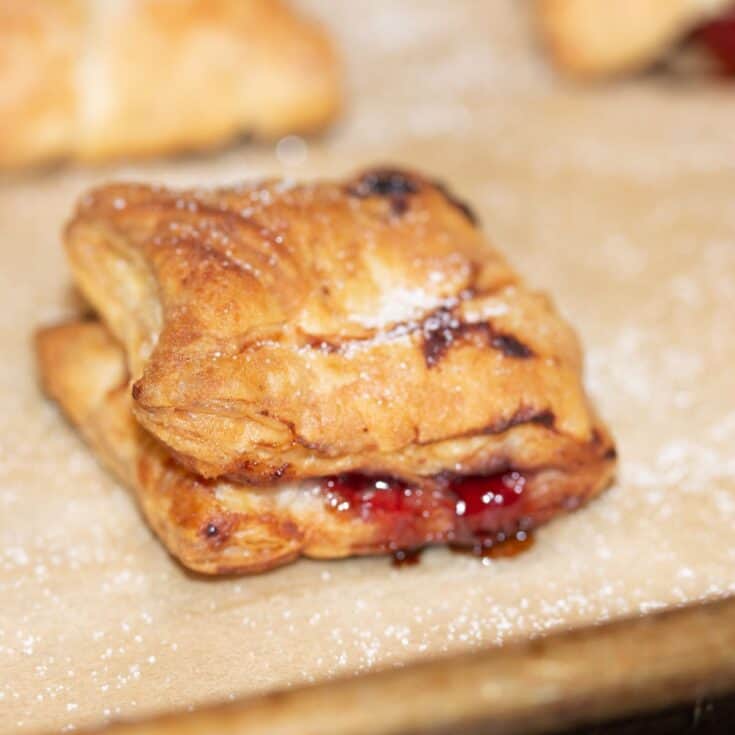 Puff Pastry Cherry Turnovers
A super simple french inspired flaky and tart two-bite cherry turnover made with just 3 ingredients.
Print
Pin
Rate
Ingredients
1

sheet frozen puff pastry

thawed

12

teaspoons

cherry preserves

1

teaspoon

sugar
Instructions
Thaw one sheet of puff pastry per package instructions, usually about 30-40 minutes. It should be thawed enough to easily unfold, but not warm.

Unfold the pastry sheet onto a lightly floured pastry board or parchment paper. Use a rolling pin to roll out to about an 8 x 12 rectangle.

Use a pastry cutter to cut into 12 rectangles, about 2 X5 each.

Place a dollop of cherry preserves in the middle of each rectangle and fold over. Crimp the edges to seal.

Place puff pastries on a parchment-lined baking sheet. Leave enough space around each pastry as they will puff a bit.

Bake at 350 degrees Fahrenheit for 15 minutes.

Remove from oven and lightly sprinkle with sugar.
Notes
Thaw Properly: Make sure to thaw your frozen puff pastry according to the package instructions, typically in the refrigerator overnight. This will make it easier to unfold and prevent it from breaking. Use Quality Cherry Filling: Use a quality preserve, I like Bonne Maman or Dalfour or you can easilu make your own filling with my cherry pie recipe. Don't Overfill: While it may be tempting to load up your turnovers with filling, too much can cause the pastry to tear or the filling to leak out during baking. A tablespoon or two is usually enough. Seal Edges Well: To prevent the filling from leaking out, make sure to seal the edges of your turnovers well. You can do this by pressing the edges together with a fork. Cut Slits in the Top: Cut a small slit or two in the top of each turnover before baking. This allows steam to escape and prevents them from bursting open. Chill Before Baking: Chill the turnovers in the refrigerator for about 15 minutes before baking. This helps the puff pastry keep its shape and ensures a flaky texture. BONUS TIP: Brush the tops of the turnovers with an egg wash (one beaten egg mixed with a tablespoon of water) before baking. This will give them a shiny, golden finish.
Nutrition
Serving:
1
cookie
|
Calories:
33
kcal
|
Carbohydrates:
6
g
|
Fat:
1
g
|
Polyunsaturated Fat:
1
g
|
Sodium:
8
mg
|
Sugar:
4
g