How to Make One Cup of Homemade Peanut Butter
You can make one cup of homemade peanut butter in less than ten minutes with just peanuts, a little honey, and a food processor. Peanuts are inexpensive, and making your peanut butter is another way to control the amount of sugar and sodium you consume. Also, try this homemade single loaf of Amish white bread.
Love recipes made with peanut butter? Read How to make homemade peanut butter fudge and How to make homemade peanut butter cups.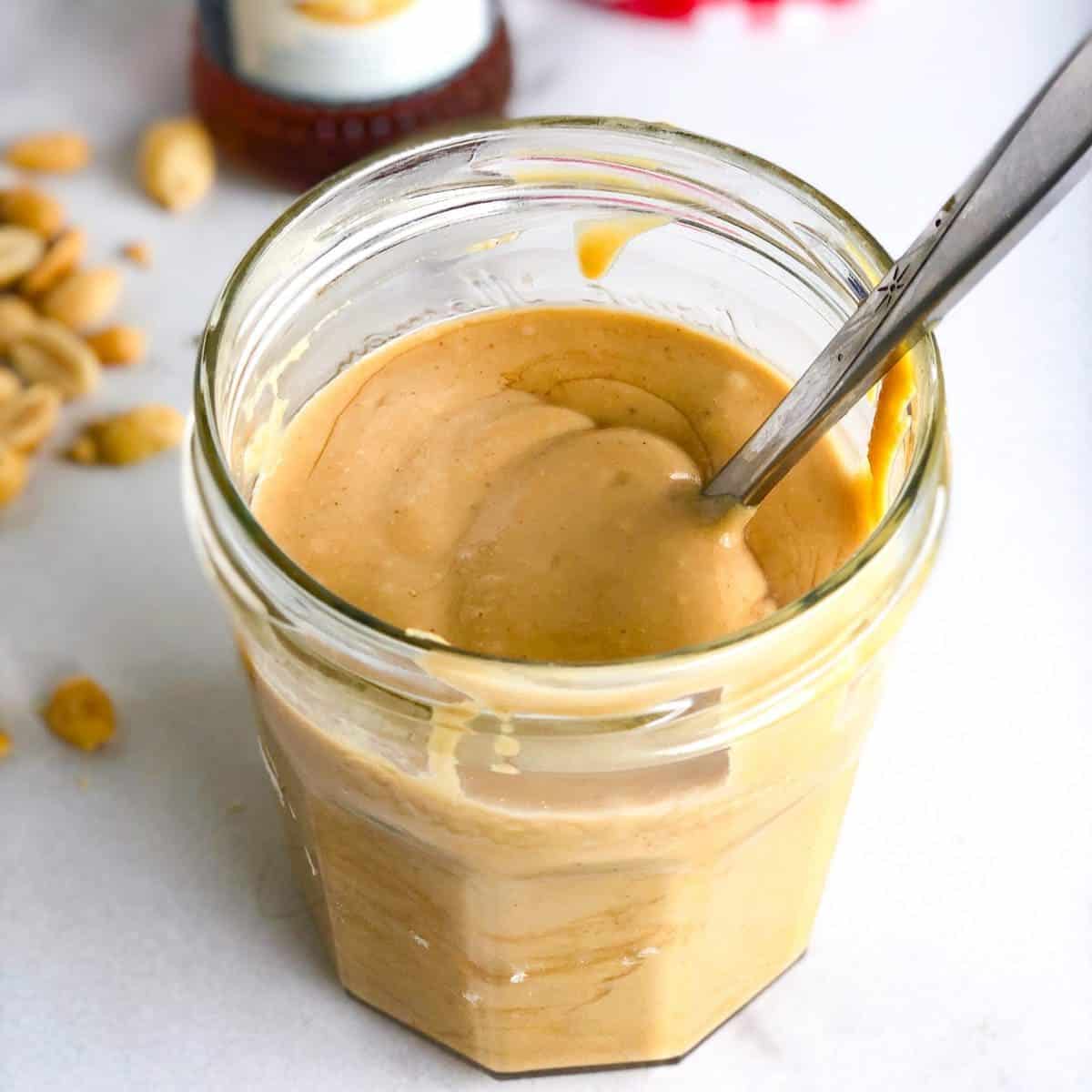 I made some peanut brittle last week and had a bunch of leftover peanuts so I pulled down the little food processor and made my own with just the perfect amount of salt and honey!
Keep dry roasted peanuts and honey in the pantry, and make this homemade peanut butter recipe in smaller batches.
Recipe Ingredients
Peanuts: I buy the ones without salt so I can control how much salt is in my peanut butter recipe.
Honey: Only use the real stuff! Honey adds a hint of sweetness and is also a natural preservative.
Vegetable Oil: Just a bit of oil helps the peanut butter to maintain a smooth consistency. You'll add more oil if you want a pourable peanut butter that is more of a sauce.
Salt: Finely ground sea salt will give a pleasant clean taste and avoids any gritty texture in the peanut butter.
Equipment Needed: You will also need a food processor. My Cuisinart finally died so I replaced it with a smaller 3.5-cup KitchenAid model, which I love. Since I mostly cook for two and have a small kitchen, so I appreciate the smaller footprint.
Step-by-Step Recipe Instructions
All you need to do is place the dry roasted peanuts in the food processor and run for about 5-6 minutes until the peanuts transform into smooth and creamy butter. I have a smaller unit, so I will stop the food processor every 30-45 seconds or so to keep the motor from overheating.
Start with 1 1/2 cups of peanuts, making about 12 ounces of finished peanut butter.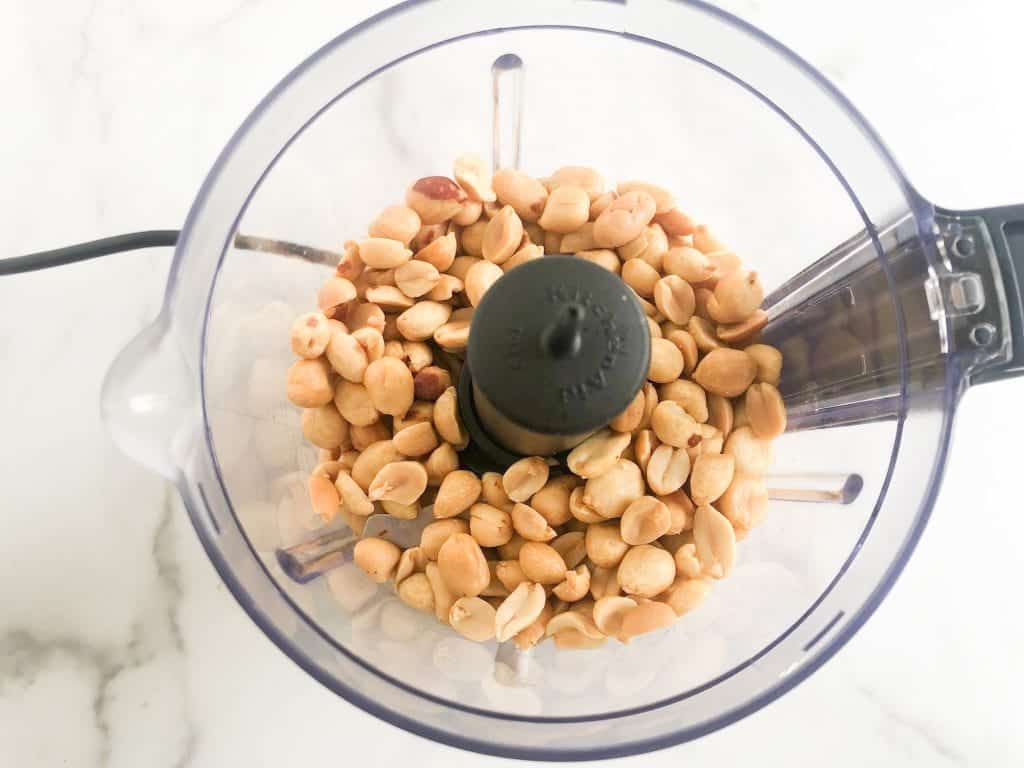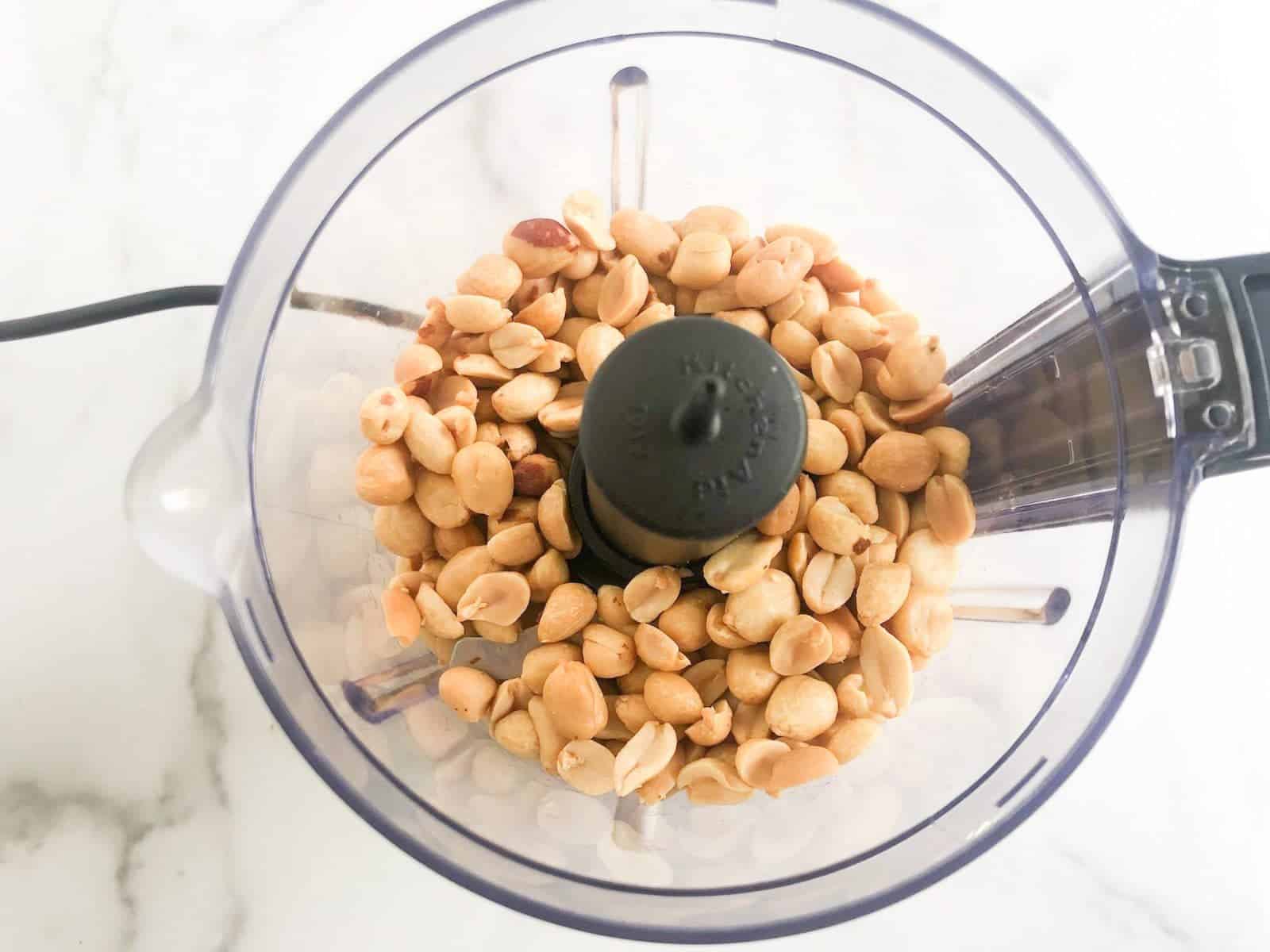 Run the processor on chop for about 45 seconds.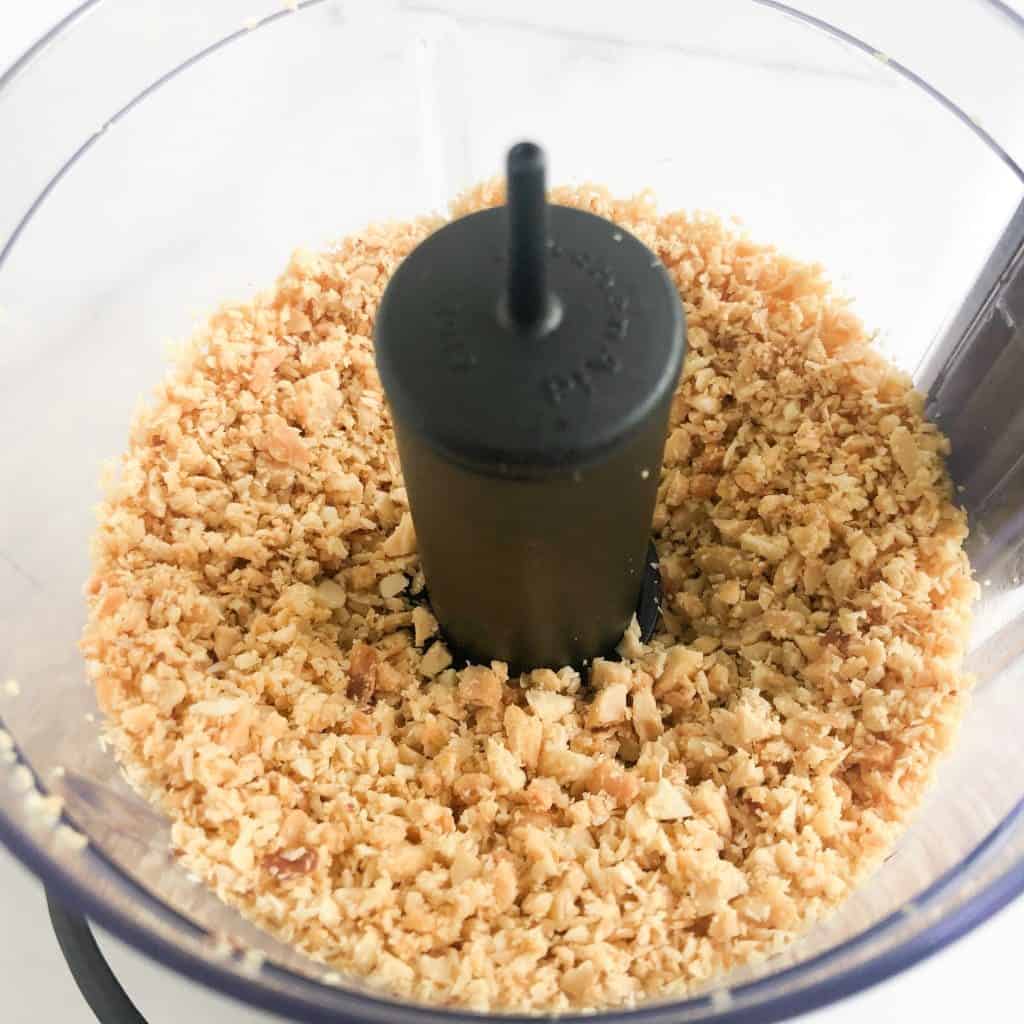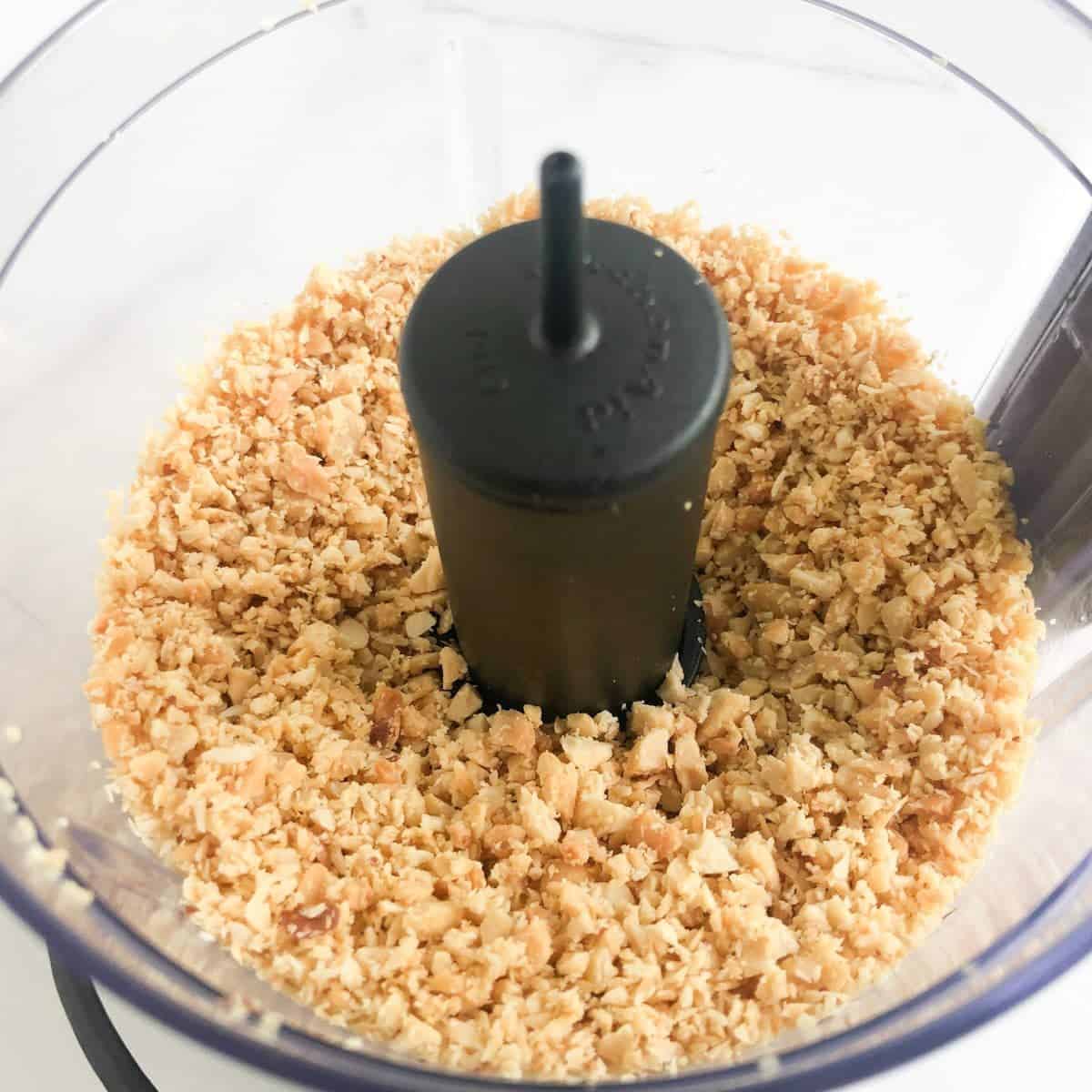 Switch to the Puree setting and continue to run for about 3-4 minutes, depending on how creamy you like your peanut butter.
Next, add the honey, oil, and salt. Taste the peanut butter and add salt and additional honey to your taste. Add more oil if you want a thinner peanut butter.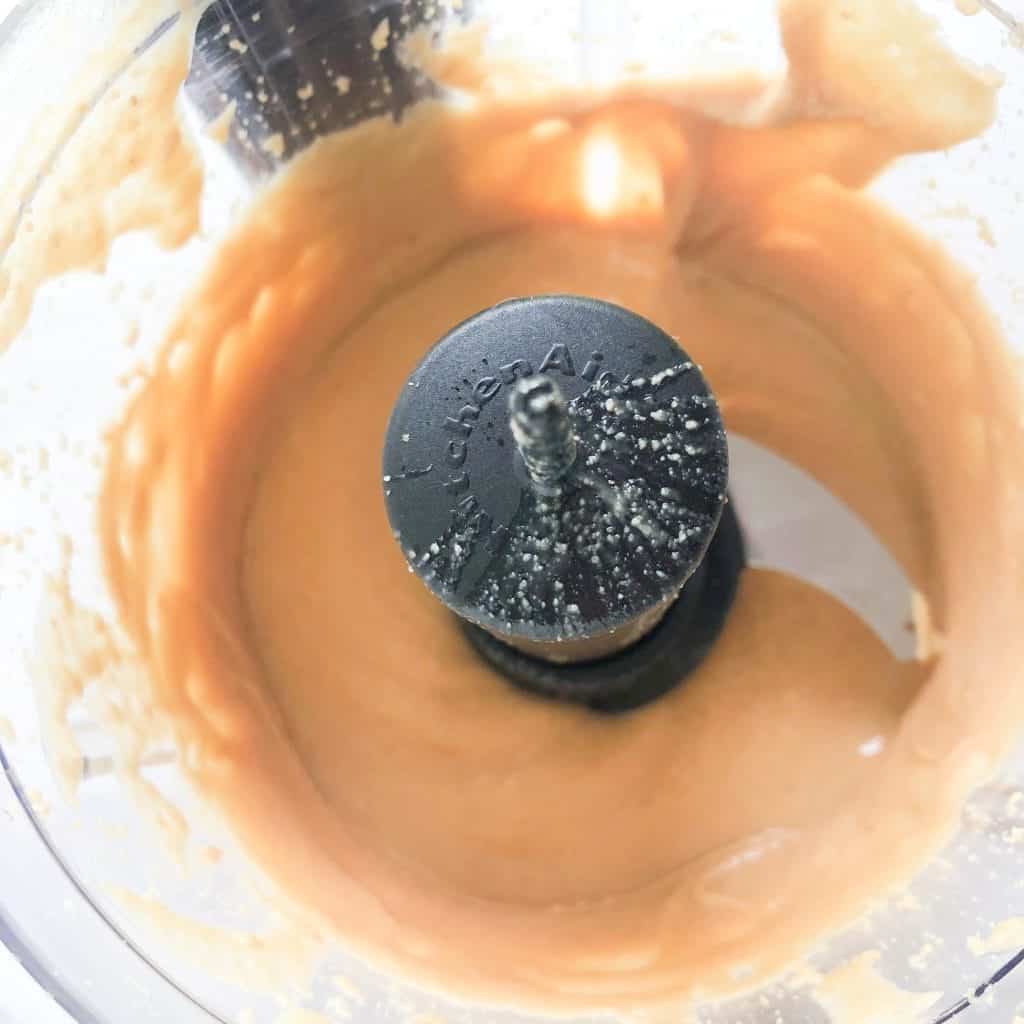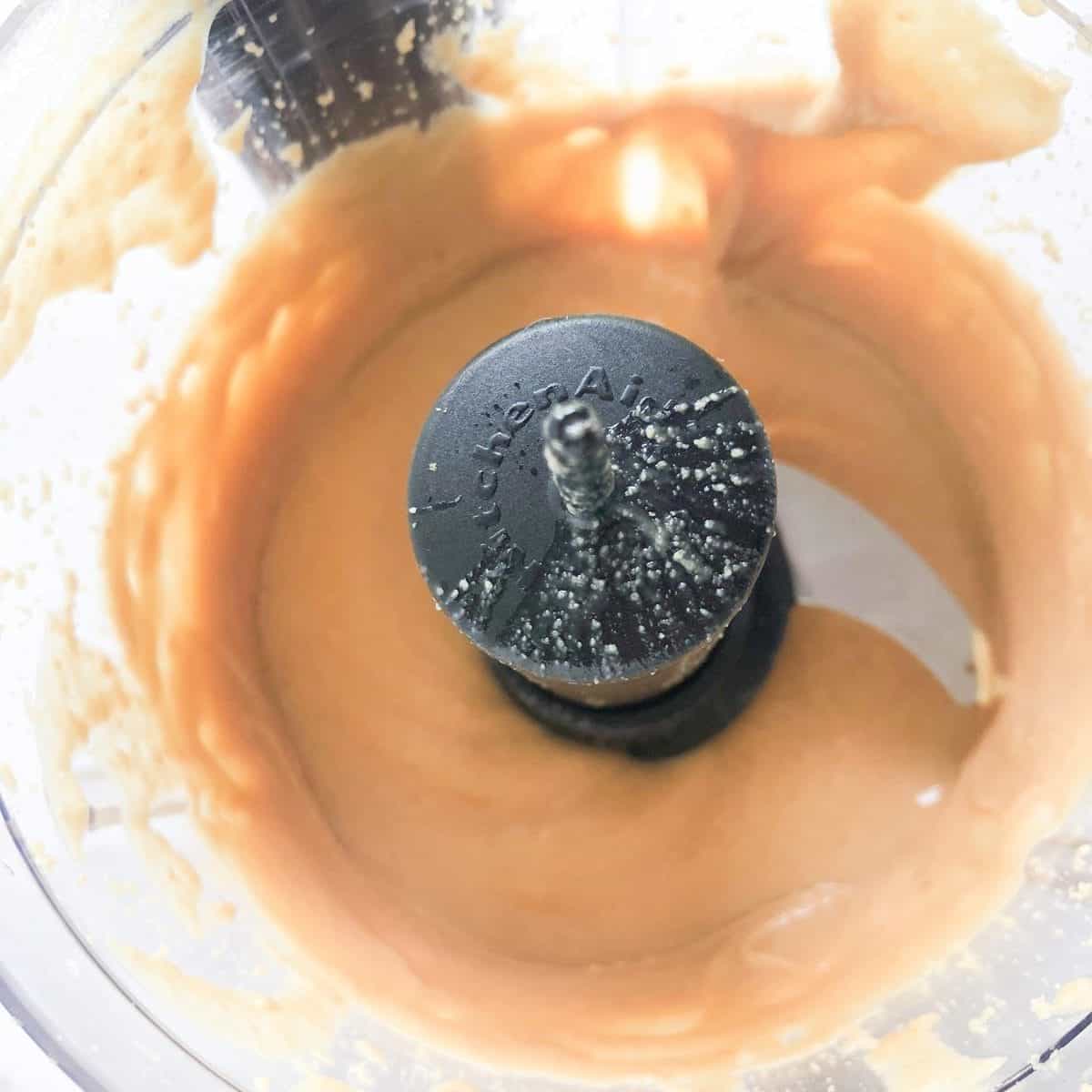 Store the peanut butter in the fridge. My old Bonne Marman Jam jars are perfect for storing homemade peanut butter.
Do you need to refrigerate homemade peanut butter?
Yes, it should be refrigerated because the oils can become rancid if left at room temperature for too long. To soften, remove from the refrigerator and let sit at room temperature for 30 – 45 minutes.
Can you freeze the peanut butter?
Yes, freeze the peanut butter in a freezer-safe storage container for up to six months. I freeze homemade peanut butter in amounts needed for my chocolate peanut butter cups and cookies.
How to make peanut butter spread without a food processor
It's pretty much the same process. Add the peanuts to a blender, and set to low speed. When the peanuts are completely broken down and begin to look creamy set the blender to medium speed. Drizzle in the honey and continue blending until the peanut butter reaches the desired consistency.
HOMEMADE PEANUT BUTTER: Frequently Asked Questions
Do I need to use honey?
No, you can leave it unsweetened or add some brown sugar, or maple syrup.
Why isn't my peanut butter coming out smooth and creamy?
Be patient when grinding the peanuts; it will take a few minutes to get o the creamy stage. Also, avoid using a coarsely ground salt.
How do I make my peanut butter crunchy?
Follow the recipe above and then fold in some coarsely chopped peanuts to add crunch.
Did you make this recipe? I would love it if you left a comment or review! Be sure to sign up for the email list and follow "A Weekend Cook" on Pinterest and my Facebook page.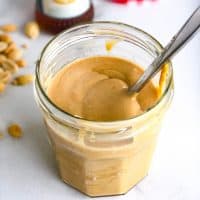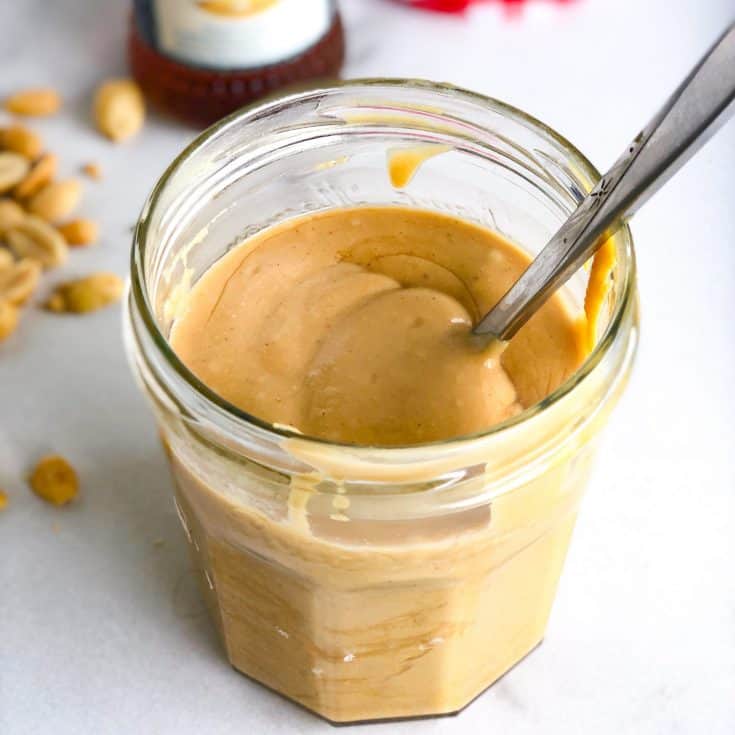 Homemade Peanut Butter
Creamy homemade peanut butter in under 10 minutes. Making homemade peanut butter put you in control of the sweetness and sodium.
Print
Pin
Rate
Ingredients
1 ½

cups

Unsalted Peanuts

1

tablespoon

Honey

pinch

of salt or to taste
Instructions
Place peanuts in the food processor on "Chop" for about 45 seconds.

Use the "Puree" setting and run for another 3-4 minutes depending on how smooth you want the peanut butter. Halfway through drizzle in the honey. The peanuts will go from crumbly to creamy in a matter of minutes.

Tate to see if you need to add salt or would like additional honey for sweetness.
Notes
High-Powered Blender or Food Processor: Use a high-powered blender or food processor to get the smoothest consistency. The stronger the motor, the smoother your peanut butter will be. Add a Bit of Oil: If you're having trouble getting a creamy consistency, you can add a small amount of oil. Use a neutral oil like canola or peanut oil. Salt: I don't add salt until it finished, then taste, and if needed, add salt and puree for another few seconds.
Nutrition
Serving:
2
tablespoons
|
Calories:
169
kcal
|
Carbohydrates:
8
g
|
Protein:
7
g
|
Fat:
14
g
|
Saturated Fat:
2
g
|
Polyunsaturated Fat:
10
g
|
Sodium:
74
mg
|
Fiber:
2
g
|
Sugar:
4
g