Keeping with my style of simple meals, I bring you this uncomplicated and very tasty Crockpot Sausage and Peppers recipe for one. Some varieties of pasta dishes cook well in a slow cooker for incredibly easy and space-friendly meals. Everything except the pasta is fully cooked when the ingredients go into the slow cooker so it's a very fast slow cooker meal. This recipe is ready in about two hours from prep to table.
Looking for more slow cooker recipe ideas? Check out more great recipes for a small slow cooker including this easy slow cooker Goulash.
Table of Contents
Ingredient notes and substitutions
These simple ingredients are you need to make pasta with sausage and peppers in a crockpot.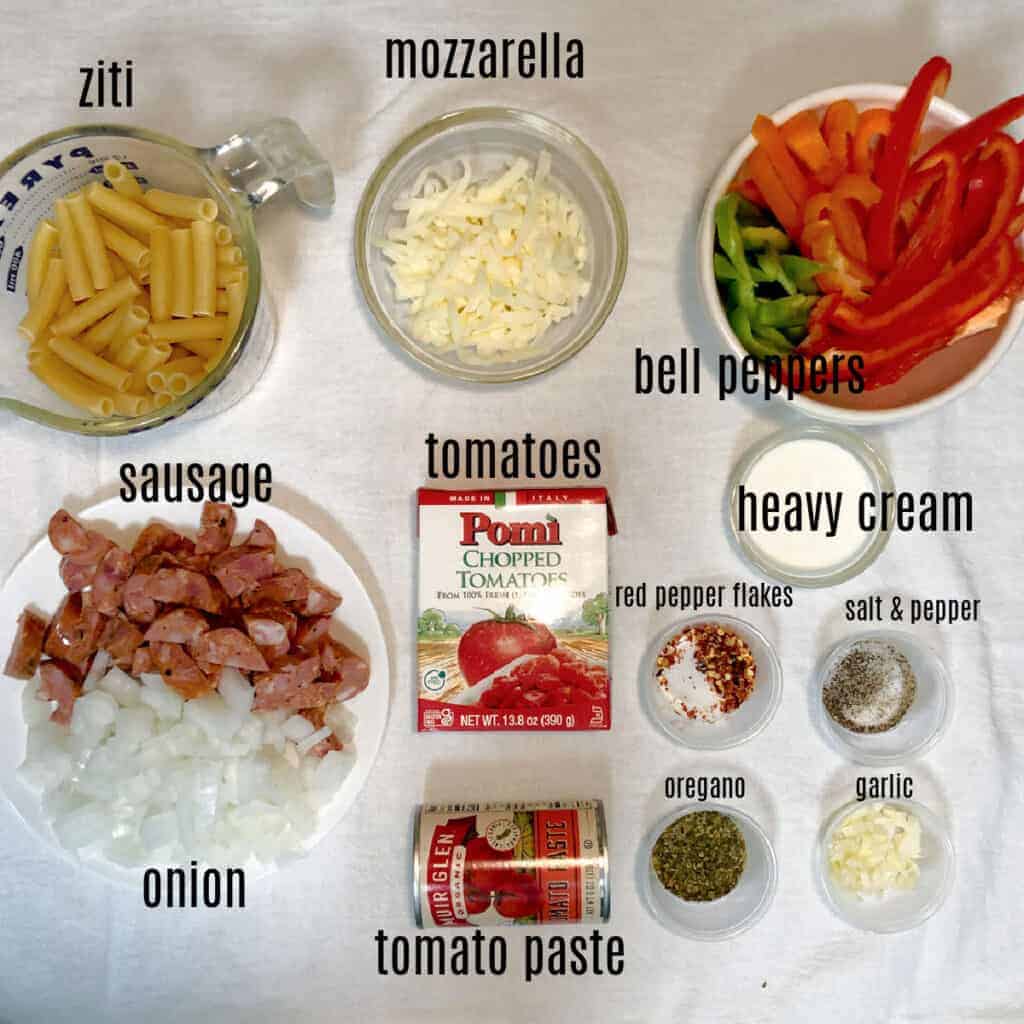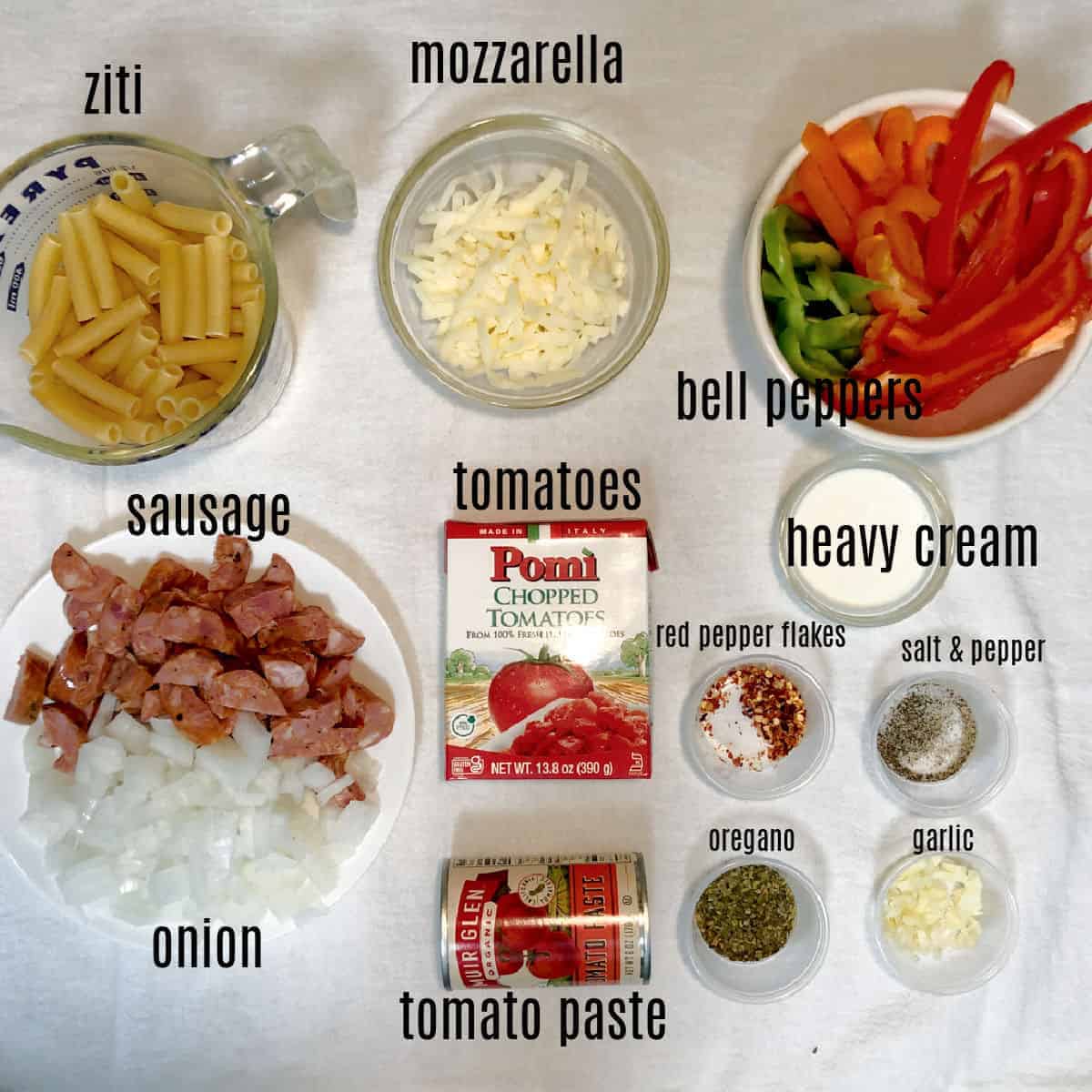 Sausage: Aidell sausages are already cooked and you have a variety of flavors to select, I love using the spicier Cajun style or Italian sausages. You can also use a browned ground beef and season it to your taste. If you like extra meat add a third sausage.
Tomatoes: My go to are Pomi chopped, but you use a canned crushed tomatoes or even substitute with your favorite jarred marinara sauce. if you don;t want top open a can of tomato paste for just 1 tablespoon you use a tube tomato paste.
Ziti: The recipe uses Ziti, but it's perfectly fine to use a smaller Penne or even an elbow noodle. This dish is just great over pasta! The pasta police won't come knocking on your door, I promise. 🙂
Vegetables: peppers, onions, tomatoes, and garlic is all the sauce needs, however, you can add mushroom for a little extra flavor.
Cheese: You can use all Mozzarella, or add in a little ricotta and sprinkle some parmesan on top before serving.
Italian Seasoning: I use red pepper flakes, garlic, and oregano but you can also use a premixed Italian seasoning.
Recipe Directions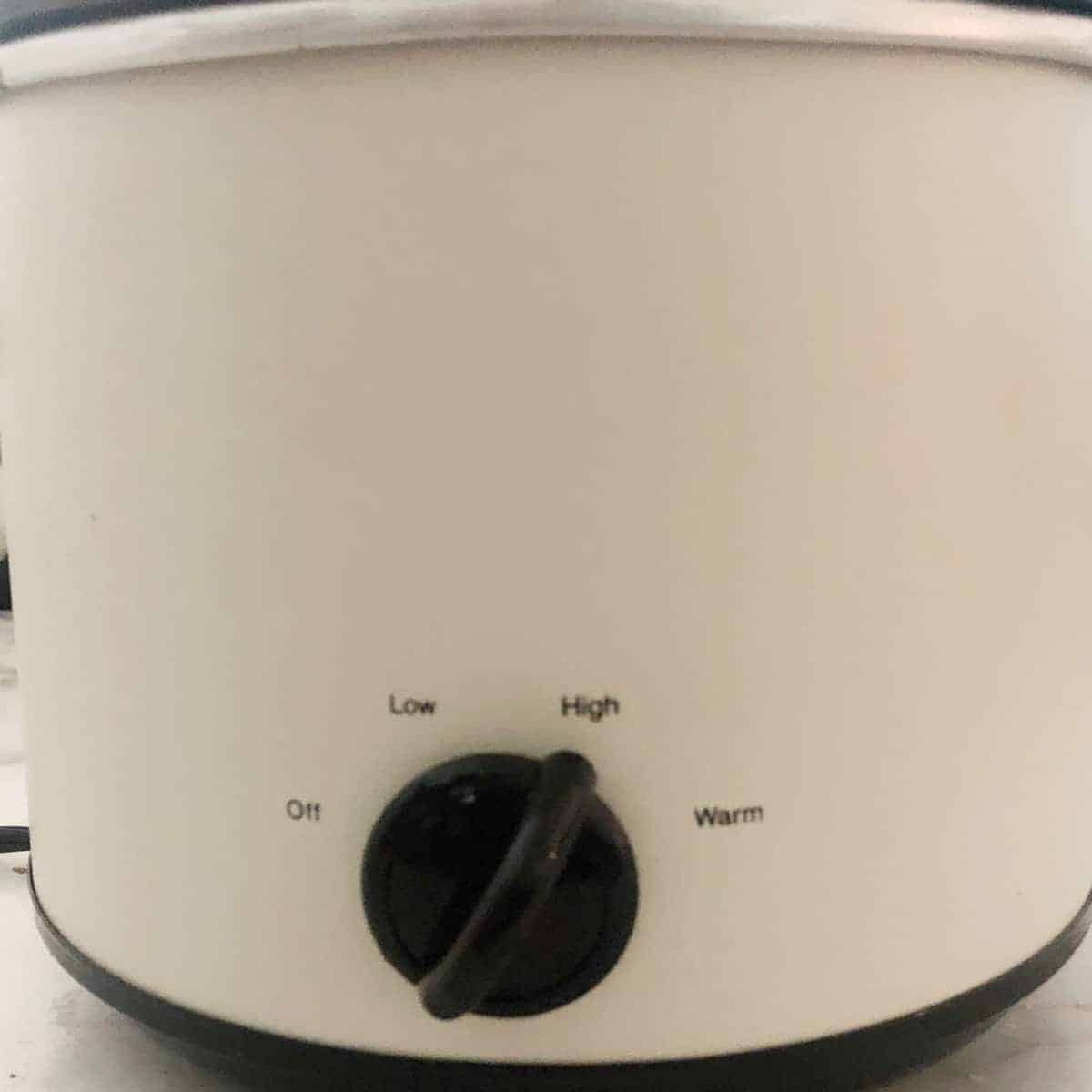 Coat the inside crock of a 3-quart slow cooker with vegetable spray and set aside while preparing the ingredients.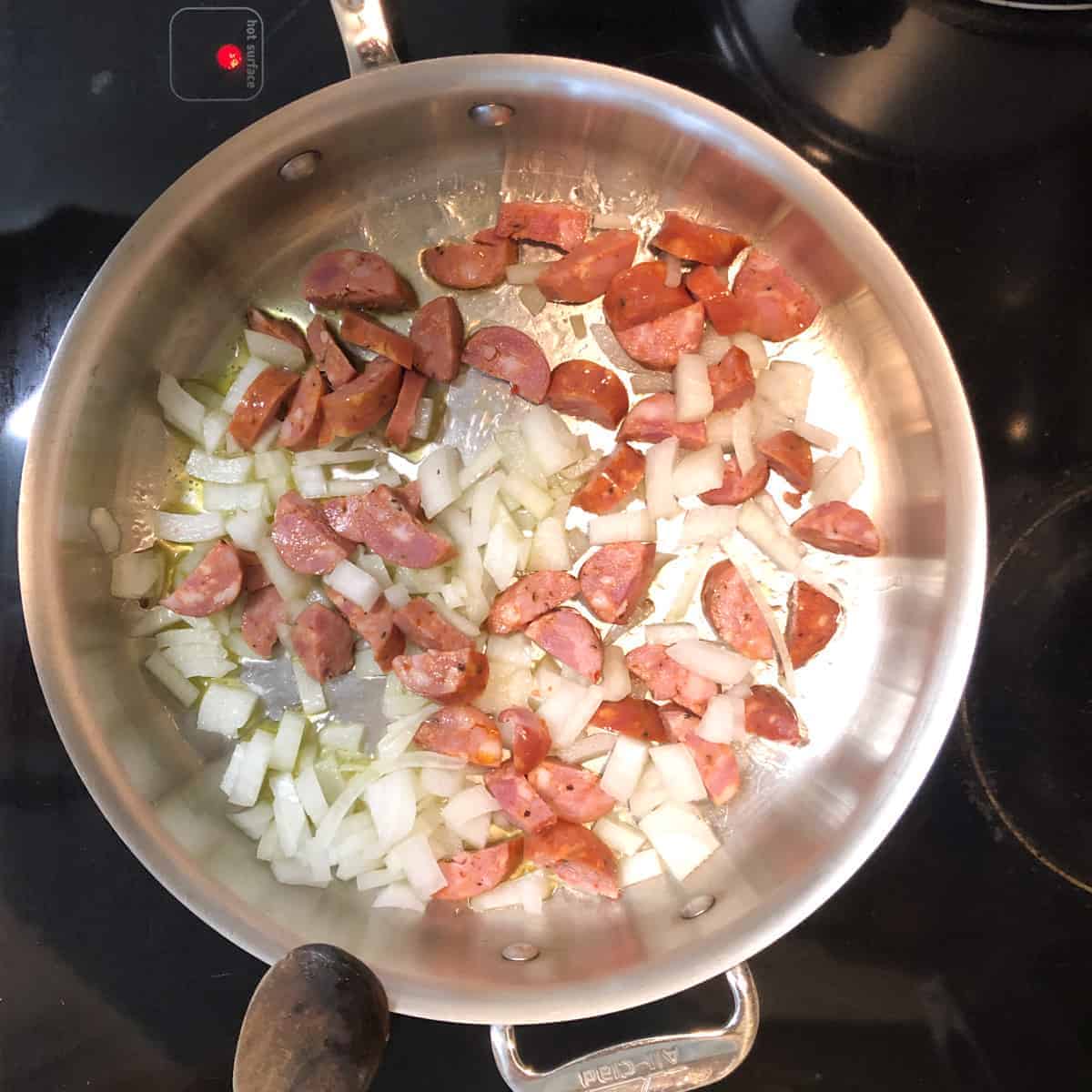 Heat oil in a large skillet and brown the sausage and sauté the onions for about 3 minutes.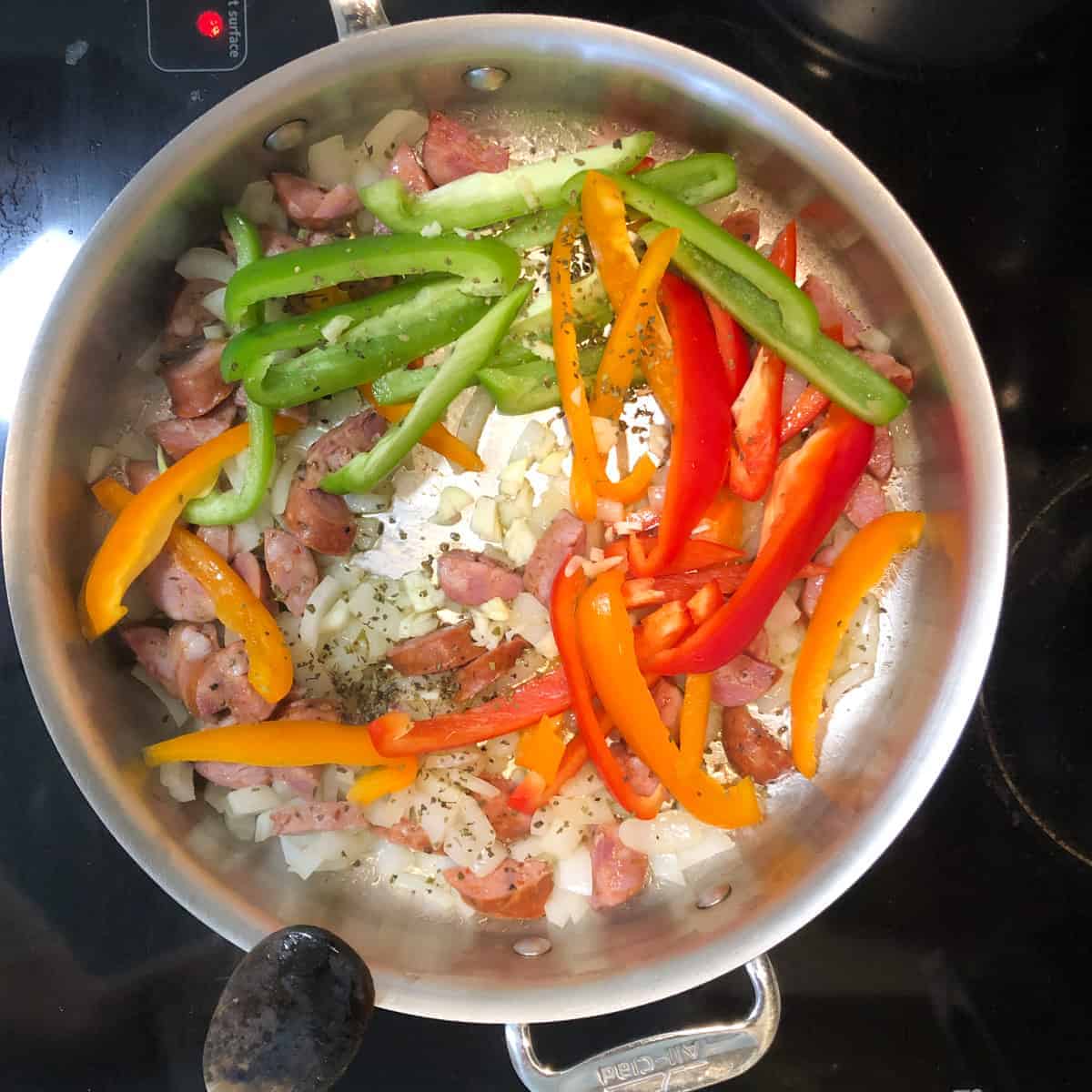 Next, add the green and red pepper, garlic, and oregano and saute for about 4 minutes, the peppers should be just a little tender but not soft.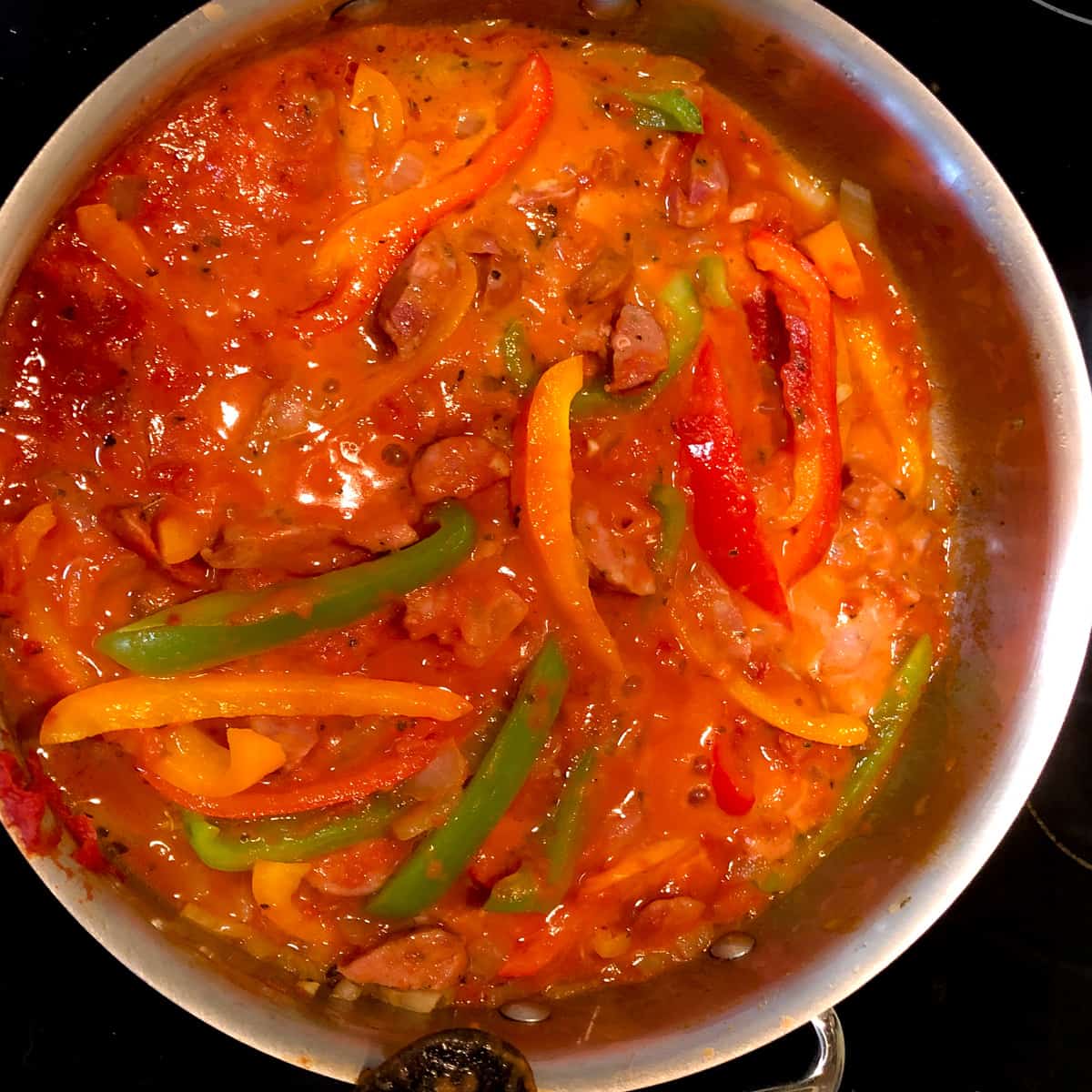 Stir in the tomatoes, tomato paste, water and heavy cream and simmer until sauce begins to thicken, about 5 minutes.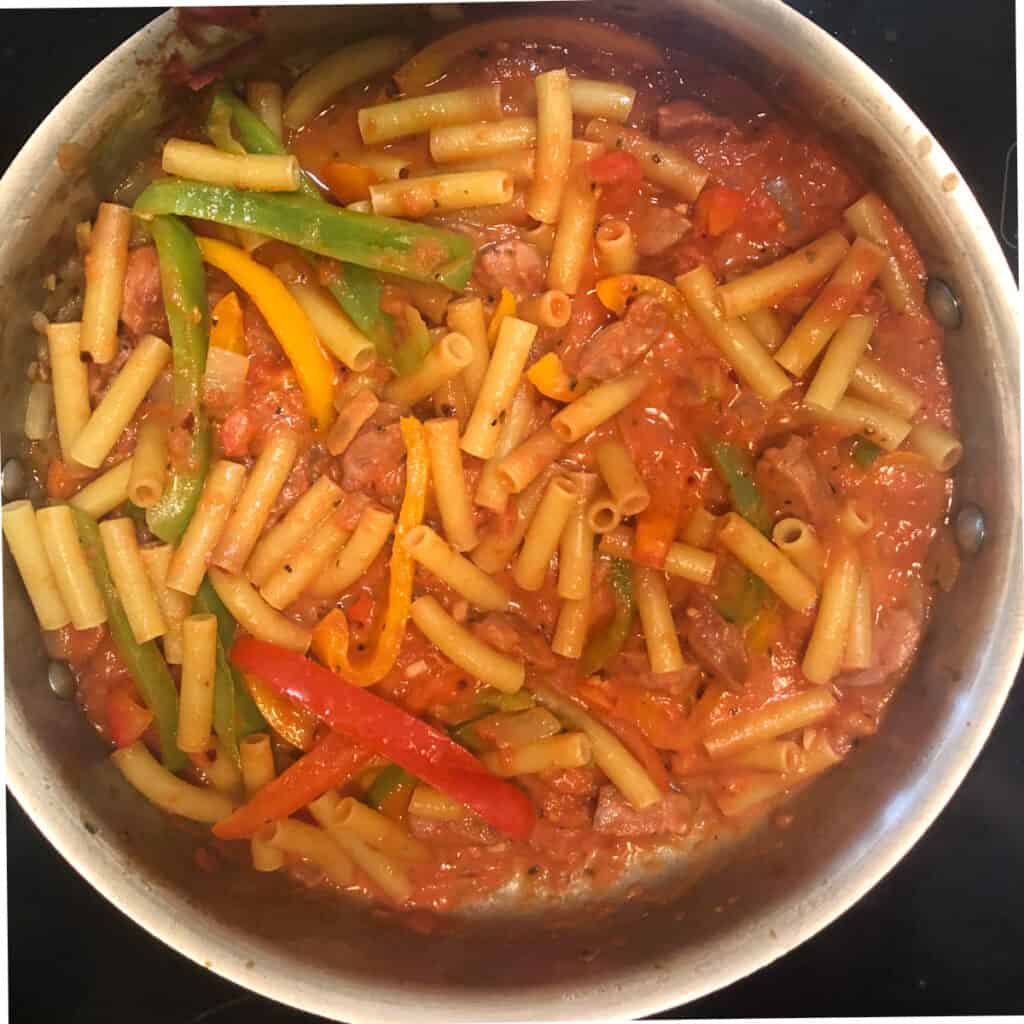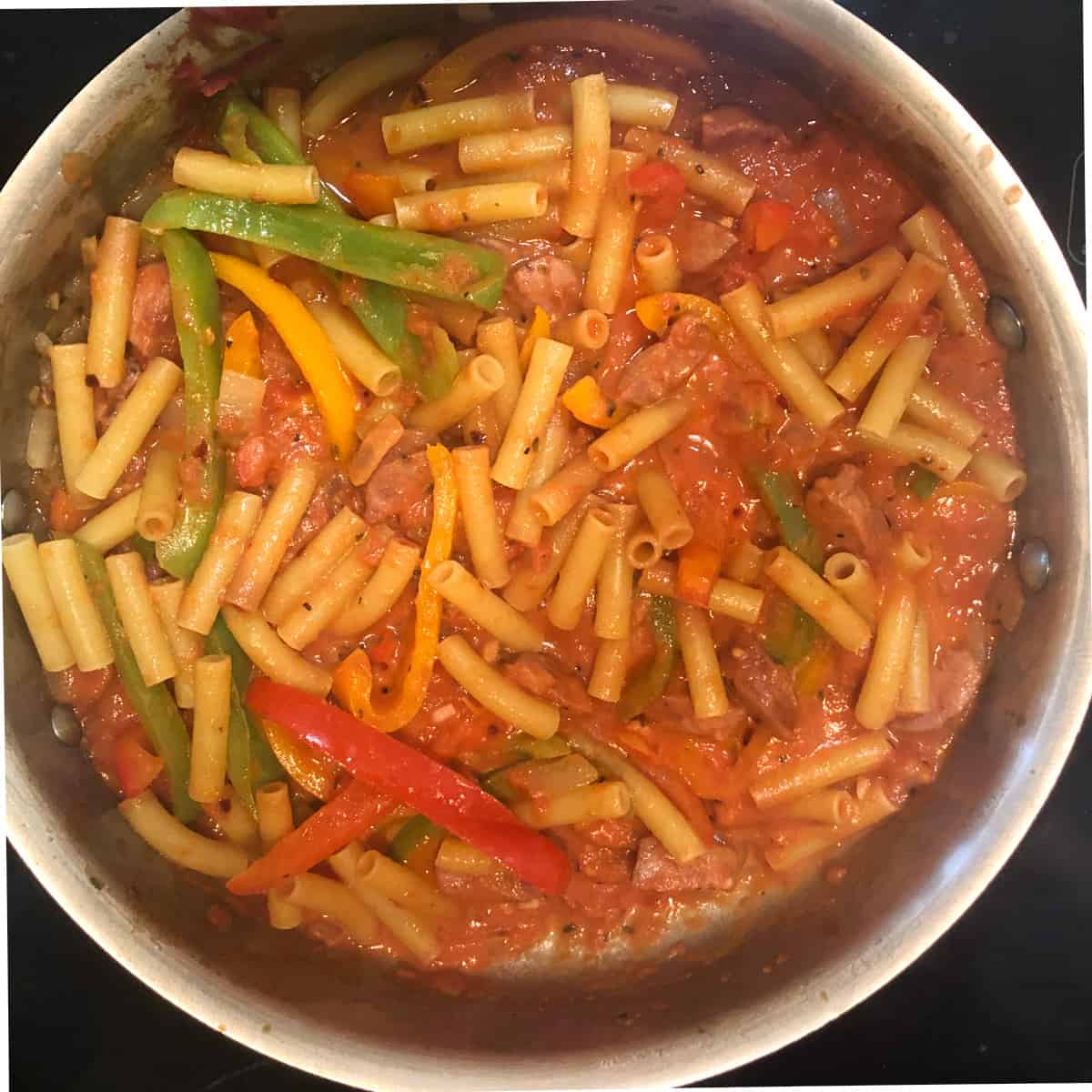 Stir in the dried Ziti, stir well to coat the Ziti with the sauce.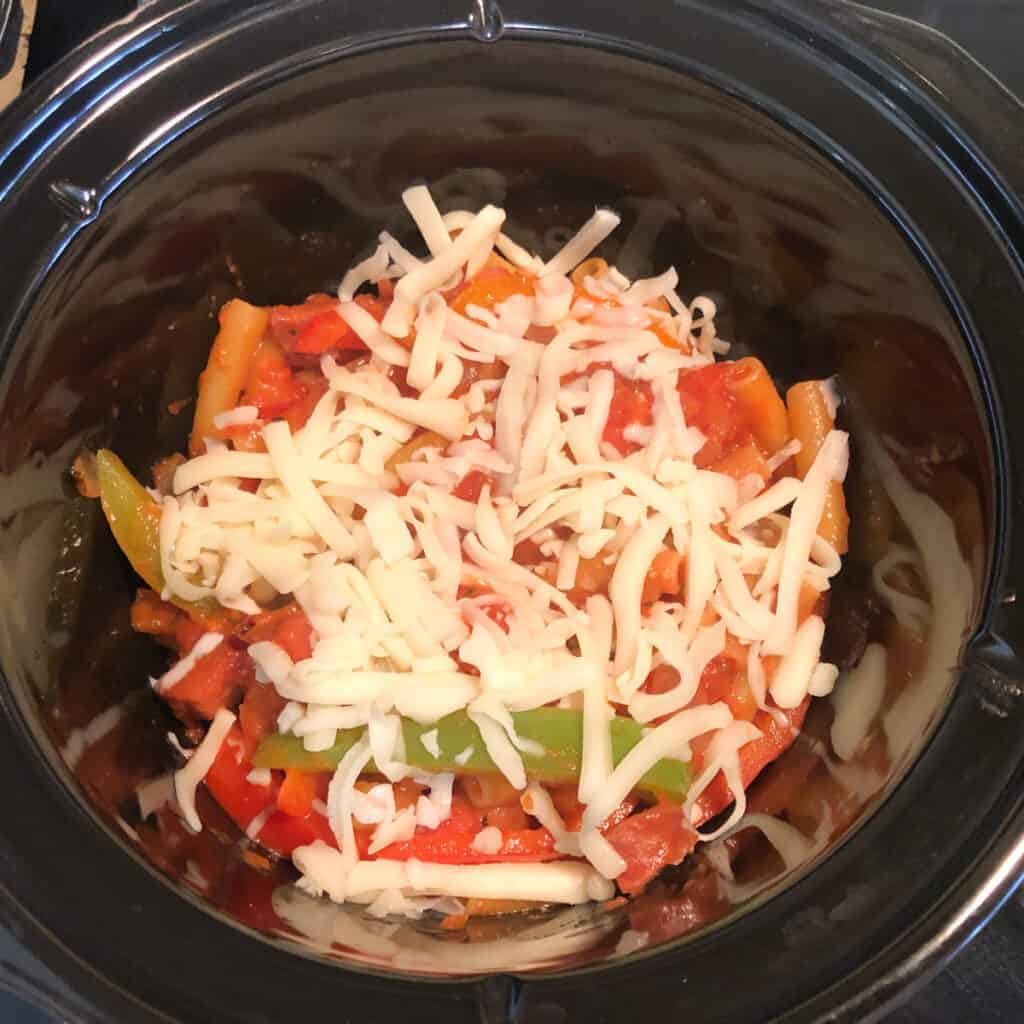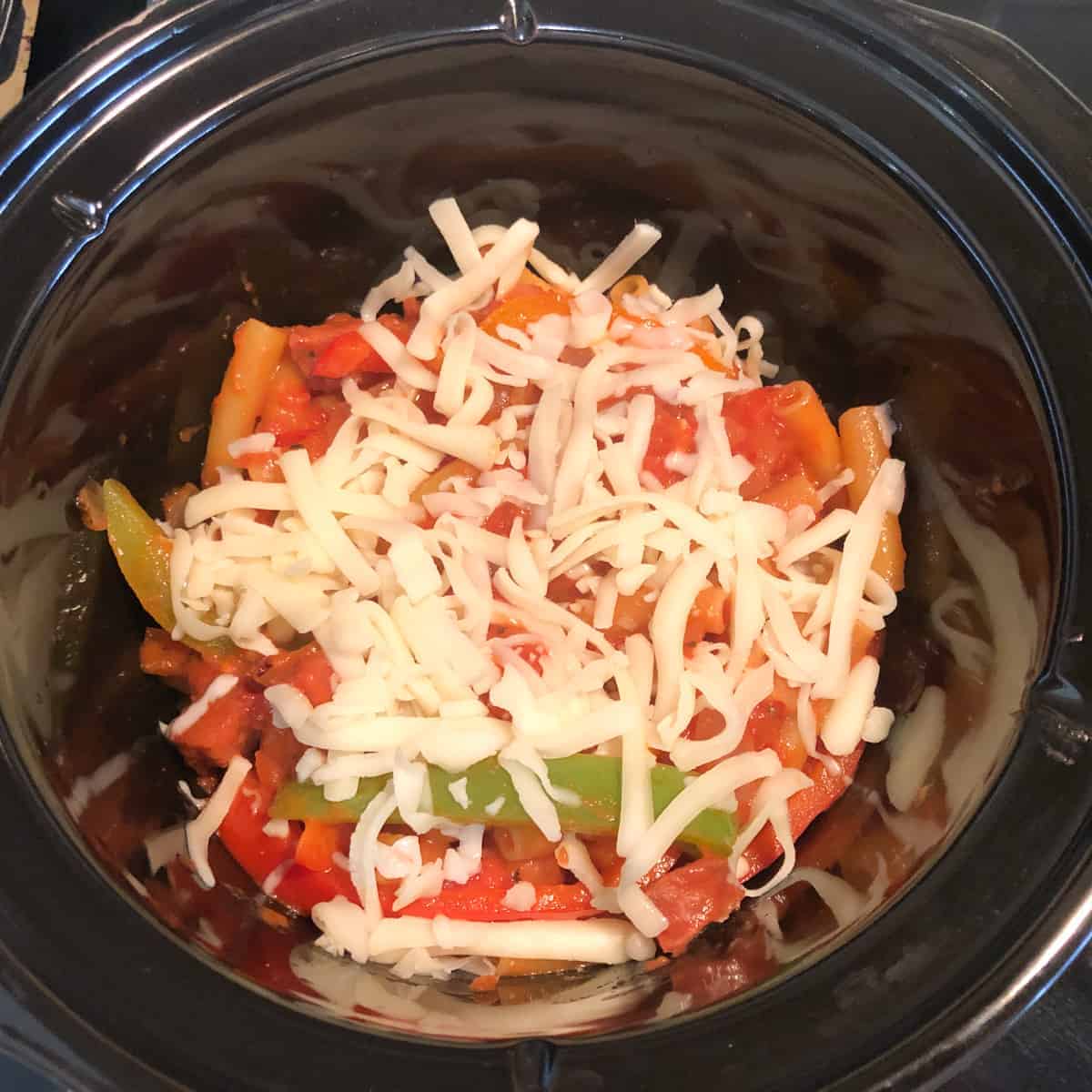 Transfer to slow cooker, stir, tip with shredded mozzarella, cover, and cook on high for 2.5 hours on high setting. When done, sprinkle with a little mozzarella and serve hot
Different ways to serve sausage and peppers
Sausage and peppers is a classic Italian dish that is typically served over pasta. While there are many different ways to prepare this dish, the most important thing is to choose a sausage that you enjoy.
For the peppers, you can either use sweet bell peppers or hot peppers, depending on your preference.
Instead of serving over pasta, serve over steamed rice.
Serve with a salad and french bread for a hearty meal.
Slice a hoagie roll and make a sandwich with the sauce, minus the pasta.
Storing leftovers
The leftovers can be stored in the refrigerator and in an airtight container in the fridge for up to 2 days. To reheat, in the microwave sprinkle with a little water and reheat for about a minute, continuing in 15-20 second intervals until heated thoroughly.
If you plan on freezing, cook the sausage and peppers without the pasta. Let cool and store in an airtight container for up to one month. When ready to eat, cook the pasta and add to the heated sauce.
📖 Recipe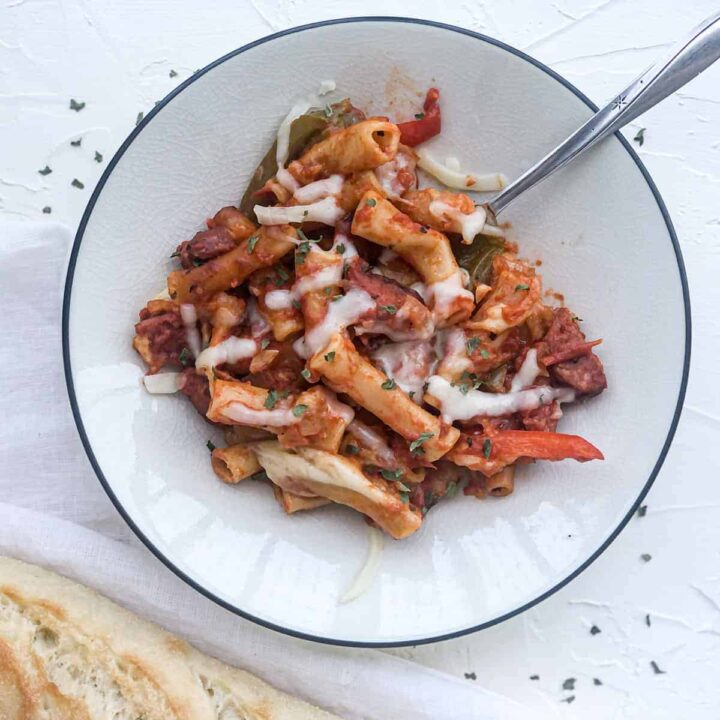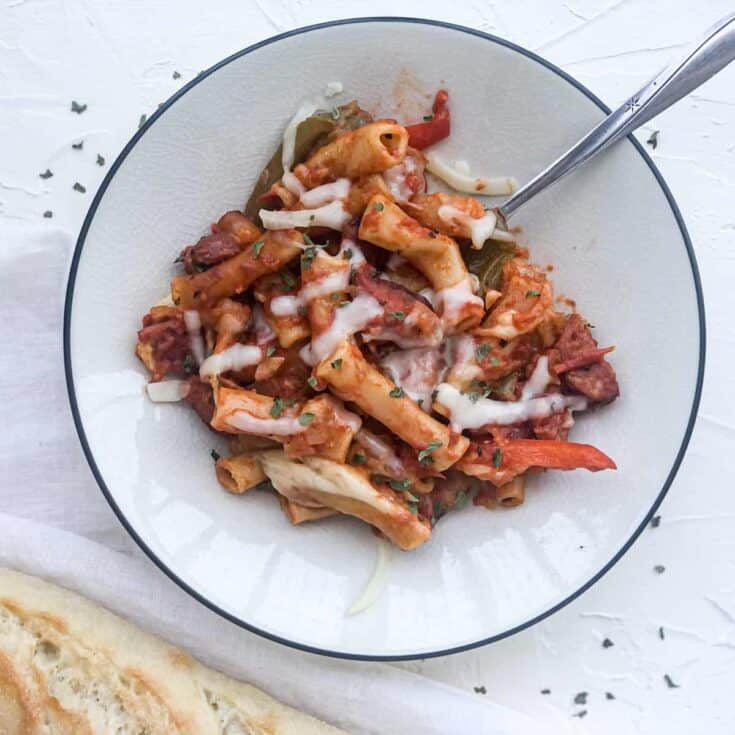 Slow Cooker Sausage and Peppers
Cook Time:
1 hour
30 minutes
Total Time:
1 hour
45 minutes
A creamy and spicy Italian comfort food treat. A few minutes on the stove,then transfer to the slow cooker.
Ingredients
1 tablespoon olive oil
1 links aidell cajun sausage, diced
¼ onion, minced
¼ green pepper, seeded and sliced into thin strips
¼ red pepper. seeded and sliced into thin strips
¼ orange pepper, sliced into thin strips
1 garlic cloves, minced
¼ teaspoon oregano
1 cup canned diced tomatoes, with juice
1 tablespoon heavy cream
2 tablespoons water
¾ cups dried Ziti
⅛ teaspoon red pepper flakes
1 tablespoon tomato paste
¼ cup mozzarella, shredded
salt and pepper to taste
Instructions
Coat a 3-quart slow cooker with vegetable spray.
Heat oil in a large skillet and brown the sausage and sauté the onions for about 3 minutes.
Add the bell peppers, garlic,red pepper flakes, and oregano and saute for about 4 minutes.
Stir in the tomatoes, tomato paste, water,and heavy cream and simmer until sauce start to thicken, about 5 minutes.
Stir in the dried Ziti, and stir well to coat the pasta.
Transfer to slow cooker, cover, and cook on high for 1 hour 30 minutes hours. Check the slow cooker after 1 hour to ensure the noodles don't overcook, you may need to cook a little less or a little more time depending on your slow cooker.
Sprinkle with mozzarelly and serve.
Notes
if doubling the recipe, use a larger slow cooker.
your favorite jarred sauce can be used instead of the tomatoes and spices.
Nutrition Information:
Yield:

2
Serving Size:

2 cups
Amount Per Serving:
Calories:

726
Total Fat:

39g
Saturated Fat:

15g
Trans Fat:

0g
Unsaturated Fat:

25g
Cholesterol:

74mg
Sodium:

1132mg
Carbohydrates:

64g
Fiber:

5g
Sugar:

9g
Protein:

31g
The nutritional information provided here are estimates and are not calculated by a registered dietitian.
If you enjoy this recipe, you might like my slow cooker chicken divan or my super easy slow cooker chicken cacciatore!
Check out the web story version of my slow cooker sausage and peppers recipe for two.
Equipment Used
Stainless Steel Skillet - My 10-inch All-Clad Saute pan is a beautiful and although it's pricey, it should last a lifetime. I've had it for many years and it still performs great!
3-quart Crockpot - this model is the perfect size for the one or two-person household.
What other types of sausages can I use in this recipe?
You can use a turkey sausage, meatballs, or a chicken apple sausage also works nicely.
Can I make this on the stovetop?
Yes, follow the instructions up to the slow cooker point and continue cooking on low in the skillet for another 30-45 minutes until the peppers and nice and soft. Cook the pasta separately and add to the sauce.