Classic Egg Salad for One
This old-fashioned classic egg salad for one is a tasty combination of chopped hard-boiled eggs, a hint of tangy mustard and mayo, green olives, and a little seasoning. Enjoy this old-fashioned favorite tucked between slices of your favorite bread, or added as a filling in wraps or on a crisp bed of romaine lettuce.
Try this egg salad served on a tasty amish style white bread , and add these homemade bread and butter pickles on the side and serve with baked crispy onion rings for a complete meal. Any extra eggs you can make these easy deviled eggs.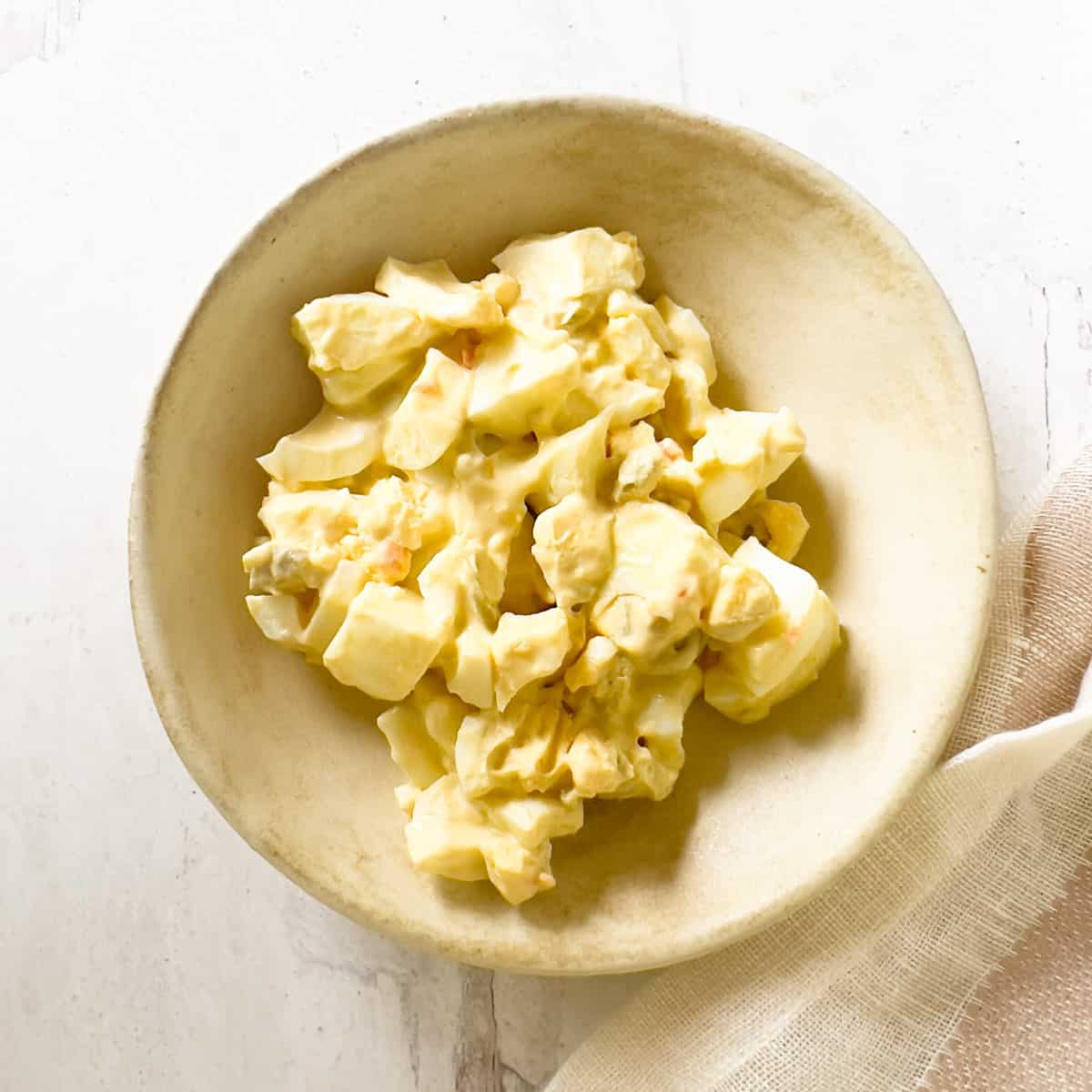 3 Reasons to Try This Recipe
Delicious: You can customize the recipe to make it creamier or tangier.
Quick and Easy: Boiling eggs is usually the most time-consuming step, but once they're cooked, it's just a matter of chopping them up, mixing in the other ingredients, and chilling for a bit before assembling the sandwich.
Filling: Eggs are a great source of protein that helps keep you full and satisfied.
Ingredients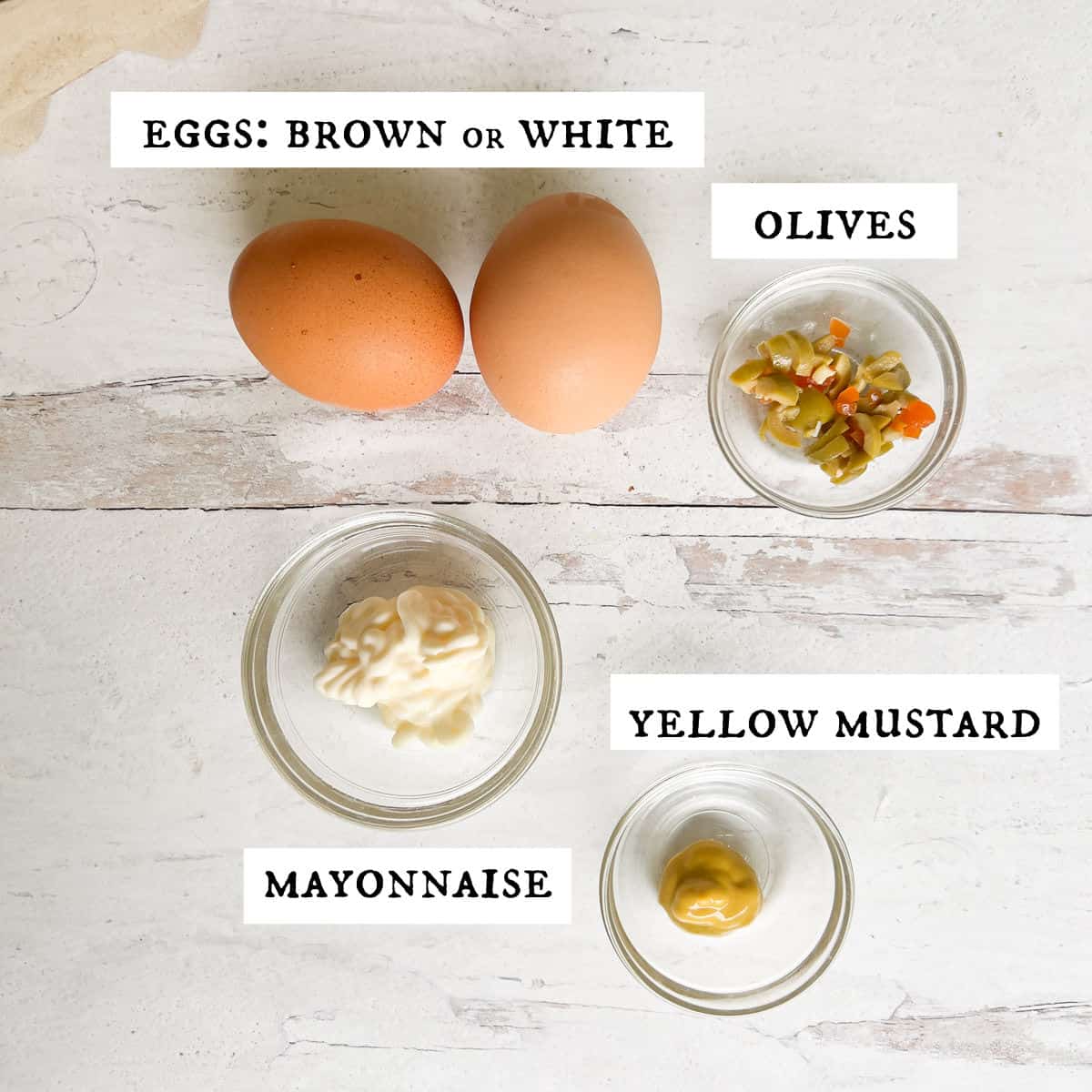 Eggs: Eggs that are a few days old are easier to peel. Boil the eggs the night before.
Olives: Simple green olives with or without pimentos are perfect. You can also use an Olive Tapenade.
Please see the recipe card below for full information and quantities.
Recipe Variations
I love a classic old-fashioned egg salad sandwich, but sometimes you might feel like stirring it up a bit with these easy additions.
Spicy: Use a Dijon mustard,
Bacon: Cook some bacon until crispy, then crumble or chop it into small pieces. Or, go fast and use imitation bacon bits in a jar.
Mediterranean: Crumble a bit of feta cheese, and chopped fresh dill into the egg salad. The olives and tangy feta cheese give the egg salad a Mediterranean flair.
Spicy Sriracha: Replace the olives with a Sriracha sauce for a spicy kick.
Instructions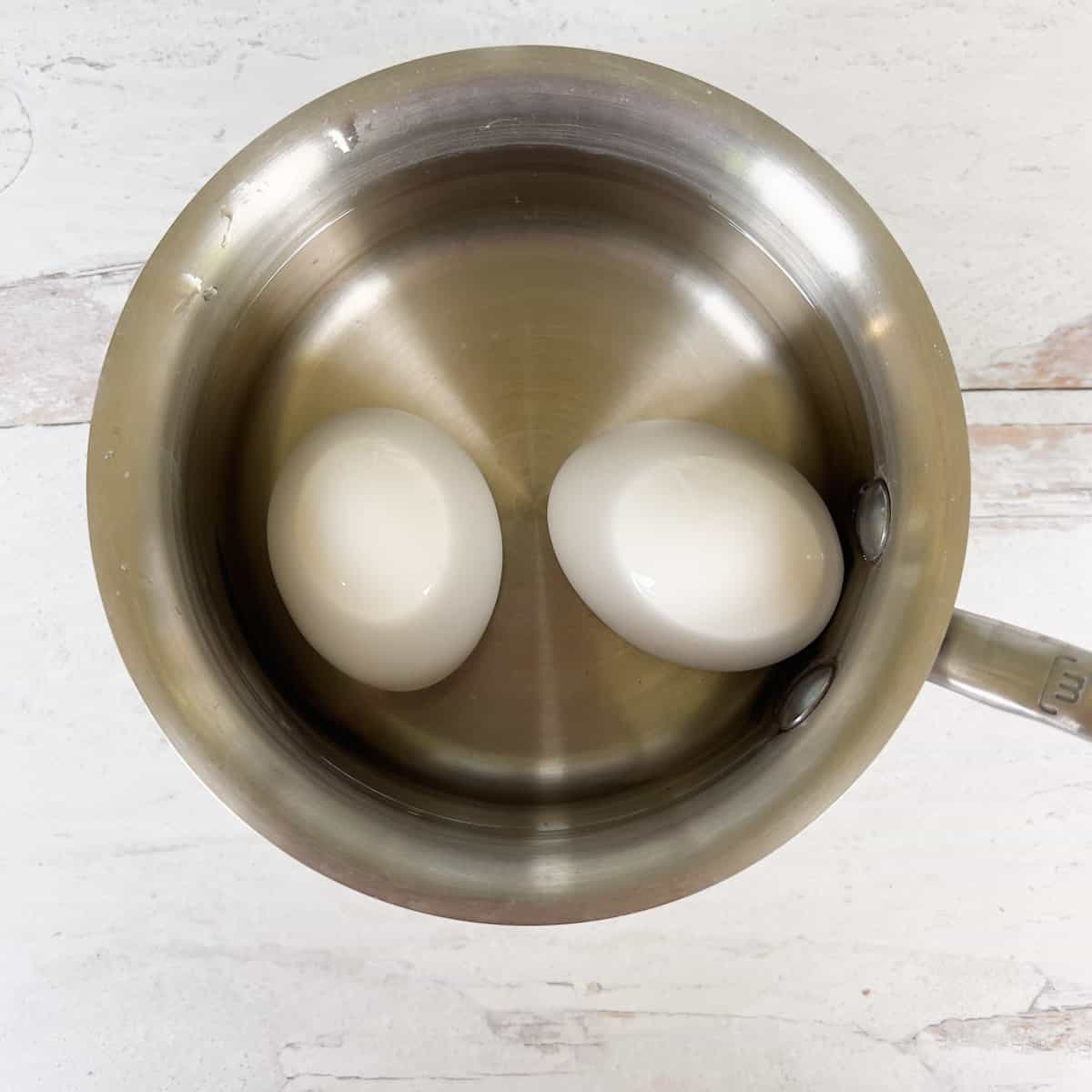 Step One: Boil eggs and let cool. You can also boil and the cool the eggs the day before. Don't peel or chop until ready to make the egg salad,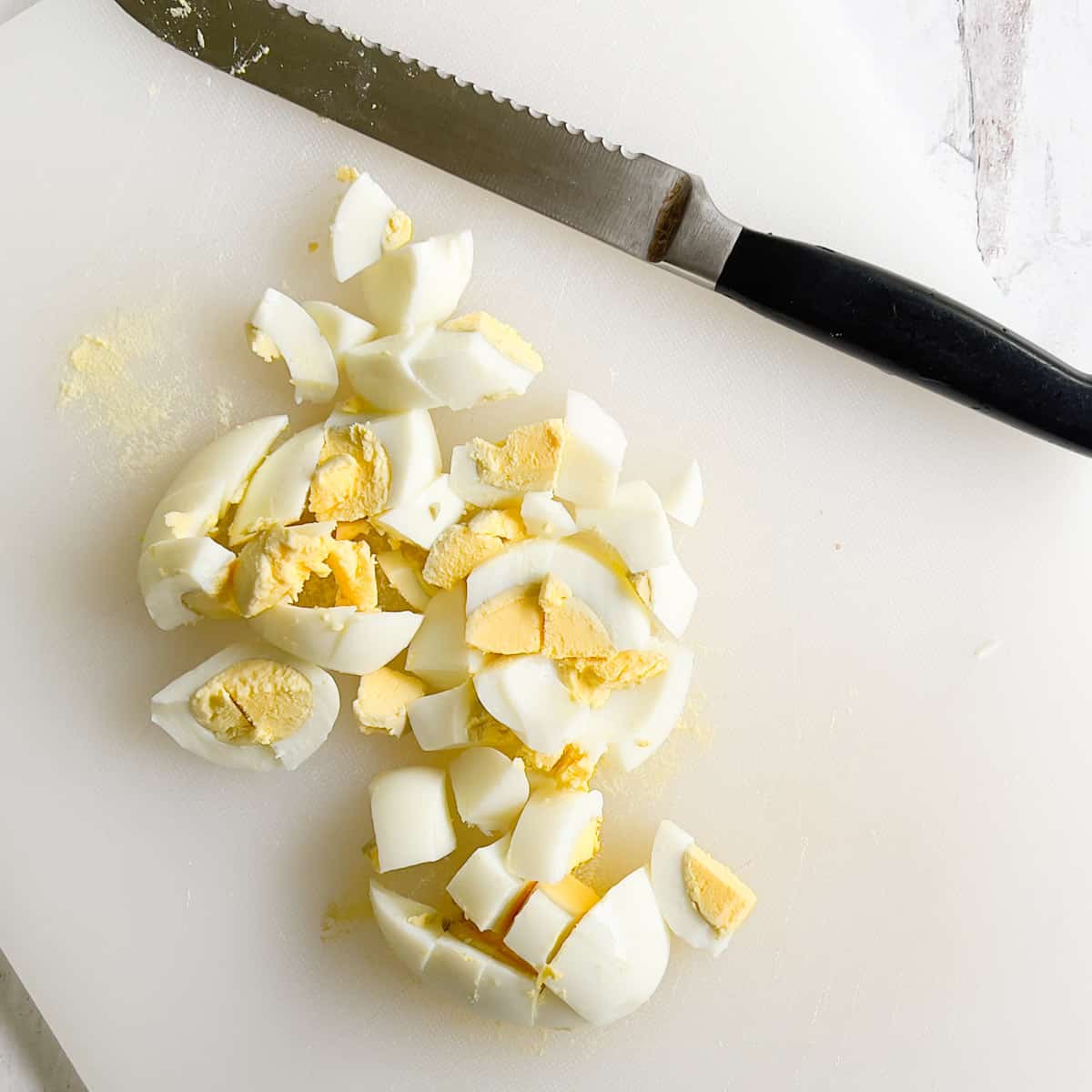 Step Two: Peel and coarsely chop the eggs. If you prefer a creamier salad then chop finer.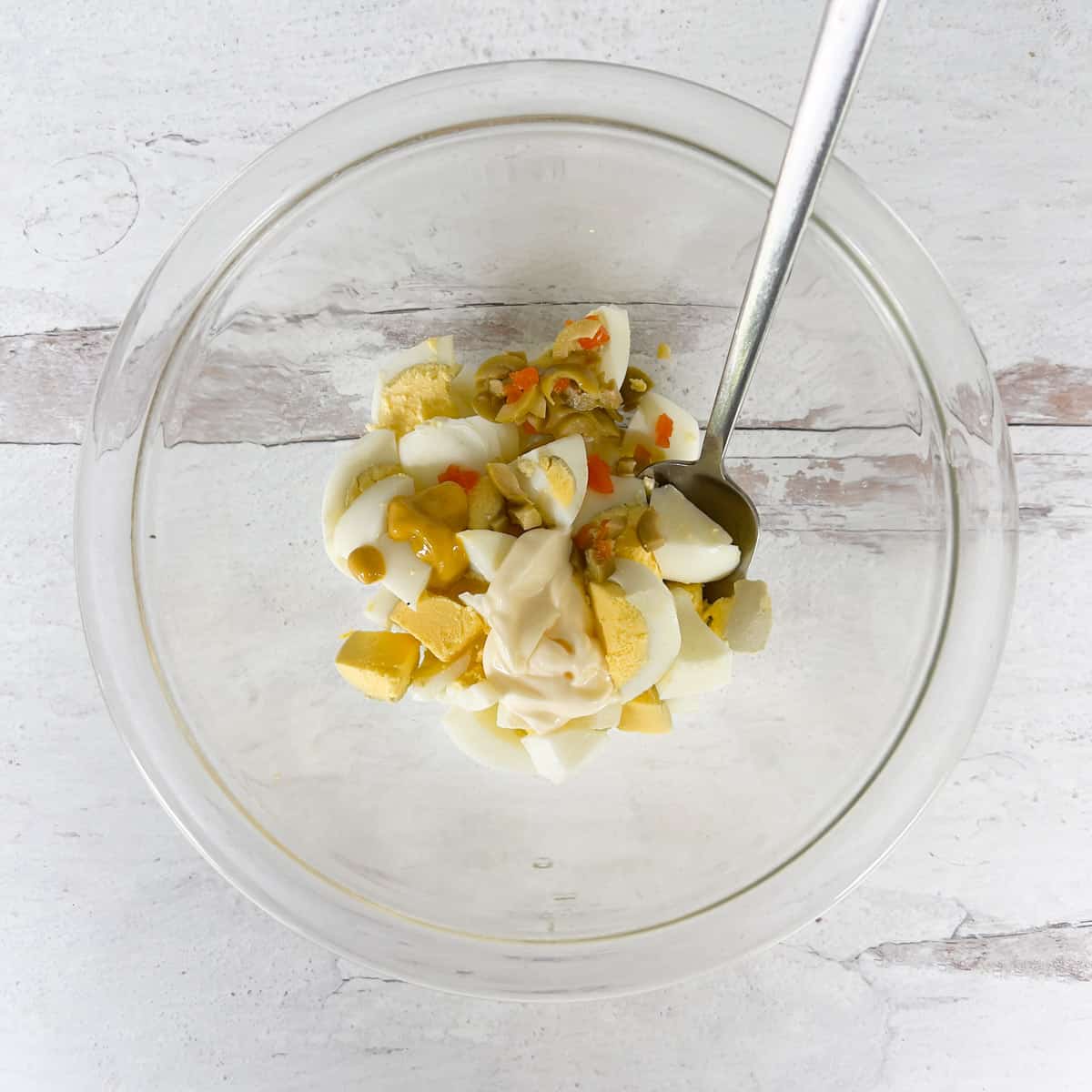 Step Three: Place all ingredients in a small bowl.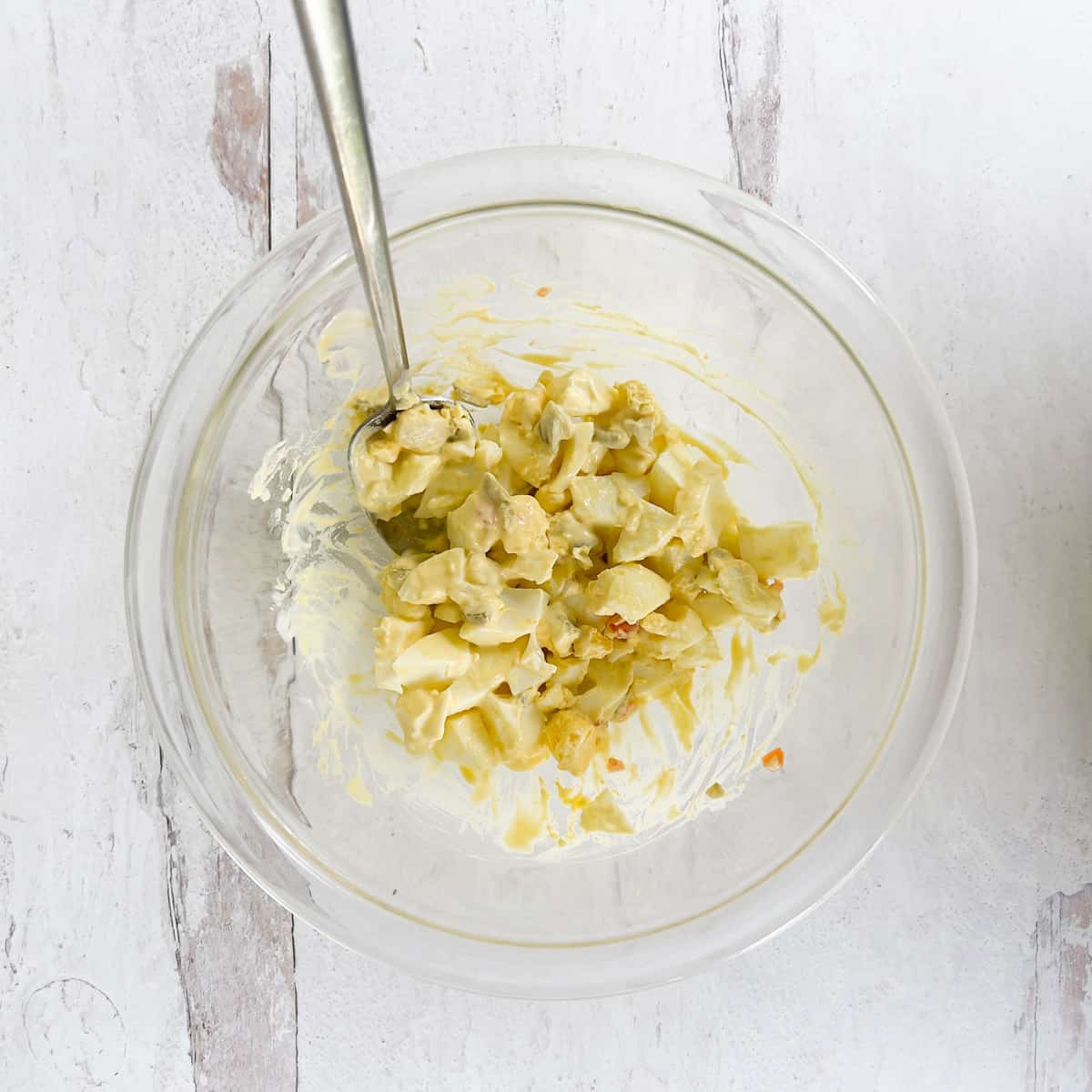 Step Four: Stir everything together and add more or less mayo depending on your personal taste.
How to Peel Hard-Boiled Eggs
Peeling hard-boiled eggs can sometimes be a bit tricky, but here's a simple method to help you peel them easily:
Start with older eggs: Hard-boiling eggs that are a few days old are easier to peel because the air cell between the shell and the egg white expands slightly over time.
Cool the eggs: After boiling the eggs, transfer them to a bowl of ice water or run them under cold water for a few minutes to cool them down. This helps shrink the egg inside the shell, creating space and making it easier to peel.
Tap and roll: Gently tap one end of the egg on a hard surface, such as a countertop, to crack the shell. Then, roll the egg gently between your palm and the countertop, applying light pressure. This helps to loosen the shell all around the egg.
Peel under running water: While holding the egg under a stream of water, start peeling from the cracked end. The water helps get under the shell, making it easier to remove.
Storing Leftovers
For best quality, eat the same day. This is a single serving recipe, but if you don't consume the egg salad immediately, it can generally be kept in the refrigerator for up to 2 days. Be sure to keep the egg salad refrigerated, and avoid leaving it out at room temperature.
Transfer the egg salad to a clean, airtight container before placing it in the refrigerator.
Can I freeze egg salad?
Its not recommended. Neither the hard-boiled eggs or mayonnaise will freeze well. The egg white becomes rubbery after freezing and thawing and the mayo tends to separate, All said, its not a good idea.
How do I prevent hard-boiled eggs from having a green ring around the yolk?
First, the green ring around the yolk is caused by a reaction between sulfur in the egg white and iron in the egg yolk. This usually happens when eggs have been cooked for too long or at too high a temperature, or if they're left to cool slowly. The green ring is not harmful to eat, but it can look a little icky, unless you are a fan of Dr. Seuss.
Here's how to prevent it:
Don't overcook the eggs: Place eggs in a single layer in a saucepan, and cover with about 1 to 2 inches of water. Slowly bring the water to a boil over medium heat. Once the water is boiling, let the eggs cook for 9-12 minutes.
Quick cooling: As soon as the cooking time is done, immediately drain off the hot water, and plunge the eggs into a bowl of ice water or run them under cold water. The rapid cooling helps prevent the green ring from forming.
Peel and use the eggs promptly: The green ring can sometimes form on eggs that have been cooked and then stored in the shell for several days. To avoid this, peel and use your hard-boiled eggs within a couple of days.


Looking for more classic egg recipes?
Did you make this recipe? I would love it if you left a comment or review! Be sure to sign up for the email list and follow "A Weekend Cook" on Pinterest and my Facebook page.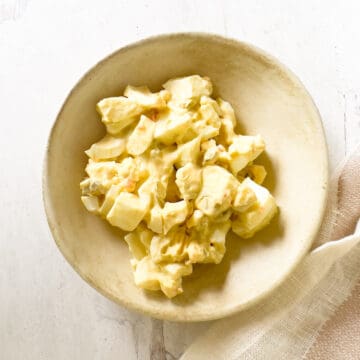 Classic Egg Salad for One
My Moms recipe is a classic with simple ingredients and just enough flavor. The olives give the egg salad a little flavor boost.
Print
Pin
Rate
Ingredients
2

hard boiled eggs

peel and chopped

1

tablespoon

mayonnaise

1

teaspoon

green olives

chopped

1

teaspoon

yellow mustard

pinch

of salt and pepper
Instructions
Boil eggs and let cool.

Peel and coarsely chop the eggs Place eggs in a small bowl

Mix in the olives, mayo and mustard. Stir just enough to thoroughly mix.
Notes
Too cool down the eggs quickier, plunge the eggs into a bowl of ice water or run them under cold water.
Slowly add the mayonnaise so you don't add too much.
Let the egg salad chill before serving.
Nutrition
Calories:
260
kcal
|
Carbohydrates:
3
g
|
Protein:
13
g
|
Fat:
21
g
|
Saturated Fat:
5
g
|
Polyunsaturated Fat:
8
g
|
Monounsaturated Fat:
7
g
|
Trans Fat:
0.03
g
|
Cholesterol:
379
mg
|
Sodium:
308
mg
|
Fiber:
0.3
g
|
Sugar:
3
g