Curious how to make bread and butter pickles? With two people in the house, I prefer food packed in smaller containers. I'm the only one in the house that eats pickles and those big jars take up valuable space, thus I don't buy commercial pickles. A light bulb went off and duh, make them myself in whatever size jars I want, simple right. The little wide mason mouth jars stack nicely and don't take up space in the fridge.
This recipe is for a two-pint batch, which I divided into four ½ pint jars. I kept two jars and gave two jars away to a fellow spicy pickle enthusiast.
Since you are making your own pickles you might want to try this easy Amish White bread recipe.
Table of Contents
Another plus with homemade pickles is you can control the salt content.
After one week I opened a jar and Whoaa baby, so good. I waited another week and opened the second jar and pickle perfection was achieved.
Ingredients
Pickling Cucumbers- These are smaller cucumbers with bumpy skin, sometimes called Perrsian cucumbers.
White vinegar - This is combine with water for the pickling liquid. You can also use a applecider vinegar.
Garlic - Don;t skip the fresh garlic
Kosher salt - If can also use special pickling salt, but most of us have kosher salt handy and I don;t want to buy special ingredients for recipes I might just mix up once or twice
Pickling Spices - You can buy a mix or make your own. I use a combination of dill seed, mustard seed, coriander seed, allspice berries, red pepper flakes and black peppercorns
Preparing the mason jars
The first thing I did was wash my jars and lids in soapy warm water. Next, I boiled a pot of water to sterilize the jars. I used my standard size stockpot and a small canning rack, then when the water was boiling I lowered the rack into the water and let the jars boil for 10 minutes.
Next, carefully lift the rack from the water, the rack handles should fit over the rim of the stockpot. Using canning tongs, pour the water out of the jars and place them on a clean towel to dry.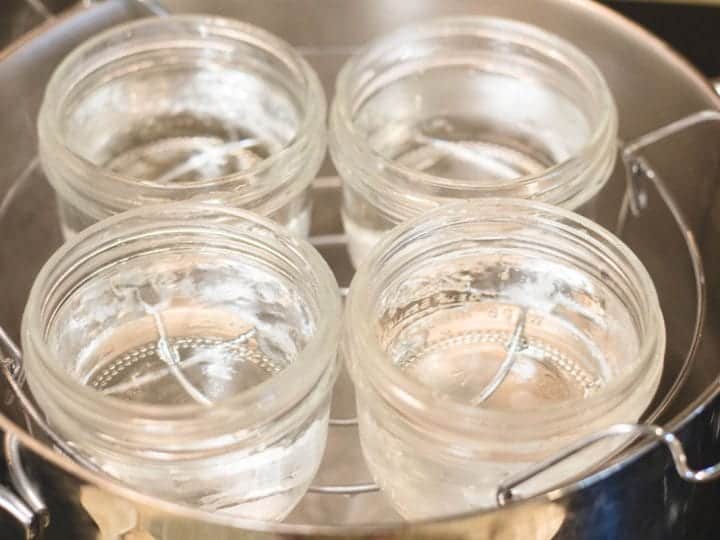 Putting the pickle ingredients together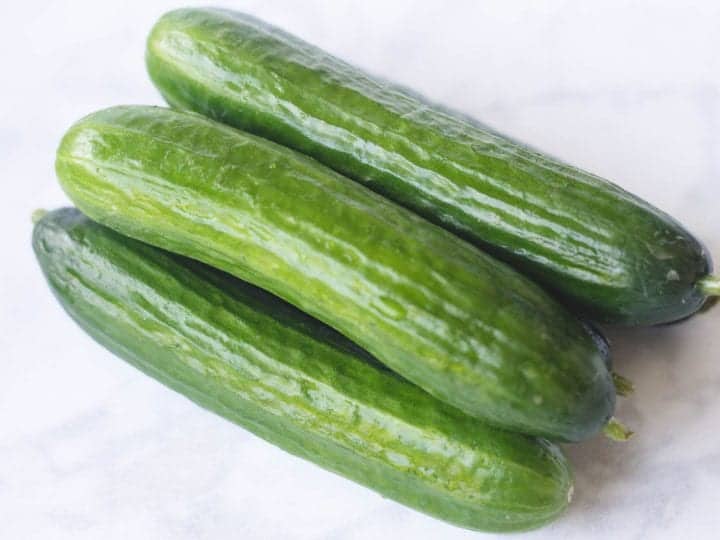 I followed the standard pickle recipe of 1:1 ratio of vinegar and water and tossed in a combination of spices. My spices were bought from local Sprouts in the bulk section which is much cheaper than buying the jarred spices, especially if you don't use dill or mustard seed often.
While the jars are boiling, wash the cucumbers with a vegetable brush and using a clean sharp knife slice the cucumbers.
In a small bowl mix up the spices and put a teaspoon of the pickling spice mixture in each jar and divide the sliced cucumbers evenly between the jars.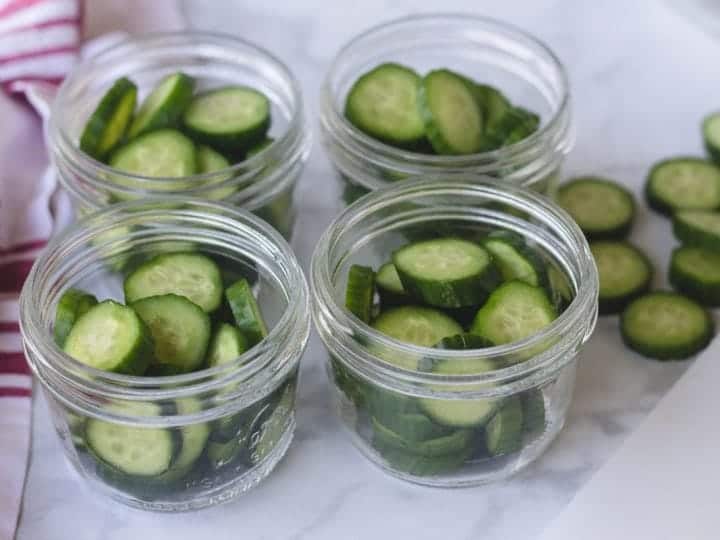 Prepare your pickling liquid in a medium-sized non-reactive pot; I use my Le Creuset enameled saucepan. Heat the water and vinegar to a simmer.
Don't use a reactive metal pot when heating the vinegar solution, the metal reacts with the vinegar and the pickle solution may turn cloudy and impart a metallic taste to your pickles. Reactive pots are metal pots made from aluminum, brass, and cast iron. Stainless steel is a non-reactive metal.
Cover the cucumbers in the pickling liquid and let cool slightly before putting the lids on, then refrigerate for 3-7 days before eating. You can eat them earlier but the taste the best if you let them sit in the refrigerator for at least 3 days.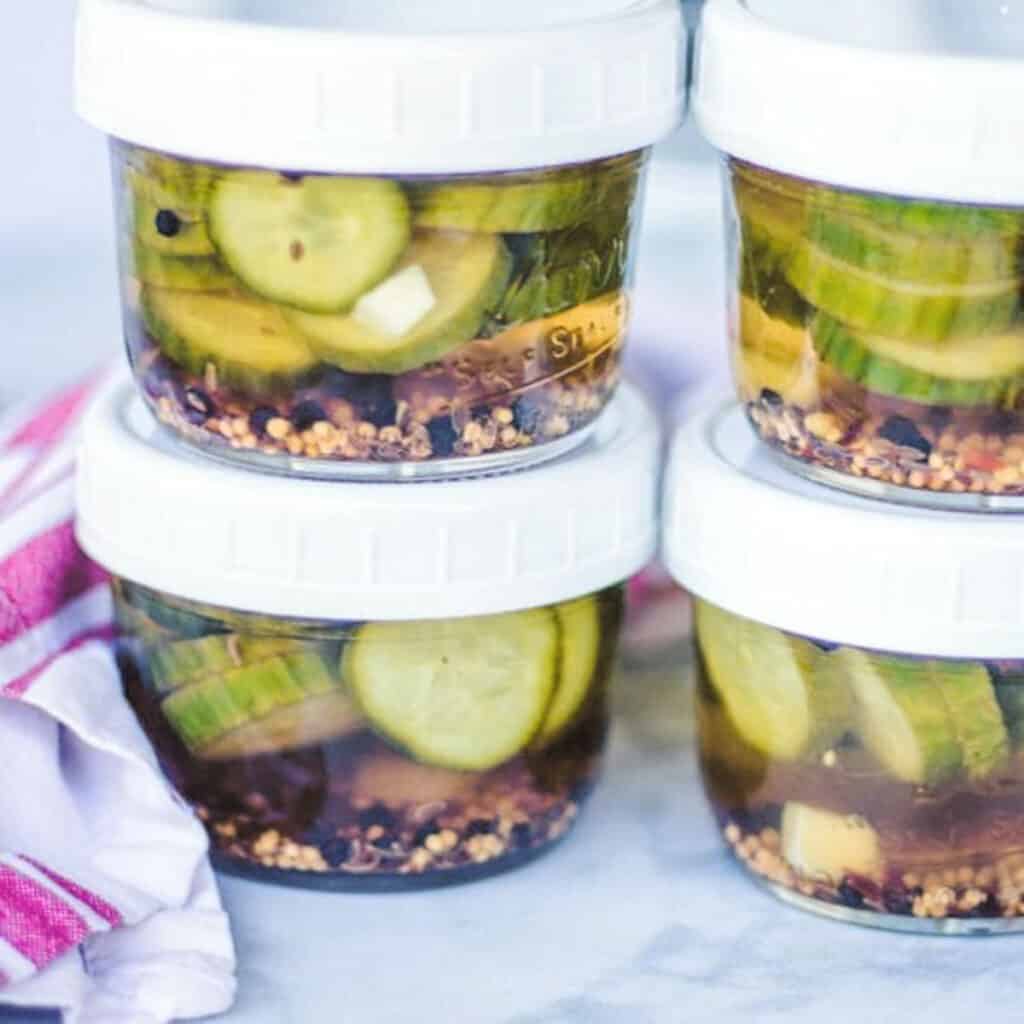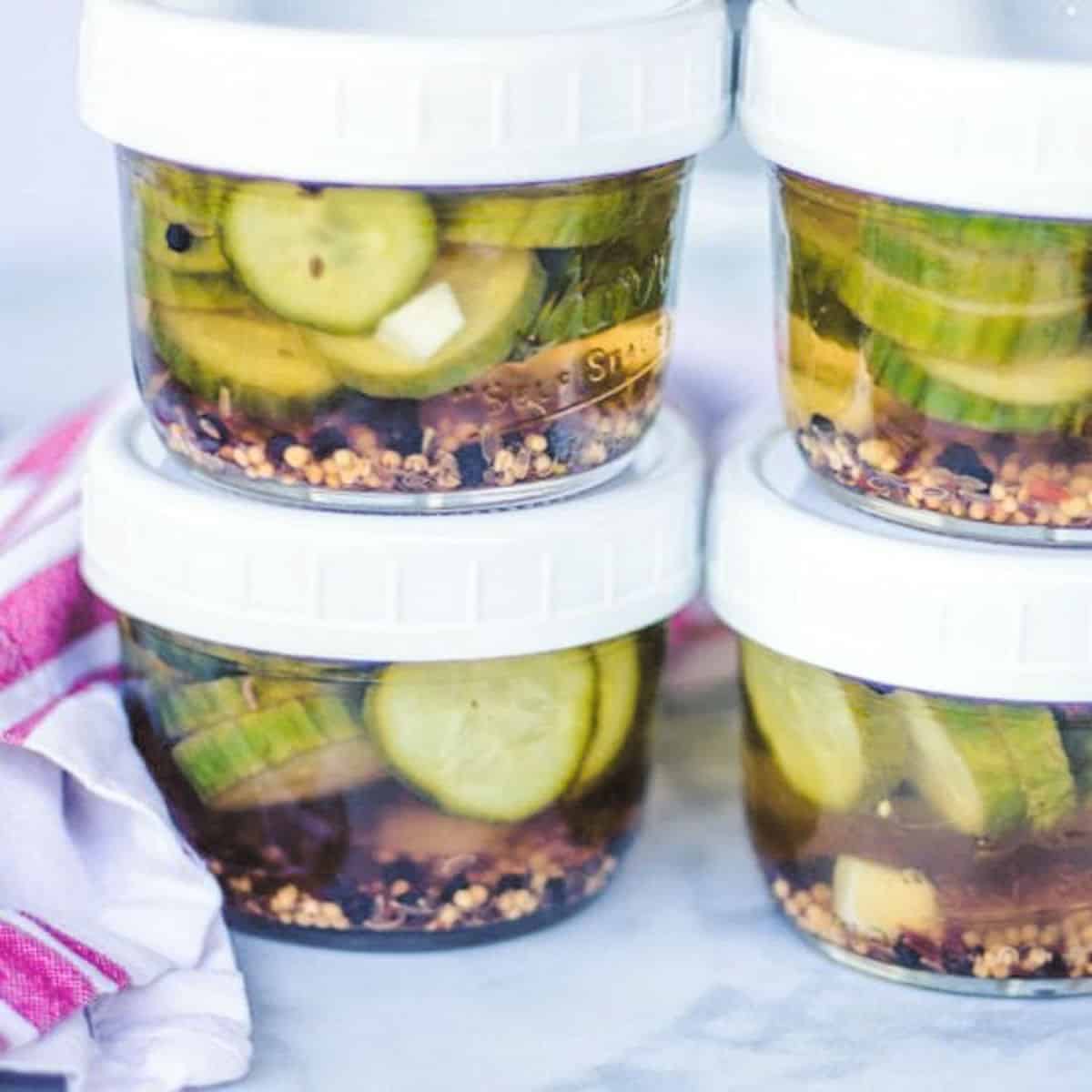 For more information on pickling check out Penn States page here. This was only my second time pickling and the first time making pickles, so if any pickle experts are out there reading this, I welcome your comments.
More Small Batch Condiment Recipes
Did you make this recipe? I would love it if you left a comment or review! Be sure to sign up for the email list and follow "A Weekend Cook" on Pinterest and my Facebook page.
📖 Recipe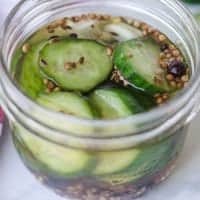 Spicy Sandwich Pickles
Spicy pickles are perfect on burgers or chopped up on hot dog. Great as a sandwich topper or a snack straight out of the jar.
Print
Pin
Rate
Ingredients
5

Pickling Cucumbers

2

cups

white vinegar

5% acidity

2

cups

water

4

cloves

garlic

peeled and cut in half

1

teaspoon

kosher salt
Pickling Spice
1

teaspoon

dill seed

1

teaspoon

mustard seed

1

teaspoon

coriander seed

1

teaspoon

allspice berries

1

teaspoon

red pepper flakes

1

teaspoon

black peppercorns
Instructions
Wash mason jars in warm soapy water.

Fill a large stockpot with water and boil jars for 5 minutes. Remove jars and pour out any water. Set on clean towel to dry.

Wash and dry cucumbers then slice about ¼ inch thick.

Place the cucumbers in large shallow bowl or dish and sprinkle with the salt and let sit while preparing the pickling liquid and spice mixture.

In a small bowl mix the pickle spice ingredients and divide evenly between the prepared jars.

Add one or two garlic cloves to each jar.

Divide the cucumbers evenly between the ½ pint jars.

In a medium saucepan heat the vinegar, water and simmer for a couple of minutes.

Pour the hot liquid over the cucumbers making sure they are completely covered in the liquid. Let jars cool for about one hour.

Place lids on jars and shake to mix up the spices.

Refrigerate for at least 3 days before opening, Can be stored refrigerated for up to 3 weeks.
Nutrition
Serving:
2
g
|
Calories:
19
kcal
|
Carbohydrates:
2
g
|
Sodium:
269
mg
Safety Note
These are refrigerator pickles and should be eaten within several days, they are not meant to be stored long term. These pickles do not require heat processing, but they must be kept refrigerated. Do not decrease the amount or strength of vinegar in the recipe.
A good safety resource on Perserving Pickles