The BEST Small Carrot Cake Recipe
Finding a really great classic carrot cake in the supermarket is difficult. The solution is to make my own classic small carrot cake recipe which is always moist and delicious. If you are looking for a double-layer 6-inch carrot cake for two made from scratch with a delicious cream cheese frosting, read on!
Other small cakes to enjoy include this small single serving vanilla mug cake a decadent Nutella chocolate mug cake, and classic mini plum cake.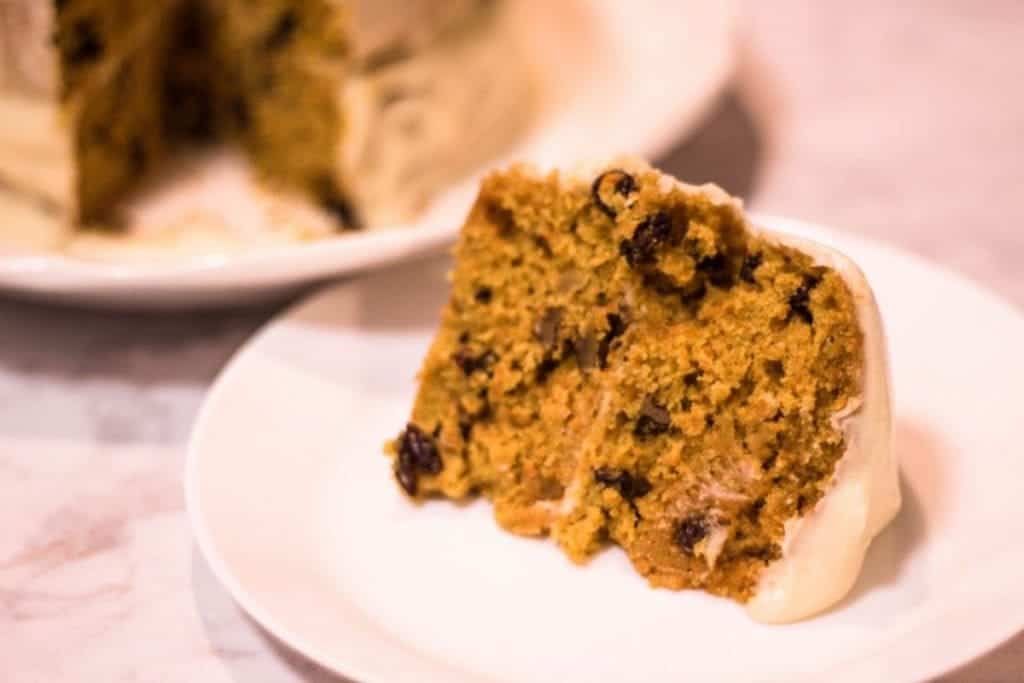 Ingredients
Simple ingredients you probably already have in the fridge and pantry.
I use all-purpose flour.
A mix of granulated and brown sugar is used in the cake batter for the perfect mellow sweetness. Using a mix of brown and white not only sweetens the cake but adds deeper flavor.
Baking soda and baking soda are used to give the cake its rise.
I use a fine kosher salt.
Cinnamon and Vanilla paste or extract give the cake and frosting that delicious flavor. I like my carrot cake a little under-spiced and for this reason, I don't add allspice or nutmeg.
It's the carrots (about 6) that make the cake so tasty. I use a food processor for ease but you can also grate by hand. You want finely grated carrots to mix well in the batter and cook properly.
Vegetable oil
Eggs make the cake light and airy and hold everything together.
Cream cheese, butter, confectioners sugar, and vanilla extract are mixed to create a smooth and creamy frosting.
sometimes raisins are added to carrot cake recipes, however, I prefer to use currants and have also used cranberries.
walnuts or pecans give the cake a pleasant crunch.
Recipe Directions
In a large bowl mix together the flour, sugars, baking powder, baking soda, salt, and cinnamon. Next add the carrots, eggs, and oil. Beat with a hand mixer for about 2 minutes on the low setting to get everything mixed up then fold in the chopped nuts, raisins, or currants.
One of the things that make my recipe a bit different from most others is I don't use nutmeg or allspice, I prefer the flavor of just using cinnamon. My Carrot cakes in my opinion, are the best ever! But, most certainly is NOT low fat or low calorie.
The most labor-intensive part of this recipe is grating the carrots. To quickly grate the carrots, use a small food processor, the prep time listed is based on this method.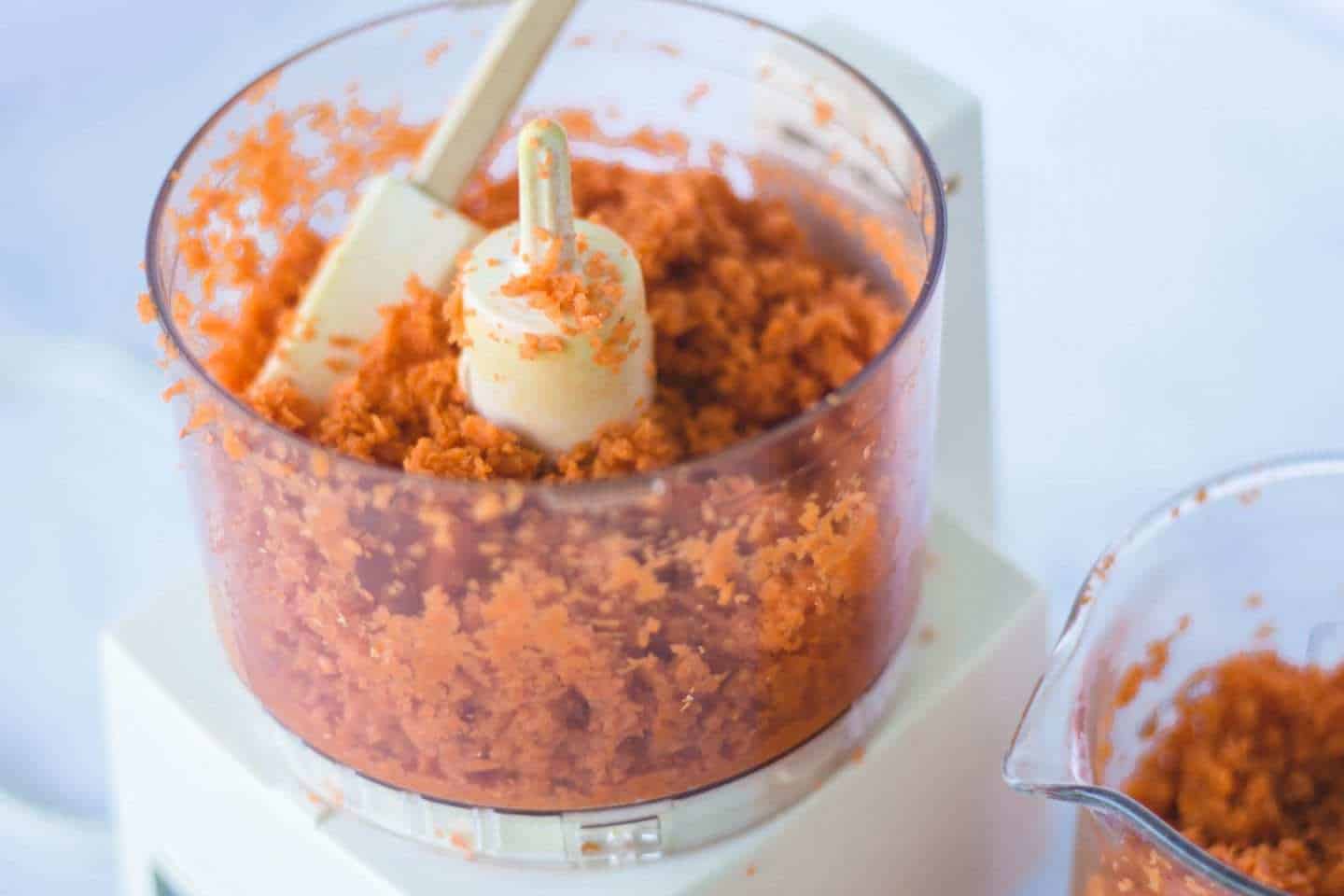 The dried fruit needs to be moist, if the dried fruit is well, too dry, it's a good idea to soak them in hot water for a couple of minutes before adding to the batter.
Cakes pans should be well buttered and floured. A moist cake like this one will stick if the pans are not floured.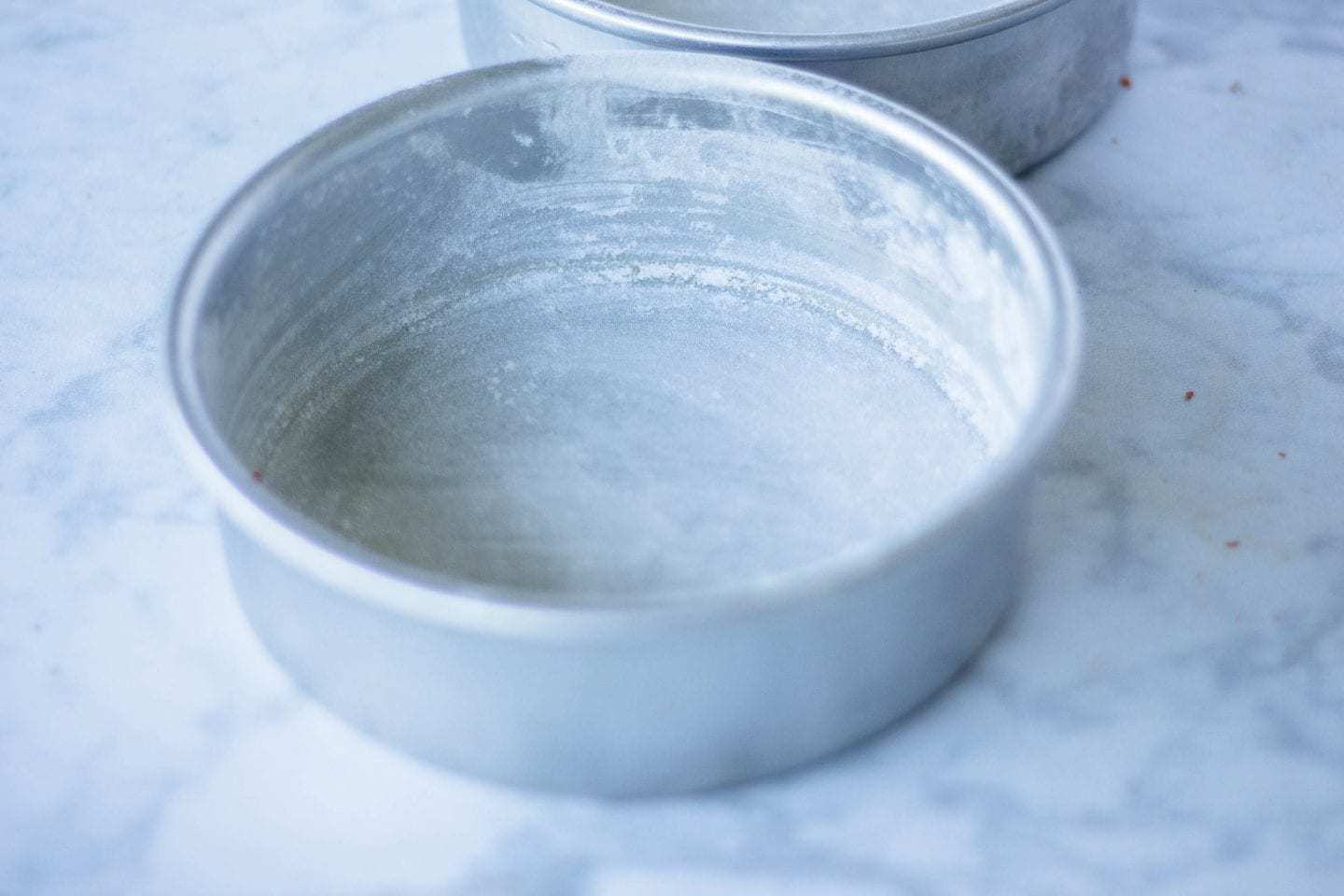 Divide the cake batter between the 6-inch cake pans and cook on the middle rack for about 40 minutes. Halfway through the baking, rotate the pans in the oven.
Check your cakes for doneness, I use a thin metal cake tester but a small knife inserted into the middle that comes out clean also works well. You'll see that when the cake is done it will just begin to come away from the edges of the cake pan.
When the cakes are done set aside and let cool for about 10-15 minutes before turning the cakes out onto a cooling rack. Next, wait and don't do anything until the cakes are cooled down.
In a large bowl beat the cream cheese, butter until creamy with a hand mixer on medium-low until well combined. Next gradually add in the sugar, ½ cup at a time, and beat until the frosting is smooth. Add in the vanilla extract and mix until combined, also lemon extract works well if you prefer a bit of a lemony flavor.
If the bottom layer of the cake is domed a bit, just take a sharp knife and slice off enough of the tops to even out the cake.
Frost the top and sides of the bottom layer then place the top layer on and frost the top and sides with the remaining frosting. An offset spatula works wonders and makes it easy to get a nice even layer of frosting on the cake.
Cooking Time
Ready to eat in 1 hour 20 minutes which includes the chill time.
Serving the Carrot Cake
The carrot cake is ready to serve when the frosting is set. To set just chill the frosted cake in the refrigerator for about 15 minutes. Personally, I like a more chilled carrot cake so will chill for about an hour before serving. It can also be served at room temperature and has a shelf life of 2 days. The cake is small, so it will most likely be gobbled up way before that time.
The cake is perfect on its own, or you can serve it with a scoop of Lemon ice cream or Gelato.
How to store leftovers
If you have any leftovers, the covered cake can be stored at room temperature for 2 days. To freeze the frosted cake, set in the freezer uncovered, then when completely frozen, wrap tightly for an airtight seal. The wrapped cake will last for about a month in the freezer. To serve, defrost the wrapped cake overnight in the refrigerator.
If you're making the cake ahead, wrap the unfrosted cake layers tightly in plastic wrap, use 2-3 layers to ensure you have a nice tight seal. The cake can be frozen for up to one month. When ready to use, defrost completely before frosting.
Recipe Tips
Lightly oil the cake pan and line with parchment paper and give the parchment a little oil as well. The cake wont stick to the pan and releases easily
Always use fresh carrots and grate them yourself or use a food processor, don't use the already grated carrots in the package.
Try the recipe and let me know if you agree that this is the BEST ever small carrot cake recipe!
Another one of my favorites are these tasty little apple cakelets
Can I use this recipe for cupcakes?
Absolutely Yes! The baking time is reduced to about 15 minutes or so. Insert a cake tester or toothpick into the center of the cupcake and if it comes out clean the cupcakes are down. Let cool in the muffin tin before transferring to a cooling rack.
Can I make this in a Bundt pan?
Yes, you will need to use the smaller Bundt pan or the Bundlette pan. Check the cake at the time listed in the recipe, you may need to cook a bit longer if using the 6-cup pan. If using the Bundtlette pan then you should check after about 20 minutes.
More Easy Small Cakes to Bake
Did you make this recipe? I would love it if you left a comment or review! Be sure to sign up for the email list and follow "A Weekend Cook" on Pinterest and my Facebook page.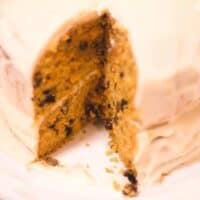 Small Carrot Cake Recipe
The only carrot cake recipe I have because it's the best. This recipe can be made in muffins, individual cakes or in a casserole dish for a potluck.
Print
Pin
Rate
Ingredients
2

cups

all purpose flour

¾

cup

sugar

¼

cup

brown sugar

1

teaspoon

baking soda

1

teaspoon

baking powder

1

teaspoon

salt

½

teaspoon

cinnamon

½

teaspoon

vanilla paste or extract

2

cups

grated carrots

about 6 carrots

¾

cup

vegetable oil

3

eggs

¼

cup

currants

optional

¼

cup

raisins

optional

¼

cup

walnuts

optional

¼

cup

pecans

optional
Cream Cheese Frosting Ingredients
8

oz

cream cheese

¼

cup

butter

softened

1

teaspoon

vanilla extract

1 ½

cups

powdered confectioner sugar
Instructions
Preheat oven to 350ºF

Lightly coat 2 6 inch cake pans with butter and dust lightly with flour

In a large bowl mix together flour, sugars, baking soda, baking powder, salt and
cinnamon.

Mix in the carrots, eggs and oil

Using an electric hand mixer beat on high for 2 minutes.

Fold in the currants, raisins, pecans, and walnuts

Pour into a prepared  cake pans

Bake at 350ºF for 30-35 minutes

Let cake cool before removing from cake pans

Ice the first layer then place 2nd cake on top and finish icing.
Frosting
Beat cream cheese, butter and vanilla with electric beaters until well-blended.

Gradually add the sugar 1/2 cup at a time, and beat until smooth and creamy.

Spread the cream cheese frosting on top of cooled cake.
Notes
Fresh Carrots
: Use freshly grated carrots for the best texture and flavor. They provide the necessary moisture for the cake, so avoid using pre-packaged grated carrots.
Moisture
: To ensure your cake doesn't dry out, use oil instead of butter in your batter. The oil emulsifies the ingredients, creating a moister texture.
Sugar
: Brown sugar can be used for a richer flavor. It can also add extra moisture to the cake.
Cream Cheese Frosting
: A classic topping for carrot cake is cream cheese frosting. The frosting ingredients, cream cheese and butter should be at room temperature before mixing them to ensure a smooth, creamy frosting.
Cake Pans
: Parchment paper lines your cake pans for easy removal.
Cooling
: Allow the cake to cool completely before frosting. This prevents the frosting from melting into the cake.
Flavor Development
: Make your carrot cake a day ahead if you have time. The flavors tend to deepen and meld together overnight, creating a tastier cake.
Nutrition
Serving:
1
g
|
Calories:
975
kcal
|
Carbohydrates:
109
g
|
Protein:
12
g
|
Fat:
57
g
|
Saturated Fat:
16
g
|
Polyunsaturated Fat:
37
g
|
Trans Fat:
1
g
|
Cholesterol:
152
mg
|
Sodium:
889
mg
|
Fiber:
4
g
|
Sugar:
71
g