This is a creamy and delightful easy no-bake peach pudding pie recipe made with a classic graham cracker crust. In the summer I'm a big fan of quick and easy puddings.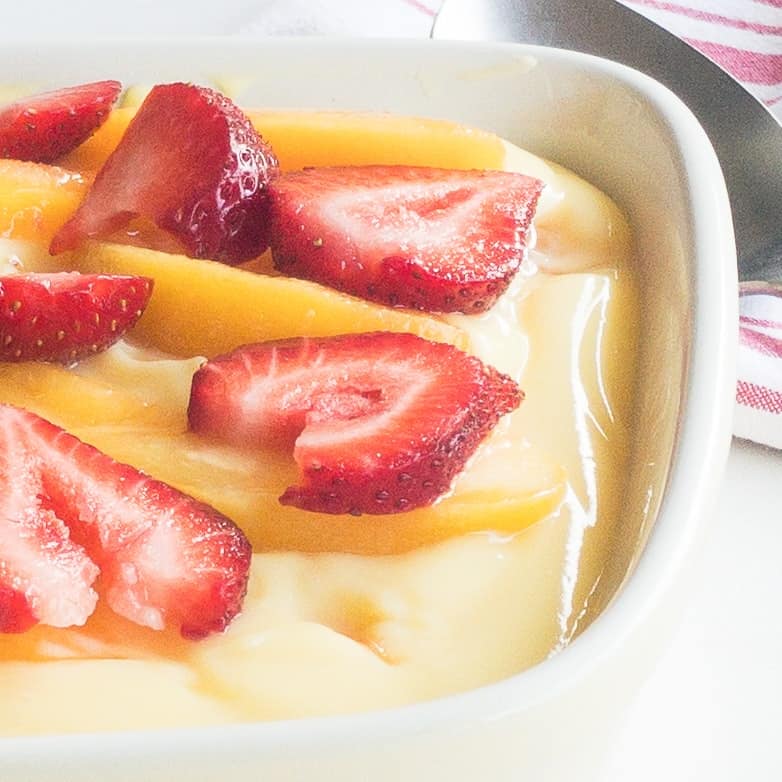 Simple Ingredients
Frozen or Fresh Peaches - Personal preference here, if peaches are in season nothing beats a fresh ripe peach. Frozen or even canned peaches also work.
Fresh Strawberries - I prefer to use fresh strawberries, but you can use any other berry or fruit you like or leave out of the recipe.
Vanilla Pudding Mix - instant pudding mix makes this a really simple recipe. The plain vanilla flavor is a good foundation for ripe fruit.
Milk - 2% is what I use, but you can use whole milk.
Graham Crackers - These are for the crust layer of the peach pudding pie. Use a plain graham cracker the cinnamon or frosted are way too sweet.
Butter - the melted butter keeps the graham cracker crust together when it chills.
If you prefer a traditional peach pudding without the graham crackers then it's even easier.
Looking for an old-fashion banana pudding?
Instructions
If using frozen peaches, let the peaches thaw per package instructions, then chop up 2-3 of the sections to mix into the pudding. Slice another 4-5 sections in half to place on top of the pudding.
No need to bake the crust. When the butter chills, it will hold the crust together. Make the crust while the peaches are defrosting. Crush up about 10 sheets of graham crackers in fine crumbs. Melt the butter, and in a medium bowl mix it all together making sure all the crumbs are moist.
Press the crumbs into a baking dish or pie pan and refrigerate for about 30 minutes.
When the crust is ready mix up the vanilla pudding mix per package instructions and spoon the pudding over the crust. Top with sliced peaches and strawberries. Chill before serving.
If you prefer a baked crust them bake at 375 for about 8 minutes and let cool.
How to Chill an Unbaked Graham Cracker Crust
When chilled the melted butter will harden and hold crumbs in place and set the crust. To chill the crust, Press the crust into the pie or baking dish and put it in the fridge for about 30 minutes or freezer for 10 minutes.
If so inclined - Make Vanilla Pudding from Scratch
If you decide to make your pudding from scratch, it's also very easy and you'll need 2 ¼ cups milk, ⅓ cup sugar, ⅛ teaspoon salt, 3 tablespoons cornstarch, 2 egg yolks,2 teaspoons vanilla extract and 1 tablespoon butter.
In a sauce pan mix everything together except the vanilla extract and butter. Cook over a medium low heat , whisking the ingredients together occasionally, usually about every minute give a good whisking.
When the mixture begins to bubble and boil continue to cook for another minute, again whisking to keep the mixture from burning.
Remove from heat and whisk in the vanilla and butter. Transfer to the serving dish to cool down and then cover with plastic wrap and refrigerate for a few hours until chilled and set.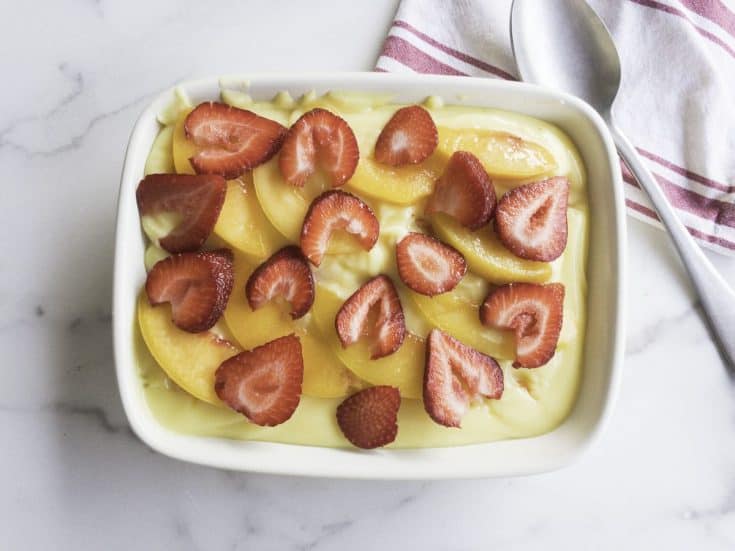 Yield:

6 servings
No Bake Strawberry Peach Pudding Pie
Chiiling Time:
30 minutes
A creamy and delicious strawberry peach pudding with a graham cracker crust.
Ingredients
2 Peaches, 1 peeled and sliced & 1 peeled and diced
1 Package (5-ounce) Vanilla Pudding Mix
3 Cups Milk
4-6 Fresh Strawberries, sliced
10 Sheets Graham Crackers
3 Tablespoons Butter, melted
Instructions
If using fresh peach's, peel and slice one peach and dice the other. Place peaches in a bowl and set aside.If using frozen peaches, let thaw per package instructions, then chop up 2-3 of the sections t mix into the pudding. Slice another 4-5 sections in half to place on top of the pudding.
Crush the graham crackers in fine crumbs and place them in a medium-size bowl.
Melt the butter and add the graham cracker crumbs. Mix to ensure all crumbs are moist.
Press crumbs in a 8-inch pie pan or small baking dish. Refrigerate crust for 30 minutes.
Prepare the vanilla pudding per package instructions. Mix in the diced peaches to the pudding and pour into the prepared graham cracker crust.
Top with sliced strawberries and peaches. Chill before serving.
Notes
you can substitute any fuit, also goes nice with rasberries and bananas.
Nutrition Information:
Yield:
6
Serving Size:
1 cup
Amount Per Serving:
Calories:

312
Total Fat:

11g
Saturated Fat:

6g
Trans Fat:

0g
Unsaturated Fat:

5g
Cholesterol:

25mg
Sodium:

516mg
Carbohydrates:

47g
Fiber:

3g
Sugar:

23g
Protein:

7g
The nutritional information provided here are estimates and are not calculated by a registered dietitian.