This is a simple baked apple recipe for one that tastes amazing! This single-serving Baked Apple is wonderful served warm or at room temperature with a scoop of vanilla ice cream. Oh Yes! Just a few minutes of prep time and then let the slow cooker do its magic. One of the easiest apple recipes and a great way to enjoy this delicious fruit.
If you enjoyed this recipe, please check out my other dessert recipes for one.
Ingredients Notes
Just five simple ingredients to make this slow cooker baked apple for one.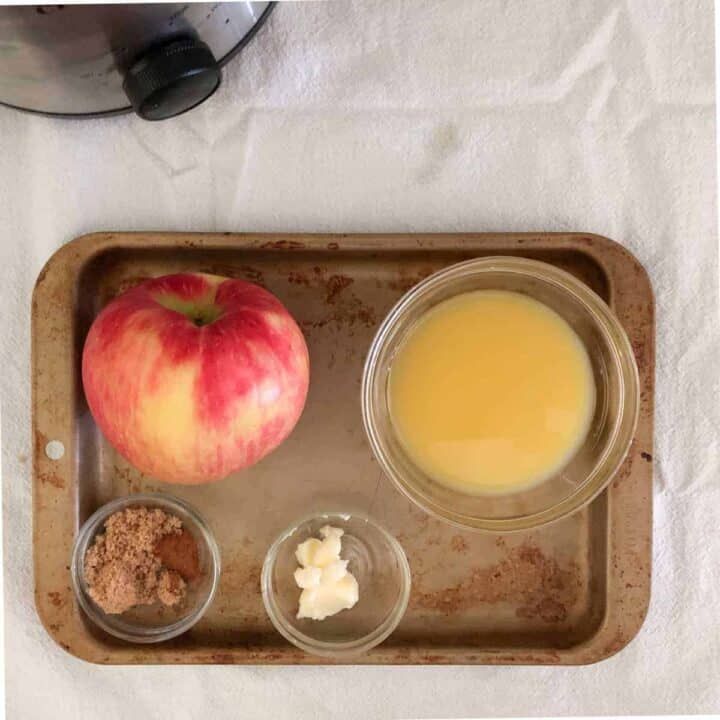 1 Apple, peeled, cored, and cut in half
1 teaspoon Butter
¼ cup Orange juice
1 teaspoon brown sugar
⅛ teaspoon ground Cinnamon
Apple - While any type of apple will work for this recipe, we recommend using a Granny Smith apple. This variety is tart and firm, and it holds up well during the baking process.
Butter - The butter melt and mixes with the brown sugar and creates a lovely glaze as it cooks.
Orange Juice - The orange flavor compliments the baked apple nicely. You can also use apple juice or plain water. A touch of apple cider will really take the apple favor over the top.
Brown Sugar & Cinnamon - You can't go wrong with this classic spice combination for apples.
If you are making more than one or want to cook the apple whole you can use an apple corer.
How to Bake An Apple in a Slow Cooker
Preheat a 1.5-quart slow cooker on the low setting. Add the orange juice to the slow cooker. Peel and cut the apple in half, then core the apple Place the apple halves, cut side up in the skillet.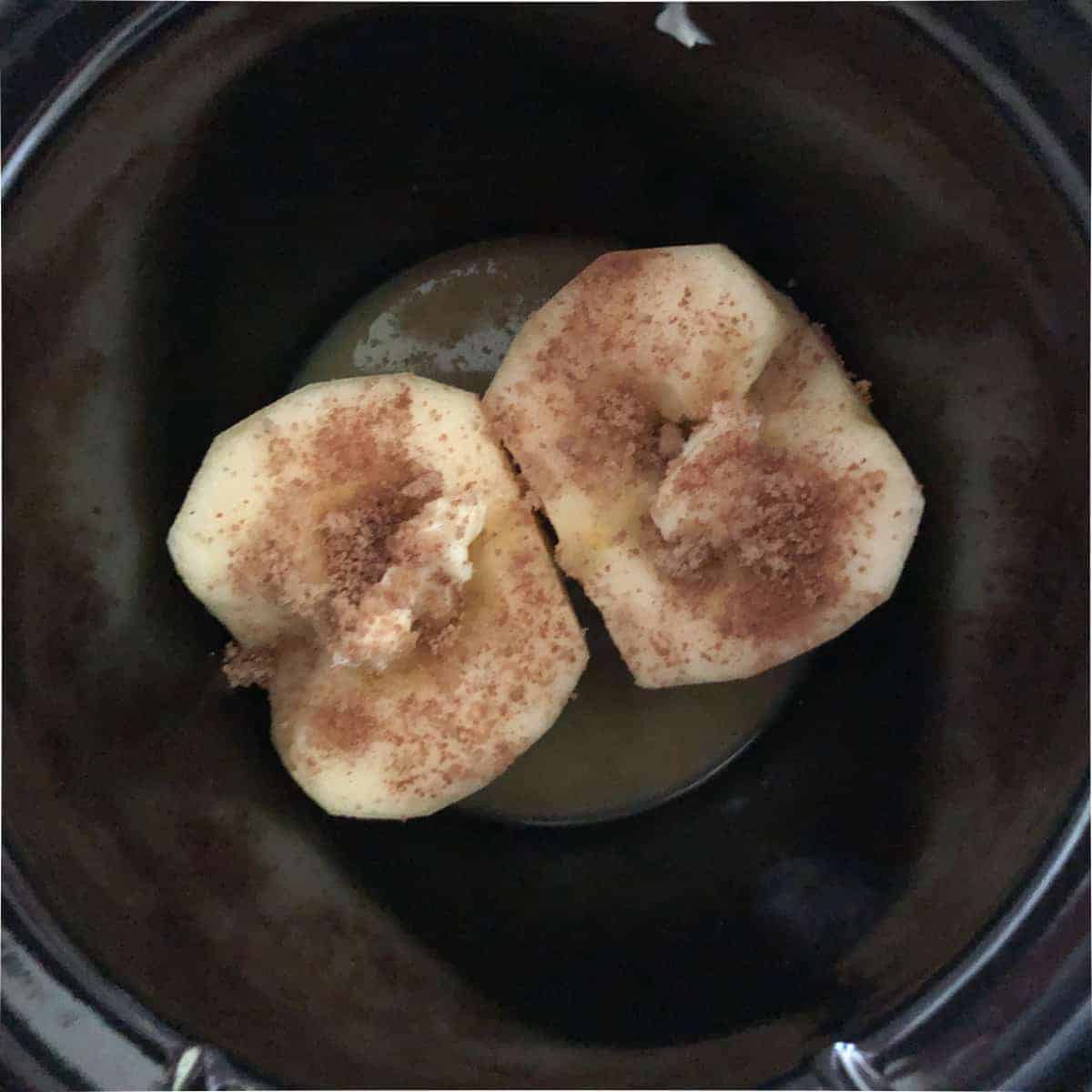 Place butter into the scooped out the core section of each half and sprinkle with brown sugar & cinnamon mixture. Cover and cook on low or until the apple is soft, about three hours.
Cooking Tips
Baked apples are a delicious treat any time of year, and they're easy to make in a slow cooker. Here are a few tips to get the perfect baked apple:
Choose apples that are firm and baking-friendly, like Granny Smiths or Rome Beauties. Avoid apples that are too soft or mushy, as they won't hold up well during cooking.
If you want sliced apples, cut the apples into even slices, about 1-inch thick. This will ensure that they cook evenly.
Adjust the amount of sugar and spices to suit your taste.
Slow Cooker Apples: Frequently Asked Questions
What types of apples should I use?
There are a lot of different apples out there, and they all have their own distinct flavors. However, not all apples are created equal when it comes to baking. For the best-baked apple, you want to look for an apple that is firm but not too hard, and that has a good balance of sweetness and acidity. A few of the best apples for baking include Granny Smith apples, Honeycrisp apples, and Golden Delicious apples. J
Can I bake this in the oven?
Yes, place the apple in a baking dish and increase the amount of liquid Loosely cover with foil and bake at 350 degrees for about an hour. Apple is done when it's nice and soft.
Other Recipes For Your Small Crockpot
Did you make this recipe? I would love it if you left a comment or review! Be sure to sign up for the email list and follow "A Weekend Cook" on Pinterest and my Facebook page.
📖 Recipe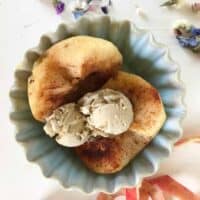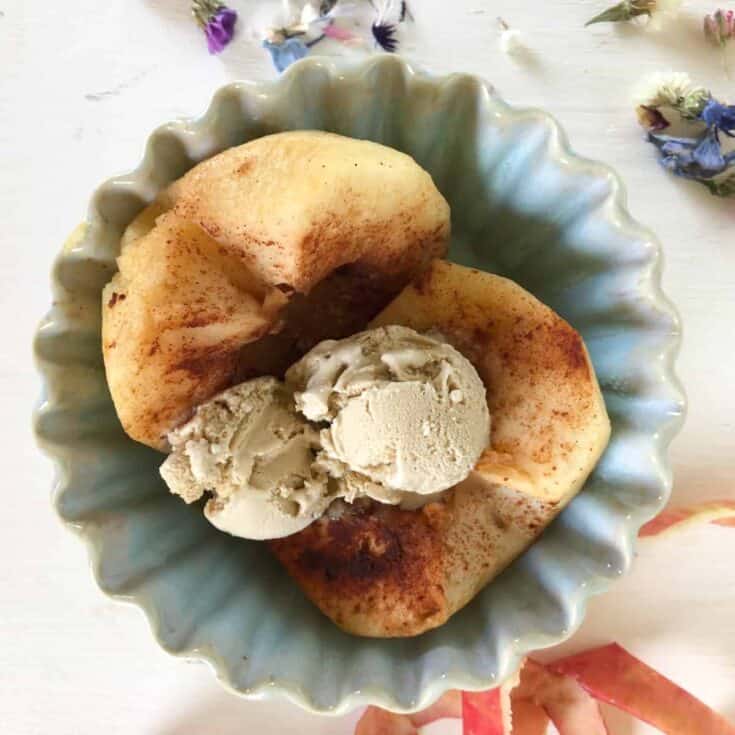 Slow Cooker Baked Apple
Such an easy dessert! Before you start dinner prepare the apple and start in the slow cooker and you'll have a warm dessert ready to enjoy.
Print
Pin
Rate
Ingredients
1

Apple

peeled, cored, and cut in half

1

teaspoon

Butter

¼

cup

Orange juice

1

teaspoon

brown sugar

⅛

teaspoon

ground Cinnamon
Instructions
Pour the orange into the bottom of a 1.5-quart slow cooker.

Place the apple cut side up in the bottom of the slow cooker.

Put ½ teaspoon butter inside the core in each half of the apple.

Mix the brown sugar and cinnamon and sprinkle over the apple halves.

Cook on low setting for 2 hours until tender and soft.
Notes
Any variety of apple works, Granny Smiths are especially nice for this recipe.
Cooking slow and low will give you a beautiful creamy apple, so don't rush the cooking.
Nutrition
Serving:
1
g
|
Calories:
171
kcal
|
Carbohydrates:
35
g
|
Protein:
1
g
|
Fat:
4
g
|
Saturated Fat:
2
g
|
Polyunsaturated Fat:
1
g
|
Cholesterol:
10
mg
|
Sodium:
34
mg
|
Fiber:
5
g
|
Sugar:
28
g