Oven Roasted Grape Tomatoes
A simple and delicious recipe for slow oven roasted grape tomatoes. This is an excellent side dish that pairs well with fish, chicken, or pork. One of my favorite easy recipes is simple and so delicious! Wonderfully sweet and full of flavor these yummy tomatoes make an excellent side dish to any meal. I hope you enjoy them!
You might also like my oven baked paprika carrots or for something with crunch try these yummy pickled green beans, homemade onion rings and more side dishes for one.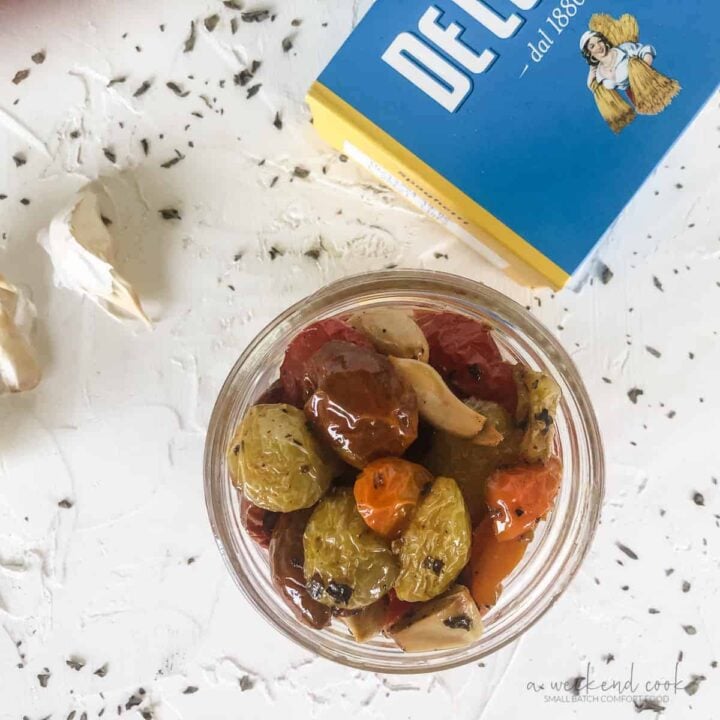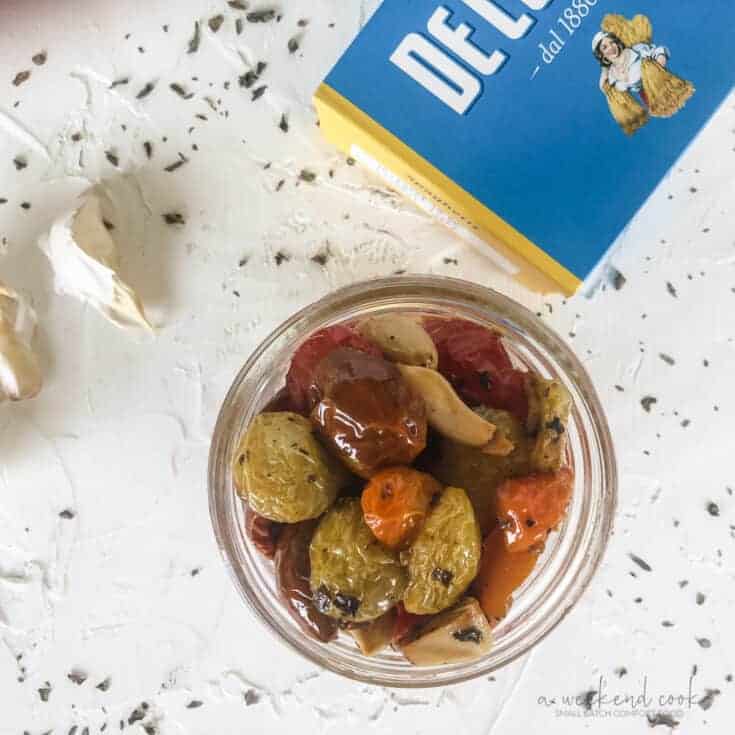 Ingredients Notes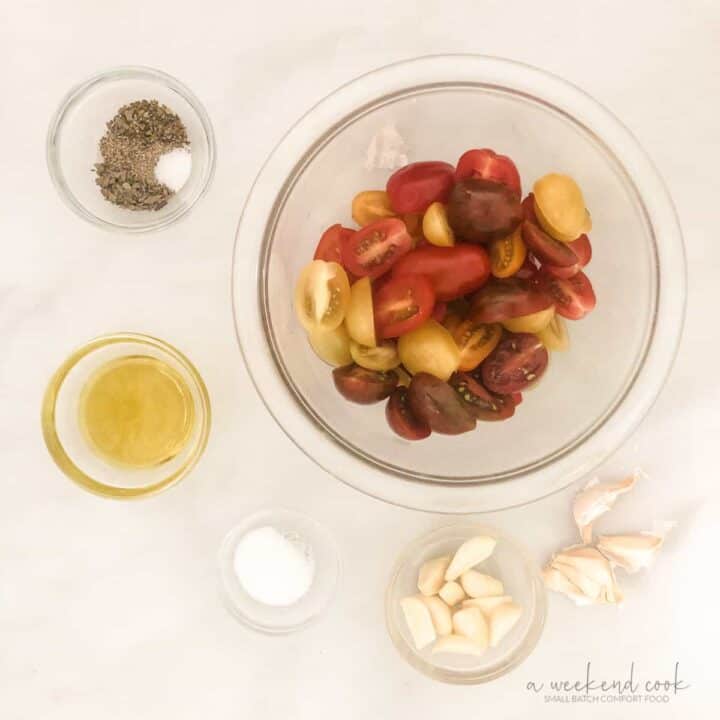 Grape tomatoes – These oval-shaped tomatoes are usually red or yellow in color. They are a member of the cherry tomato family and are incredibly sweet and flavorful.
Seasonings – I used individual spices m however, an Italian spice mix works very well. For a little extra, you can add fresh sprigs of oregano or basil leaves.
Olive Oil – I prefer to use extra virgin olive oil or you could substitute vegetable oil or avocado oil with very good results. 
Sugar – Even though these tomatoes are naturally sweet, adding a little sugar really brings the flavor out.
Step by Step Recipe Directions
Preheat the oven to 225°.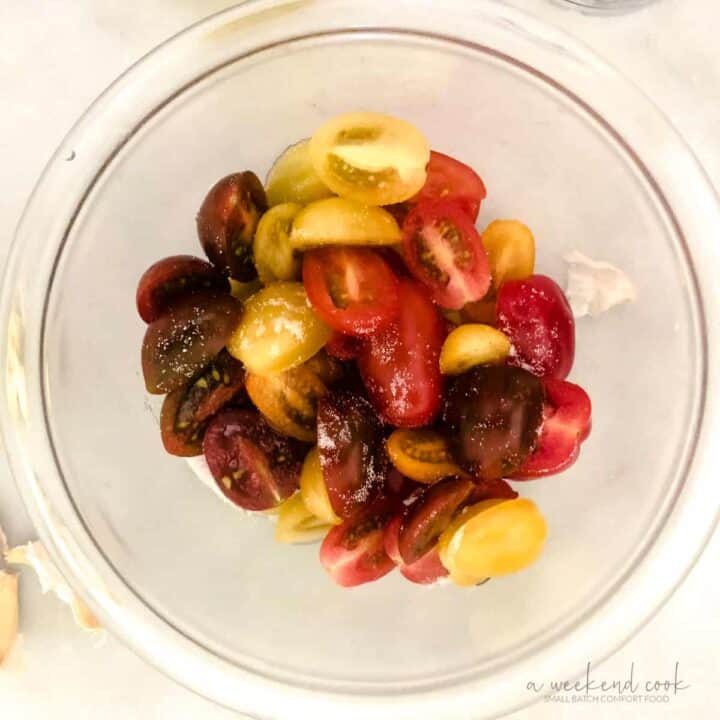 Slice the grape tomatoes lengthwise in half. Place in a medium bowl and sprinkle with sugar and let sit for a few minutes for the tomatoes to absorb some of the sweetness.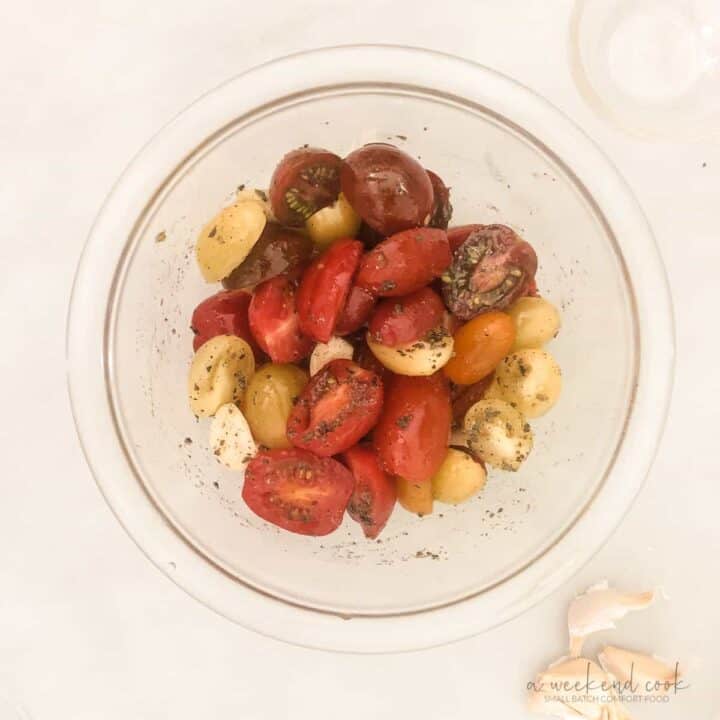 Add the olive oil and seasoning. Toss to coat the tomatoes and garlic halves. Add more oil if needed.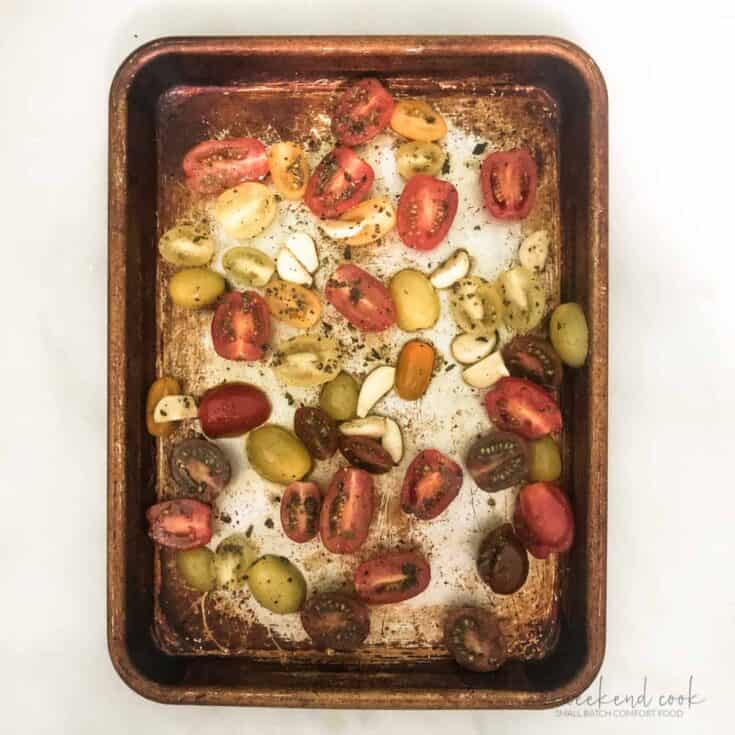 Spray a small baking sheet with cooking spray. Arrange the tomatoes cut to side up on the baking sheet. Place the baking sheet on the center rack and slow roast at 225° for 90 minutes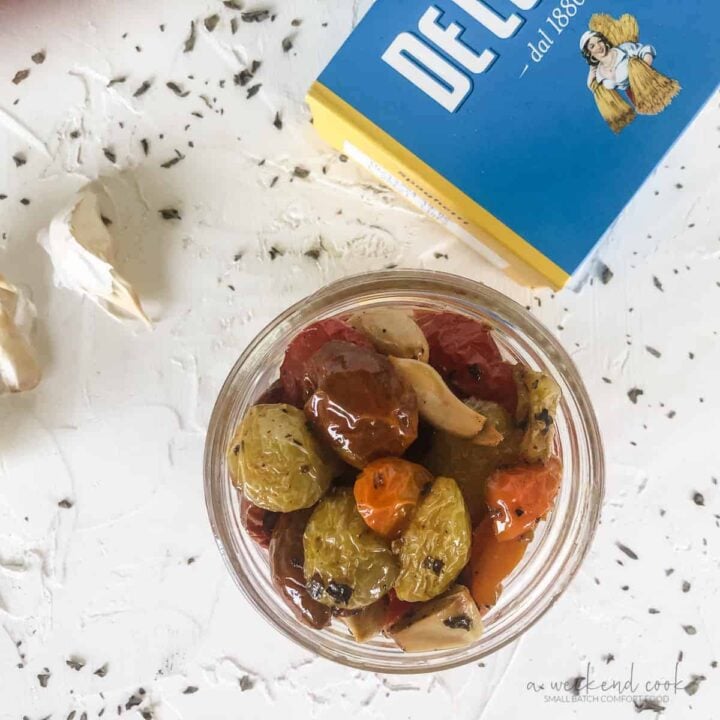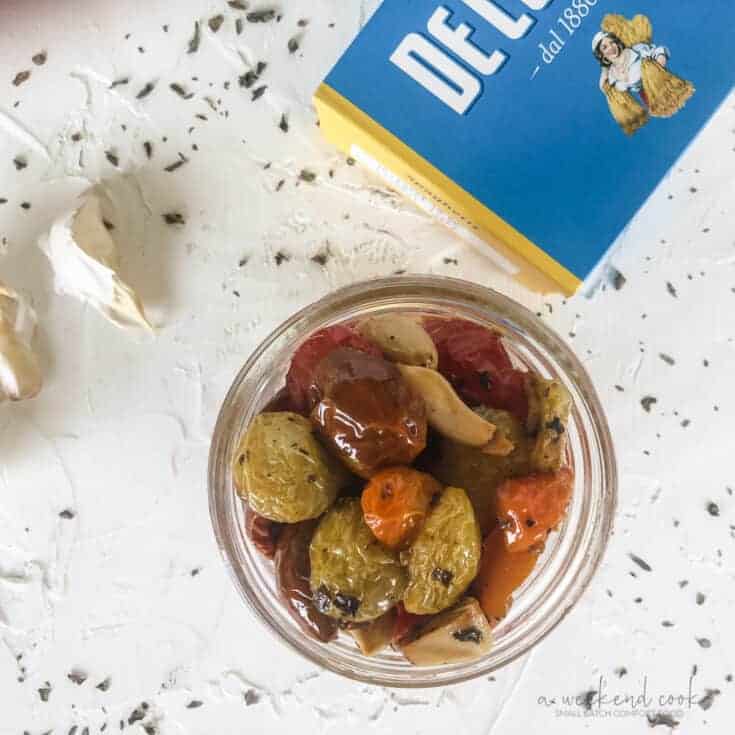 If using later, cover and store in the refrigerator.
.

Tip: Rotate the pan halfway through roasting.
Equipment Used
Use a rimmed baking sheet like this 1/4 sheet pan (←amazon link) from Nordic Ware. This size baking sheet is a must-have when cooking small batch recipes.
How to store
Store leftover roasted tomatoes covered in the fridge for 2-3 days. I store mine in a small mason jar.
Suggested Ways to Serve Roasted Tomatoes
There are endless possibilities for how to enjoy these roasted grape tomatoes. Here are a few suggestions:
My favorite way to use roasted tomatoes is in a spaghetti sauce. It's so easy; heat some olive oil in a skillet, chop the roasted tomatoes, and sauté for a few minutes. Add a little extra fresh basil, and chopped olives, then toss with cooked pasta. Oh, so easy and yummy!
Serve as a side dish with chicken, fish, or pork
Add to a salad for a pop of flavor and color
Toss with pasta and freshly grated Parmesan cheese
Smash and serve on lightly toasted french bread
Use as a pizza topping
Add to scrambled eggs, it's over the top tasty!
Can I use a different type of tomato?
Yes, Cherry tomatoes and Roma varieties work very well.
Can I cook roasted tomatoes faster?
Yes, increase the oven heat to 325 and roast for about 45 minutes.
Other tomato-based homemade condiments
Did you make this recipe? I would love it if you left a comment or review! Be sure to sign up for the email list and follow "A Weekend Cook" on Pinterest and my Facebook page.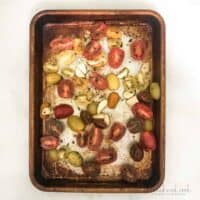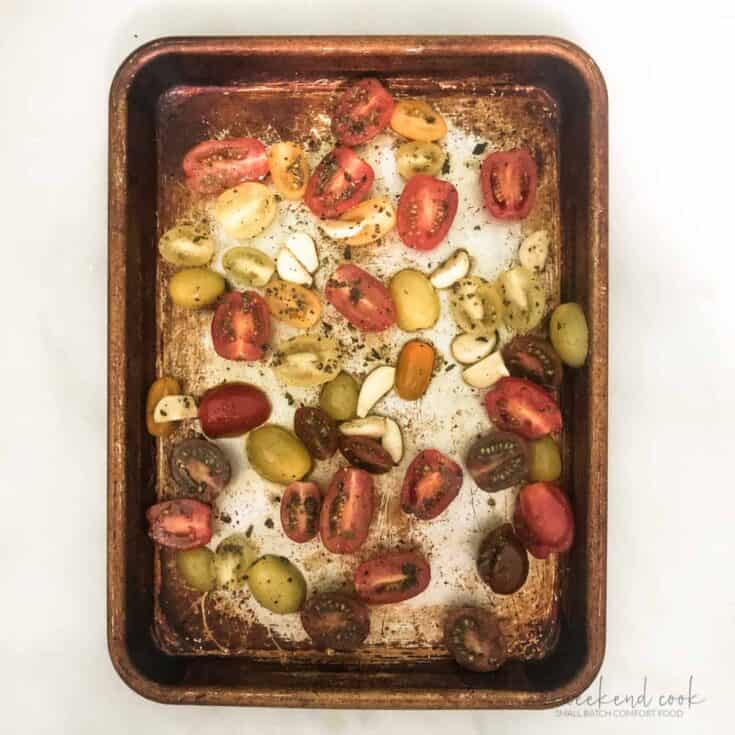 Oven Slow Roasted Grape Tomatoes
These slow-roasted grape tomatoes are marinated with Italian seasoning and olive oil. Great as cooked into a spaghetti sauce,as a side dish with chicken, or top on a green salad.
Print
Pin
Rate
Ingredients
1

pint

Grape tomatoes

halved

6-8

Garlic cloves

halved lengthwise

1/2

teaspoon

Sugar

1

tablespoon

Olive Oil

1/4

teaspoon

dried Oregano

1/4

teaspoon

dried Basil

1/4

teaspoon

ground Black pepper

1/8

teaspoon

salt
Instructions
Preheat oven to 225°

Place the halved grape tomatoes in a small bowl and sprinkle with the sugar, let sit for about 5 minutes. 

Add the olive oil and seasoning. Toss to coat.

Pour the bowl of tomatoes, garlic, and olive oil onto the baking sheet Arrange most of the tomatoes cut to side up

Place the baking sheet on the center rack and slow roast at 225° for 90 minutes.
Notes
Any tomato can be roasted, but smaller ones, like cherry or grape tomatoes, will roast faster than larger ones. If you're using larger tomatoes, consider cutting them into quarters or halves for even cooking.
Before roasting, toss the tomatoes in olive oil and season them with salt and pepper. You can also add herbs and spices like garlic, basil, oregano, or rosemary for additional flavor.
The lower oven temperature, around 225°F, will result in slower roasting and a more concentrated flavor.
Arrange the tomatoes in a single layer on a baking sheet. If they're piled on top of each other, they'll steam rather than roast.
Leaving space between the tomatoes will allow the heat to circulate properly and will give you a better roast.
 Check regularly to prevent burning and turn them occasionally for even roasting.
The tomatoes should be soft and slightly shriveled when done, and may have some charred spots. This will ensure a sweet, concentrated flavor.
The recipe can be halved or doubled.
Nutrition
Serving:
1
/2 cup
|
Calories:
110
kcal
|
Carbohydrates:
11
g
|
Protein:
2
g
|
Fat:
7
g
|
Saturated Fat:
1
g
|
Polyunsaturated Fat:
6
g
|
Sodium:
137
mg
|
Fiber:
2
g
|
Sugar:
5
g