Did you know you can make chocolate chip cookies with Bisquick? This small-batch chocolate chip cookie recipe is an updated version of the Betty Crocker Easy Chocolate Chip Cookie recipe. I adjusted some ingredients and scaled it down to a small batch of six yummy cookies.
For more easy cookie recipes check out these incredible Chocolate Fudge Cookies and my Salted Chocolate Chip Cookie.
❤️ What's Special About this Recipe

🧾 Ingredients Notes
You can make this cookie recipe without butter to stay true to the original. Just use all shortening and the cookie will still taste amazing. You might want to make two batches, one without butter and one with a 50/50 mix, and see which one you like best.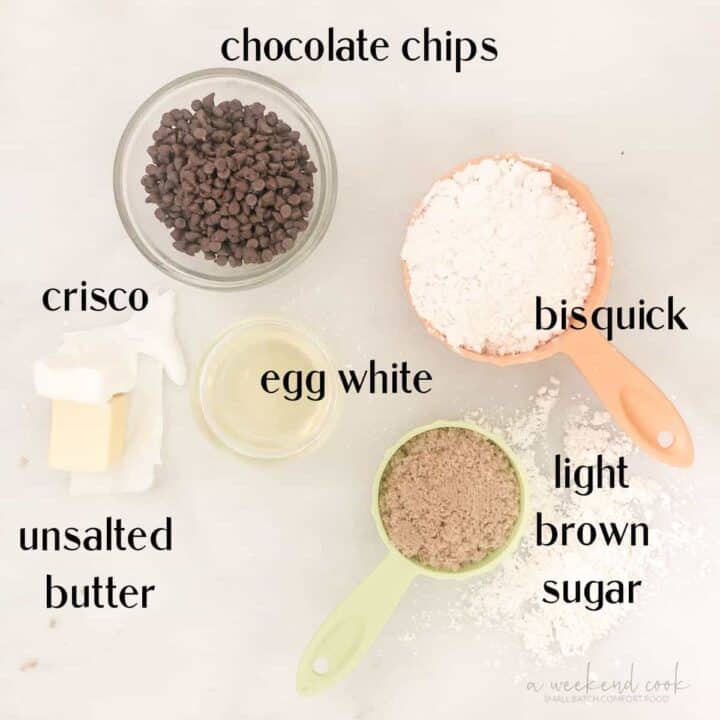 Shortening & Butter - The original recipe calls for just shortening but a 50/50 mix gives you the rich flavor from the butter and the flakiness from using shortening. My shortening of choice is classic Crisco. If an unsalted butter is used you should add about ⅛ teaspoon of salt to the recipe. If you use 100% butter the cookies will still be good, but will be flatter and tend to spread out more.
Egg - Since this is a small batch I used just the egg white. If you will double the recipe then use the whole egg.
Brown Sugar - Light brown sugar.
Bisquick Baking Mix - Stick with Bisquick as I have not used another baking mix and don't know if there would be a difference in the outcome of the recipe.
Semisweet Chocolate Chips - Use the mini chips when making smaller sized cookies.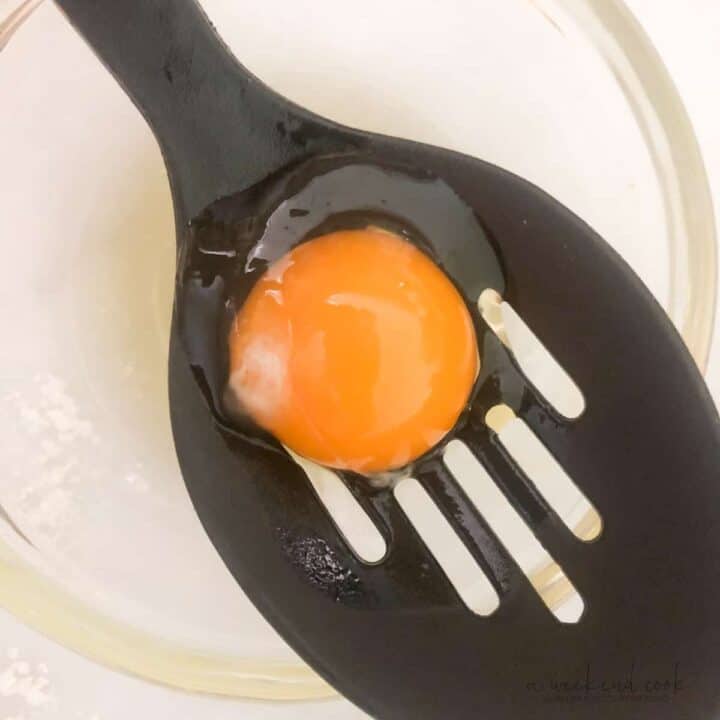 To separate an egg easily, place a slotted spoon over a small bowl, carefully crack the egg, and place it on the spoon. The whites will filter down into the bowl, and the egg yolk remains whole.
🥣 Step by Step Recipe Directions
Mix the butter, shortening, sugar, and egg white in a medium bowl.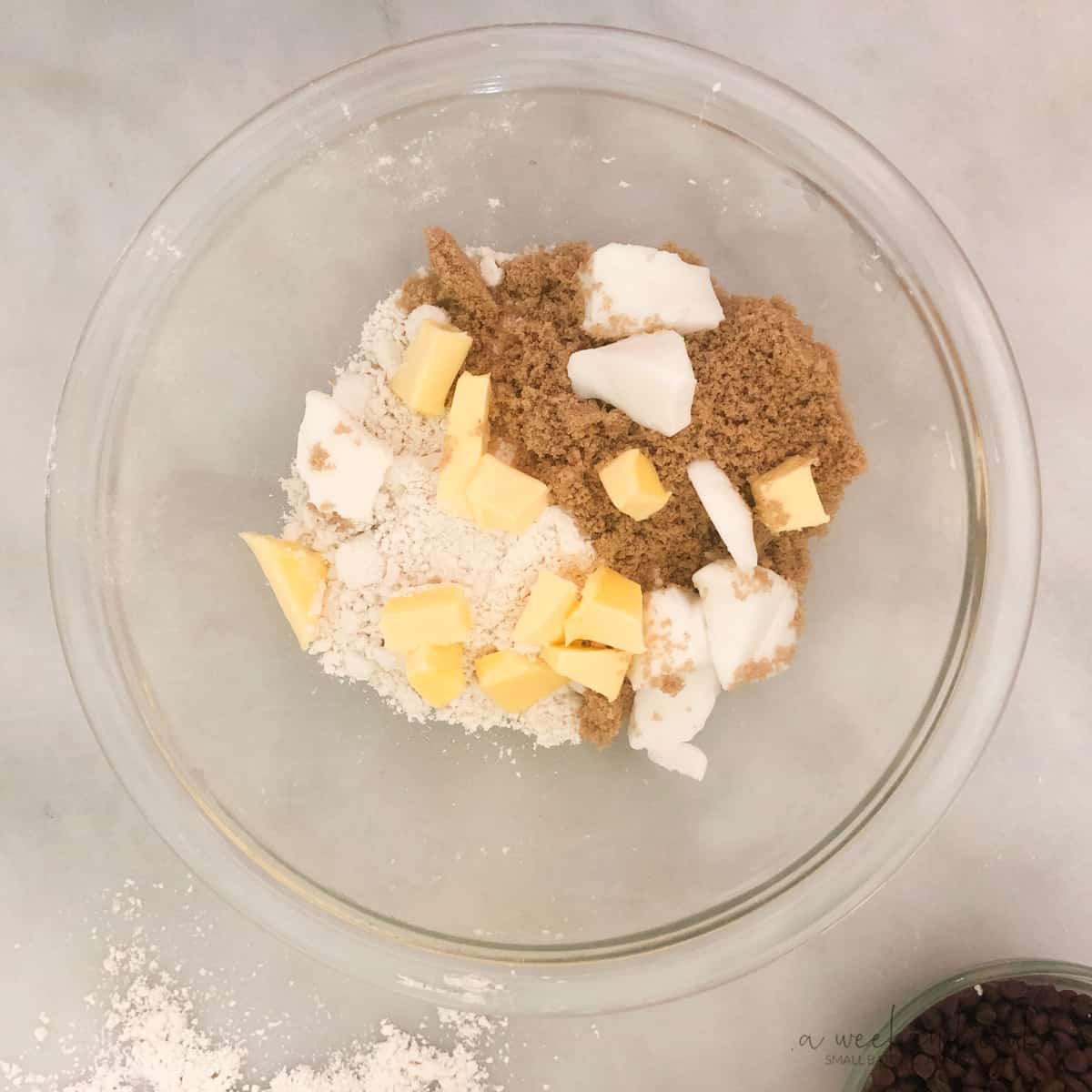 Use a wooden spoon to stir in the Bisquick mix.
Measuring Tip: Spoon the Bisquick into the measuring cup and fill until heaping, and then wipe the excess off the top with the flat edge of a butter knife.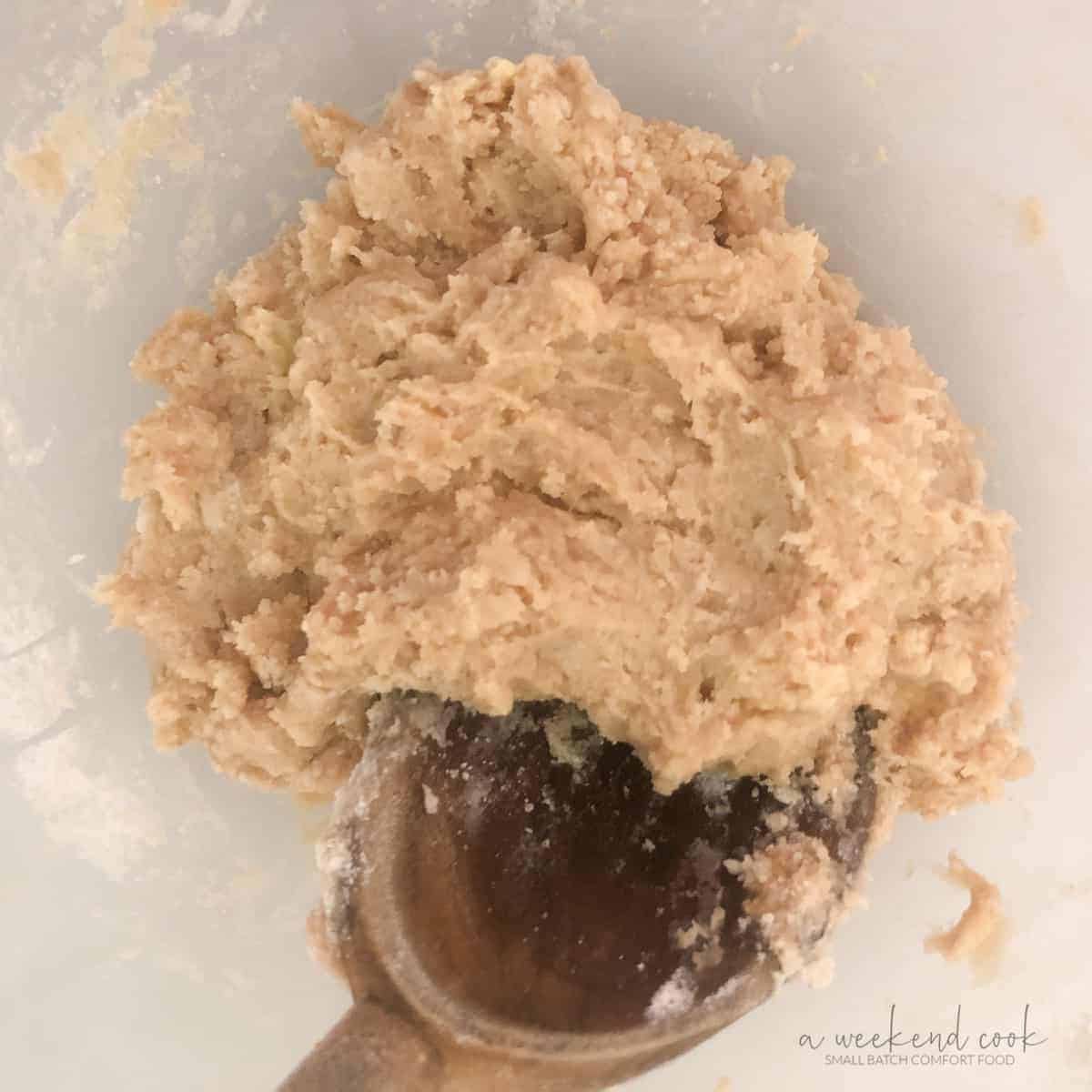 Fold in the chocolate chips.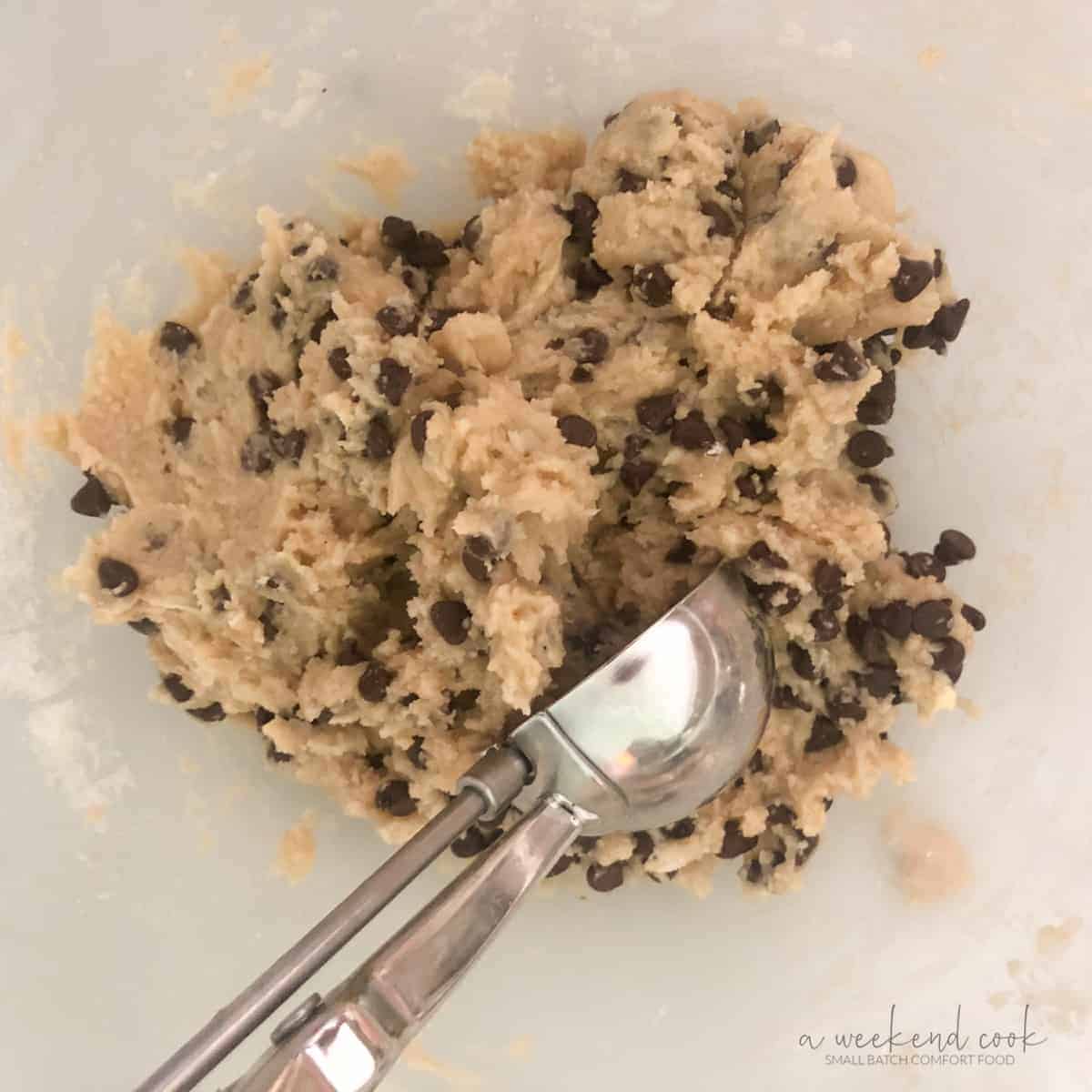 Use a cookie scoop to drop cookie dough onto a parchment lined baking sheet.Chill cookies for about 30 minutes While the cookies are chilling preheat the oven to 375° F.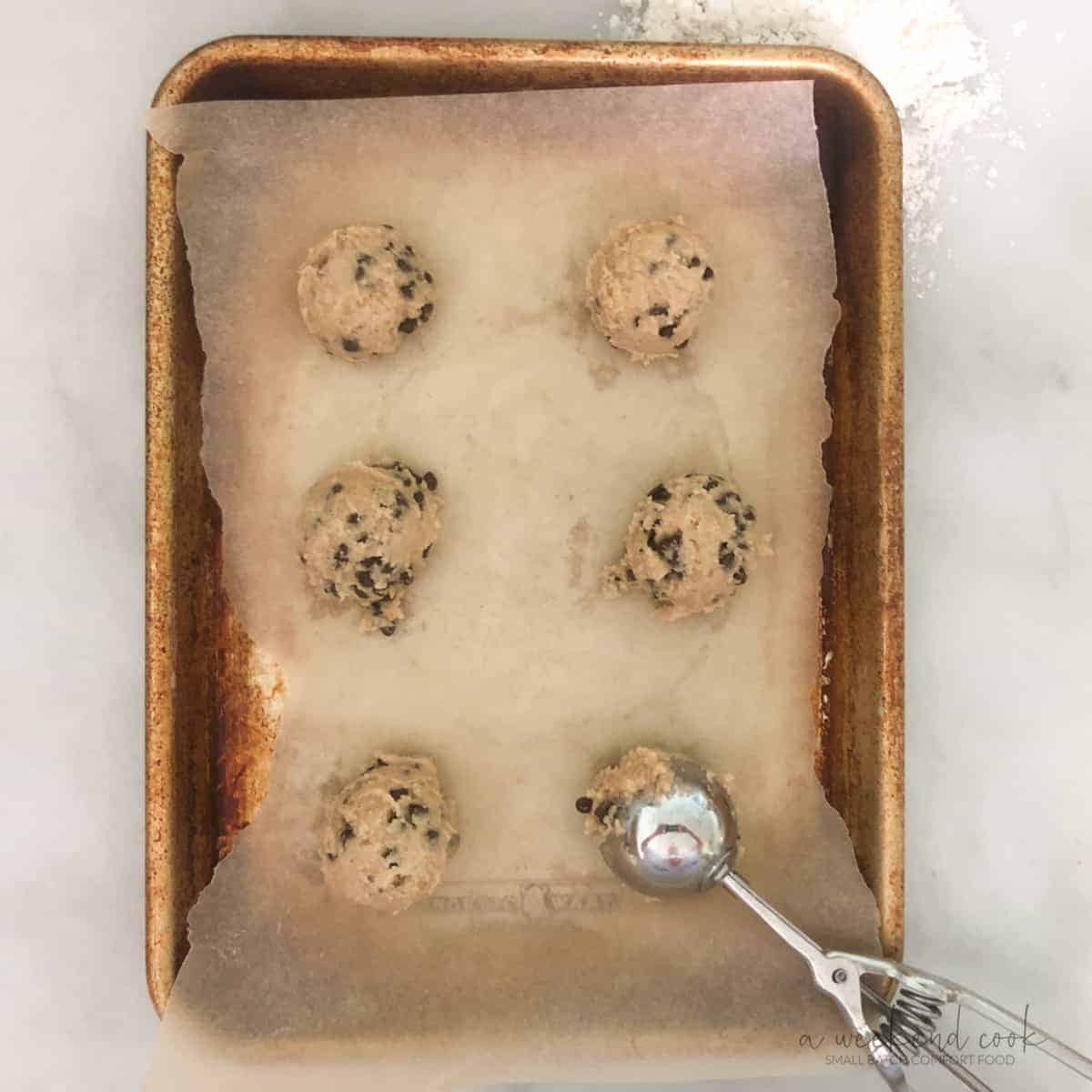 Before baking.Bake for 10-12 minutes, or until cookies are lightly browned.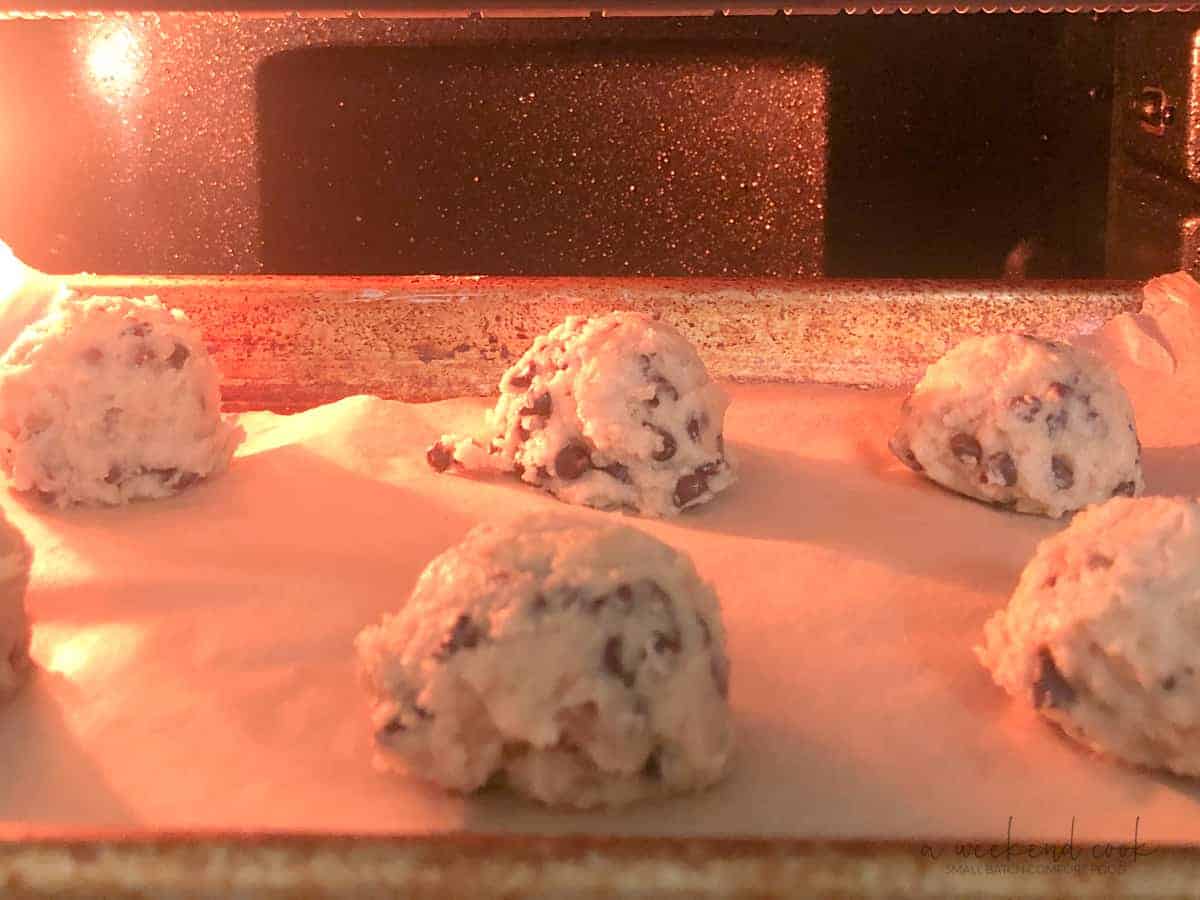 🥄 Helpful Tools
Cookie sheet - I sometimes bake cookies using a rimmed baking sheet; however, if you will be baking cookies often invest in a classic cookie sheet without a rim.
Measuring cups and spoons
Wooden Spoon - I mix everything by hand whenever possible when making small batches of batters and dough. A good wooden spoon will last a lifetime.
Cookie Scoop - Keep a couple of sizes handy, these two sizes from Piazza are really well made and have a great spring action.
❄️ How to Freeze Cookie Dough
Place the cookie dough balls onto a baking sheet, cover, and freeze the dough balls until they are solid about 1 hour. Transfer them to a Ziploc bag and freeze them for up to 2 months.
When ready to bake transfer the dough balls to a parchment-lined baking sheet and thaw in the refrigerator. Depending on the size, they should thaw in 2-3 hours. Once thawed, bake per the recipe instructions.
❓ Frequently Asked Questions
My cookie dough is too wet, how do I fix it?
Slowly add more Bisquick until you get the proper dough consistency.
My cookies are flat, what went wrong?
In my opinion, using a 50/50 mix of butter and shortening should give you the perfect cookie, however if it still is coming out flat or spreading too much then try more shortening and less butter.
What can I use for a Bisquick replacement?
Yes, you can use one cup of flour and one tablespoon of baking powder.
More Favorite Cookie Recipes
Did you make this recipe? I would love it if you left a comment or review! Be sure to sign up for the email list and follow "A Weekend Cook" on Pinterest and my Facebook page.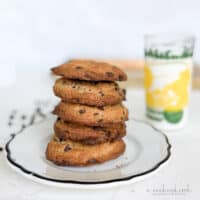 Bisquick Chocolate Chip Cookies
These are easy and really yummy chocolate chip cookies.
Print
Pin
Rate
Ingredients
1

cup

Bisquick Baking Mix

½

cup

Brown Sugar

2

tablespoon

Shortening

Crisco

2

tablespoon

Butter

unsalted & softened

1

Egg white

⅓

cup

chocolate chips
Instructions
Preheat oven to 375 degrees F.

In a medium bowl mix together the butter, sugar, and egg white.

Use a wooden spoon to stir in the flour.

Fold in the chocolate chips.

Use a cookie scoop to drop cookie dough onto a parchment lined baking sheet.

Chill cookies for about 30 minutes Before baking.

Bake for 10-12 minutes, or until cookies are lightly browned.
Notes
For evenly baked cookies place the cookie sheet on middle oven rack.
Use a cookie scoop for evenly sized cookie.
Nutrition
Serving:
1
cookies
|
Calories:
231
kcal
|
Carbohydrates:
34
g
|
Protein:
3
g
|
Fat:
10
g
|
Saturated Fat:
4
g
|
Polyunsaturated Fat:
6
g
|
Cholesterol:
3
mg
|
Sodium:
271
mg
|
Fiber:
1
g
|
Sugar:
22
g