2-Quart Slow Cooker Marinara Sauce Recipe
The best homemade marinara sauce is cooked low and slow and prepared in a slow cooker. Just add all the ingredients, cover, and wait while the ingredients transform into a tasty Marinara. The smaller 2-quart slow cooker is the best size for this small batch of marinara sauce. If doubling the recipe use a larger slow cooker or crockpot.
Looking for more slow cooker recipe ideas? Check out more great recipes for a small slow cooker.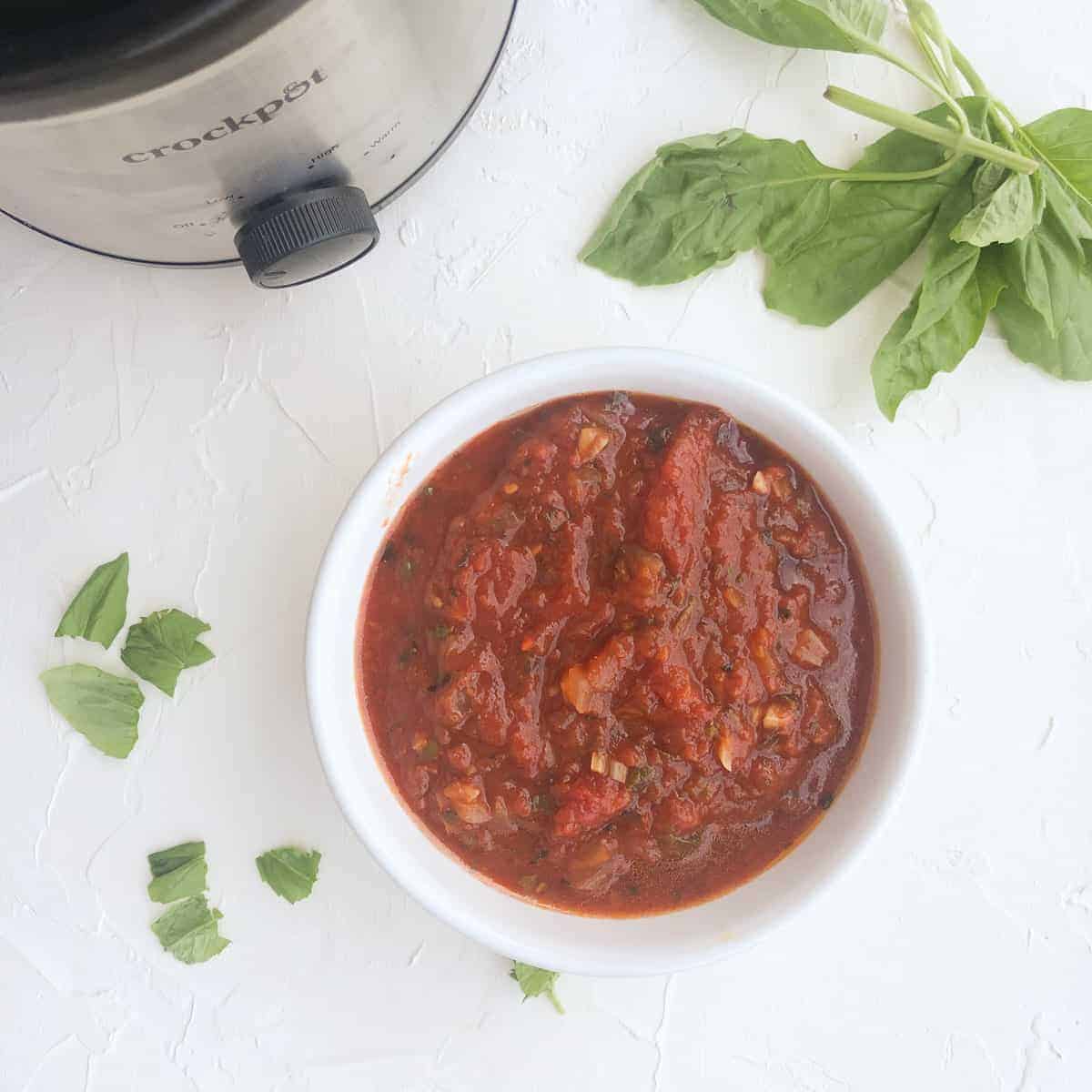 The ingredients used in this marinara recipe are both pantry items and fresh with a long shelf life.
Marinara is the perfect recipe for the slow cooker. Check out the web story for the easy and incredibly tasty Marinara Sauce
Ingredients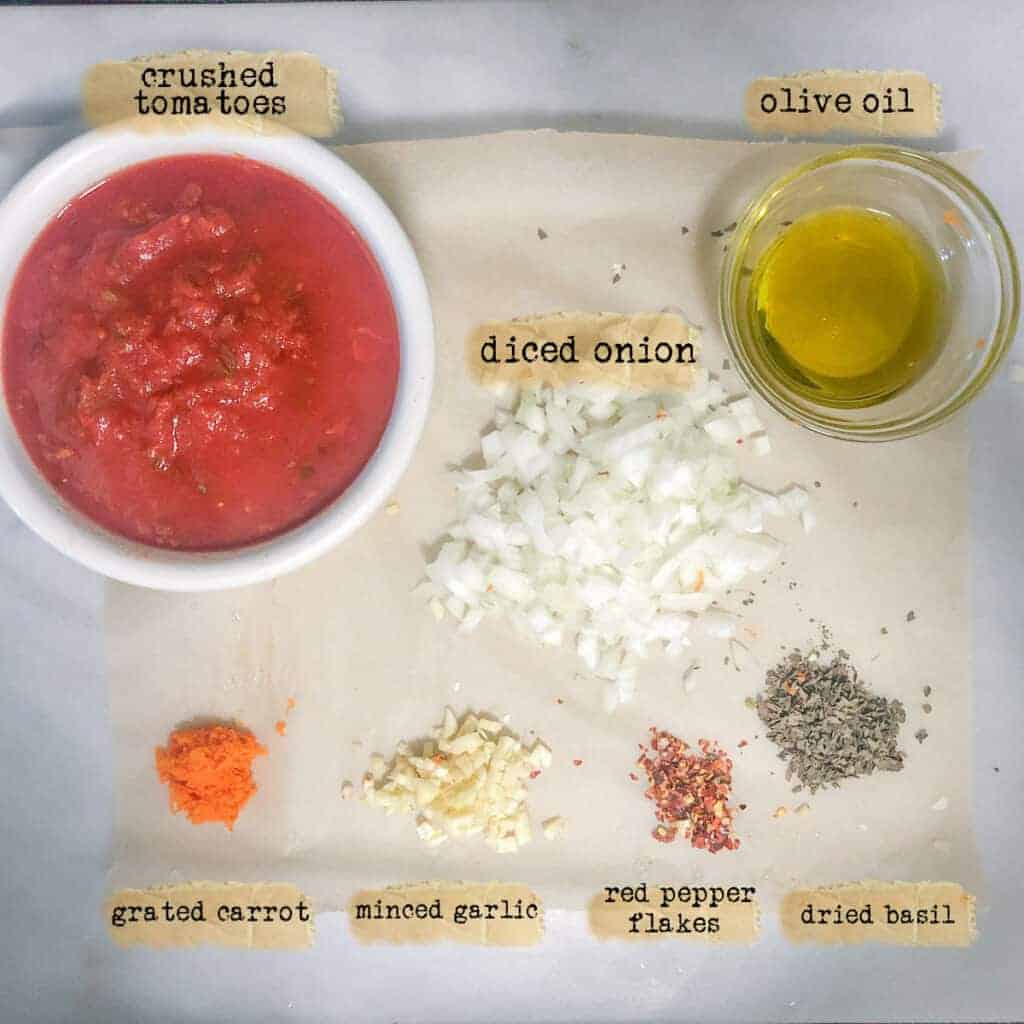 3 tablespoon olive oil
½ yellow onion, diced
1 tablespoon grated carrots
6 cloves garlic, peeled and minced
1 (26-28 ounces) can Crushed Tomatoes
1 tablespoon dried basil
1 teaspoon red pepper flakes
Crushed Tomatoes: My go to are Pomi crushed Roma tomatoes.
Olive Oil: Use a good quality Olive Oil, but you don't need to use a dipping quality.
Onion: In this recipe I use a white onion, you can also use a brown of yellow onion. To add even more sweetness use a sweeter onion variety.
Carrot: the carrot infuses a little natural sweetness. I don't ever put sugar in any of my sauces.
Garlic: Fresh first, in a pinch you can use a tube garlic. I'm not a fan of jarred garlic.
Red Pepper flakes: I like my marinara with a hint of heat, you can omit this ingredient.
Dried basil: I get a deeper basil flavor with dried garlic and then add a fresh ripped basil after cooking as a tasty garnish.
Instructions
Add the onion, garlic, and carrot to the bottom of the slow cooker.
Add the crushed tomatoes, salt, dried basil, and red pepper flakes.
Cover and cook on low for 6-7 hour. About halfway through cooking open the lid and give the sauce a stir. Replace the lid and continue cooking.


The sauce is perfect to have handy for making a quick And Easy Mozzarella Chicken Parm Recipe for Two or as a base sauce for a classic Spaghetti alla Puttanesca (Pasta with Olives) or Sausage and Peppers.
Substitutions
Tomatoes– If you can't find the Pomi brand tomatoes you can use any other crushed tomatoes, Glen Muir,Hunts, S & W are all good brands. The way I made this is Italy was using canned Whole tomatoes and then pressed them through a sieve. yes, it was time consuming but feels like a very authentic way to make the sauce.
Garlic– I always use fresh garlic but in a pinch you can the tube variety. I generally don;t use the jarred garlic. To make this a true pantry meal you could also use a dehydrated garlic.
Variations
This marinara recipe is easy to adjust to your personal taste, most of the time I just throw in the ingredients without measuring. I like lots of garlic and prefer my marinara sauce on the spicy side.
My slow cooker marinara sauce is the perfect base sauce for making a Meat Sauce, Puttanesca or an Arribiata sauce.
Marinara Sauce vs Pizza Sauce
The main difference between marinara sauce and pizza sauce is in the consistency. Marinara is a little thinner or lighter sauce and generally, pizza sauce is going to be thicker. Marinara will have more ingredients, typically including onions, garlic, seasonings, and is cooked low and slow to develop rich deep flavors.
Pizza sauce is typically made with seasonings, tomato sauce, and tomato paste and can be cooked up much quicker.
Equipment
The links below are affiliate links that will take you to Amazon. I'll earn a small commission when you purchase through my links. The cost to the buyer does not change.
You only have a few things to make this Marinara sauce.
2 quart slow cooker or larger if doubling the recipe. A basic slow cooker like this 2-quart Crockpot is basic with no bells and whistles and an inexpensive option. I own two of these.
Good knife to chop the onions and garlic. I own several higher end knives however this Victronix Chefs Knife gets the most use and under $40.
A simple cutting board. The Epicurean boards are sturdy and lightweight. Mine is well used and still going strong after many years.
Storage
Marinara just gets better the next day. Cover and store in the fridge for 2-3 days. The sauce can also be frozen.
More Easy Italian Style Recipes to Try
Did you make this recipe? I would love it if you left a comment or review! Be sure to sign up for the email list and follow "A Weekend Cook" on Pinterest and my Facebook page.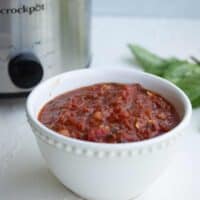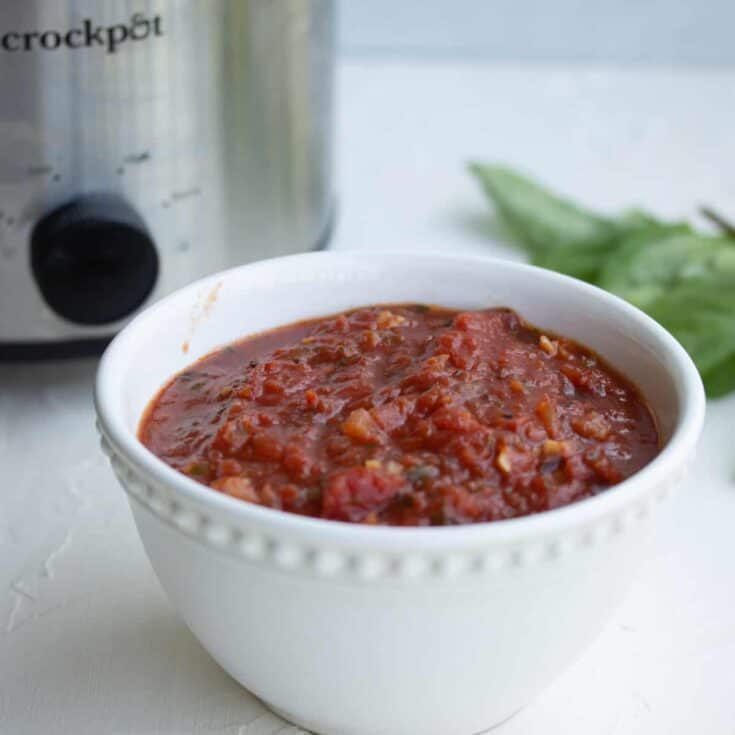 Slow Cooker Marinara Sauce
This is the same recipe I brought back from Italy, I adapted my classic marinara sauce for the slow cooker.
Print
Pin
Rate
Ingredients
3

tablespoon

olive oil

½

yellow onion

diced

1

tablespoon

grated carrots

6

cloves

garlic

peeled and minced

1

can

(26-28 ounce) Crushed Tomatoes

San Marzanos

1

tablespoon

dried basil

1

teaspoon

red pepper flakes
Instructions
Turn on the slow cooker and let preheat while gathering the ingredients.

Dice the onions, mince the garlic and grate the carrot

Add the olive oil, onion, garlic, and grated carrot.

Pour in the crushed tomatoes.

Add the dried basil and red pepper flakes.

Cover and cook on low for 6 hours.
Notes
While fresh tomatoes can be used, many cooks actually prefer canned tomatoes for marinara sauce.
Not necessary, but for extra flavor sauté your onions, garlic, in a bit of olive oil before adding them to the slow cooker. This helps to release their flavors and sweetness.
One of the benefits of a slow cooker is the ability to slowly simmer the sauce, allowing the flavors to develop and meld together. A low and slow cook time is best for marinara sauce.
If using fresh herbs near the end of cooking to keep their flavors bright.
A small amount of sugar helps balance might balance the acidity of the tomatoes.
If you prefer a smoother sauce, use an immersion blender to puree the sauce to your desired consistency once it's done cooking.
BONUS TIP: A tablespoon or two of tomato paste can help thicken the sauce and deepen the tomato flavor.
Nutrition
Serving:
1
1/2 cup
|
Calories:
77
kcal
|
Carbohydrates:
4
g
|
Protein:
1
g
|
Fat:
7
g
|
Saturated Fat:
1
g
|
Polyunsaturated Fat:
6
g
|
Sodium:
40
mg
|
Fiber:
1
g
|
Sugar:
1
g
Looking for more small slow cooker recipes? Read 14 Easy Recipes to Make in Your Small Slow Cooker
FAQ's
Can I make this sauce on the stove top?
Yes. Heat the olive oil in a large skillet or dutch oven. Saute the onion and carrot. Add in the remaining ingredients. Cook over low heat and slowly simmer for about one hour. Check frequently to avoid burning and cooking down the sauce too much. If the sauce thickens too fast, add liquid and continue cooking. The beauty of the slow cooker is you can cook the Marinara low and slow to really develop all the flavors in the sauce.
Food safety
See food safety guidelines for cooking with slow cookers at USDA.gov.