Looking for an easy, elegant cheese recipe? You've come to the right place! This simple but delicious gooey Baked Camembert Cheese is ready in under 20 minutes. Go ahead and treat yourself to this little indulgence,
What is Camembert Cheese?
Camembert is a French round soft cheese made using cow's milk. It has an earthy slightly nutty flavor.  Camembert is very similar to Brie cheese.  
This Baked Camembert Recipe is incredibly easy recipe to make at home and is ready in just about 20 minutes. 
Why do you cut into the rind of the Camembert?
Slice into the top rind is so the while baking the air will escape. If you leave the rind uncut the cheese ends up drying out with no way for any air to escape.
Use a sharp knife to either slit the top of the camembert rind or remove it completely. It's really a taste preference, some people say the rind is important to the flavor, and others prefer to just go for the gooey goodness. Treat your taste buds to this delicious recipe.
Why not use a festive shape cookie cutter and cut out a small middle portion so everyone is happy!
What to Serve With Camembert
Sometimes I make a simple meal of baked Camembert, crusty French bread, jam, and a great glass and a half of red wine.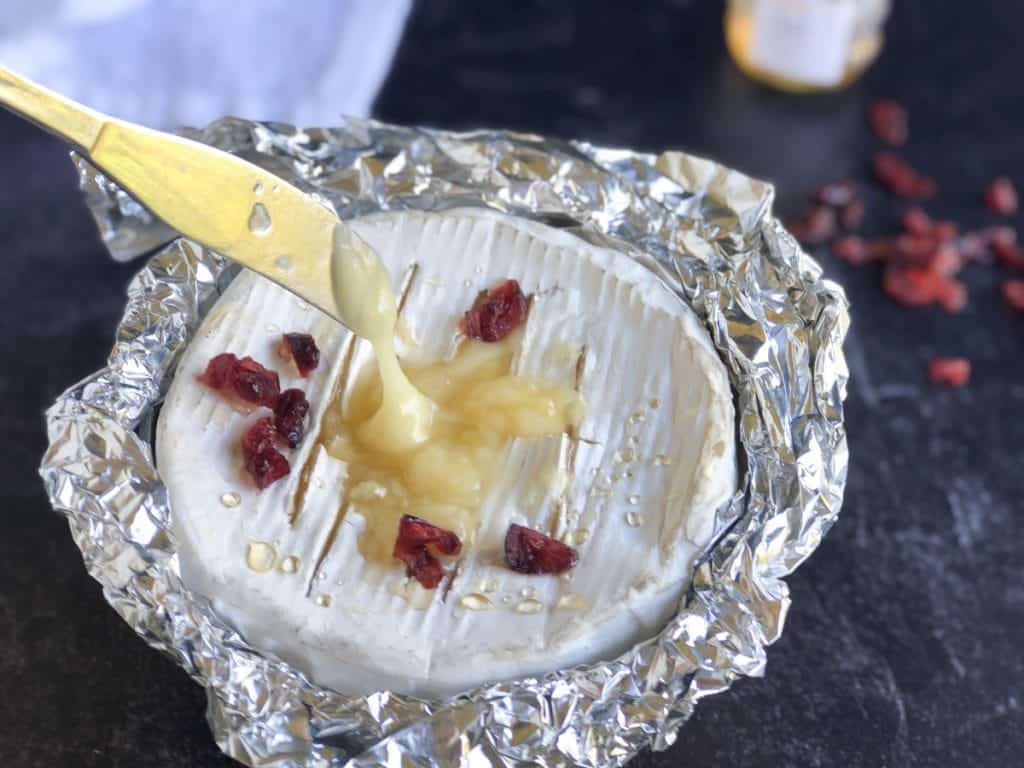 Camembert It pairs well with a variety of foods, including fruits, jams, crackers, and breads. As an easy and elegant appetizer, pair camembert with pear slices or dried figs. The sweetness of the fruit helps to offset the richness of the cheese.
For something a little more substantial camembert can be served with crusty bread and a selection of cured meats and compliment with sliced apples. The salty meats provide a perfect contrast to the creamy cheese.
Finally, camembert can also be enjoyed on its own as part of a cheese board or crudite platter. Paired with a glass of wine, it makes for a perfect after-dinner treat. No matter how you enjoy it, camembert is a versatile cheese that is sure to please any palate.
Brie vs Camembert
Both kinds of cheese are originally from the north of France and both are made from cow milk. They also both have a creamy texture and an edible rind. There are subtle differences between the two kinds of cheese.
Brie has a milder flavor and Camembert has a slightly more intense deeper flavor.
Camembert's scent is earthier and Brie has a light buttery aroma.
Brie tends to be a little softer cheese while Camembert is denser.
Camembert has a milk fat content of around 45% versus Brie at 60% milk fat. the higher fat in Brie gives it a more creamy texture.

Baking Instructions
You can use these baking instructions for both Brie and Camembert cheeses.
Preheat the oven to 350° F.
Remove the small wheel of Camembert from the wooden box and line the box with foil. Remove the plastic covering from the Camembert back and place it back in its wooden box. Alternately you can transfer the cheese to a small round baking dish or cheese baker.
Tip: If the wooden box isn't stapled, tie a piece of string around the box to keep it from potentially falling apart.
Score a deep crosshatch pattern or slits on the top rind of the cheese to allow the air to escape while cooking.
Drizzle with orange or raspberry flavored honey. I pick up fruit-infused honey from a local farmers market.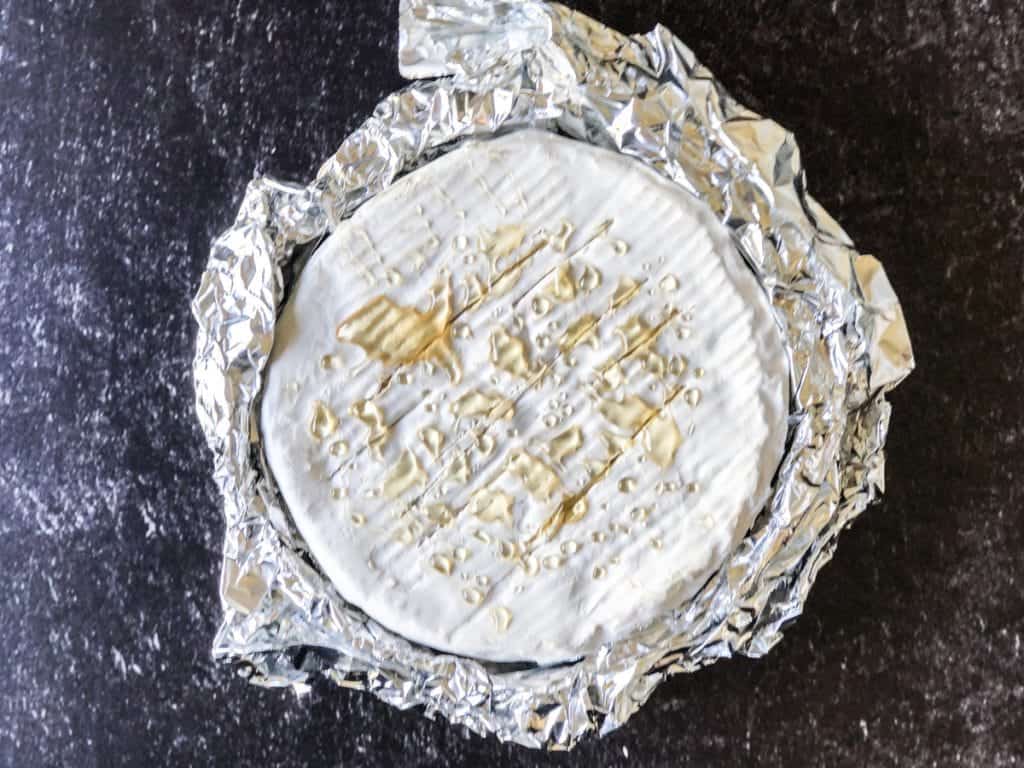 Bake in the oven for 12-15 minutes. For a creamy gooey cheese be careful not to overbake. If you overbake the cheese will cross over from a nice gooey consistency and harden.
Remove from the oven, and serve as is while still warm and creamy. Add fresh rosemary, fresh thyme sprigs, red chili flakes, or sprinkle herbs, cranberries, or crushed nuts over the baked camembert.
This recipe turns out perfect every time!
Top the baked Camembert with dried fruit, herbs or homemade Cranberry Sauce or Strawberry Rhubarb Jam.

Baked Camembert: Frequently Asked Questions
Can you eat Camembert cheese without cooking it?
Absolutely. The uncooked cheese tastes best at room temperature so when you remove it from the refrigerator let it sit for about 30 minutes before serving.
What is the white rind on Camembert made of?
The rind is actually an edible white mold. As a rule mold and edible don't seem like comparable terms so I've linked to the USDA site for those that would like a more expert answer. Ask the USDA


Does Camembert cheese need to be refrigerated?
Yes, soft cheeses including Camembert and Brie must be refrigerated for safety.
Can you bake camembert in it's wooden box?
You can bake the  Camembert in its own little wood box. Make sure the box is held together with staples and not glue.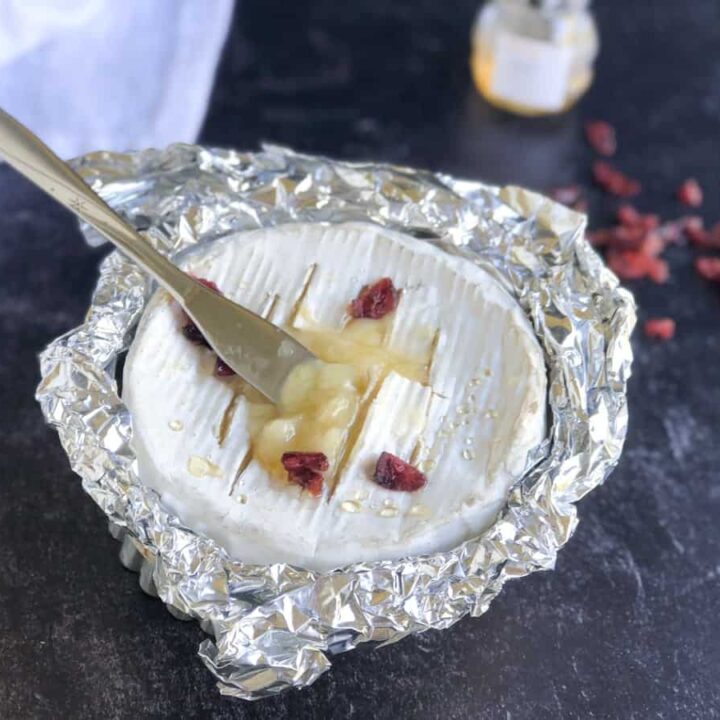 Honey Baked Camembert
The best gooey baked Camembert treat with a hint of honey and ready in about 20 minutes
Ingredients
1 (8 ounces) package Camembert cheese
1 tablespoon honey
sea salt flakes
Instructions
Preheat oven to 350 degrees F.
Remove the plastic packaging and place the Camembert back in its wooden box. Wrap the box with a layer of aluminum foil. Alternately you can transfer the cheese to a small round baking dish.
Score a deep cross on the top rind of the cheese to allow the air to escape while cooking. There are two types of Camembert lovers, those who remove the rind entirely and those who leave it on.
Drizzle with honey. Optional addition: sprinkle with red pepper chili flakes and a pinch of sea salt,
Bake in the oven for 12-15 minutes. For a creamy gooey cheese be careful not to over bake.
Remove from the oven, and serve while still warm and creamy.
Nutrition Information:
Yield:

4
Serving Size:

2 ounces
Amount Per Serving:
Calories:

37
Total Fat:

2g
Saturated Fat:

1g
Trans Fat:

0g
Unsaturated Fat:

1g
Cholesterol:

5mg
Sodium:

205mg
Carbohydrates:

4g
Fiber:

0g
Sugar:

4g
Protein:

1g
The nutritional information provided here are estimates and are not calculated by a registered dietitian.