This is an easy homemade mini graham cracker crust recipe for cheesecake and pies. Make the basic graham cracker crust or add a few extras to mix it up a bit. You can add a teaspoon of vanilla or lemon extract, or add some ground cinnamon.
The recipe can be doubled for a full-size pie crust.
This crust isn't just for cheesecake, try using it with my homemade banana pudding.
How to Crush Sheets of Graham Crackers for Crust
This recipe requires crushing the sheets of graham crackers or another cookie ingredient into a fine crumb. These are three easy ways to accomplish the crushing part of the process.
Use a small food processor on pulse to the desired consistency. I'll use a food processor when making a larger cheesecake and pounding all this amount of crumbs would just take too long.
Use a rolling pin to crush the ingredient. I have two ways of accomplishing this. First, break up the cookies into small pieces and place them in a large zippered storage bag. Lay the bag flat and start rolling, turn over a few times until finely crushed.
If you don't want to use a plastic bag, another option is to cut two large pieces of parchment paper and place the small bits and pieces in between and start rolling.
I use the rolling pin method most often since I find it relaxing and it reminds me of being in the kitchen with my Mom. I think I made my first graham cracker crust at the age of 6!
Ingredient notes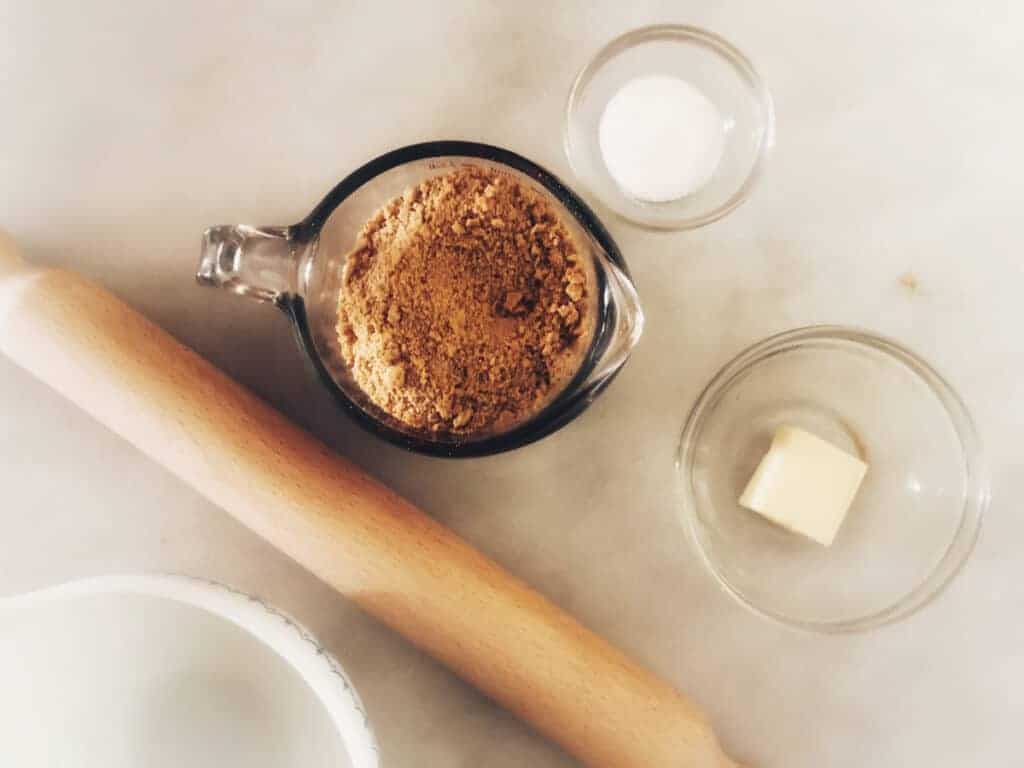 Graham Crackers - for the best crust use a regular graham cracker, the coated or cinnamon varieties make an overly sweet and artificial-tasting crust.
Melted Butter - unsalted if you have it, otherwise salted is okay to use. The butter acts as the glue that holds the crust together so don't skimp on this ingredient.
Sugar - Use Granulated sugar for the classic like Mom made crust, well like MY mom made :-). You can also use a combination of white granulated and brown sugar.
How to make graham cracker crust from scratch
Once you have the graham crackers crushed into fine crumbs, combine the ingredients in a medium bowl and mix until all crumbs are moist. A wooden spoon or spatula works well to get everything mixed and moistened.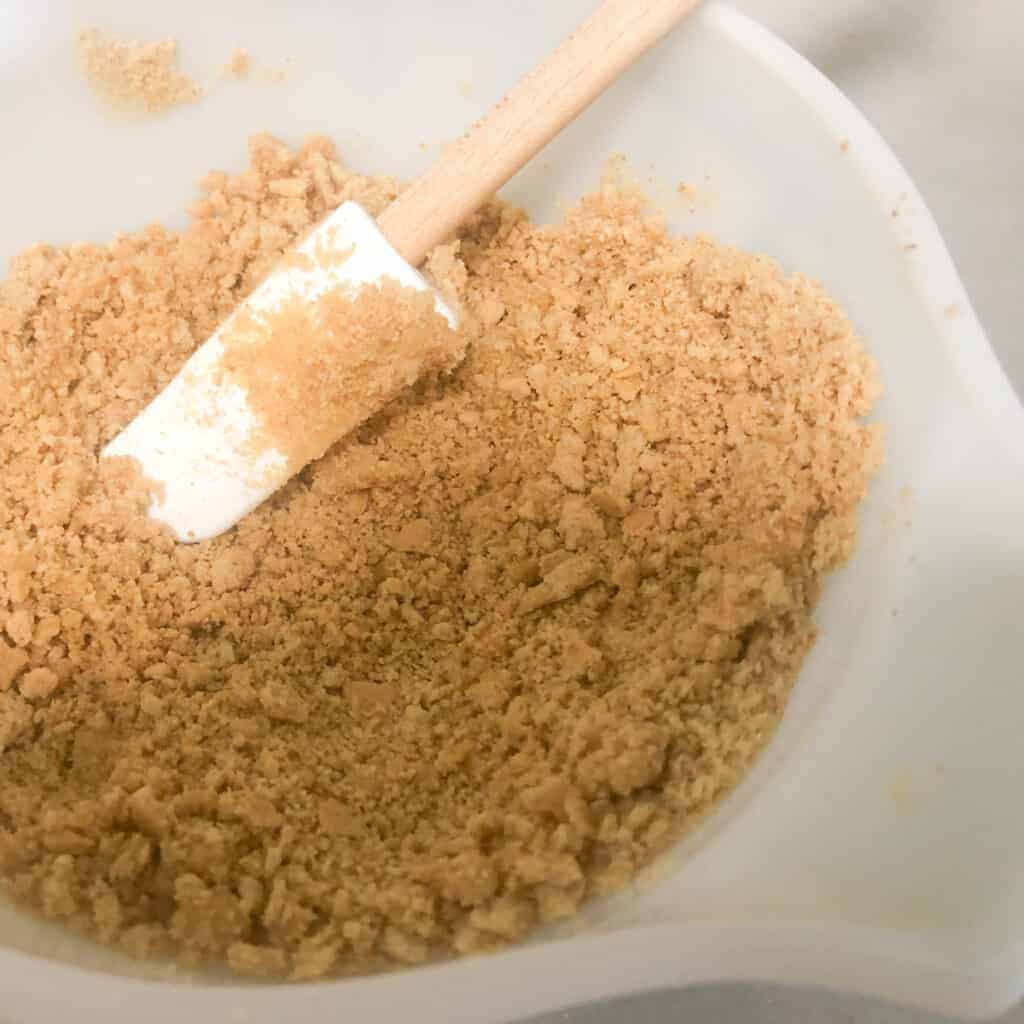 If using a springform it helps to line the bottom with parchment paper before pressing in the graham cracker crumbs. When making a pie you want to use a pie pan which also works well for the cheesecake.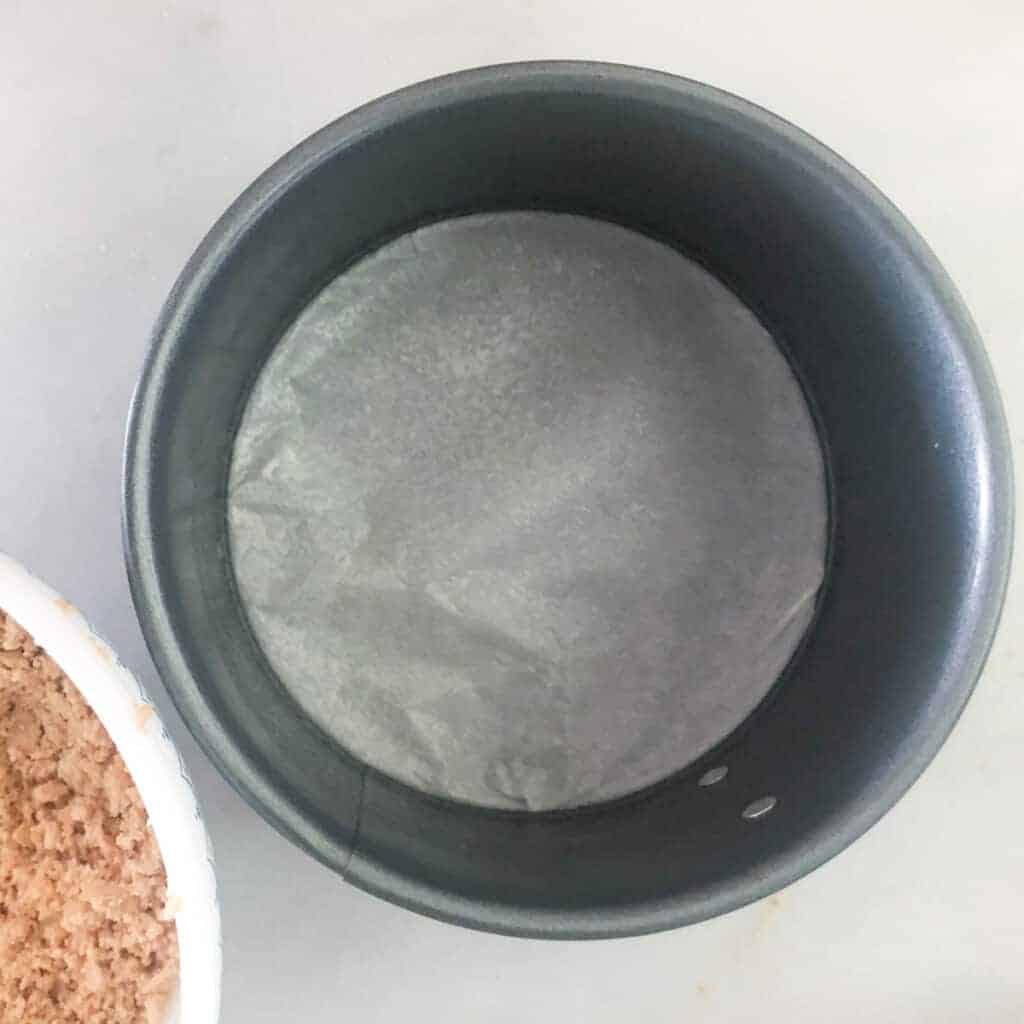 Press crumbs into a 6-inch pie plate or 6-inch Springform pan. Press some of the crumbs about ½ up the side of the pan. Tap the crust with the bottom of a glass to compact all the crumbs.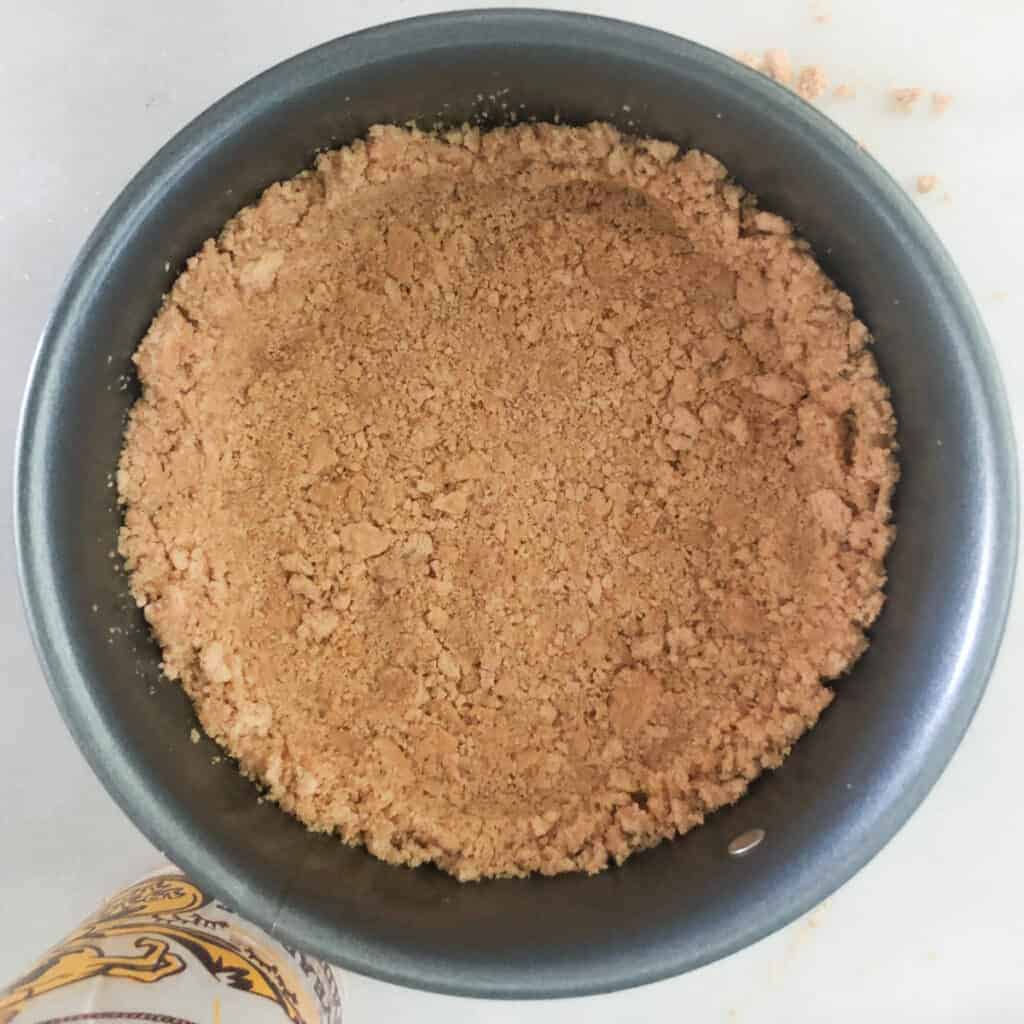 Refrigerate for about an hour before filling.
Does graham cracker crust need to be baked?
Pre-baking the graham cracker crust before the filling is not necessary and is an optional step. If you want a crispier crust then you can bake at 350° Fahrenheit for about 6-7 minutes.
Why does my graham cracker crust fall apart?
Did you use enough butter and sugar? When the crust sets the butter and sugar bind the ingredients together.
Can you make a graham cracker crust ahead of time?
Yes! A graham cracker crust is great to make ahead of time. Cover and store in the refrigerator for up to 2 days.
How to keep graham cracker crust from getting soggy?
The best way is to blind bake the crust before filling. Bake at 350°F for about 6-7 minutes.
Can you make graham cracker crust without butter?
Oh yes, and it's really good! For this recipe size, you would substitute 3 tablespoons of extra virgin olive oil.
Recipes Using Graham Cracker Crust
Did you make this recipe? I would love it if you left a comment or review! Be sure to sign up for the email list and follow "A Weekend Cook" on Pinterest and my Facebook page.