How to Make Small Batch Homemade Whipped Cream
This is the best small-batch recipe for whipped cream with just three simple ingredients.   The recipe is just enough to top a small chocolate cream pie or two strawberry shortcakes. Its also wonderful served over individual pumpkin pie or a mini apple crisp!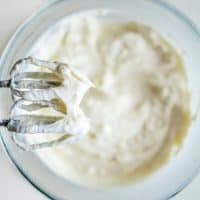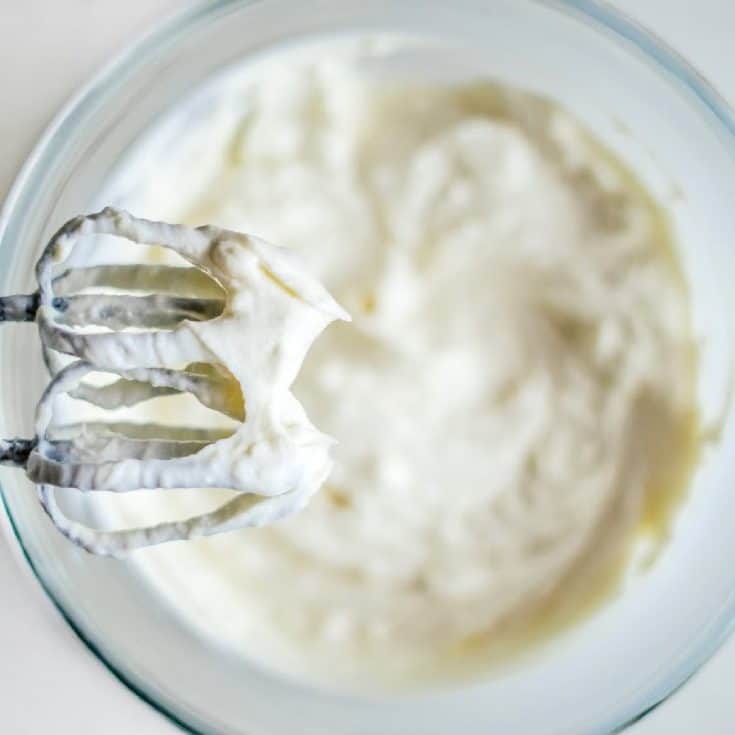 Small Batch Homemade Whipped Cream
A classic creamy whipped cream.
Print
Pin
Rate
Ingredients
1/2

cup

heavy whipping cream

2

teaspoons

confectioners sugar

1/8

teaspoon

vanilla extract

1/8

teaspoon

cream of tartar

optional
Instructions
Place mixing bowl and whisk in freezer for about 15 minutes to chill.

Add the heavy whipping cream, sugar, and vanilla into the cold bowl. If making a stabilized whipped cream also add the cream of tartar.

With a hand mixer on high speed, whisk until stiff peaks form, about 1 minute.
Notes
Before you start, place your mixing bowl and whisk (or beaters if you're using an electric mixer) in the refrigerator for about 15-20 minutes. The colder your equipment and ingredients, the better the cream will whip.
For the best results, use heavy cream or heavy whipping cream, which have a higher fat content and will whip up nicely. Avoid half-and-half or milk, as they don't have enough fat to whip.
Start whipping the cream at a slower speed to avoid splattering, then gradually increase the speed as it thickens. If using a hand mixer or stand mixer, start on medium speed and then move up to high.
Be careful not to over-whip your cream or else you'll end up with butter! Stop whipping when the cream forms soft peaks. If you want stiffer whipped cream, whip a bit longer, but keep a close eye on it.
Add sugar (powdered sugar works best because it dissolves easily) gradually and to taste. Some people like their whipped cream very sweet, while others prefer it less so. You can also add vanilla extract for additional flavor.
If you're not using the whipped cream right away, or if it needs to hold its shape, consider adding a stabilizer like gelatin or cream of tartar.
Whipped cream is best served immediately. However, if you need to store it, keep it in the refrigerator. For best results, use it within a few hours.
Nutrition
Serving:
2
tablespoons
|
Calories:
105
kcal
|
Carbohydrates:
2
g
|
Protein:
1
g
|
Fat:
11
g
|
Saturated Fat:
7
g
|
Polyunsaturated Fat:
3
g
|
Cholesterol:
34
mg
|
Sodium:
8
mg
|
Sugar:
2
g
This is a basic recipe everyone should know how to make.
INGREDIENTS
Heavy Whipping Cream – A heavy whipping cream produces a creamier whipped cream. that will hold its shape longer.
Sugar – just a bit of confectioner sugar is great for the classic sweetness of a homemade whipped cream recipe. Depending on your taste, honey can be used in place of the confectioner sugar.
Vanilla Extract –for classic whipped cream use vanilla extract. You can also experiment with other extract flavors.
INSTRUCTIONS
Always use cold heavy cream, a chilled bowl, and chilled mixer beaters when making this classic whipped cream. Place the utensils in the freezer for 10-15 minutes to get a nice chill. Remove right before you are ready to whip up the whipped cream!
Combine all the ingredients into the chilled mixing bowl and use a hand mixer on high and whisk for about a minute until stiff peaks form. Once it forms stiff peaks, about 2 minutes or less, stop, it's ready.
My KitchenAid Hand Mixer comes with a whisk attachment, but if you don't have the whisk attachment, the standard beaters also work.
Serve immediately or cover the bowl with plastic wrap and refrigerate.
Now you know how easy it is to make homemade whipped cream you will never buy frozen or aerosol whipped cream again.
Simple Substitutes
For a different taste replace the vanilla extract with another flavor extract that will compliment your recipe.
Replace the sugar with honey for an exquisitely simple flavor.
How to Make Stabilized Whipped Cream
For some recipes, you may want your whipped cream to hold its shape longer. What a bummer when your pretty whipped cream topping deflates and looks so unappetizing. To solve this problem you should know how to make stabilized whip cream, it's easy and the whipped cream will hold it's shape for a couple of days.
To make stabilized whipped cream that will hold longer in the refrigerator, add 1/4 teaspoon of cream of tartar at the same time you add the sugar to the whipping cream.
Cream of Tartar is used to help stabilize whipped egg whites, prevent sugar from crystallizing, and yes stabilize the heavy cream.
How to use homemade whipped cream
How to store your whipped cream
Store in an air-tight container in the fridge for up to 2 days.
You can even freeze homemade whipped cream for a couple of months. When ready to use thaw in the refrigerator for 5-6hours.It gets a little runny upon thawing but you can use a hand mixer to bring it back to a nice consistency.
A few extra dessert toppings