Dutch Oven Boneless Rib Roast Recipe
I've always been a big fan of this classic and easy Sunday Boneless Rib Roast recipe cooked oh so slow in a Dutch oven. I'll cook up to a 3-pound roast in a 5-quart Le Creuset Oval Dutch oven. This one-pot meal cooks faster than my trusty slow cooker and serves up a beautiful roast.
Cooking one-pot meals low and slow in a Dutch oven makes the meat juicy and the potatoes don't turn to mush. The complete meal is made in one pot, how great is that?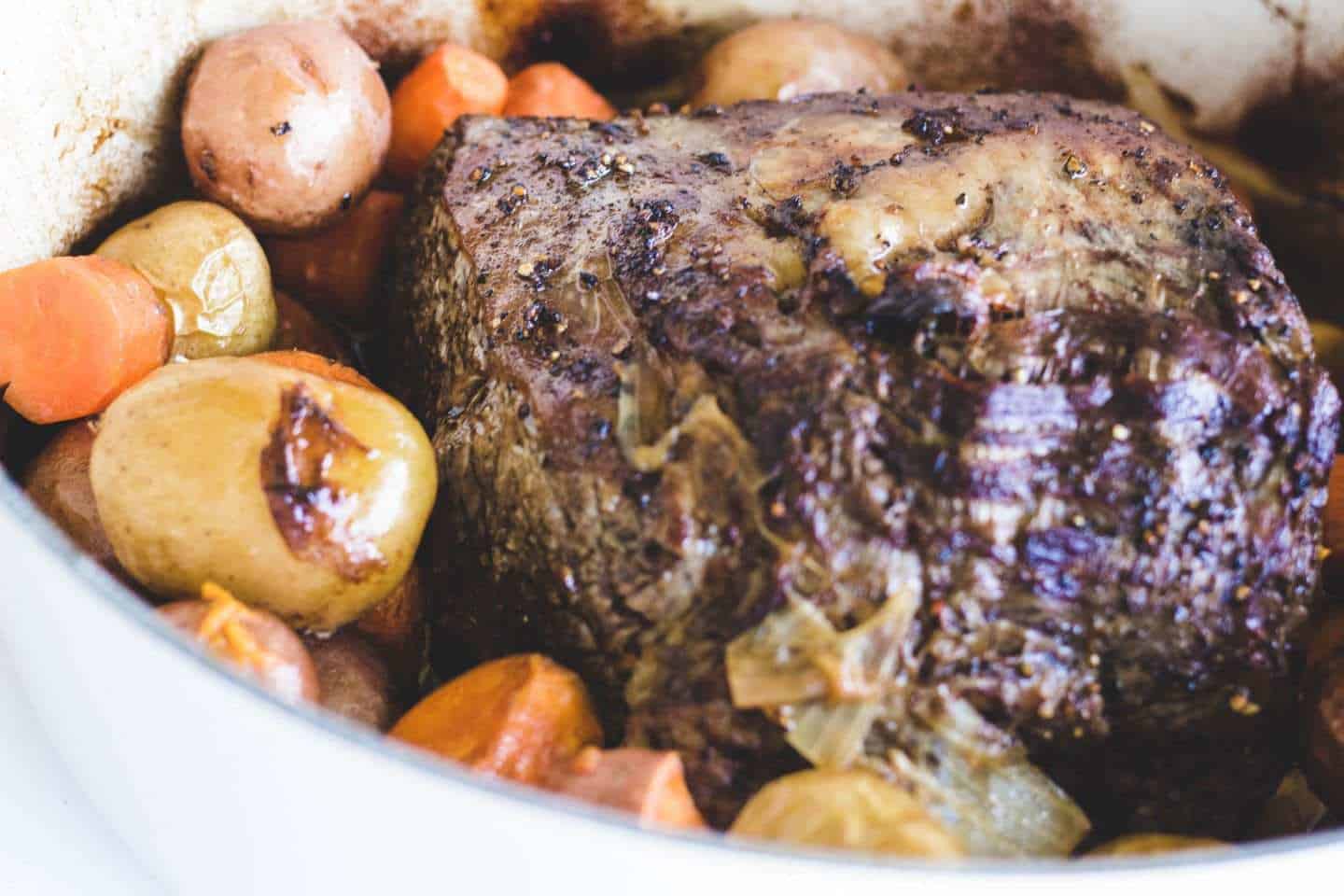 Click the recipe link at the top of the page to go straight to the printable recipe card which includes a full ingredient list with quantities, instructions, and recipe notes. You can also scroll through the post for helpful tips and step-by-step instructions with photos. The recipe card is located at the bottom of the post.
Looking for something smaller, try this perfect little pot roast for one.
Vegetables: Tossing the vegetables with a bit of balsamic and olive oil makes a beautiful glaze on the vegetables.
Seasoning the roast: A nice cut of beef doesn't need much more than salt and black pepper and maybe some added garlic powder for us garlic lovers. It's important to season the roast well to bring out the natural beef flavors.
Pan juices: To develop the flavor of the pan juices saute the onions and garlic and you can also add some red wine. The pan juices will make a beautiful Au Jus or as a base for tasty creamy gravy.
A bone-in rib roast (prime rib) is elegant, but I always choose a boneless rib roast because with only two people I'd need to cook one rib, and then it's really a chop, not a roast! Since I'm cooking for two people and we both love leftovers, (think cold roast beef sandwiches) a 3-pound roast really provides.
This has been my go-to easy Christmas Dinner recipe for years. Add a bottle of wine, homemade cherry pie, a holiday movie and you'll have one cozy Christmas curled up under the glow of the Christmas tree lights.
Sunday Roast Shopping List
For the Roast I use boneless Rib roast but another cut of beef will work nicely.
Olive Oil is my go-to but it's not critical so use whichever oil you prefer in cooking.
Beef Broth is essential and use a low sodium version or better yet, an organic fresh beef broth.
Pearl Onions taste great and look nice, but you can use a chopped onion.
The Fresh Garlic cloves are optional but I like to toss a few in whole to roast with the beef.
The Balsamic Vinegar coated on the vegetables is my no-so-secret ingredient.
The classic vegetable combo is carrots, baby potatoes, and red yam
Seasoning is simple and includes salt, pepper, and garlic powder.
My favorite cuts of beef for a Roast

Chuck Roast. Also called pot roast. An inexpensive cut that has marbling throughout, making it a great choice for one-pot cooking.
Boneless Rib Roast. This cut is also called a ribeye and is great for a Sunday Roast dinner.
Bottom Round Roast. Also called a rolled rump roast. An inexpensive cut with really nice marbling for a tasty roast.
Why Cook a Roast in a Dutch Oven
Cooking in a Dutch oven will give you a tender inside, a lightly crisp outside, and amazingly tasty vegetables.
I save my slow cooker roast for summer when the last thing I want to do is heat up the kitchen!
If you like my Sunday roast recipe try my popular Meatloaf recipe. If you are looking for classic chicken comfort food recipes try my Chicken & Dumplings. This small one pound slow cooker Tri-Tip is perfect for two.
Temperature for Doneness and Safety
The USDA says to cook beef roasts to a minimum internal temperature of 145 °F as measured with a food thermometer before removing them from the oven. For safety and quality, allow the meat to rest for a while, for about 10-15 minutes before slicing. For reasons of personal preference, you may choose to cook meat at higher temperatures. The easiest way to check a roast for doneness is to use an instant-read thermometer like this one. You won't be able to determine if a roast that's pink in the center has reached a safe temperature of 145 °F without a food thermometer.
Don't poke at the roast too much because you don't want those juices to drain out of the roast. Insert the thermometer at the thickest part of the roast.
What can you use if you don't have a Dutch oven?
If you don't have a Dutch oven then use a deeper oven-proof skillet like a deep cast-iron skillet will also work. This works because you don't need to cover the roast.
What sauces go well with this Roast?
How to Make a Red Wine Au Jus
In a large measuring cup add 1 cup of pan dripping, 1 cup of Beef broth, 1/4 cup of red wine, and 2 teaspoons of Worcestershire sauce. Mix it together with a whisk and pour back into the roast pan, heat until nice and bubbly.
How to Make a Creamy Horseradish Sauce
In a small bowl mix together 8 ounces of sour cream, 1/2 cup mayonnaise, 2 teaspoons prepared horseradish, 2 teaspoons of Dijon mustard, 2 teaspoons of Balsamic vinegar, and a pinch of salt. Make sure to mix it well,, cover and chill until ready to serve.
Should you cook your Boneless Rib Roast covered or uncovered?
It should be uncovered to allow the outside to brown. 
What can you use if you don't have a Dutch oven?
Don't have a dutch oven then go with the classic roasting pan.
More Roasts and What To Serve With It?
Did you make this recipe? I would love it if you left a comment or review! Be sure to sign up for the email list and follow "A Weekend Cook" on Pinterest and my Facebook page.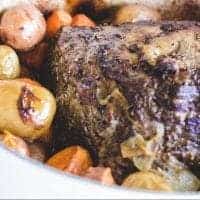 Dutch Oven Boneless Rib Roast and Vegetables
An uncomplicated and flavorful roast perfect for a Sunday dinner and cold roast beef sandwiches the next day.
Average Cost with Boneless Rib Eye: $34.78 recipe / $5.82 serving
Average Cost with Boneless Chuck Roast $19.78 recipe / $3.29 serving
Print
Pin
Rate
Ingredients
3

pound

rib roast

rib eye

2

tablespoons

olive oil

1

tablespoon

Worcestershire

½

cup

beef broth

1

onion

sliced

5-6

peeled garlic cloves

optional

½

tablespoon

balsamic vinegar

2

carrots

sliced inch thick

10-12

baby potatoes

whole

1

small red yam

slice thick
Instructions
Preheat oven to 300 degrees

Place roast on a shallow baking sheet and sprinkle salt, pepper, and Worcestershire sauce, and set aside while you prepare the vegetables.

3 pound rib roast,

1 tablespoon Worcestershire

In a large bowl toss the potatoes, carrots, garlic, and yam with the balsamic vinegar and 1 tablespoon of olive oil and set aside.

2 tablespoons olive oil,

5-6 peeled garlic cloves,

½ tablespoon balsamic vinegar,

10-12 baby potatoes,

1 small red yam,

2 carrots

Heat 1 tablespoon of olive oil in a 5-quart oval dutch oven. Transfer roast to 5 Quart Dutch Oven and brown roast on all sides, ending with the fat side facing up.

When browned add the beef broth, onions, potatoes, yams, garlic, and carrots.

1 onion,

½ cup beef broth

Place in preheated oven and roast uncovered for about 3 hours. Use an instant-read thermometer to check for doneness. Cook additional time based on how you prefer your roast.

Let sit for 10 minutes before slicing into this tasty roast beast!
Nutrition
Serving:
1
g
|
Calories:
746
kcal
|
Carbohydrates:
16
g
|
Protein:
41
g
|
Fat:
58
g
|
Saturated Fat:
17
g
|
Polyunsaturated Fat:
27
g
|
Cholesterol:
191
mg
|
Sodium:
229
mg
|
Fiber:
2
g
|
Sugar:
2
g
Sometimes you just want an easy and simple steak, read how to cook the perfect steak. For more classic small batch comfort food ideas check out my one pan Sunday Roast dinner
Looking for a smaller roast for one person? Check out this yummy recipe for a chuck roast for one
What's for Dessert?
My Lemon Berry Trifle for Two is a great ending to a hearty meal. Or, if you want something rich and creamy nothing beats my Cheesecake with Fresh Blackberry Sauce