My French Chicken Stew is one of my weekend favorites. On a Friday night on my home from work I'll pick up the ingredients and cook the stew up on Saturday morning. The stew will last all weekend! The sauce is reminiscent of a tomato bisque and has a slight sweet taste. Adjust the amount of apple juice to your personal taste.
If you have any sauce left over after the chicken and potatoes are long gone, just freeze the remaining sauce for later use. The leftover sauce is also tasty meal eaten as a soup with a hunk of french bread.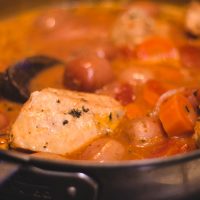 French Chicken Stew
Total Time:
1 hour
20 minutes
A flavorful stew that cooks up quickly and taste even better the day.
Ingredients
1 pound boneless skinless chicken breast, divided into 4 pieces
1 tablespoon butter
1 cup onion, chopped
12 baby red potatoes
2 carrots, sliced thick
3 cloves garlic, minced
1 14 ounce can stewed tomatoes
1 cup water
1/2 cup apple juice
1/2 cup chicken broth
1 teaspoon dried thyme
1 teaspoon dried tarragon
1/4 teaspoon salt
1/4 teaspoon pepper
Instructions
In a heavy skillet melt the butter.
Sprinkle some of the herb mixture on the chicken and brown in the skillet.
Add onions and garlic and saute for another minute stirring constantly so not to burn the garlic.
Add the liquids and bring to a simmer
Lower heat to a slow simmer and continue cooking for 15 minutes, stirring occasionally.
Add the carrots and potatoes and cook for another 30 minutes or until the carrots and potatoes are tender.
Check chicken with a meat thermometer to make sure chicken is thoroughly cooked.
Recommended Products
As an Amazon Associate and member of other affiliate programs, I earn a small commission from qualifying purchases. My commission does not increase the cost to the buyer.