This lovely French  Chicken Stew recipe is a weekend favorite of mine with a rich and savory flavor with a hint of anise from the tarragon. The stew will last all weekend! 
The sauce is reminiscent of a creamy tomato soup and has a slight sweet taste. Adjust the amount of apple juice to your personal taste.
If you like chicken stews try my Apricot Chicken and Chicken Cayenne stews.
Ingredients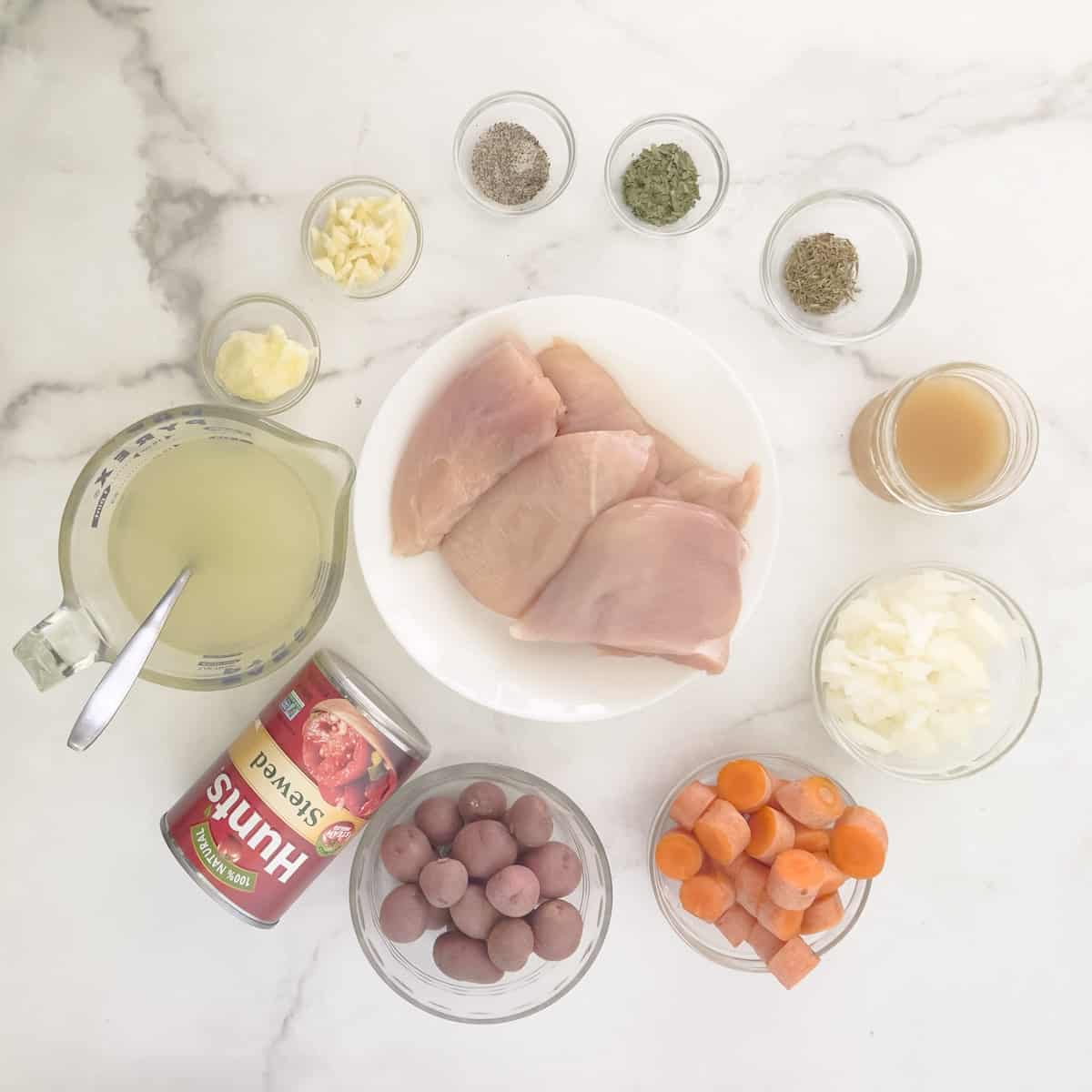 Chicken Breast- use one large boneless skinless breast and cut it into large pieces. The recipe can also be made with chicken thigh meat.
Butter -
Onion - use a brown or yellow onion.
Baby Red Potatoes - I mean the tiny baby red potatoes. If you use anything larger, cut it in half or quarters to a uniform size to ensure the potatoes cook evenly.
Carrots -
Garlic - fresh minced garlic is preferred, but you can also use the tubed Chunky Garlic paste.
Stewed Tomatoes - I like Muir Glen Organic tomatoes. If you don't like the taste of stewed tomatoes, then use a low-sodium diced tomato. If you have a bunch of fresh tomatoes that might go to waste, you can substitute fresh for canned.
Apple Juice - I keep small bottles of Martinellis in the pantry to use for recipes.
Chicken Broth - If you have homemade chicken broth, that will always be the best to use. When cooking small portions, I frequently only need a smaller portion of chicken broth and don't want to open and waste a can of broth, so I always have a jar of organic "better than bouillon" in my fridge.
Herbs - dried thyme and tarragon are better than fresh.
Salt & Pepper - use kosher salt; Redmans is easily found in most grocery stores. In my opinion, table salt with iodine imparts a not-so-pleasant taste.
What to do with leftover sauce from the french chicken stew?
If you have any sauce left over after the chicken and potatoes are long gone, freeze the remaining sauce for later use.  The sauce is also great over cooked rice or used as a dipping sauce with fried zucchini.
What's the difference between french chicken stew and chicken fricassee?
Chicken fricassee is a French dish typically made with chicken that has been cut into small pieces and cooked in a white sauce made with butter, flour, and chicken broth. The chicken is usually browned in butter before being simmered in the sauce, which may also include vegetables such as onions, carrots, and leeks. The finished dish is typically served with the sauce poured over the chicken and vegetables.
On the other hand, a French chicken stew is a dish similar to a traditional beef stew, with the chicken being cooked in a liquid with vegetables until it is tender. The liquid used to cook the chicken is typically a combination of broth and white wine; however, my recipe omits the wine. The finished dish is typically served with chicken and vegetables in the broth.
So, the main difference between the two dishes is that chicken fricassee is made with a white sauce, while French chicken stew is made with broth and white wine.
Can I add white wine to the recipe?
Yes, reduce the water by a half cup and substitute with a half cup of white wine.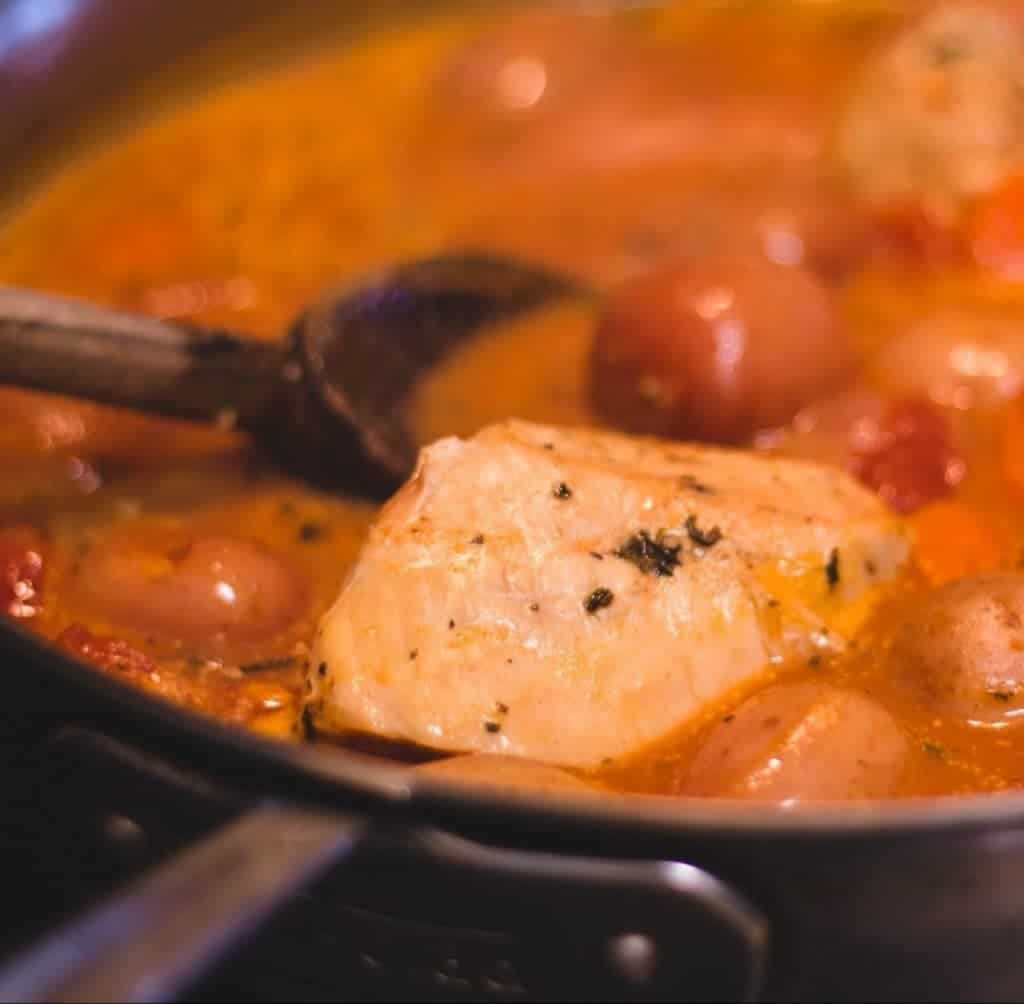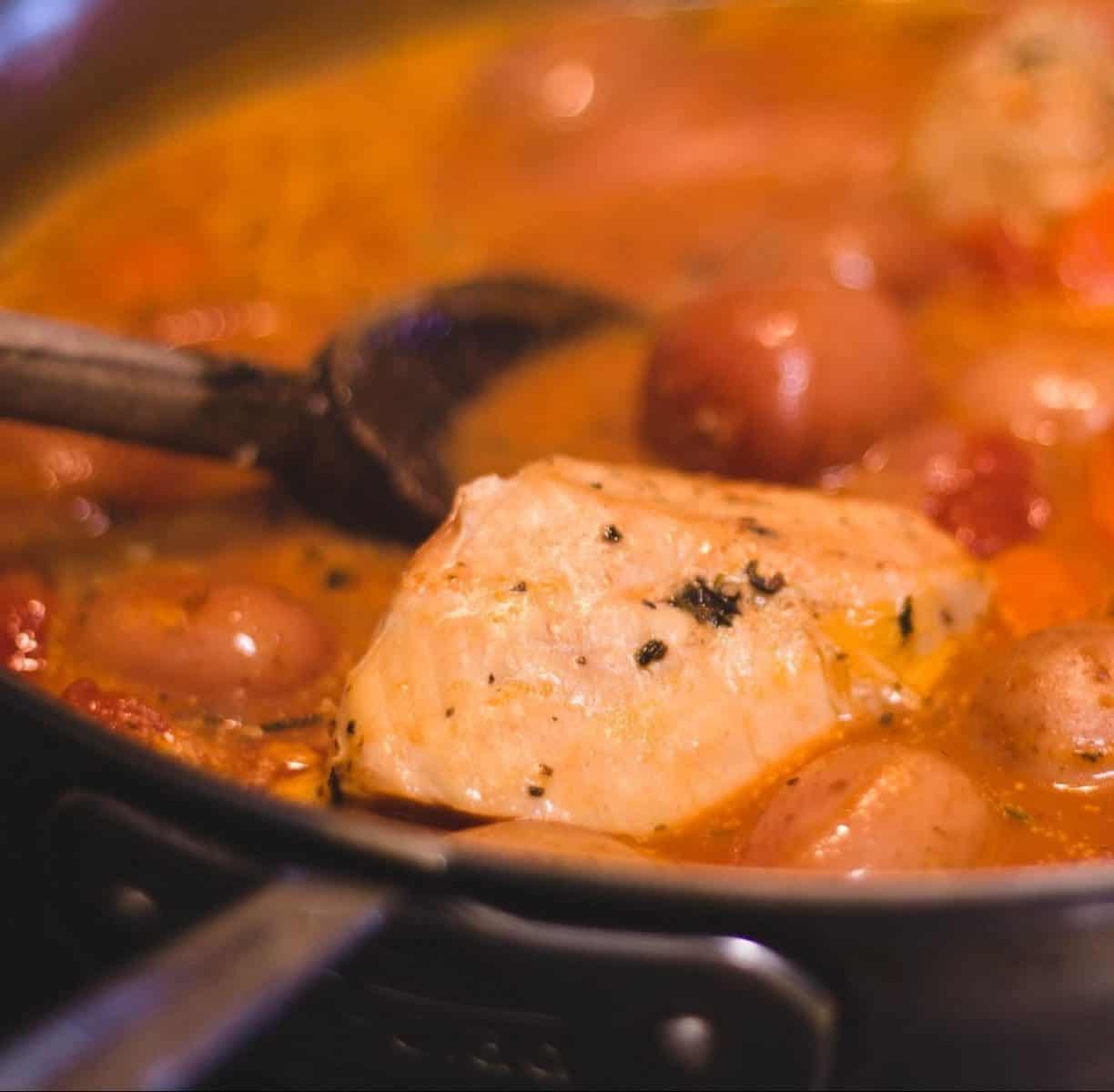 You might like these other Chicken Stew Recipes
Did you make this recipe? I would love it if you left a comment or review! Be sure to sign up for the email list and follow "A Weekend Cook" on Pinterest and my Facebook page.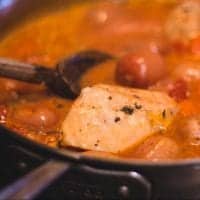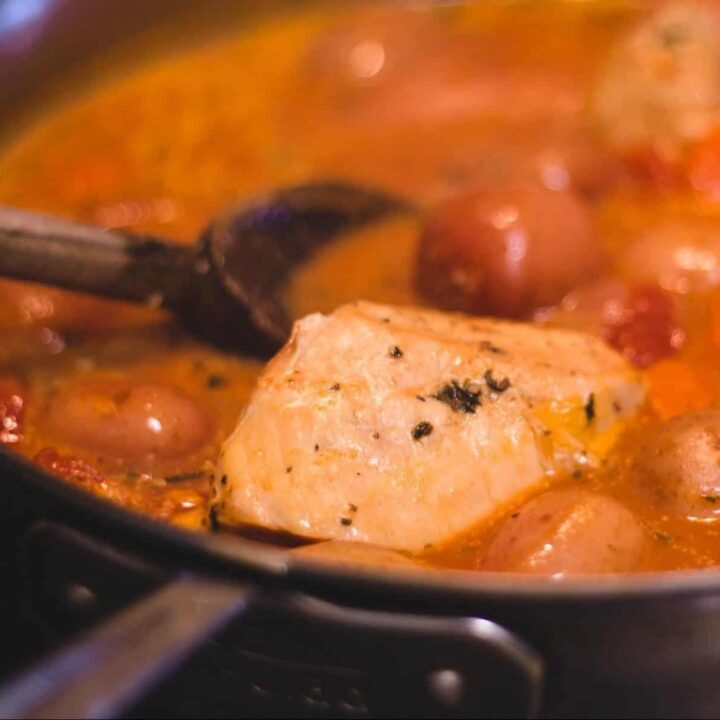 French Chicken Stew
This lovely French  Chicken Stew recipe is a weekend
favorite of mine.   The stew will last all weekend! 
Print
Pin
Rate
Ingredients
1

pound

boneless skinless chicken breast

divided into 4 pieces

1

tablespoon

butter

1

cup

onion

chopped

12

baby red potatoes

2

carrots

sliced thick

3

cloves

garlic

minced

1 14

ounce

can stewed tomatoes

1

cup

water

½

cup

apple juice

½

cup

chicken broth

1

teaspoon

dried thyme

1

teaspoon

dried tarragon

¼

teaspoon

salt

¼

teaspoon

pepper
Instructions
In a heavy skillet melt the butter.

Sprinkle some of the herb mixtures on the chicken and brown in the skillet.

Add onions and garlic and saute for another minute stirring constantly so as not to burn the garlic.

Add the liquids and bring to a simmer

Lower heat to a slow simmer and continue cooking for 15 minutes, stirring occasionally.

Add the carrots and potatoes and cook for another 30 minutes or until the carrots and potatoes are tender.

Check chicken with a meat thermometer to make sure chicken is thoroughly cooked.
Nutrition
Serving:
1
g
|
Calories:
1091
kcal
|
Carbohydrates:
194
g
|
Protein:
58
g
|
Fat:
9
g
|
Saturated Fat:
3
g
|
Polyunsaturated Fat:
4
g
|
Cholesterol:
105
mg
|
Sodium:
701
mg
|
Fiber:
19
g
|
Sugar:
23
g
More one-pot comfort food dinners include my chicken and dumpling, tasty chicken parmigiana, and a one-pot Sunday Roast. Don't forget to try my simplified version of Chicken Vesuvio