Homemade Strawberry Rhubarb jam is easy and delicious. Try some spread on toast, ice cream, stirred into yogurt, or on a graham cracker spread with cream cheese and dolloped with the jam!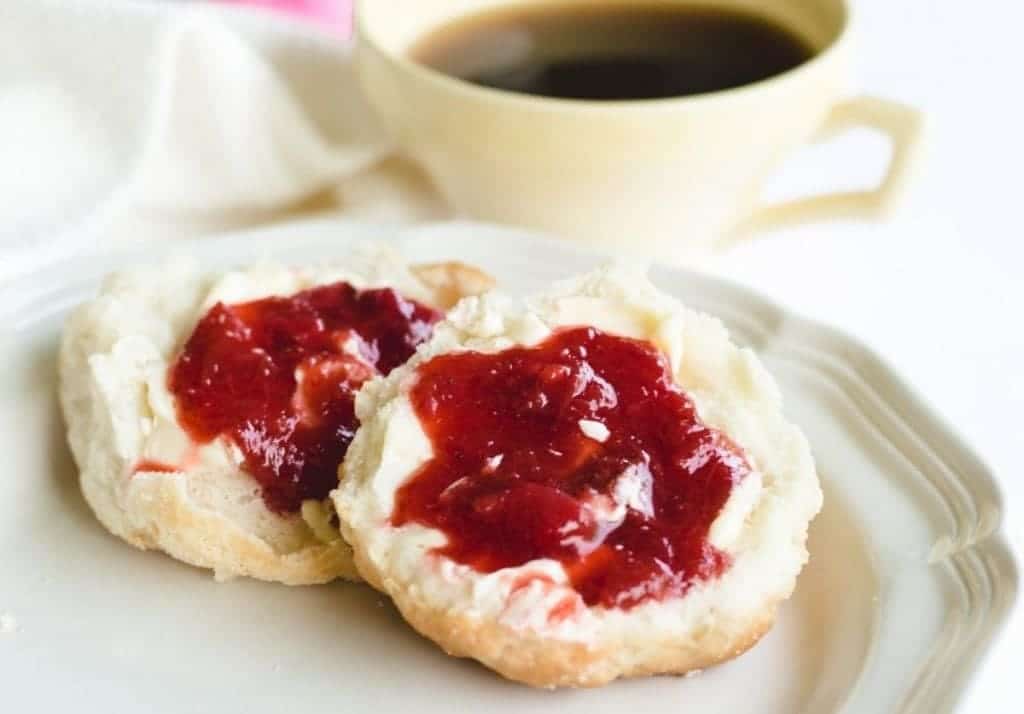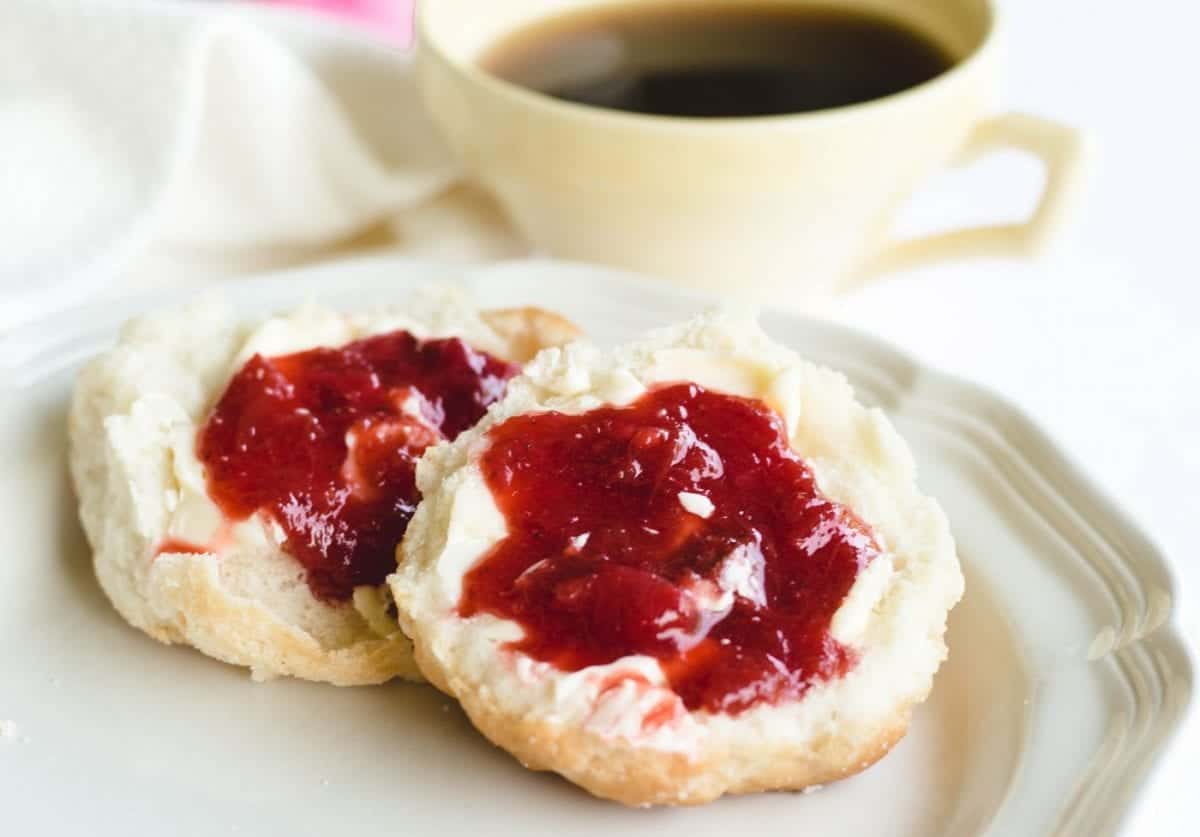 Read on to learn how to make pectin free strawberry rhubarb jam the easy way. For years I resisted making my own jam because I didn't want the hassle of a canning process. Making a small batch refrigerated jam is so much easier!
These Easy Homemade Biscuits or Drop Scones are the perfect compliment to this jam.
One evening while on a walk I was listening to a favorite podcast, the guest was Nigella Lawson and she talked about how to make easy refrigerator jam, no canning required. Oh, happy day I was going to get my jam on!
Table of Contents
How to make strawberry rhubarb jam without pectin.
For a small batch, I end with just enough for one jar in the refrigerator and one jar for the freezer. For this recipe, I use 2 cups strawberries, about a 1-pound container and 3 cups fresh rhubarb which is roughly 8 rhubarb stalks. Add 1 cup sugar to the fruit, mix, and let sit for about 45 minutes to release the fruit juice.
I don't use added Pectin, instead, the acidity of the lemon juice works with the sugar to jell the pectin already present in the fruit. Cornstarch is added when cooking to help with thickening.
The prep is easy and you have homemade jam in under an hour.

Cook the fruit over low heat and stir as little as possible. I found that less agitation and a long slow and low cooking process gives me a better result. It still takes less than 40 minutes of cook time. Once it's done, all you have to do is wait for it to cool, pour your homemade strawberry rhubarb jam into jars and slap a lid on the jar.
Test the jam to see if it's reached the jelling point. If you have one, test using a candy thermometer, when the mixture reaches 220 degrees it's ready. Alternately you can place a spoonful of jam on a small plate and freezer for a couple of minutes, remove the plate and slightly tip. If the jam doesn't spread, it's ready.
Selecting the fruit
The jam is only as good as the fruit, so make sure to pick nice ripe strawberries and fresh or frozen rhubarb. A jam made from unripe fruit won't taste like the fruit, and it just ends up being really sweet. Shop the farmers market for the freshest fruit possible and it's easy to taste test before buying.
Picking the Strawberries for Jam
Ripe strawberries will, well, smell like strawberries, and have nice red color all over. If the tops are white or have a greenish tint the fruit was picked under-ripe. A good jam will have mostly red ripe berries with about 25% of the strawberries a little under ripe.
How ripe should the strawberries be to make the best jam?
If not using pectin: about 25% of the strawberries used should be just slightly under-ripe because fully ripened strawberries have less natural pectin.
Picking the Rhubarb for Jam
You can't really tell if rhubarb is ripe by looking at the color. Actually, the color is more of an indication of the variety of rhubarb. The fresh rhubarb I find in the supermarket is usually the red variety with just a bit of a green tint. Rhubarb stalks should be firm with no leaves attached, rinse well, and cut off about an inch from each end.
Is rhubarb high in pectin?
No, it's good to add other fruits that are higher in pectin like strawberries which is a common combination.
Prepare the Jam Jars
I use 8-ounce quilted freezer-safe regular mouthjar and ½ pint (8 ounces) wide mouth mason jars for my jam.  Even though I'm not preparing for long-term storage, mini sterilization of the jars and lids seems like a good idea.  Since I'm not going through the canning process I replace the band-type lids with a one-piece lid which is easier to take on and off.
Boil a pot of water, lower the jars and lids carefully, and let boil for a few minutes.  Pull the jars out carefully and let them cool. Use canning jars and lids made specifically for canning, as you need to use a safe jar that won't crack during the boiling process. 
I'd love to hear from you; let me know how your jam turns out!
Easy Jams and Butter to Try
Did you make this recipe? I would love it if you left a comment or review! Be sure to sign up for the email list, and follow "A Weekend Cook" on Pinterest and my Facebook page.
📖 Recipe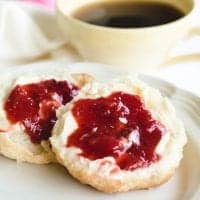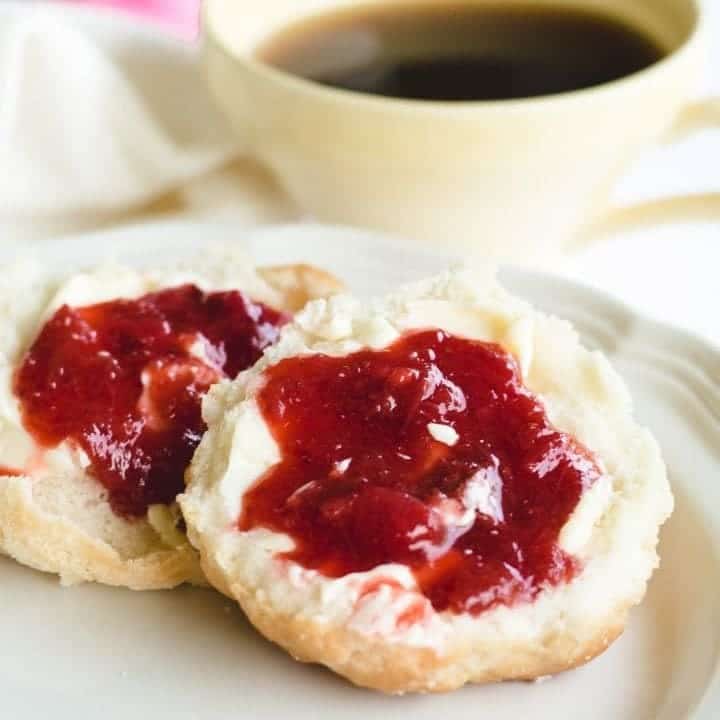 Strawberry Rhubarb Jam
A small batch "no canning required" easy strawberry rhubarb jam. Recipe makes about 2 cups of finished jam, just enough for a two person household.
Print
Pin
Rate
Ingredients
3

cups

fresh rhubarb

chopped into small chunks

2

cups

fresh strawberries

hulled and chopped in small chunks

1

cup

sugar

1

tablespoon

lemon juice

bottled or fresh

½

teaspoon

cornstarch

for thickening
Instructions
Prepare your jam jars, by boiling them for several minutes, jars and lids. I use small ½ pint wide mouth mason jars.

In a large bowl combine the chopped rhubarb strawberries and sugar.Let sit for about 45 minutes to let the fruit release their juices.

Transfer fruit mixture to a medium pan, (I use the small Mauviel Jam pan). Add the lemon juice and cook uncovered over low heat until the jam comes to a slow simmer about 10 minutes, then lower heat more and continue cooking for another 35-40 minutes. Check and stir occasionally.

For a thicker jam mix the cornstarch with just enough water to make a paste and add to the fruit during the last few minutes of cooking.

Remove from heat and let cool before transferring to the prepared jam jars. Place lids on jars and store in the refrigerator for up to 3 weeks or 4 months in the freezer.
Notes
Jam will stay fresh in the refrigerator for 3-4 weeks and can be frozen for up to 6 months.
Nutrition
Serving:
2
tablespoons
|
Calories:
61
kcal
|
Carbohydrates:
15
g
|
Sodium:
2
mg
|
Fiber:
1
g
|
Sugar:
14
g
Tips for making jam
For smoother jam can puree the berries in a food processor or use an immersion blender before adding to the pot
Use a heavy bottom pot, I use a small ¾ quart-size when making just one jar.
Stir frequently to avoid burning.
Basically, all you do is toss fruit, sugar, and lemon juice into a pan, cook until it begins to gel, and voila you have a jam. If it turns out too sweet for your taste add more lemon juice. If it's too tart, add a bit more sugar.
How long will this jam last?
Transfer your homemade jam to pretty mason jars and let it cool down then refrigerate covered for up to one month. The jam is also freezer-friendly. When I make a double batch I keep one in the fridge and freeze the remaining jars.
Every year I proudly make batches of jam to give away as food gifts. But for personal use, I love making the jam one jar at a time because I don't want to hassle with the canning process.
Note: For safe eating practices, store your opened jar of jam in the refrigerator until consumed, and examine it frequently for signs of spoilage (like mold or yeast growth, or off-odors, including "fermented," "alcohol" or "yeasty" odors). Discard the product immediately if any signs of spoilage are detected
How do clean strawberries before making jam?
Place the strawberries in a colander and run under cool water before hulling and slicing. You should rinse them quickly to avoid the fruit absorbing the water.
Why is my jam runny?
One possible cause is using overripe fruit, since ripe strawberries have less pectin it may cause your jam to be runny. This one reason I suggest using a small amount of just under ripe fruit.