These are the best most delicious easy homemade breakfast biscuits from scratch! They come out perfect every time. Making biscuits from scratch is easier than you might think. With this recipe, you can make these fluffy buttery golden brown biscuits in a snap.
In just a few simple steps, you can create the perfect batch of homemade biscuits. Plus, this small-batch recipe makes 6 biscuits. So tasty topped with my homemade strawberry rhubarb jam.
Why these biscuits are the best
These classic biscuits are fluffy and easy to make with just a few ingredients and tools. My homemade biscuits come out perfect every time and are a true grandma classic. You don't even need to roll out the dough, just give a pat and cut it out with a round biscuit cutter or the rim of a glass.
The small-batch recipe is perfect for a Sunday breakfast for one or two.
Ingredient notes and substitutions
You only need a few common ingredients to make these fluffy biscuits from scratch and you probably always have the ingredients in the pantry and fridge. With so few ingredients, it's important to use the best quality ingredients for a buttery and flaky biscuit.
Flour: the secret to a great biscuit is in the flour. Soft winter wheat flour like Swans Down or White Lilly works best when making your biscuits from scratch. You can use all-purpose flour however soft winter wheat is the secret ingredient in amazing southern biscuits.
Sugar: This gives not only sweetness but is also important in developing the texture of the biscuit.
Baking Powder: use can also use Bakewell Cream powder to have your biscuits rise to the next next level.
Cold Unsalted Butter: it's important to make sure you start with cold butter. When the butter melts in the oven it creates a flaky texture. Another option is to use Crisco Shortening.
Buttermilk: I think buttermilk really does make an amazing tasty southern biscuit. Not everyone has buttermilk handy or wants to buy it just for making biscuits, whole milk works very well.
Salt: if you use salted butter then reduce this down by 75%.
Recipe Directions
(For your convenience a printable recipe card is provided at the bottom of the post)
Sift together the dry ingredients instead of mixing with a spoon or whisk. No sifter, no problem, you can use a fine-mesh strainer.
Remember the dry ingredients should always be combined together in one bowl BEFORE adding the liquids.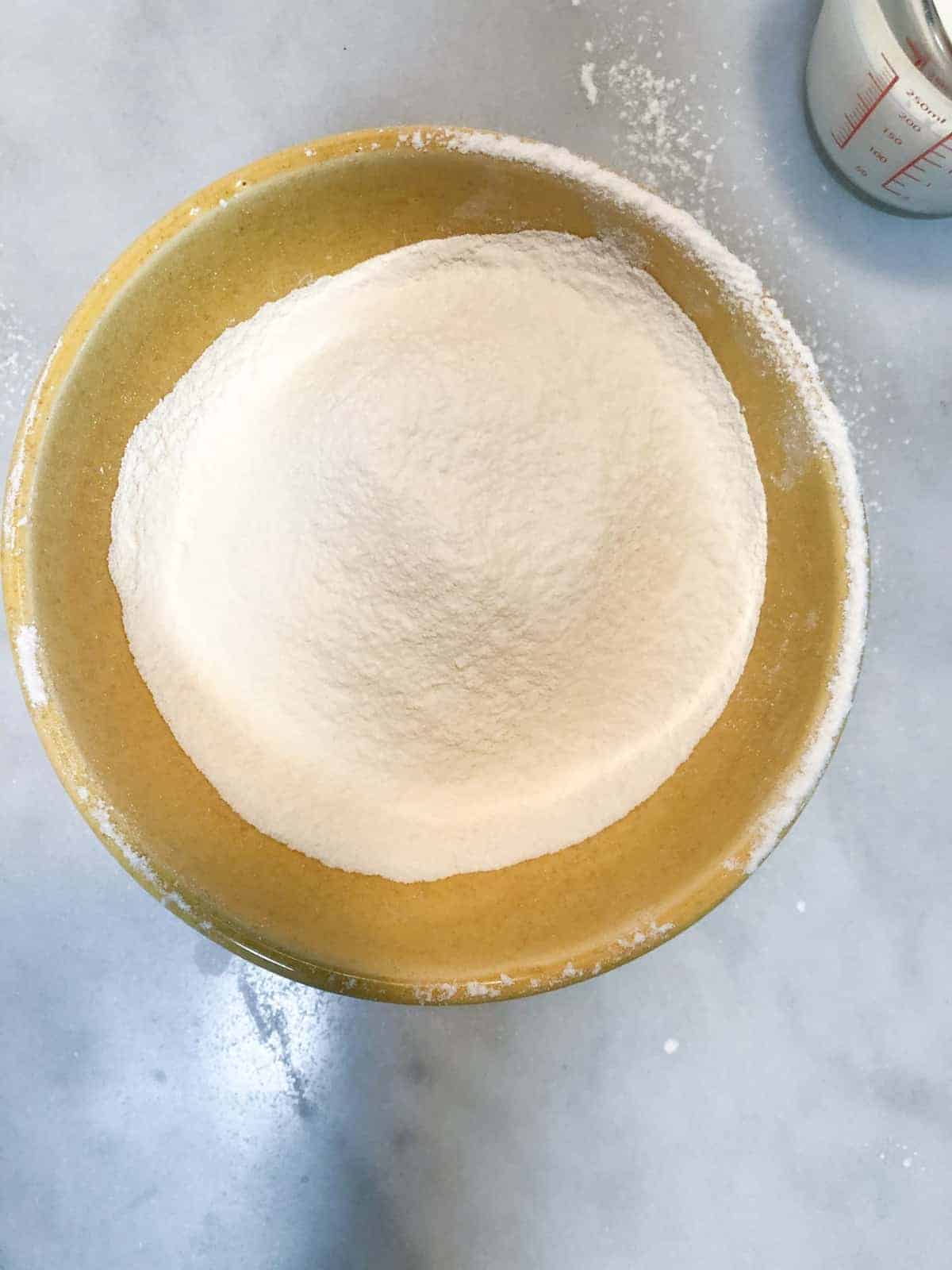 Create a well in the dry ingredients then pour in the milk and gently mix and form a small dough ball. Cold dough is what makes the biscuits flaky and tender, after you make the dough ball put it in the fridge to chill a bit.
You can use a floured rolling pin or a chilled glass to gently roll out the dough. When making such a small batch it's also easy to just pat the dough out, but make sure the thickness is even allowing the biscuits to bake up evenly. Cut biscuits using a round biscuit cutter or a glass to cut out the biscuits.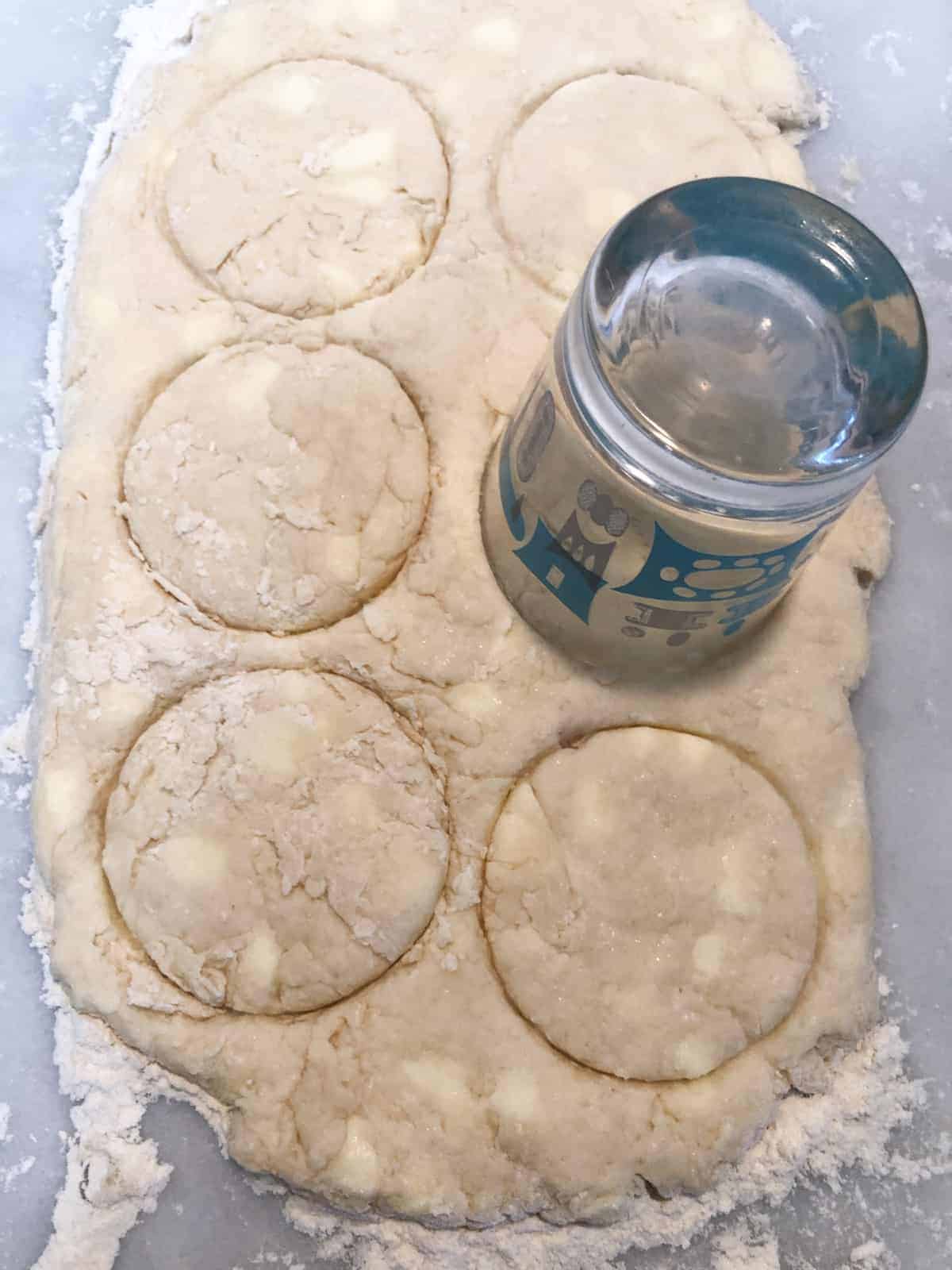 Place on a parchment-lined baking sheet and bake for 12 minutes. Take notice of the chunks of butter in the dough. These will bake up nice a fluffy!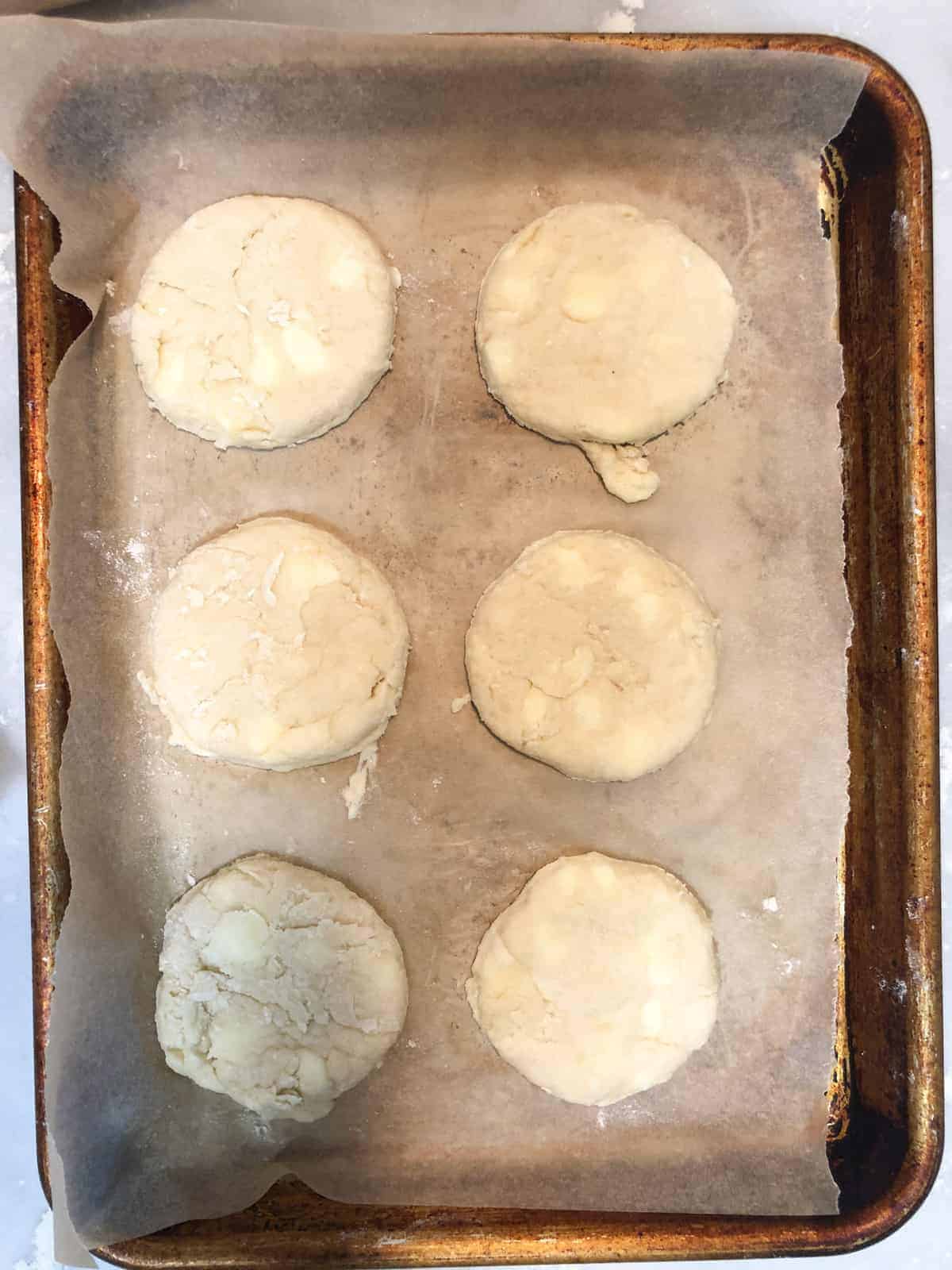 Tools used to make the best biscuits
I use my quarter sheet baking pan for small batches of biscuits.
The Dough whisk is my preferred tool but a wooden spoon also works, just be careful not to over-mix the dough.
Using a Biscuit cutter will give you uniform-sized biscuits. If you don't have a cutter then flour the rim of a glass and use it to cut out the biscuits.
A pastry cutter makes it a little easier to work the butter into the flour, but two large forks can also be used. Often I just use my hands, but work quickly so the butter doesn't get too warm.
A rolling pin makes it easy work of rolling out the dough to an even thickness.
Biscuit Making Tips
Work fast to keep the butter from melting, keep the cubed butter and milk in the refrigerator until ready to use. During cooking, the butter will melt and create a beautiful fluffy biscuit.
Don't overwork the dough, mixing with your hands will warm the dough too much. Every time you interact with the dough by kneading or folding you are developing the gluten. More gluten equals a tougher biscuit.
When cutting the fat into the flour you should use a pastry cutter, try not to use your hands too much. The correct way to use the cutter is by chopping back and forth using a rocking motion.
Ways to serve breakfast biscuits
Make sausage and biscuit sandwiches for a quick breakfast.
Top with sausage gravy and serve as a side dish with a hams steak dinner.
Keep it simple and serve with melted butter and jam or slathered in honey.
Why didn't my biscuits rise?
One reason might be that the dough was too dense to begin with. Another possibility is that the oven wasn't hot enough. The biscuits need a blast of heat in order to rise, so if the oven wasn't hot enough, they won't rise as much as they should. Finally, it's possible that the biscuits were overcooked. If they're overcooked, they'll be dry and crumbly, and won't have the same light, fluffy texture that's necessary for rising.
Can I use baking soda instead of baking powder in my biscuits?
Yes, however, be sure to use slightly less baking soda than you would baking powder, as it is more potent. The standard ratio is to use ⅓ teaspoon of baking soda for each teaspoon of baking powder.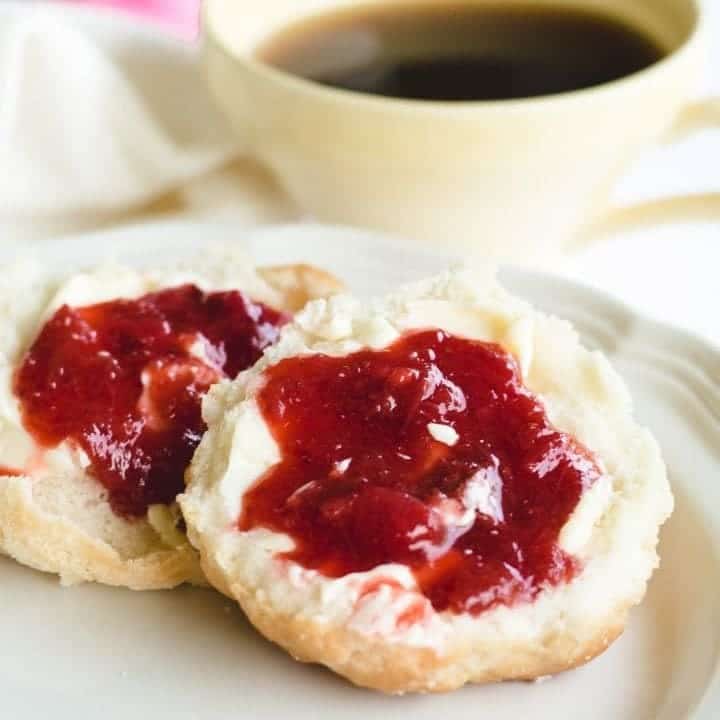 Homemade Breakfast Biscuits
Easy homemade biscuits are such a great morning comfort food. Just 6 simple ingredients and a few minutes for buttery soft and fluffy biscuits.
Ingredients
1 cup flour, sifted
2 tablespoons sugar
1 teaspoon baking powder
¼cup butter, chilled and cubed
⅔ cup buttermilk
⅛ teaspoon salt
Instructions
Preheat oven to 425 degrees.
In a large bowl mix together all the dry ingredients.
Cut in the butter until it resembles coarse bread crumbs.
Stir in the buttermilk and mix to form a dough ball.
Place the dough ball on a heavily floured pastry board and let sit for a couple of minutes.
Pat out the dough ball to about ½ inch.
Cut the biscuits using a small glass with flour on the rim or use a biscuit cutter.
Place the biscuits on a parchment-lined baking sheet and chill for 20-30 minutes before baking.
Bake for about 12 minutes.
Notes
Biscuits are freezer friendly, place biscuits on a baking sheet and when frozen then transfer to a Ziploc freezer bag.
Nutrition Information:
Yield:

12
Serving Size:

1
Amount Per Serving:
Calories:

160
Total Fat:

8g
Saturated Fat:

5g
Trans Fat:

0g
Unsaturated Fat:

2g
Cholesterol:

22mg
Sodium:

235mg
Carbohydrates:

19g
Fiber:

1g
Sugar:

2g
Protein:

3g