Easy Small Batch Cinnamon Rolls Recipe
These almost homemade small-batch cinnamon rolls with creamy cream cheese frosting are the perfect weekend breakfast treat. Easy enough to make in the morning for fresh warm rolls or prepare the dough the night before and pop in the oven while making coffee. No mixer is needed; you can make these in the middle of the night if you are suddenly hit with a cinnamon roll craving!
This small-batch cinnamon rolls recipe fits nicely in a 6-inch cake pan and cooks perfectly in a conventional or countertop oven. For more almost homemade treats try these easy puff pastry croissants and puff pastry turnover recipe. Or, go old school with these easy homemade breakfast biscuits.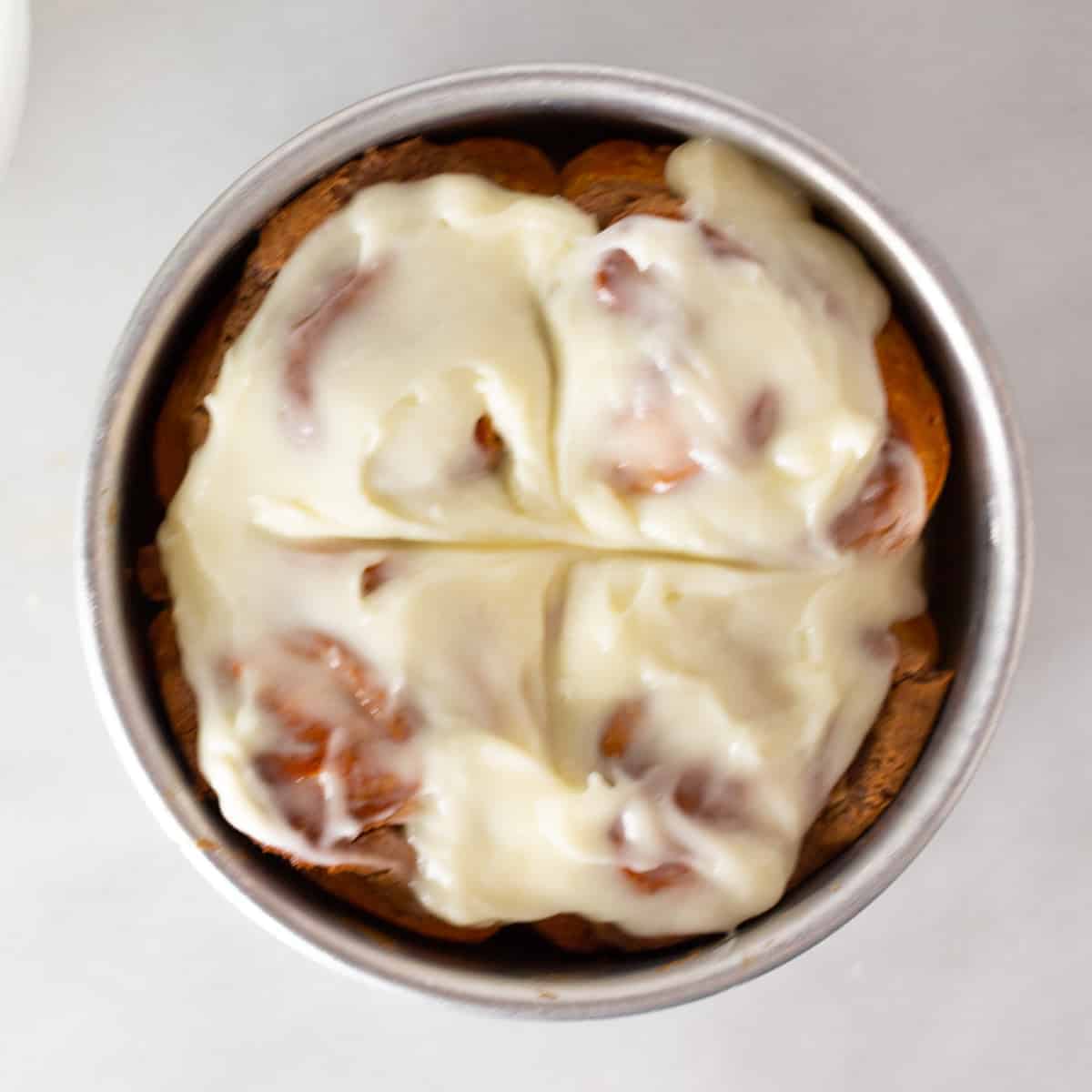 What you will love about this recipe
The simple premade rolls make a quick and easy sweet treat for breakfast.
Adjust the filling and icing to your personal flavor.
No need to wait for the dough to rise.
Tastes just as good as a traditional cinnamon roll..
Ingredients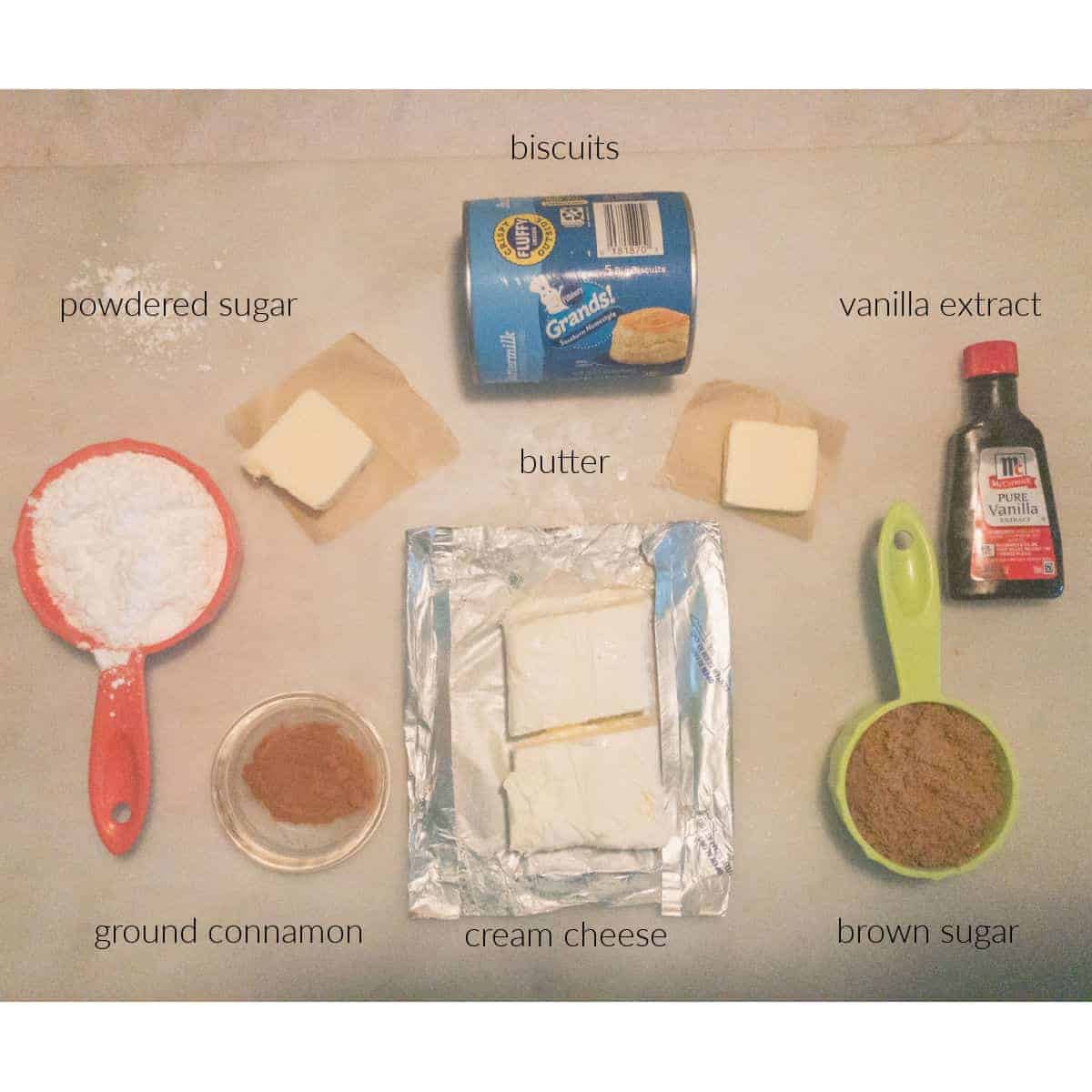 1 (10.2-ounce) package of Pillsbury Grand Biscuits
1 tablespoon ground cinnamon
½ cup brown sugar
1 tablespoon butter, softened
4 ounces of cream cheese
4 oz cream cheese, softened
2 tablespoons softened butter¾ cup powdered sugar
¼ teaspoon vanilla paste
Pillsbury Grand Biscuits: The 10.2-ounce package makes 4 perfectly sized cinnamon rolls.
Cream Cheese: I use an 8-ounce brick of full-fat Philadelphia Cream Cheese. Half is used for the cinnamon filling and half for the frosting. It's perfectly fine to use low-fat cream cheese. Bringing the cream cheese to room temperature before mixing will ensure smooth filling and frosting. I don't recommend using whipped cream cheese.
Butter: I use salted butter.
Brown Sugar: Light brown sugar lightly packed into a measuring cup.
Vanilla Extract: McCormick is my go-to brand and is easy to find in most grocery stores.
Powdered Sugar: Also known as confectioners sugar, it mixes easily and helps to make a nice smooth, creamy frosting.
Cinnamon: Use the freshest and best ground cinnamon. My go-to cinnamon is a Vietnamese variety from Morton & Basset. These are cinnamon rolls, so you want a nice smooth cinnamon flavor.
The quantities needed are listed in the recipe card.
Alternate Cinnamon Roll Icing without Cream Cheese
¼ cup butter, 1 ½ cups powdered sugar, ½ teaspoon vanilla, and ¾ tablespoon milk
Start with room temperature butter and cream until smooth; add in ½ the powdered sugar and mix well, then the milk and vanilla mix as you go, and last, add in the remaining sugar and mix until everything is smooth and creamy. if you want a thinner icing, just add a few drops more milk.
YOu can also skip the icing and lightly brush the tops of rolls with melted butter and sprinkle with a cinnamon sugar topping.
Instructions
Open the biscuit and knead the dough together to form a small rectangle. Roll out the dough to about a 6 x 10-inch rectangle.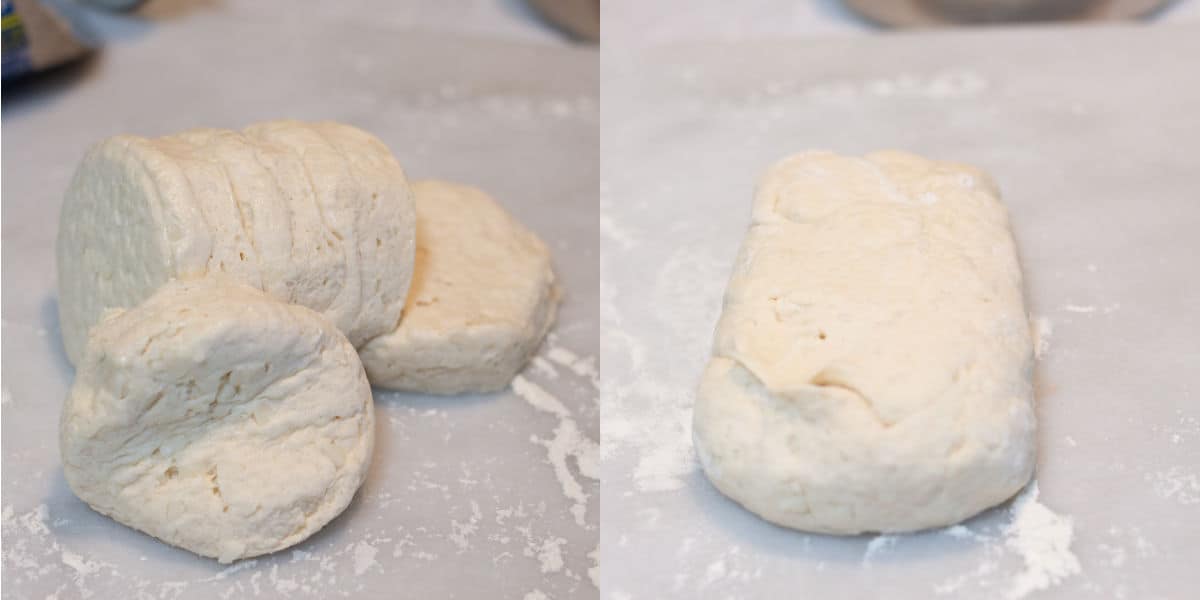 In a medium bowl, mix together 4 ounces of cream cheese, 1 tablespoon of butter, ground cinnamon, and 1/2 cup of brown sugar. Use a wooden spoon to stir and smash the ingredients until smooth.

Spread the cinnamon filling over the rolled-out biscuit dough.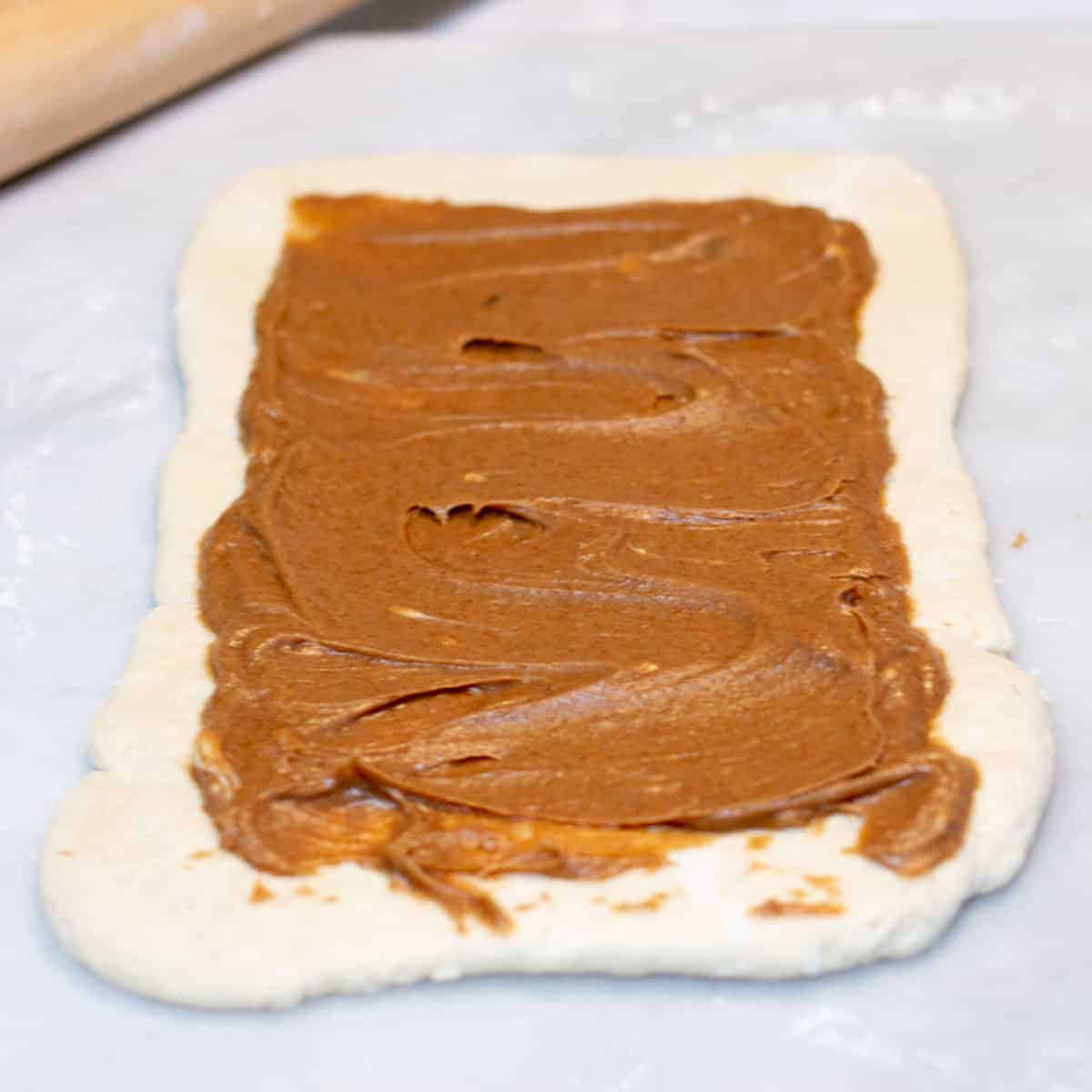 Roll up like a jelly roll and cut into 4 even sections. It's a little lopsided, but that just adds the charm, right.:-). Before cutting, I scored the dough to make sure to cut evenly.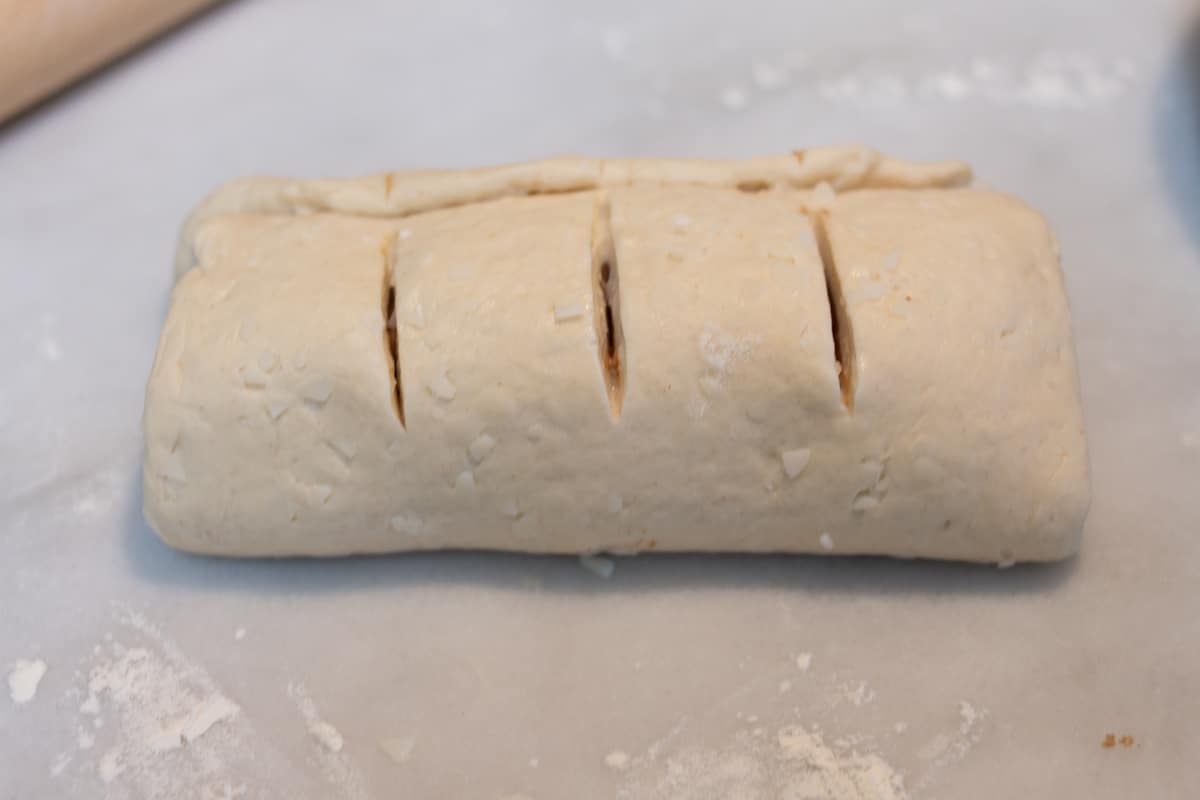 Place rolls into a parchment-lined 6-inch cake pan. Bake at 375 degrees Fahrenheit for 25-30 minutes. If you are making this the day ahead, you can cover and place it in the refrigerator until ready to bake.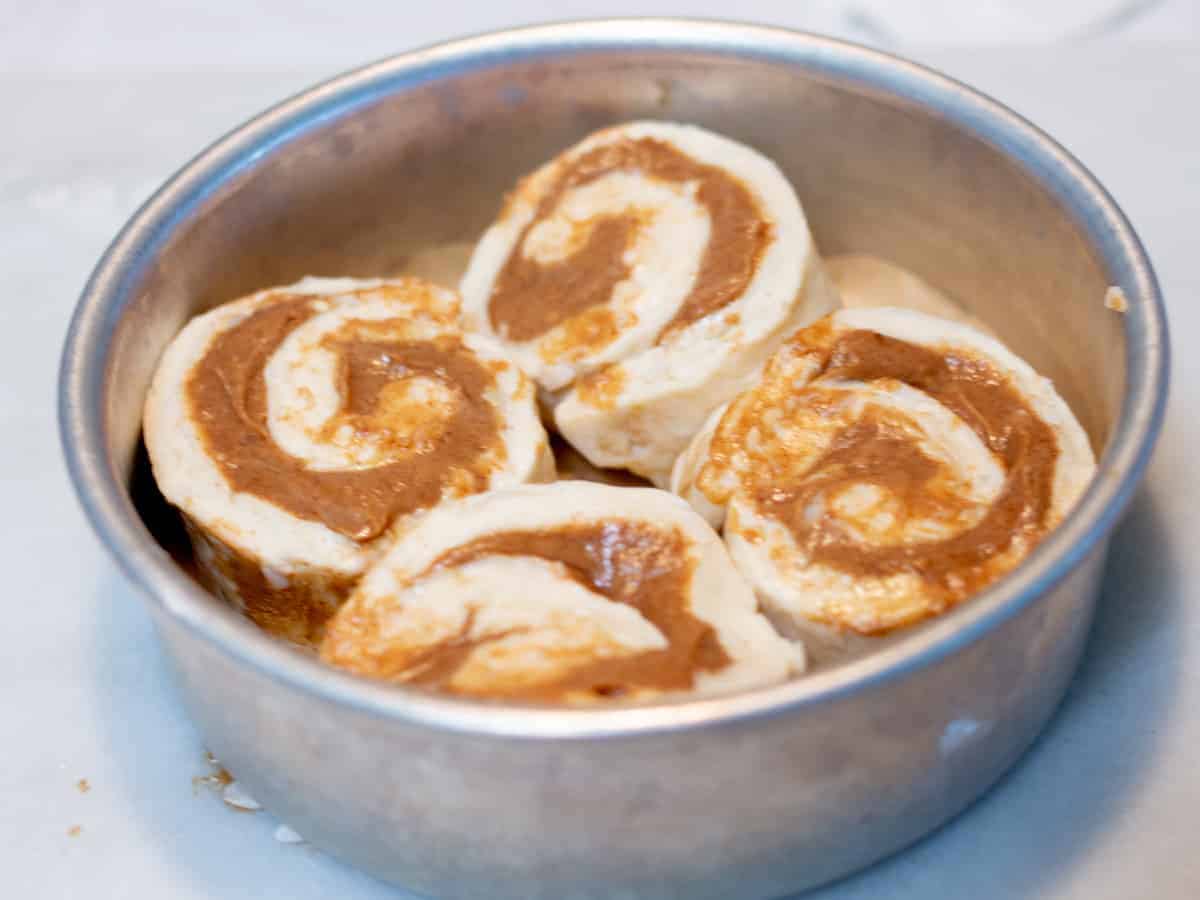 While the rolls are baking, make the frosting. In a medium bowl, mix the powdered sugar, butter, and cream cheese together. Use a wooden spoon to mix until smooth, about 1 minute.

When the cinnamon rolls are baked, remove them from the oven and let them cool down to warm before spreading the frosting onto the top of the cinnamon rolls.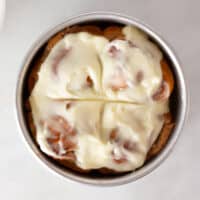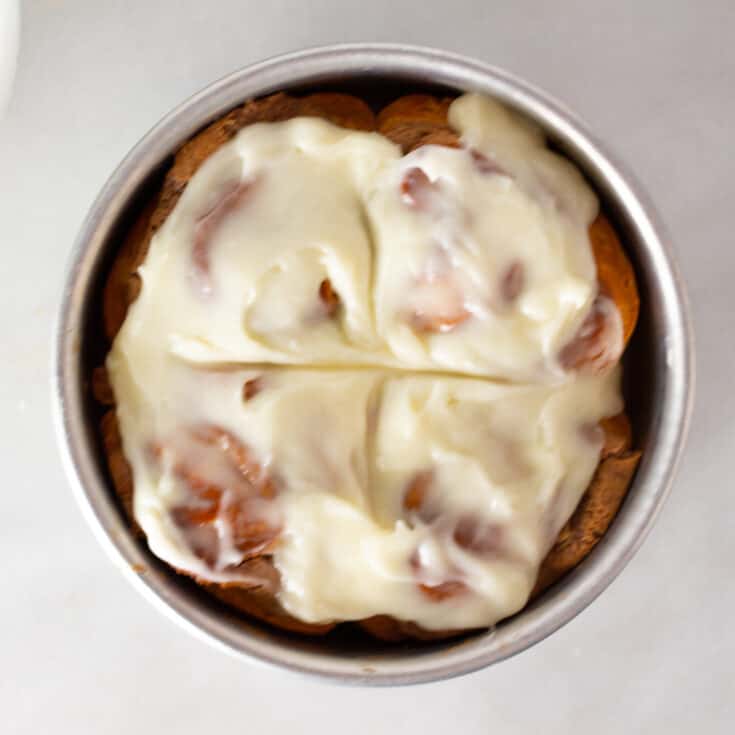 Almost Homemade Cinnamon Rolls
Taste just like homemade and ready in a fraction of the time.
Print
Pin
Rate
Ingredients
1

10.2 ounces package Pillsbury Grand Biscuits
Cinnamon Filling
1

tablespoon

ground cinnamon

½

cup

brown sugar

1

tablespoons

butter

softened

4

ounces

cream cheese

cut and 8 ounce package in half and use the other half for the frosting.
Frosting
4

oz

cream cheese

softened

2

tablespoons

butter softened

¾

cup

powdered sugar

¼

teaspoon

vanilla paste
Instructions
Preheat oven to 375 degrees Fahrenheit

Open the biscuit dough package and place the dough on a lightly floured board.

Shape the dough into a rectangle about 1/2 inch high and roll out the dough into a rectangle about 6 x 1o inches.

Mix all the filling ingredients in a small bowl. Use a wooden spoon to mix the ingredients until smooth, about 1 minute. using room temperature ingredients makes this easier.

Spread the cinnamon filling over the dough.

Roll the dough like a jelly roll.

Slice into 4 uniform pieces.

Place on a parchment lined 6-inch cake pan and bake for 25 minutes.

While the rolls are baking make the frosting.

While the rolls are baking make the frosting. In a medium bowl mix the powdered sugar, butter and cream cheese together. Use a wooden spoon to mix until smooth, about 1 minute.

Mix in the vanilla extract. Cover and set aside while the rolls are baking.

Let the rolls cool sightly and top with the cream cheese frosting.
Nutrition
Serving:
1
g
|
Calories:
475
kcal
|
Carbohydrates:
54
g
|
Protein:
5
g
|
Fat:
28
g
|
Saturated Fat:
16
g
|
Polyunsaturated Fat:
9
g
|
Cholesterol:
73
mg
|
Sodium:
318
mg
|
Fiber:
1
g
|
Sugar:
45
g
utensils and bakeware needed
6-inch Cake pan: my go to are these cake pans from NordicWare. You can also bake the cinnamon rolls in a small casserole dish or 6 inch cast-iron skillet. For single serving size you can use a muffin pan for cute little rolls.
Rubber Spatula: I have these spatulas from Heirloom Living in multiple sizes. The small size is great for my small batch baking recipes.
Pastry board, or cutting board to roll out the dough.
Sharp Knife to cut the dough.
2 bowls, one for the frosting and one for the filling.
Wooden Spoon for mixing the ingredients.
Rolling pin to rollout the dough. if you don't have a rolling pin then use a glass lightly floured to roll out the dough.
Measuring cups and spoons.
How to freeze cinnamon rolls
Baked cinnamon rolls should be frozen un-frosted. After cooling wrap each roll tightly in plastic wrap and place in a Ziploc bag. When ready to eat, heat the rolls in the microwave for about 30-45 seconds in 15-second intervals.
The frosting is so easy to make, I suggest mixing it up fresh. However, if you want to freeze the frosting then portion it out in individual servings and freeze separately from the rolls. When ready to frost heat in the microwave for a few seconds before spreading over the warm cinnamon roll.
Tips
Butter and cream cheese should be room temperature.
Use a stir and smashing motion when mixing the filling and frosting to get a smooth consistency.
I don't have a 6-inch cake pan, what can I use?
You can use a small baking dish, Emile Henry makes some nice .75 liter baking dishes that work well. You want the rolls to bake close together in whichever pan you use.
Can I double the recipe?
Yes indeed! Purchase the larger package of Grand Biscuits.  Double the ingredients for the filling and frosting. You should bake in a 9-inch cake pan, pie plate or casserole dish.   Increase the baking time and check after 30 minutes, continue baking as needed.
If you enjoy these small batch cinnamon rolls you might like to try my raspberry cream cheese muffins.