Ham Steak Recipe with Potatoes and Sauerkraut
This Slow Cooker Ham Steak recipe with sauerkraut is full of flavor with a hint of sweetness from the apples and brown sugar glaze. Just place the ingredients in the slow cooker and let the low and slow heat turn this mixture of ingredients into a delightfully delicious meal.
Looking for more slow cooker recipe ideas? Check out more great recipes for a small slow cooker.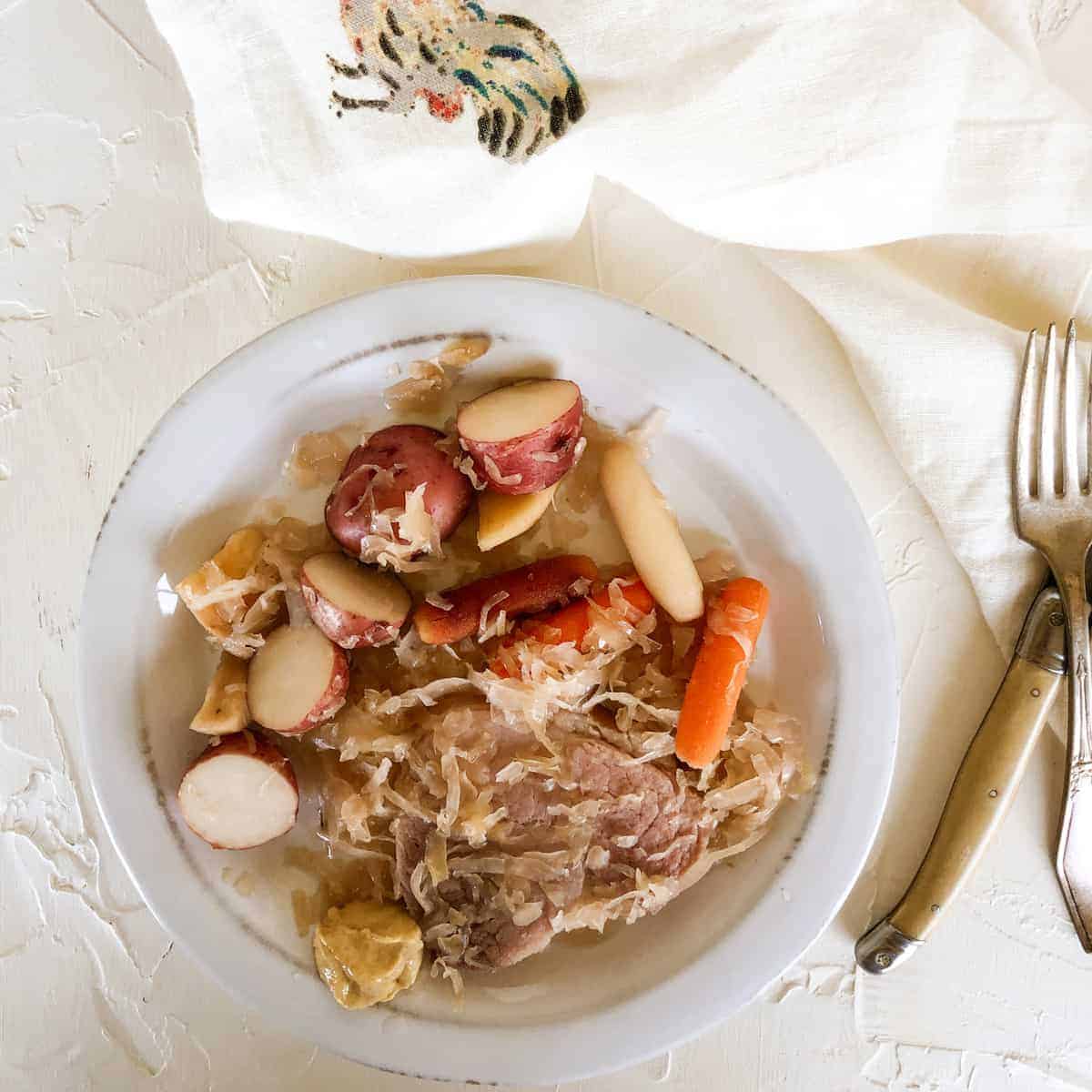 The fully cooked ham steaks are easy to find and a true southern farm-style comfort food. Any leftover ham can be fried up the next morning for a hearty ham and eggs breakfast.
I used the larger bone-in ham steaks but you can also purchase the smaller 8-ounce ham steaks and just reduce the amount of potatoes.
Another small batch meal you might enjoy is my 2-pound slow cooker turkey breast recipe.
Ingredients Notes and Substitutions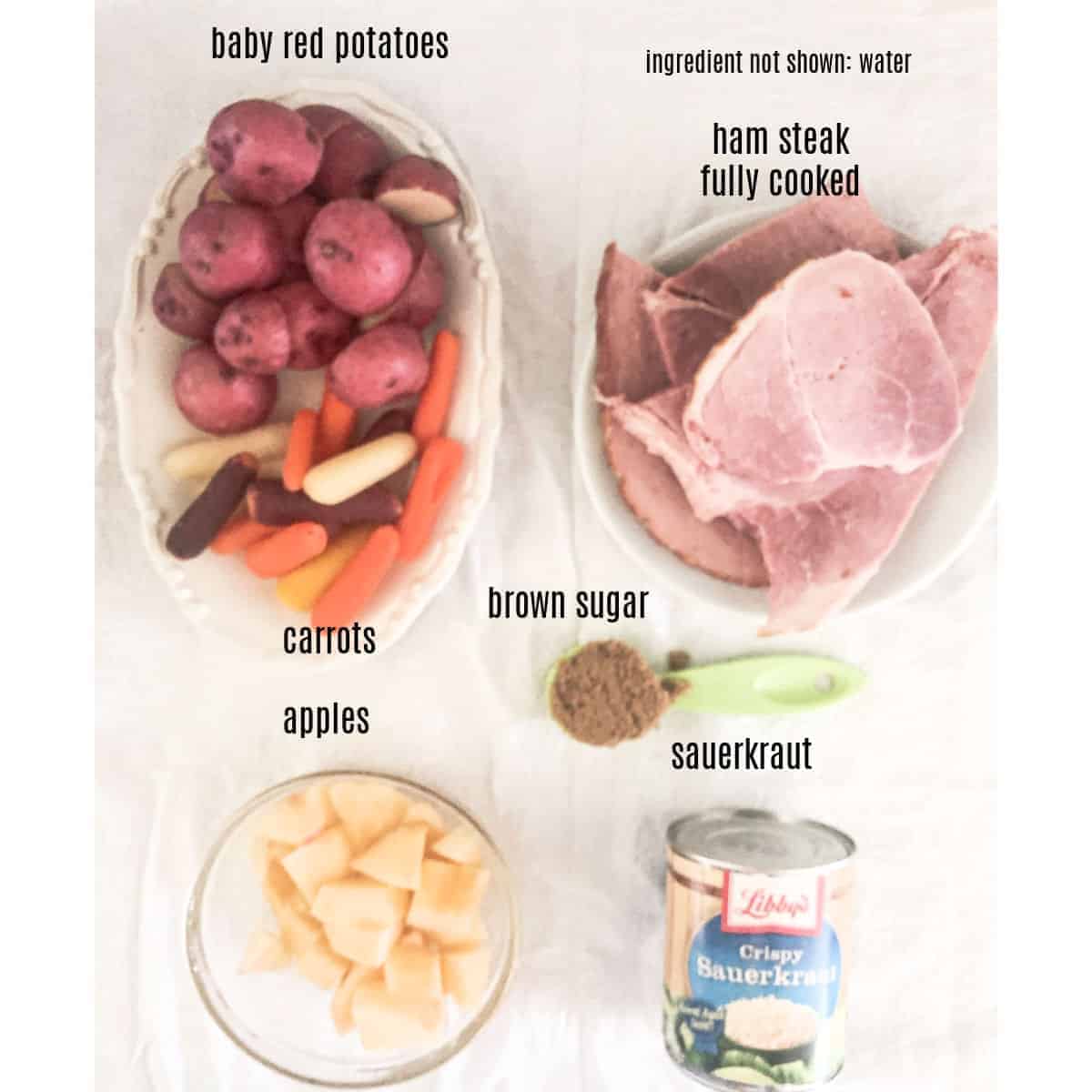 1-pound sliced ham steak
8-10 baby red potatoes, halved
10-12 baby carrots
1 (8-ounce) can sauerkraut
3/4 cup water
1 apple, peeled, cored, and diced
1 tablespoon brown sugar
Red Potatoes – another potatoes can be substituted, but make sure to cut into smaller pieces so the potato cooks faster and evenly.
Carrots – I like the presentation of the multi colored baby carrots, however you can substitute sliced carrots.
Sauerkraut – Adjust the amount of sauerkraut to your personal taste. Cabbage can also be substituted and should be placed on top of the potatoes so it cooks down properly. Alternately you can cook a slow cooker cabbage as a separate side dish.
Ham Steak – A fully cooked ham steak is wonderful for a quick meal and cutting down the slow cooker time. I use the whole ham steak because I want leftovers, however you can cut in half and freeze the other half for later use. Before adding meat to the slow cooker the ham steak should be heated to the proper internal temperature of 165° F.
Apples – I like a tart apple. If you have ones that are starting to lose their crispness those are perfect for this recipe.
Brown Sugar – the brown sugar compliment the apples and provide another depth of flavor. You can also substitute maple syrup for brown sugar glaze.
See the recipe card for ingredient quantities.
Recipe Directions
Preheat the slow cooker on low. Add the water, red potatoes, and carrots to a preheated 3-quart slow cooker.
Cover the veggies with the sauerkraut,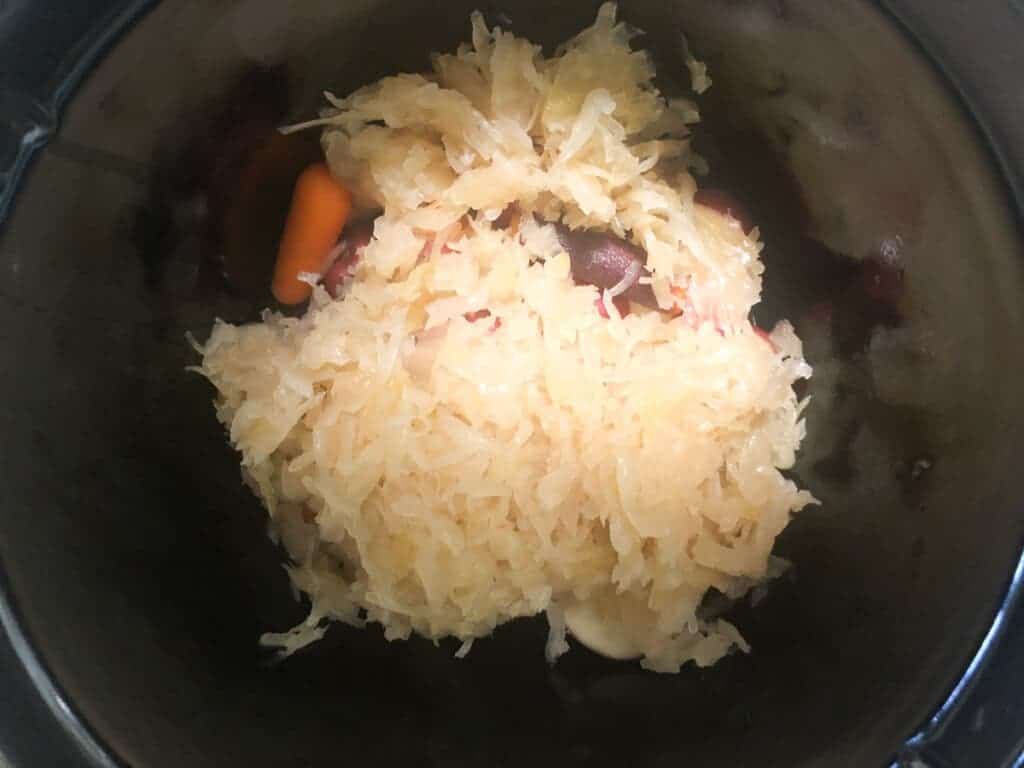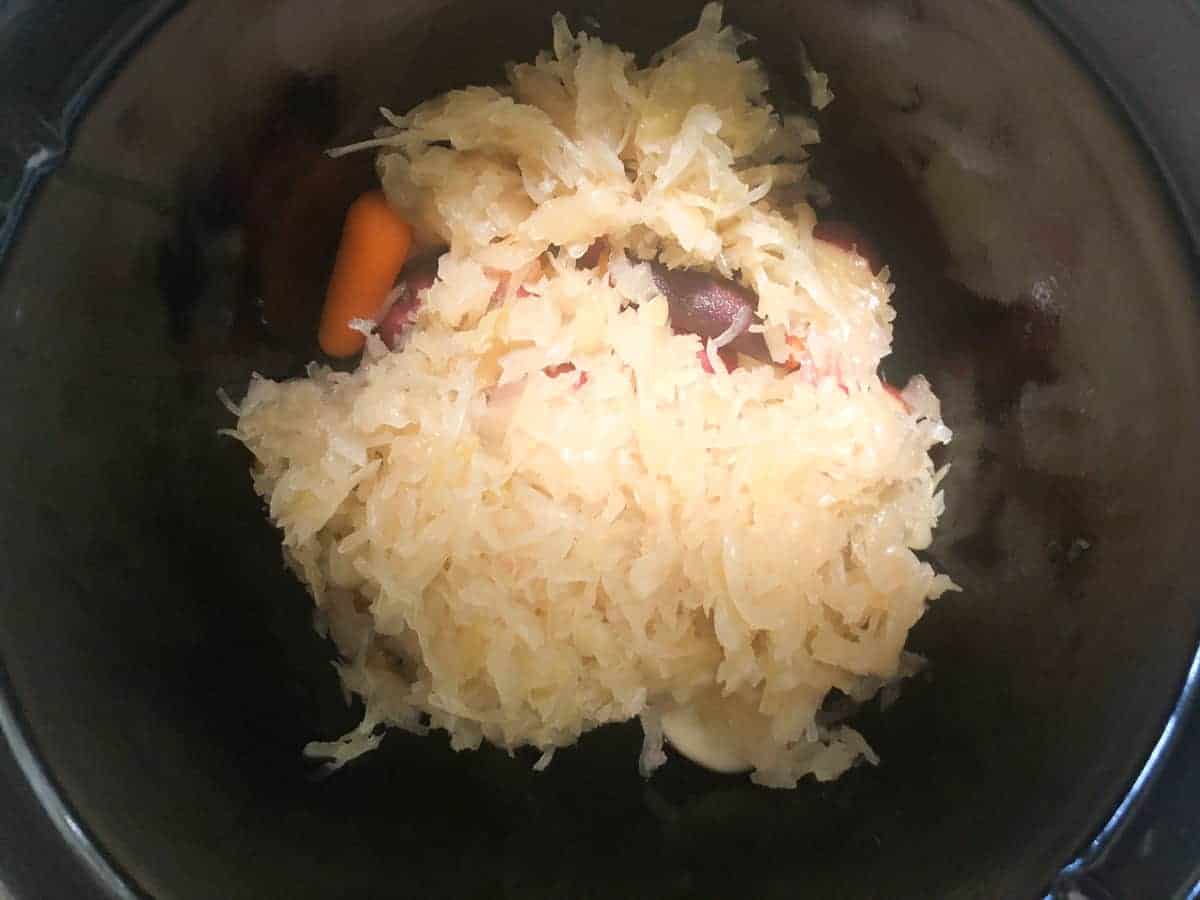 After the veggies have cooked for a couple of hours, add the heated ham and cover with the apples and brown sugar,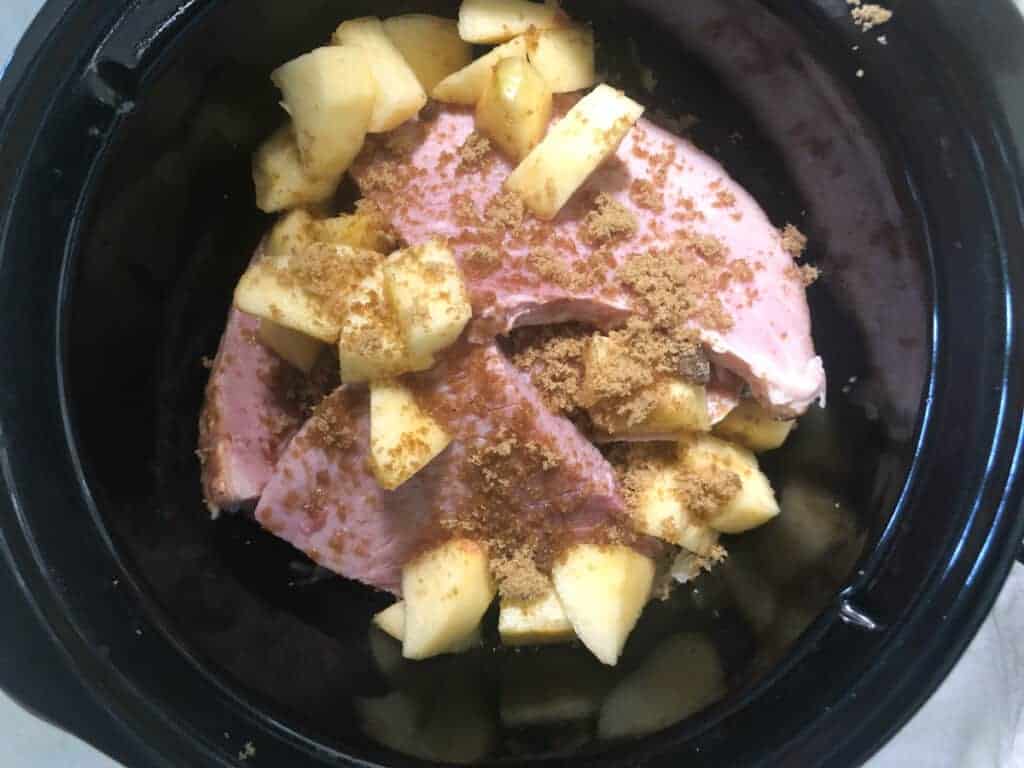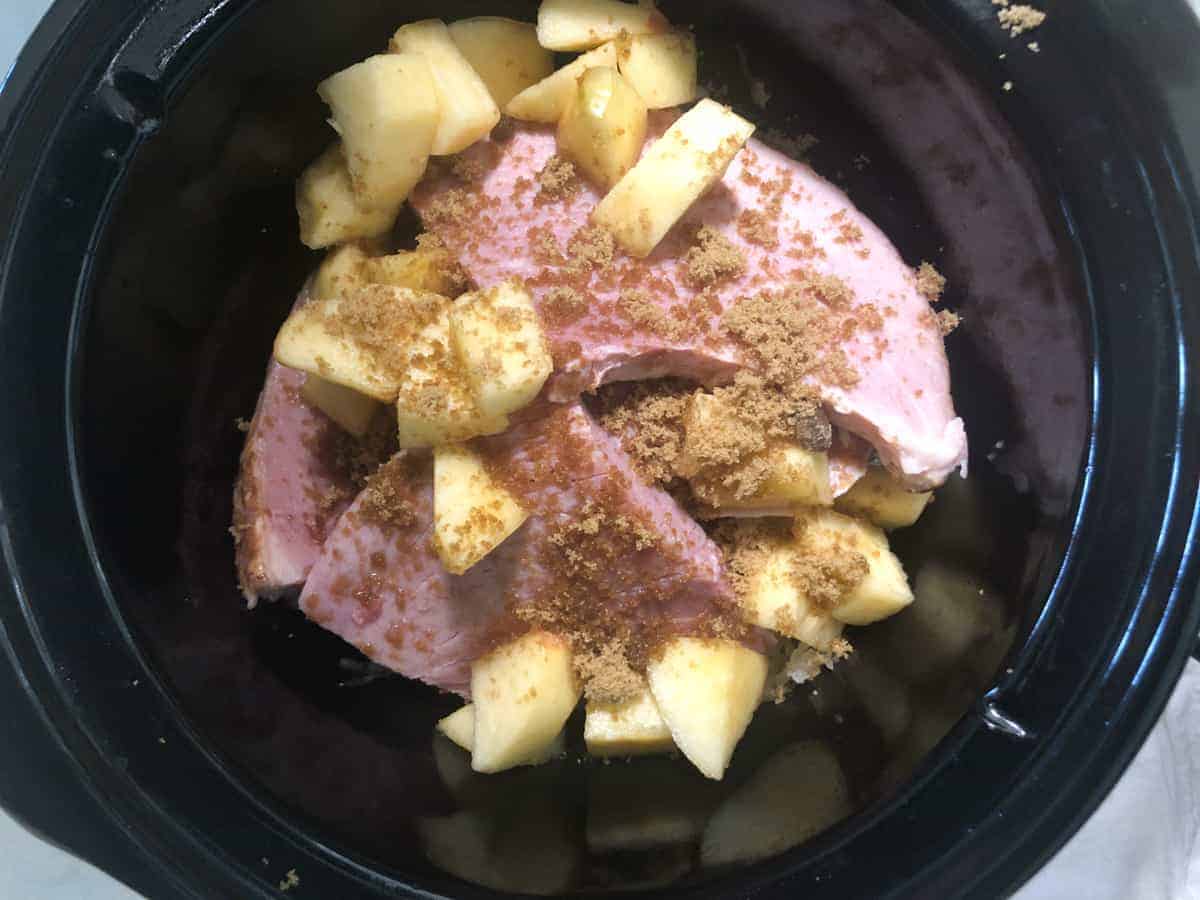 Cook on low for 4 hours. Check the potatoes to make sure they are fully cooked and cook a little longer if needed,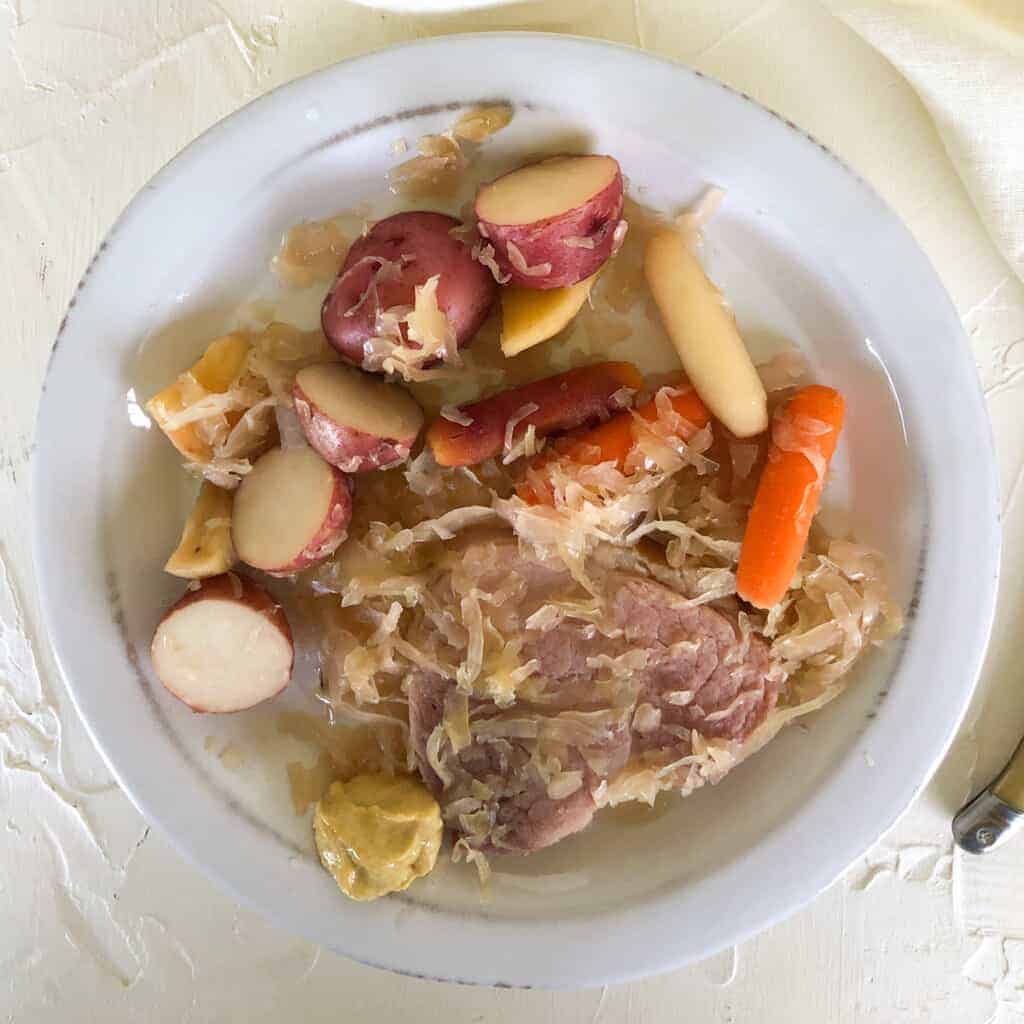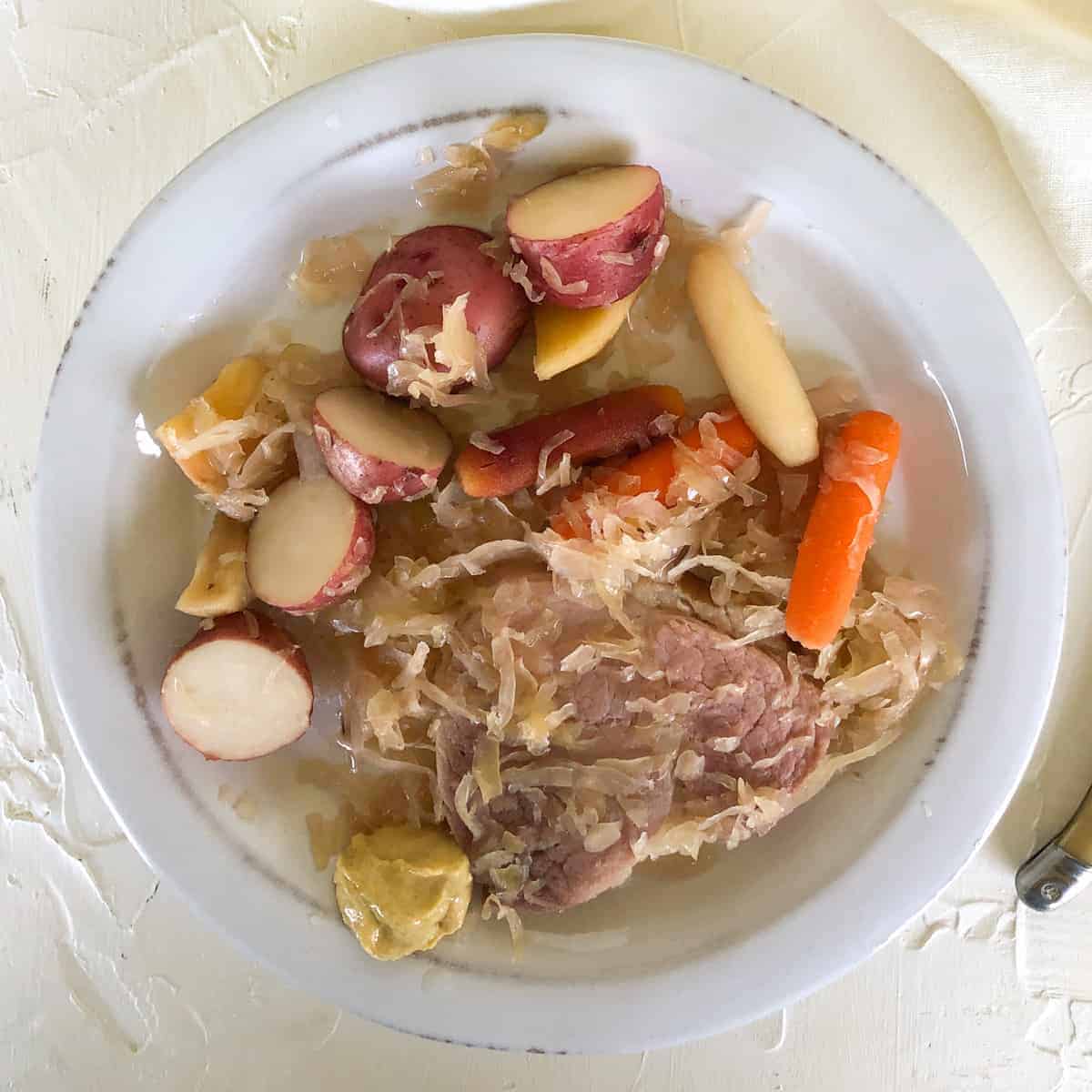 What to serve with Ham Steak
Homemade cornbread on the side is a nice addition.
Serve with a simple green salad.
Top fresh pear sauce over ham steak.
Spicy or Dijon mustard is a very nice addition to the ham.
Instead of sauerkraut use French style green beans

How to cook ham steak on the stove
Check out my pan fried ham steak recipe.
If you want your ham steak faster then try cooking on the stove in a heavy skillet over medium heat. I use my cast-iron skillet, however any heavy skillet works. Just heat the skillet with a little vegetable oil or melted butter and fry the steak for about 4 minutes on each side. The steaks are fully cooked so you are really just warming them up.
For the brown sugar glaze, melt a tablespoon of butter and stir in the brown sugar. Spoon over the ham steak
Boil the potatoes and when tender, drain and add the sauerkraut with juices and continue cooking for a few more minutes to heat everything up.
Spoon the brown glaze over the ham steak and serve with the potatoes and sauerkraut.
Tools
A 3-quart slow cooker is a right size for cooking a 1 pound ham steak with vegetables.
A good chef's knife doesn't need to be expensive, I use this 8-inch Chef's knife from Victronix often in my kitchen.
Storing Leftovers
Store the leftovers in an airtight covered container for up to two days. Reheat in the microwave.
Top tip
Bring the precooked meat up to a safe internal temperature before adding it to the slow cooker.
Did you make this recipe? I would love it if you left a comment or review! Be sure to sign up for the email list and follow "A Weekend Cook" on Pinterest and my Facebook page.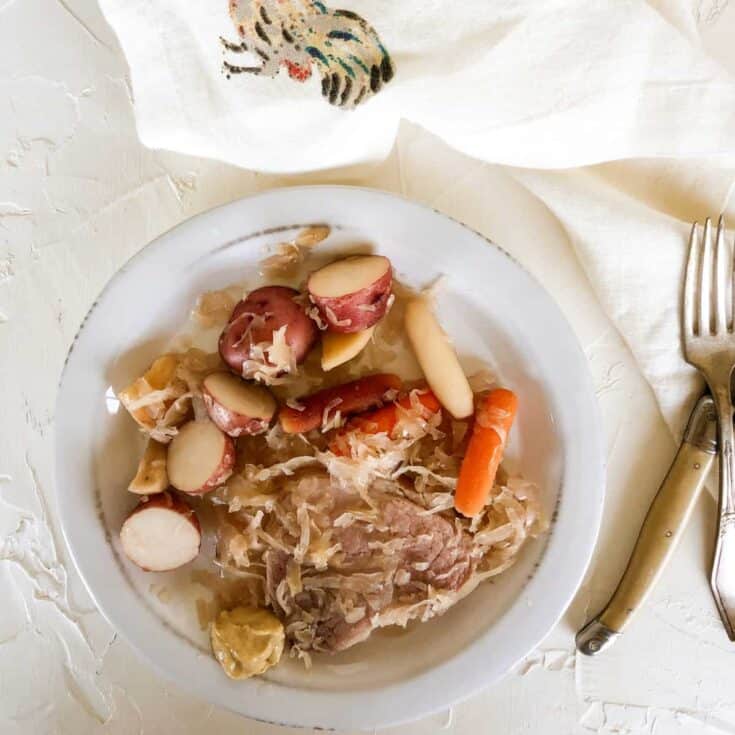 Slow Cooker Ham Steak
An easy farm style comfort food meal of ham,potatoes nd sauerkraut, Great sefved with homemade cornbread.
Print
Pin
Rate
Ingredients
1-

pound

sliced ham steak

8-10

baby red potatoes

halved

10-12

baby carrots

1

8-ounce can sauerkraut

3/4

cup

water

1

apple

peeled, cored, and diced

1

tablespoon

brown sugar
Instructions
Preheat slow cooker on low. Lightly spray the bottom of the slow cooker with vegetable oil.

Heat the fully cooked ham steak in the microwave to bring it up to an internal temperature of 145 degrees.

Add the apples, brown sugar, and ham steak.

Add the potatoes, carrots, and sauerkraut to the slow cooker.

Cover and cook on low for 4 hours.
Notes
Preheat the fully cooked ham before adding to the slow cooker.
Nutrition
Serving:
1
g
|
Calories:
885
kcal
|
Carbohydrates:
160
g
|
Protein:
35
g
|
Fat:
12
g
|
Saturated Fat:
4
g
|
Polyunsaturated Fat:
5
g
|
Cholesterol:
60
mg
|
Sodium:
481
mg
|
Fiber:
16
g
|
Sugar:
20
g
Food safety
Slow Cooker cooking times are a basic guideline, your slow cooker may cook differently. Recipes time should be adjusted as needed.
See more guidelines at USDA.gov.