Make this small skillet cornbread recipe for two in just a few easy steps. A warm slice of cornbread tastes great with a hot bowl of Chili. I guess I'm a purist when it comes to my cornbread, I like it plain with a little butter, add honey and it becomes dessert!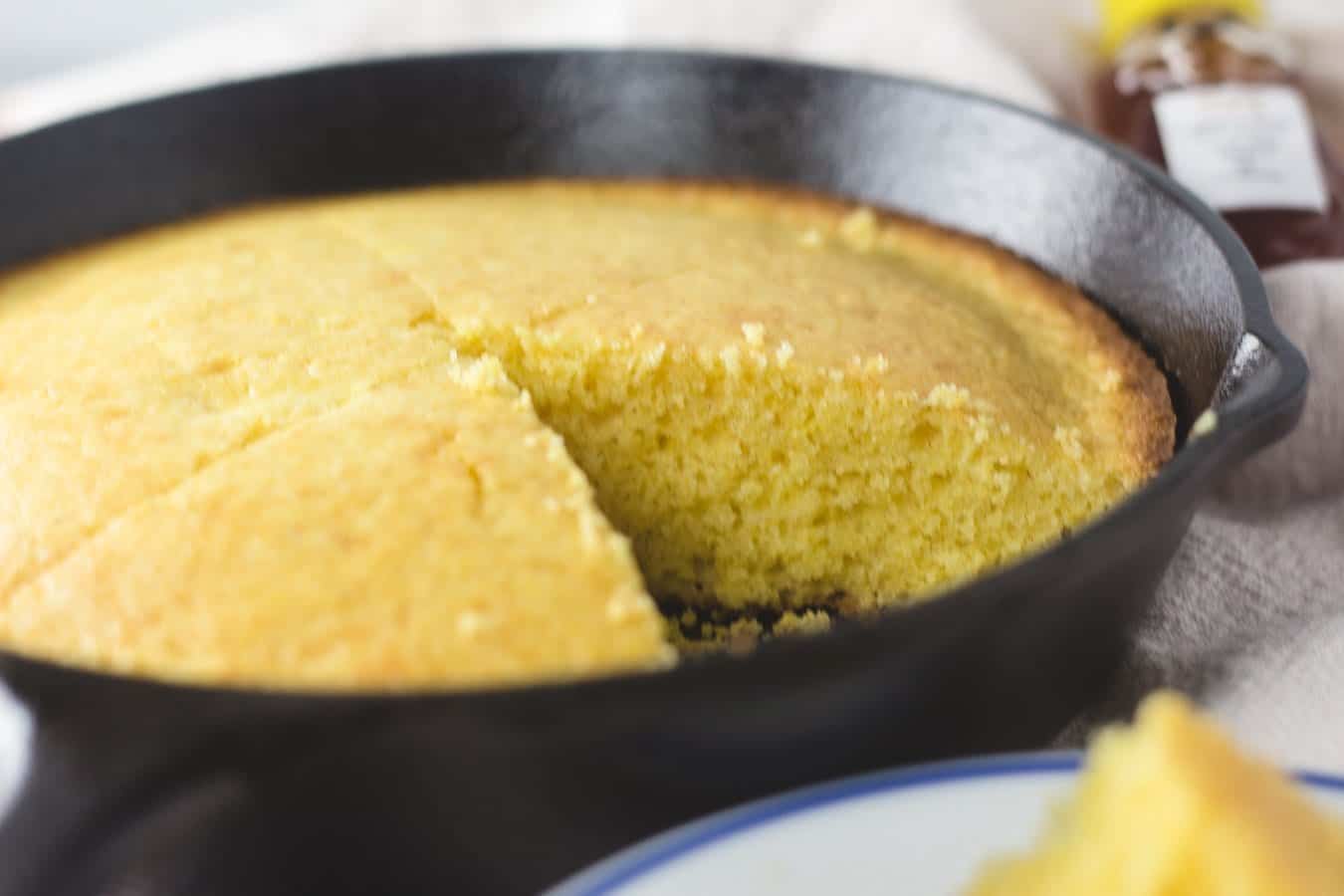 This recipe is my go-to for cornbread and it really does turn out every time. With a recipe so easy and tasty you will never buy a boxed mix again.
Table of Contents
Why make this recipe
Cornbread is so versatile and inexpensive, it goes great with a hot bowl of chili or on its own with slathered in butter and drizzled in honey. Have a slice with my new years day blackeye peas recipe
Once you try my recipe I hope you agree this is the best cornbread recipe and the only one you need. If you like to cook in a slow cooker you might enjoy my small batch slow cooker cornbread recipe.
Growing up my parents had a 10-inch Lodge skillet that was always on the stovetop or stored away inside the oven. Everything from morning bacon and fried eggs to sizzling hamburger was made in that skillet. And the cornbread, oh the cornbread was so good!
I've made this recipe in a cake tin and glass pie plates, but it's best made in the skillet. When my Mom passed away, my brother inherited the vintage cast iron skillet, or should I say he grabbed it first. Anyway, I now have my own, a sweet little 7 inch Lodge Cast Iron Skillet that is the perfect size for me and my hubby.
Ingredients
Keep these ingredients in your pantry and fridge because once you make this recipe it will be your favorite cornbread recipe.


Cornmeal – Yellow Cornmeal

is sweeter and has a stronger flavor than white cornmeal. The deeper flavor of the yellow cornmeal makes it perfect for cornbread.

Flour - the perfect cornbread needs the right flour to cornmeal ratio and I found a 1:1 bakes up just perfect, it's not too dense and not too cake-like.
Sugar - Use a standard granulated sugar. I like a slightly sweet cornbread so if you prefer less sweet you can reduce the sugar to your personal taste.
Butter - Use salted butter.
Egg - The egg makes the cornbread light and fluffy.
Baking Powder - Nothing fancy, just make sure it's fresh
Salt - Use standard table salt
Milk - I use whole milk, but 2% is also okay to use. Sometimes I use buttermilk as a homage to dear old Mom.
Instructions
Start by preheating your oven.
In a medium bowl mix together all the dry ingredients with a whisk ( love my dough blender) or fork. Next, make a little indent in the middle of dry ingredients and add the melted butter, beaten egg, and milk.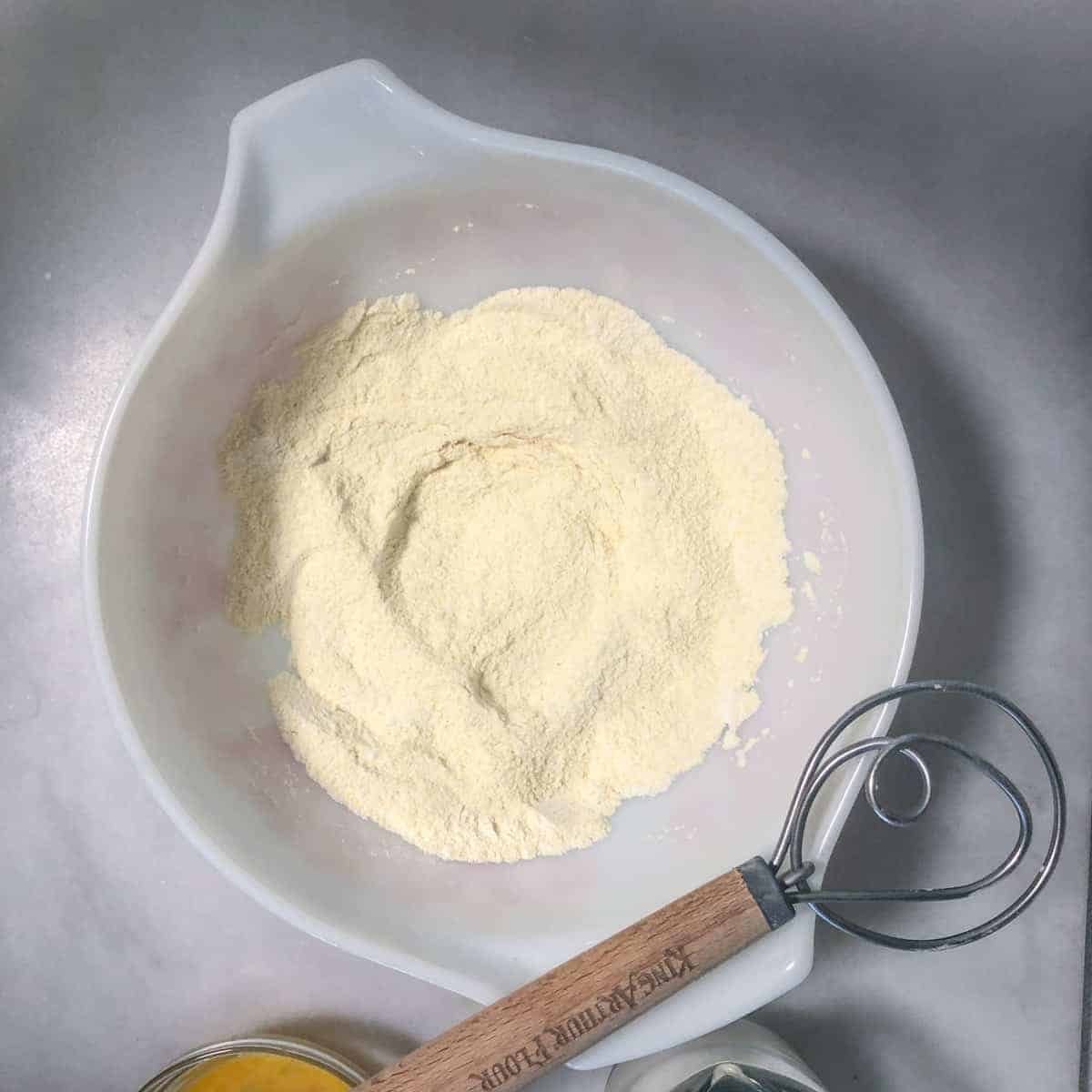 With a wooden spoon or dough, blender mix everything together, it only takes a few strokes to incorporate all the ingredients together. You should leave a few lumps in the batter, you don't want a smooth consistency.
Pour the batter into a lightly greased and heated 7-inch cast-iron skillet. You can melt the butter on the stove to heat up the skillet. Place in a preheated oven and bake for about 20 minutes. Use a cake tester or toothpick to test for doneness.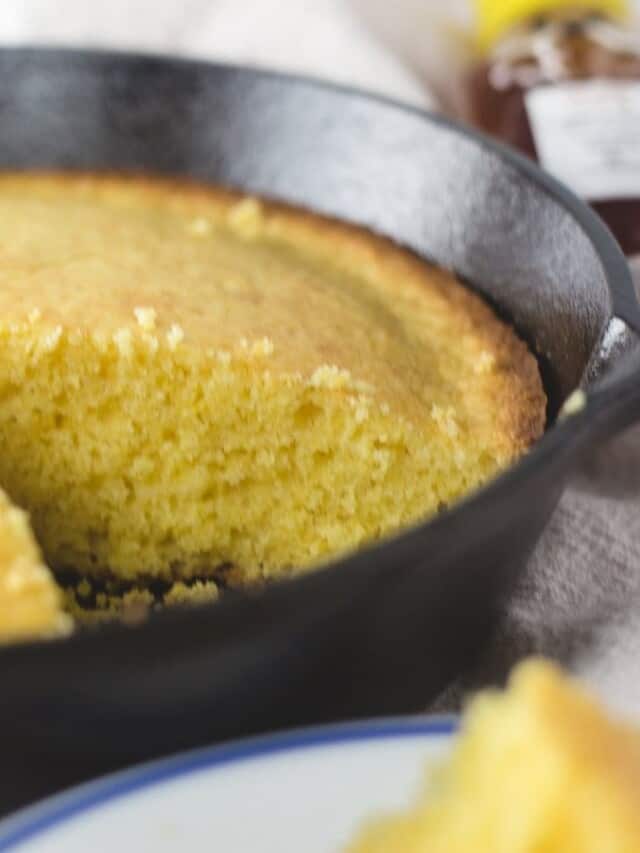 Remember to test your oven temperature using an oven thermometer like the one I use from CDN. Also always use an oven mitt when removing the skillet from the oven.
Let me know if this isn't the best and easiest homemade cornbread recipe you've made.
Cornbread goes great with Chili or a creamy skillet Mac & Cheese.
Check out the web story for my small batch cornbread recipe.
Can I use water instead of milk in homemade cornbread?
Well, If you are all out of milk, you could substitute water, but you need to add a little extra butter to make sure your cornbread turns out soft and moist. My advice is to stick with milk. Better to keep a small package of Horizion, or other shelf-stable milk product that doesn't need refrigeration stored in your pantry for a milk emergency.
Can I make this in my Toaster Oven?
Yes, however, don't use the cast iron skillet in your toaster oven, instead, pour the batter into a 6-inch cake pan.
📖 Recipe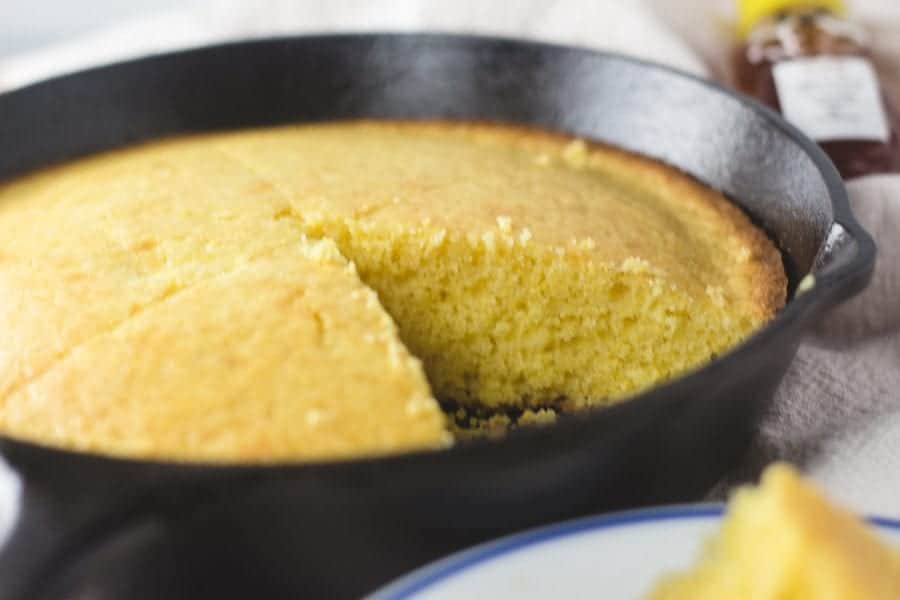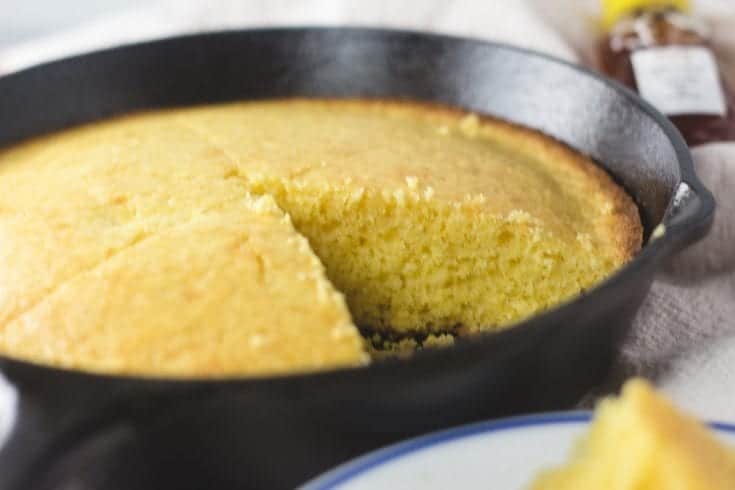 Yield:

6 servings
Easy Small Batch Cornbread Recipe
A quick homemade "turns out everytime" cornbread . Great with butter and honey for a sweet treat or enjoy with homemade chili.
Average Cost: $1.60 recipe / $.0.27 serving
Ingredients
½ cup all-purpose flour
½ cup yellow cornmeal
⅓ cup granulated sugar
½ teaspoon salt
1 -¾ teaspoons baking powder
3 tablespoons melted butter
1 large egg
½ cup milk
Instructions
Lightly butter a 6-inch round cake pan or 6-7 inch cast iron skillet and set aside.
Preheat oven to 400 degrees
In a medium bowl, whisk together the flour, cornmeal, sugar, salt, and baking powder.
Make a well in the center of your dry ingredients and add your butter, milk, and egg. Stir just until the ingredients are combined with only a few lumps remaining.
Pour the batter into the prepared pan and bake for 20-25 minutes until the top begins to turn a golden brown. Check for doneness by inserting a toothpick or cake tester into the center and it comes out clean.





Notes
Serve warm with honey and butter or equally as good served plain.
Nutrition Information:
Yield:
6
Serving Size:
1
Amount Per Serving:
Calories:

191
Total Fat:

7g
Saturated Fat:

4g
Trans Fat:

0g
Unsaturated Fat:

3g
Cholesterol:

48mg
Sodium:

390mg
Carbohydrates:

28g
Fiber:

1g
Sugar:

11g
Protein:

4g
The nutritional information provided here are estimates and are not calculated by a registered dietician.