Slow Cooker Bone-In Half Turkey Breast
This is a super simple slow cooker bone-in turkey half breast recipe you can make any night of the week and any time of the year. The small size makes it perfect for a two-person household. If I'm going to family or friends' home for Thanksgiving dinner I'll slow cook a turkey breast the night before. Now I'm not missing out on leftovers and can have cold turkey sandwiches the next day.
Looking for more slow cooker recipe ideas? Check out more great small slow cooker recipes.
These great homemade sides; cranberry sauce and sweet potato casserole are classic sides to serve with turkey.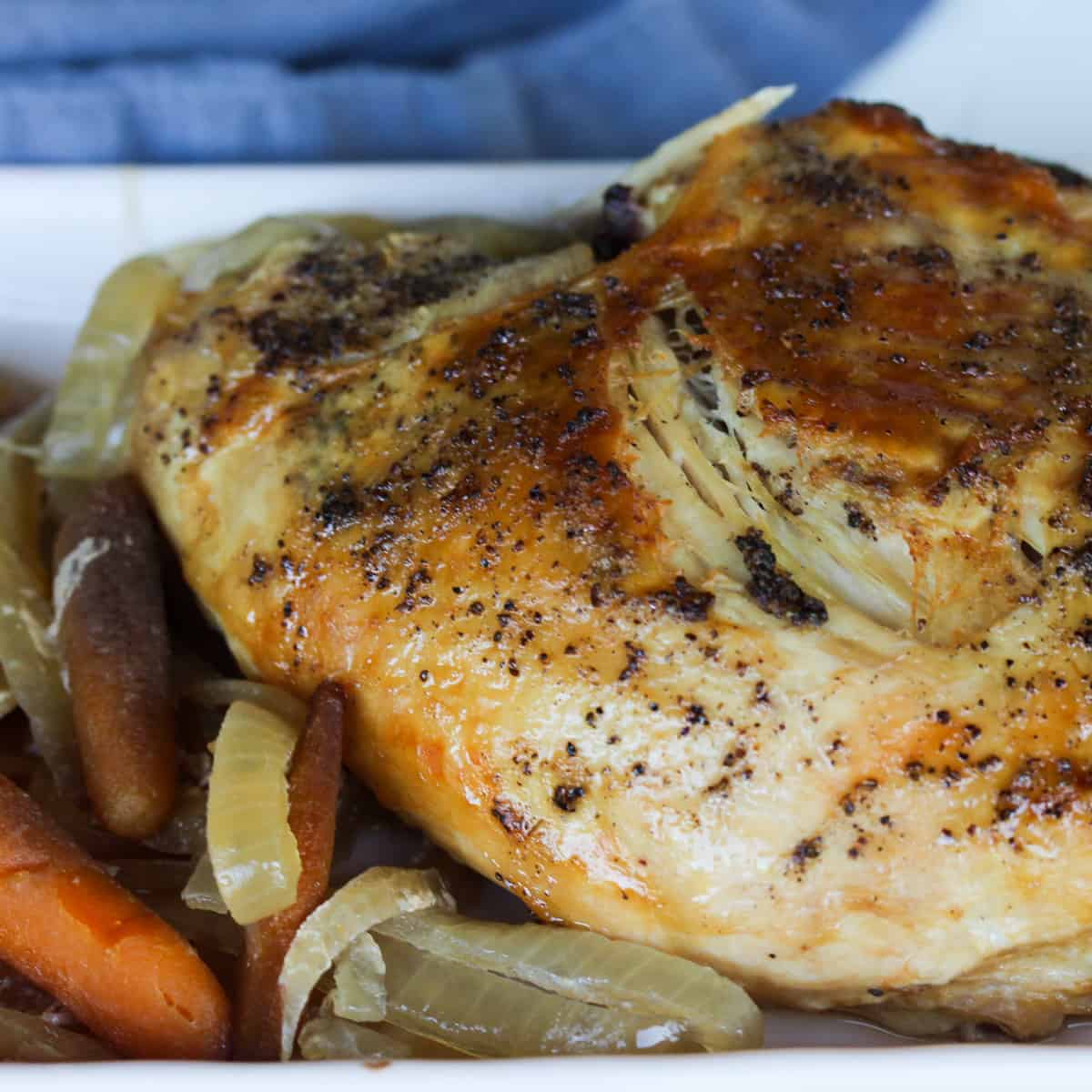 Slow Cooker Half Turkey Breast Web Story
Ingredient Notes and Substitutions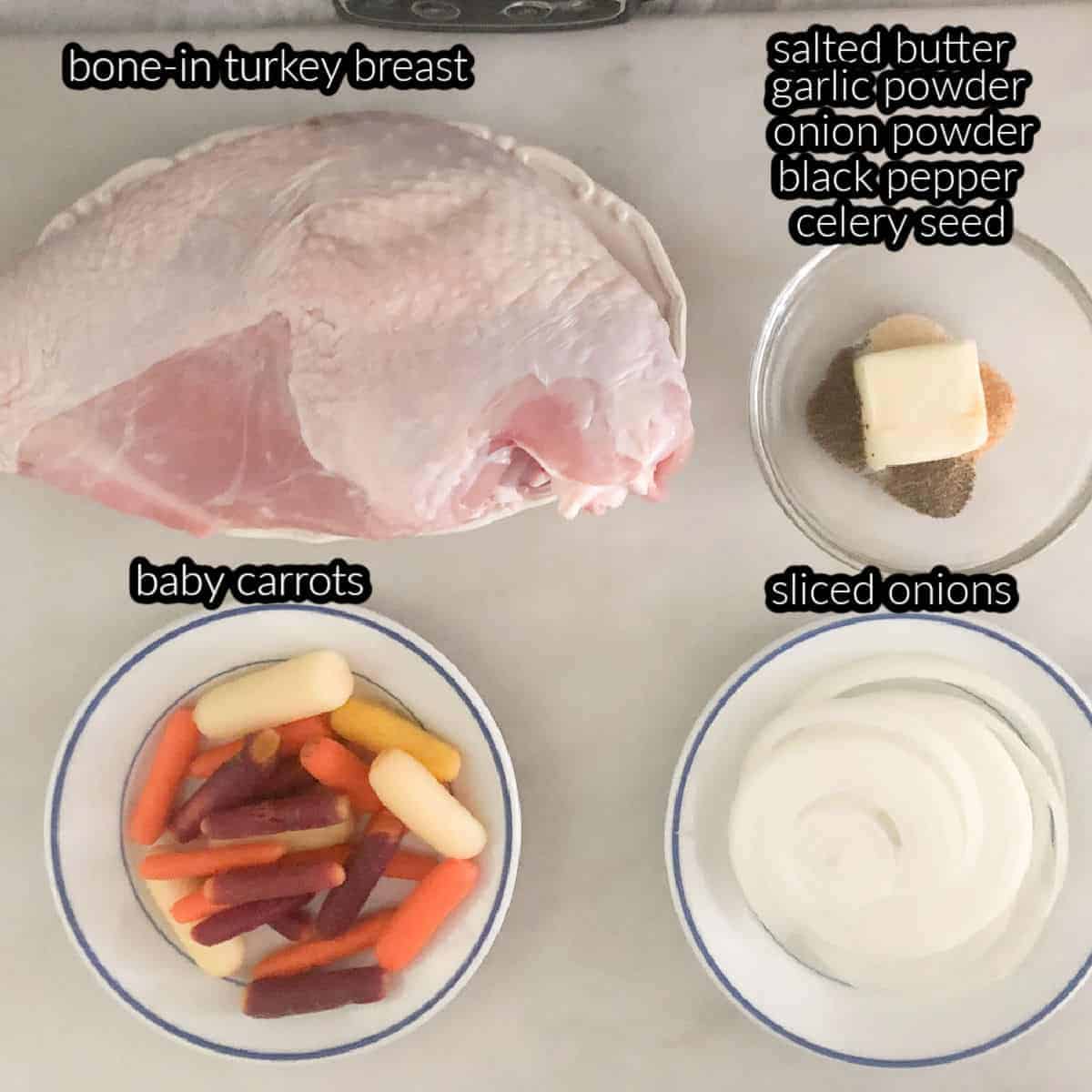 2 tablespoons butter, softened
1/8 teaspoon salt
1/4 teaspoon celery seed
1/8 teaspoon onion powder
1/4 teaspoon black pepper
1/4 teaspoon garlic powder
1/4 small onion, sliced thin
1 (2 pounds) bone-in turkey breast
Bone-In Turkey Breast : A 2pound , half turkey breast is usually easy to find any time of the year. If you cook a larger one then increase the slow cooker time.
Onions: The onions impart a nice flavor to the turkey juices for a fantastic gravy.
Carrots: I used multi-colored baby carrot. You can use regular sliced carrots or add in a few parsnips.
Butter: The softened butter mixes easily and makes a nice easy to spread paste.
Dried Celery Seed : If I have fresh celery in the house I'll lay down a couple of ribs over the onions and omit the celery seed from the butter mix.
Onion Powder: Adding this won't be over powering, it just and adds another layer of onion flavor.
Garlic Salt: I mentioned earlier I don't use much salt, but you can also use a garlic powder.
Black Pepper:
Instructions
Preheat the slow cooker while you are preparing the ingredients. Lightly coat the slow cooker insert with cooking spray.
Start with soft butter and mix in the celery seed, pepper, garlic powder, and onion powder. I cook with a very little salt so please add a little if you like. I use my smaller spatula to quickly mix the rub.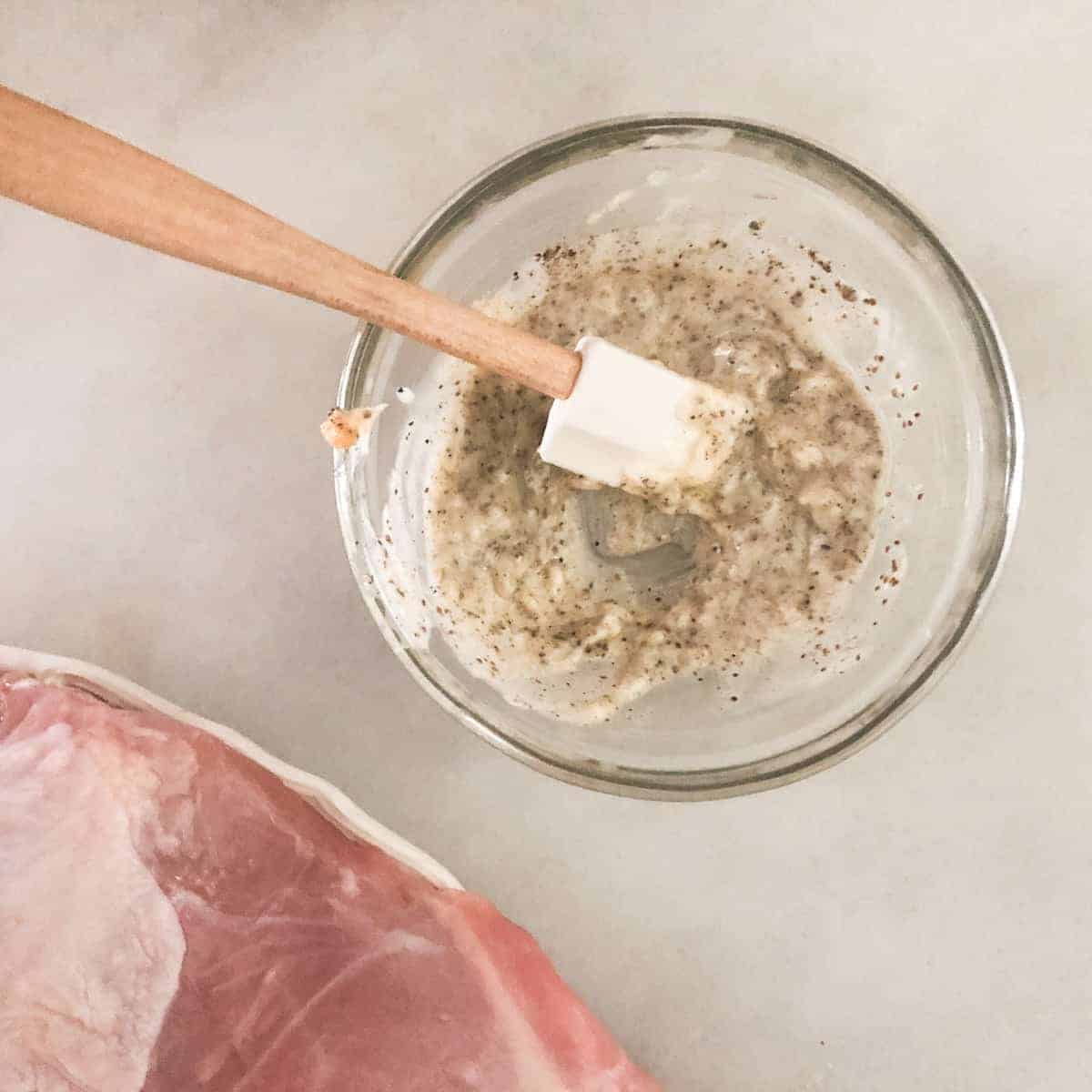 Lift up the turkey skin and use about 1/3 of the seasoned butter and under the skin. The remaining amount should be rubbed over the top of the turkey breast.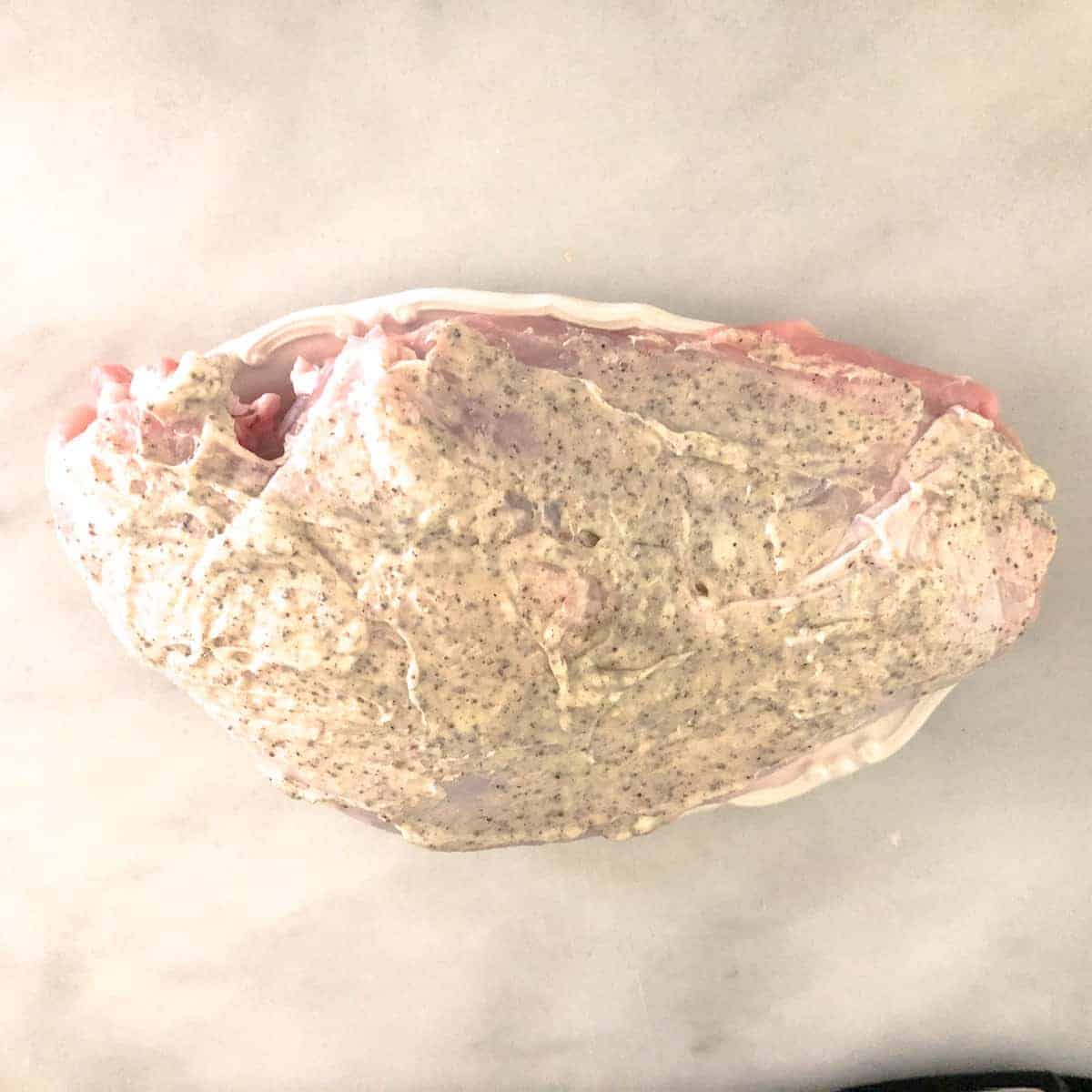 Slice up the onions and place them on the bottom of the slow cooker. 3 or 4 slices on a medium onion should give you enough to cover the bottom of the 6-quart slow cooker.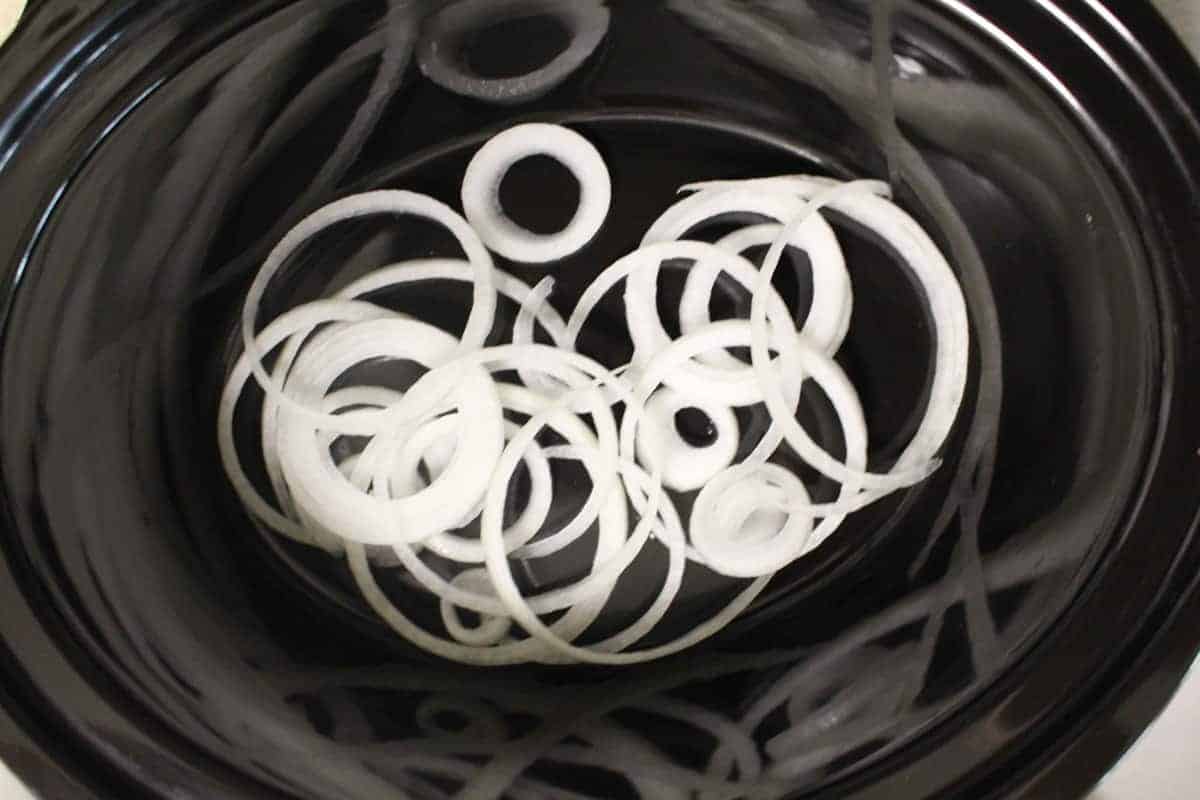 Transfer the bone-in turkey breast to the slow cooker and skin side up. Using a roasting rack to lift up the turkey breast keeps the meat from sitting in the liquid while cooking.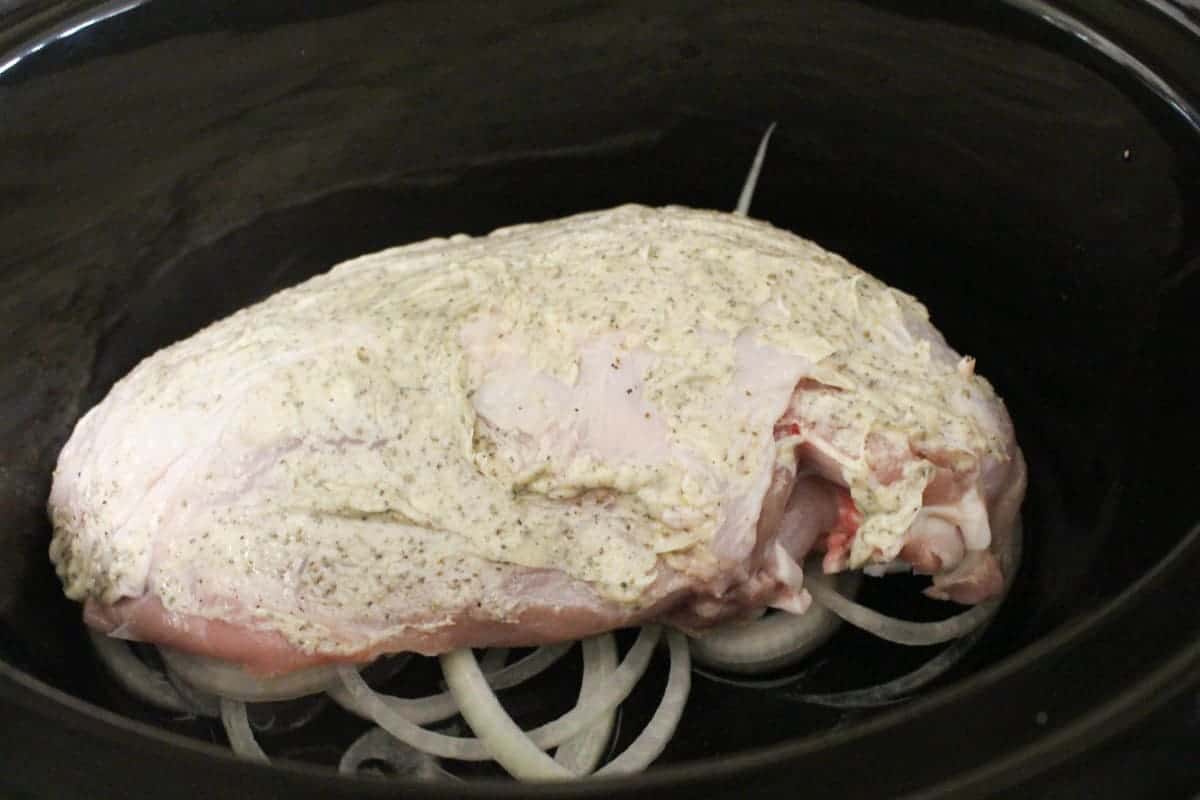 Arrange the carrots around the sides of the slow cooker. I used multi-colored baby carrots but sliced is just as good. Cook on the high setting for 4 hours.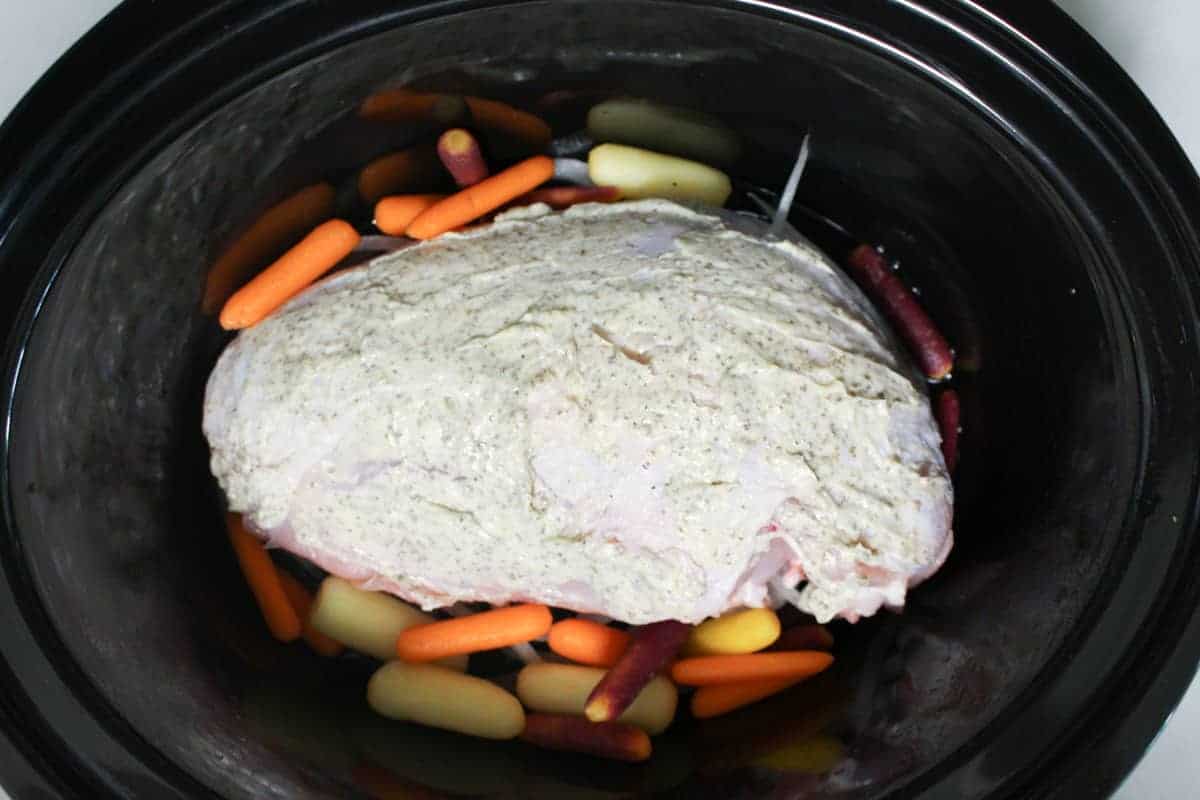 Check the internal temperature of the turkey reaches 165° F before removing it. I do cook mine to 175° F, that's just my personal preference. Let the turkey rest for about 10 minutes transfer to a sheet pan. Broil for a few minutes, to brown and crisp the skin.
The turkey skin will crisp up nicely under a broiler, it shouldn't take more than 3 or 4 minutes to get a nice browned skin.
For quick slideshow directions visit the web story for my slow cooker turkey breast recipe.
Equipment
You need a 6-quart crock pot to accommodate the size of the turkey breast.
A quarter sheet pan is perfect for broiling.
Storage
Store leftovers covered in the fridge for up to 2 days.
Why did my turkey turn out rubbery?
Cooking too long on too low a heat can cause a rubbery texture. This is why I cook mine on the high setting for 4 hours, instead of slower and lower.
How many people will a small 2-pound bone-in turkey breast feed?
This is perfect for two people. In my house, it's enough for dinner and then leftover for sandwiches the next day.
Do I need to add water to the crock pot when making the turkey?
Nope. The juice from the turkey and veggie will be enough.
These sides are great with Turkey
Did you make this recipe? I would love it if you left a comment or review! Be sure to sign up for the email list and follow "A Weekend Cook" on Pinterest and my Facebook page.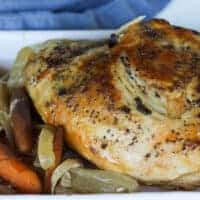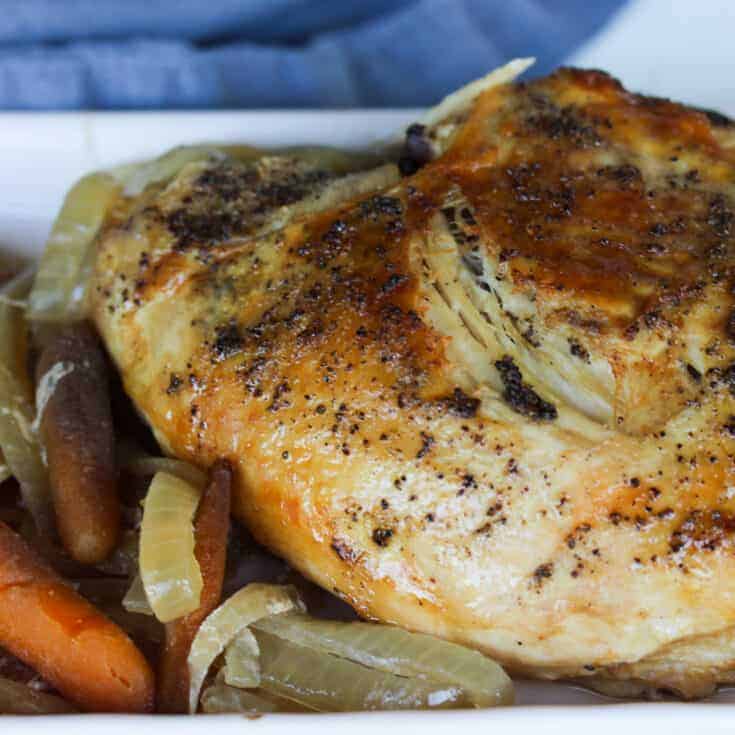 Slow Cooker Turkey Breast
This slow cooker bone-in turkey breast is moist and delicious. After fully cooked add a couple of minutes under the broiler for crispy brown skin. You will never make a turkey breast in the oven again. A 2-pound breast is perfect for two.
Print
Pin
Rate
Ingredients
2

tablespoons

butter

softened

⅛

teaspoon

salt

¼

teaspoon

celery seed

⅛

teaspoon

onion powder

¼

teaspoon

black pepper

¼

teaspoon

garlic powder

¼

small onion

sliced thin

1

2 pounds bone-in turkey breast
Instructions
In a small bowl mix together the soft butter, celery seed, salt, pepper, onion powder, and garlic powder to form a paste.

Loosen the turkey skin and tub 1/3 of the seasoned butter under the skin of the turkey. Rub the remaining seasoning rub on the top of the turkey breast.

Place the sliced onions in the bottom of the slow cooker.

Transfer the turkey breast into a 6-quart slow cooker.

Arrange the carrots around the turkey breast.

Cook on high for 4 hours. Use an instant-read thermometer to check the turkey reaches an internal temperature of 165° F.

When done, let the turkey sit for a few minutes and transfer the turkey breast to a baking sheet and broil (about 4-5 minutes) to brown and crisp the skin.
Notes
Season Generously: To maximize flavor, rub the turkey breast all over with a mix of your favorite herbs and spices. Common options include rosemary, thyme, sage, garlic powder, salt, and pepper. For even more flavor, consider using a marinade or brine before cooking.
Use a Rack: If your slow cooker is large enough, use a rack to lift the turkey breast off the bottom of the pot. This allows the heat to circulate around the turkey for more even cooking and prevents the bottom from getting overly soggy. If you don't have a rack, you can create a makeshift one with aluminum foil or sliced onions.
Check the Temperature: To ensure your turkey breast is cooked thoroughly but not overcooked, use a meat thermometer. The internal temperature should reach 165°F (74°C) in the thickest part of the breast.
Crispy Skin:  For a crispy skin place the Turkey on a baking sheet and broil for a few minutes, if you don't want crisp or brown skin then skip this step.
Nutrition
Serving:
2
g
|
Calories:
171
kcal
|
Carbohydrates:
1
g
|
Protein:
13
g
|
Fat:
12
g
|
Saturated Fat:
8
g
|
Polyunsaturated Fat:
4
g
|
Cholesterol:
65
mg
|
Sodium:
261
mg
Food safety
Check out these slow cooker safety tips and general cooking safety guidelines at USDA.gov.