The Best Old Fashioned Fudge Recipe
This small-batch chocolate old-fashioned fudge recipe is easy to make from scratch. With a little attention to the process, your fudge will turn out perfectly delicious. Transport yourself back to grandmas kitchen with this tasty treat.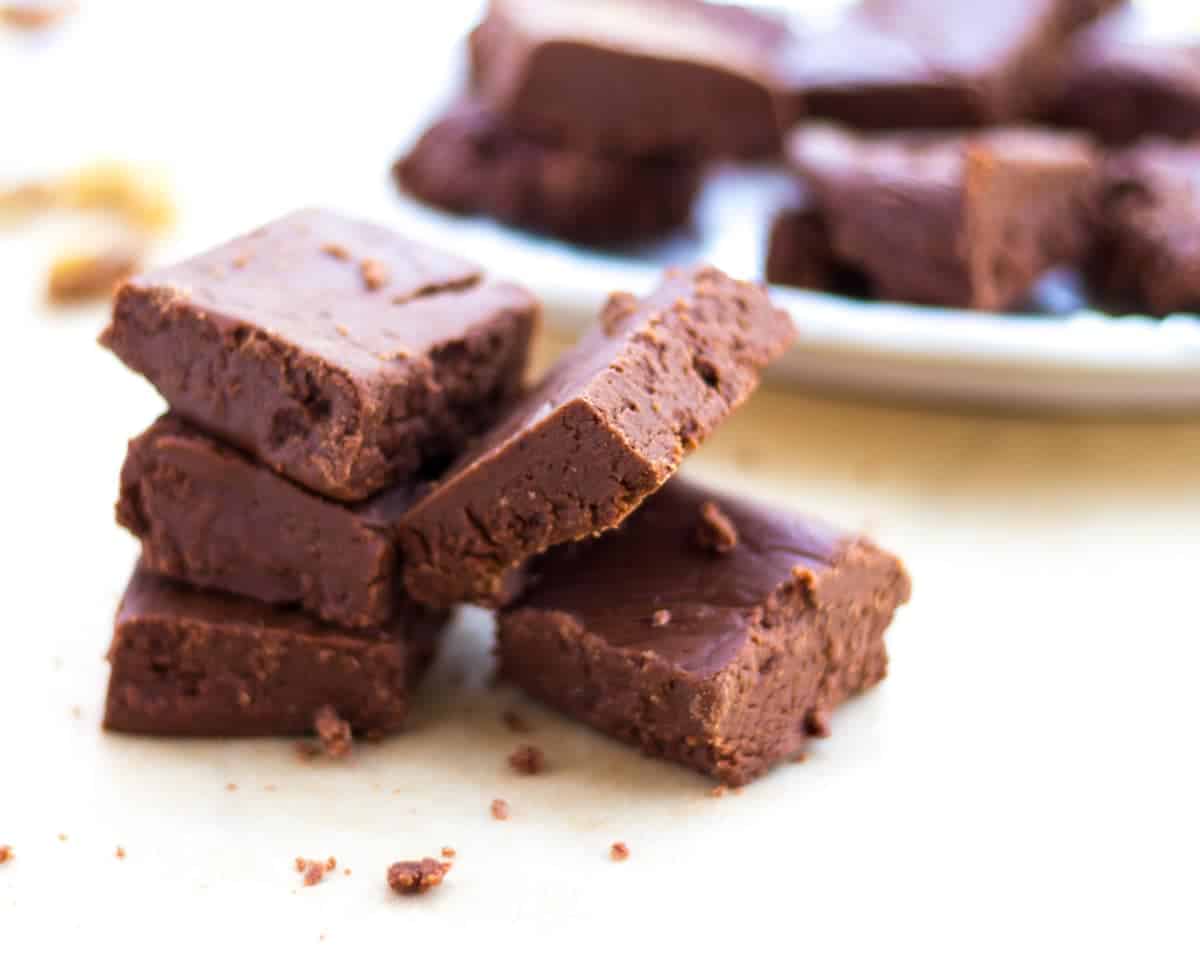 An old-fashioned fudge recipe that's creamy and just a bit crumbly. Another easy classic to try is my chocolate peanut butter fudge recipe. For an extra easy recipe, my slow cooker fudge is delightfully decadent
Ingredient Substitutions & Variations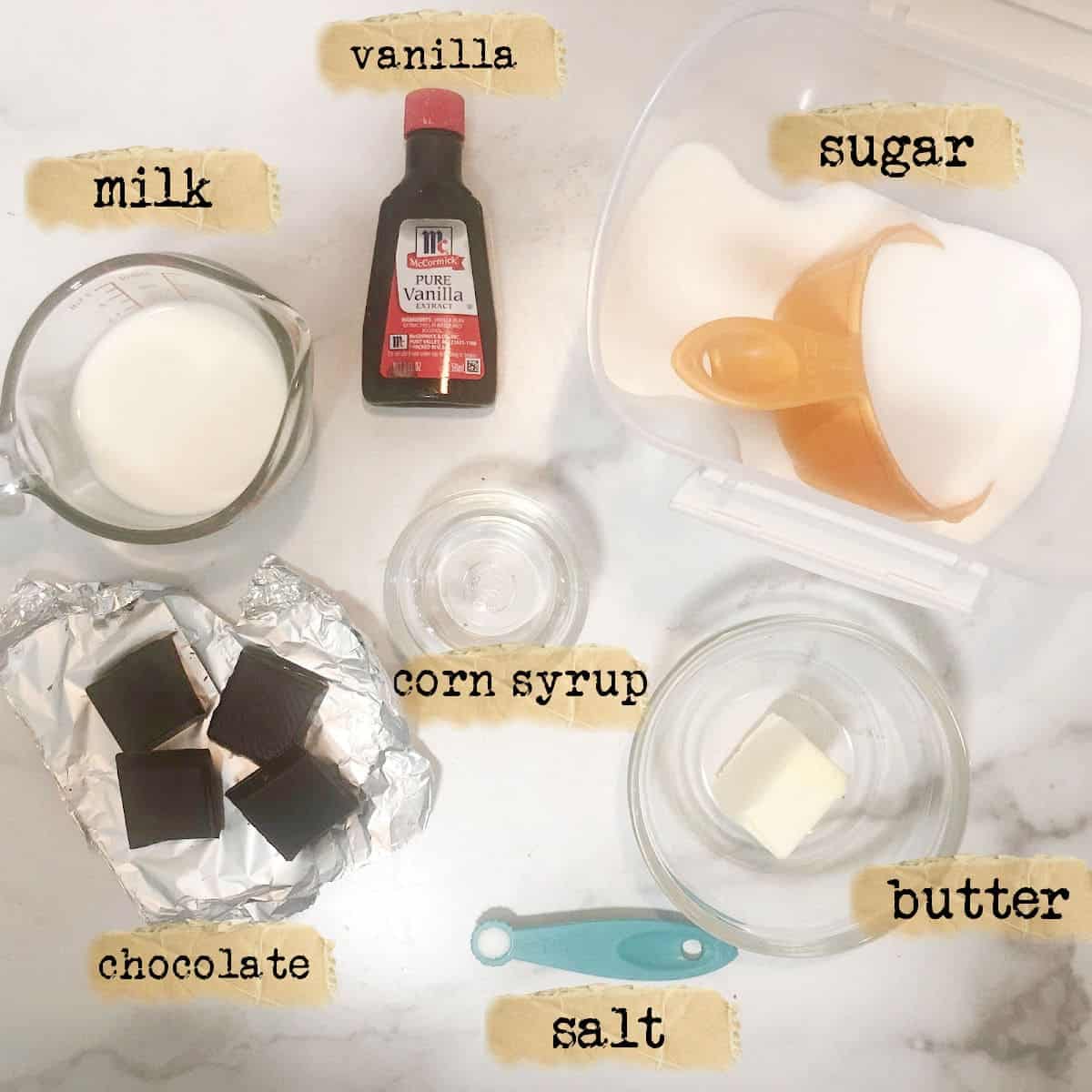 I prefer to use whole milk however, a low fat version works well.
Vanilla paste can be substituted for the vanilla extract at 1:1 ratio.
If you use salted butter, reduce the salt in the recipe to compensate for the added salt in the butter.
The corn syrup prevents sugar crystals from forming so the fudge isn't grainy. Sometimes honey is used as a substitute but you need mild flavor honey so the fudge isn't overpowered by the honey flavor.
Instructions
Melt the chocolate and cook until it reaches 234 degrees Fahrenheit.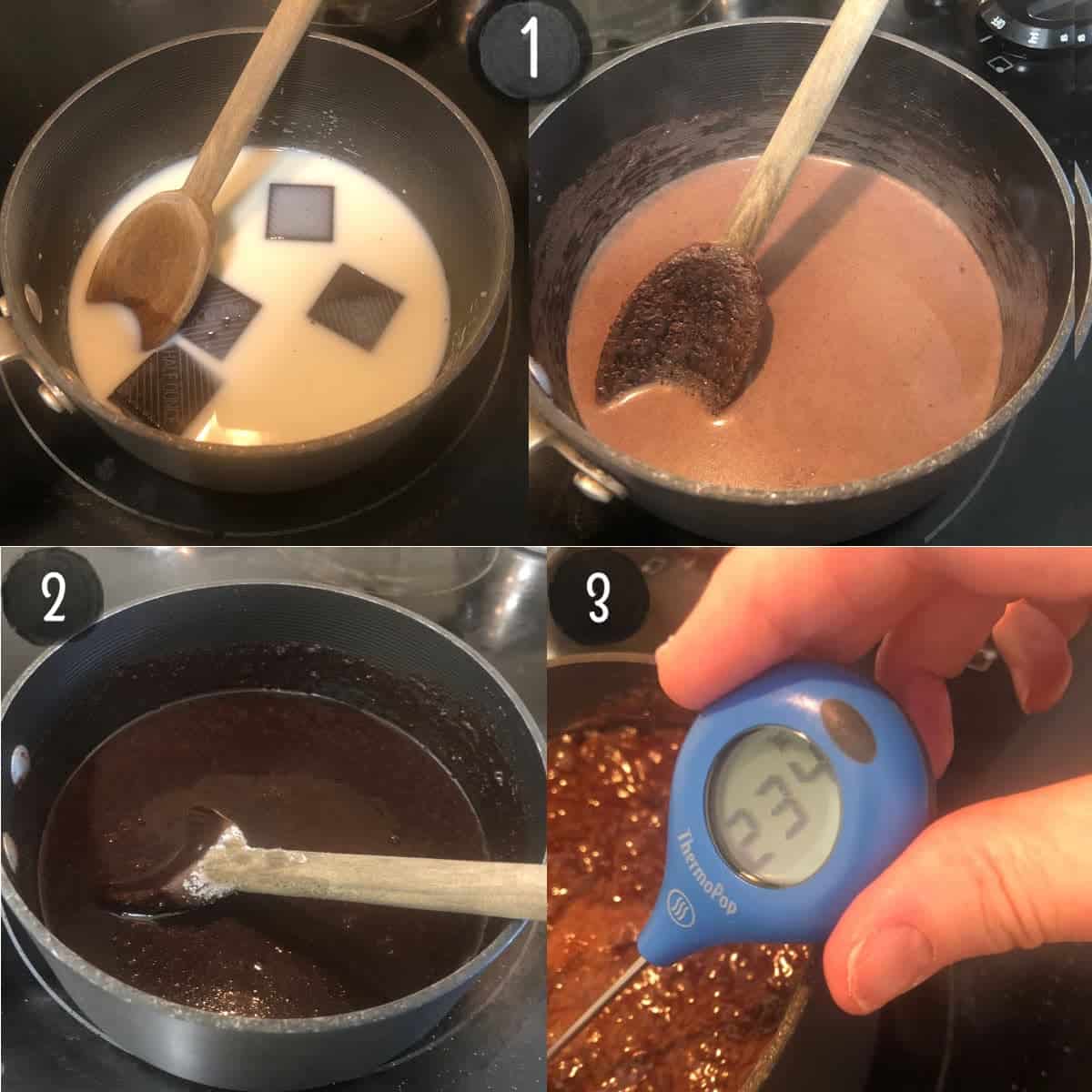 Remove the saucepan from heat, add the butter and vanilla, place the pan on a wire rack, and let cool to 110 degrees Fahrenheit, then beat the fudge mixture until it begins to thicken. If the fudge looks like it's starting to get a little to thick, then it's best to pour it into the baking dish at around 120 degrees.
Pour the fudge into the prepared dish and let cool. Cut into squares.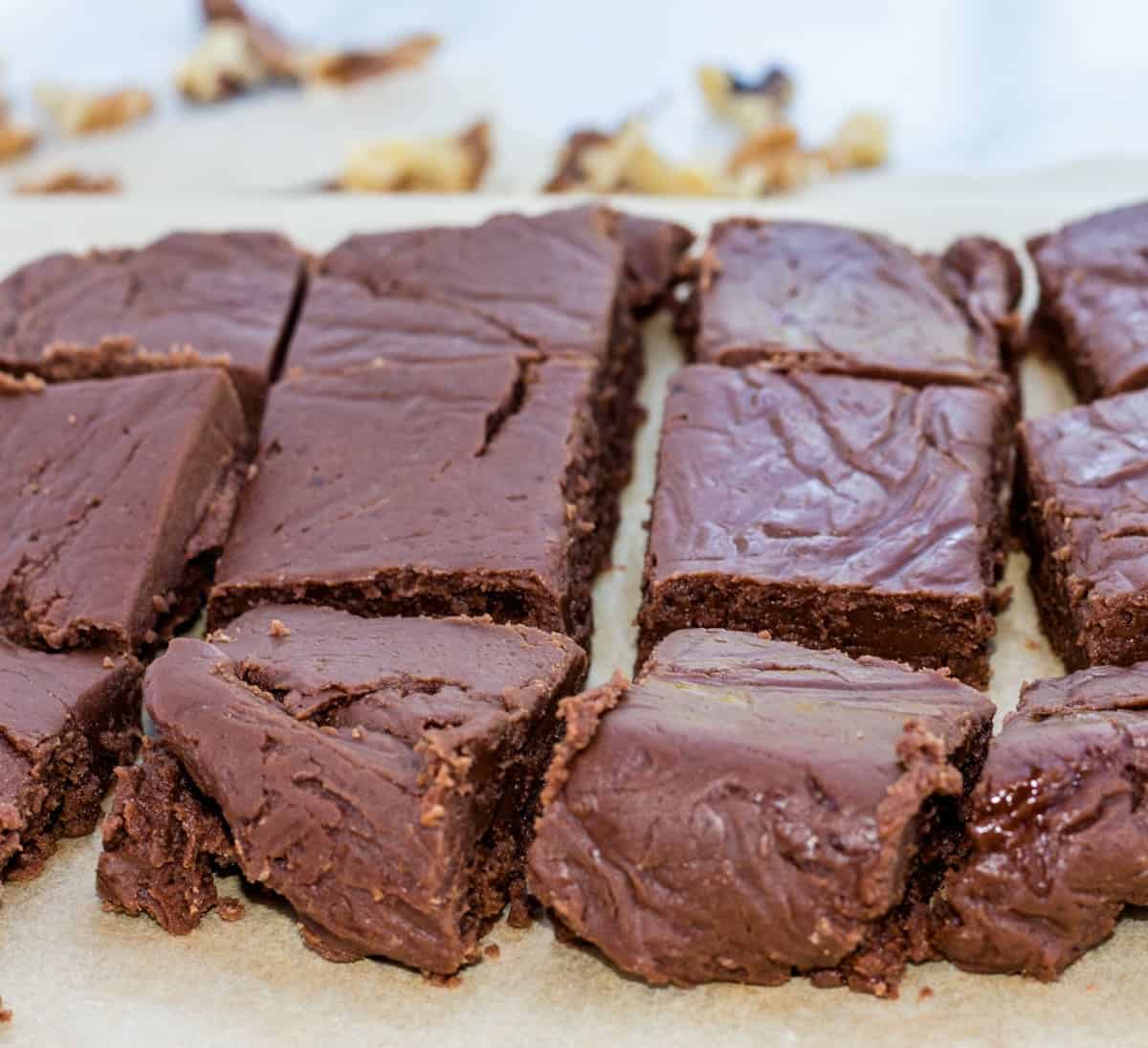 Cooking Tips
The temperature of fudge is vital, so always use a candy thermometer. If you don't have a candy thermometer, an instant-read like the ThermoPop can be used.
Be patient, it takes a good 35-45 minutes for the fudge to cool down to 110 – 120 degrees before it's ready to be mixed and poured. I
The secret to the best fudge is to use a candy thermometer. The temperature of the fudge is vital to proper texture and setting. When making small batches, I use my instant-read ThermoPop thermometer.
Checking the fudge without using a candy thermometer
Maybe you don't have a thermometer or just like doing things the retro way, if you want to make the fudge without a thermometer you will use the method of checking by dropping in a small amount of fudge into a glass of water. The fudge has reached the proper temperature when it reaches the soft-ball stage.
Start testing the fudge after it's boiled for about 10 minutes. Use a clean spoon to drop a small amount of the fudge into a glass of cold water. If the fudge forms a ball that you can squish easily between your fingers then it has reached the soft-ball stage and is ready.
The cold water test works well, but it does have a drawback, the fudge keeps cooking while you are testing so you could go past the desired temperature.
Did you make this recipe? I would love it if you left a comment or review! Be sure to sign up for the email list and follow "A Weekend Cook" on Pinterest and my Facebook page.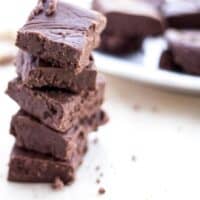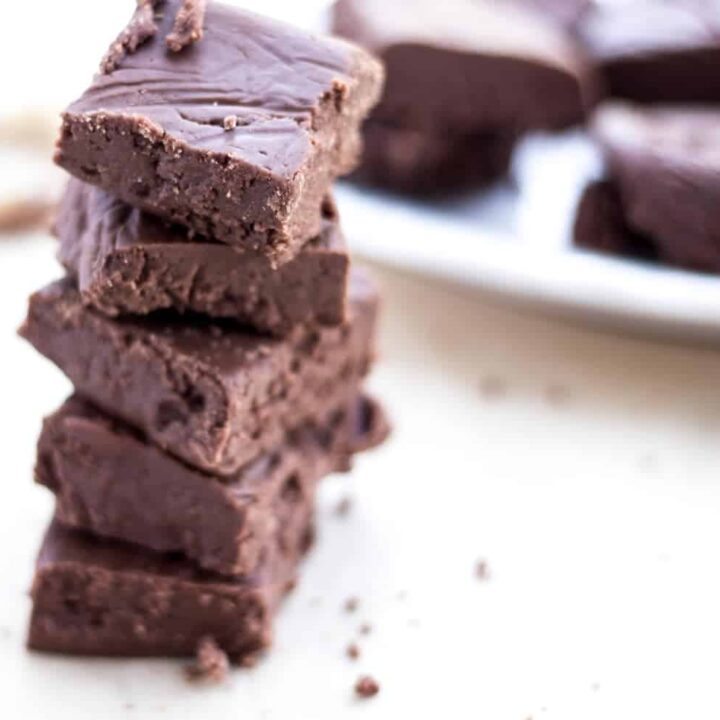 Old Fashioned Chocolate Fudge
This is scrumptious chocolate fudge that great to make and give as a gift. From scratch made easy.
Print
Pin
Rate
Ingredients
3/4

cup

milk

2

ounces

unsweetend chocolate squares

2

cups

sugar

1

tablespoon

light corn syrup

2

tablespoon

unsalted butter

1/8

teaspoon

salt

1

teaspoon

vanilla extract
Instructions
In a small saucepan heat warm the milk and chocolate over low heat until chocolate is melted.

Add the corn syrup, sugar, and salt and continue cooking stirring constantly until the mixture comes to a boil, about

Once boiling stop stirring and continue cooking until the mixture reached 234 degrees Fahrenheit, you will need to use a candy thermometer, about 12 minutes.

Remove from heat and add the butter and vanilla. DO NOT STIR.

Leave the candy thermometer in the pan and when cooled to 110 degrees, about 40-45 minutes,

Use a hand mixer on low, beat for about 2-3 minutes until the fudge begins to lose it's glossy appearance. Alternately you can use a wooden spoon to beat in the vanilla and butter for about 15 minutes.

Pour the fudge into a foiled lined or buttered dish and let cool until hardened.

Cut into square.
Nutrition
Serving:
1
g
|
Calories:
139
kcal
|
Carbohydrates:
29
g
|
Protein:
1
g
|
Fat:
3
g
|
Saturated Fat:
2
g
|
Polyunsaturated Fat:
1
g
|
Cholesterol:
6
mg
|
Sodium:
37
mg
|
Sugar:
28
g