A small batch lemon coffee cake baked n a six inch cake pan is perfect for a two person household. You just might have a little left over to take to work to enjoy with your Monday morning coffee. I'm a sucker for lemony desserts or breads. The coffee cake is also great topped with fresh raspberries. I got a little impatient and decided to bake and photograph right away so I could dig in!
Use your imagination and envision plump red raspberries gently nestled on top of this tasty coffee cake! I think I need to bake another one tomorrow after a quick mid week run to the farmers market for those raspberries.
Enjoy!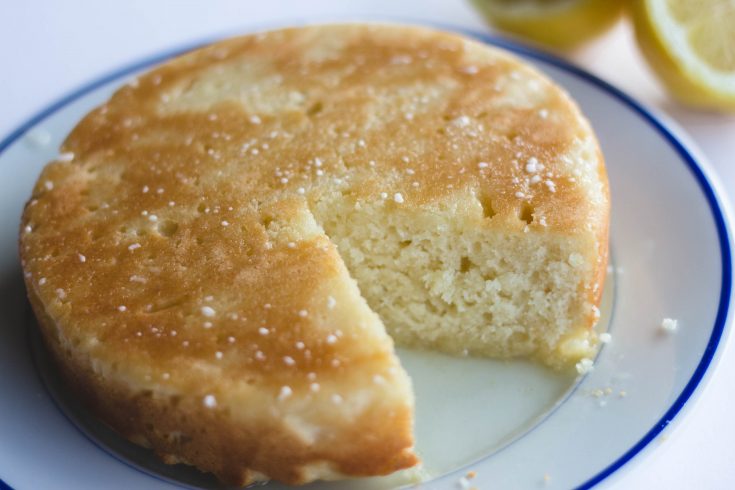 Yield: 4 servings
Lemon Cream Cheese Coffee Cake with Lemon Glaze
Prep Time: 10 minutes

Cook Time: 20 minutes

Total Time: 30 minutes

Lemony and moist coffee cake great for dessert or for a breakfast treat.
Ingredients
Coffee Cake
4 ounces cream cheese
1/4 cup butter
6 tablespoons sugar
1 egg, room temperature
2 tablespoon lemon juice
1 1/2 teaspoons baking powder
1 cup flour
Creamy Lemon Glaze
1/3 cup sifted powdered sugar
1/2 tablespoon heavy cream
2 tablespoon lemon juice
Instructions
Coffee Cake
Place oven rack in middle position and preheat oven to 350 degrees.
In a medium bowl beat the cream cheese and butter until nice and fluffy, about 1- 1/2 minutes with a hand mixer on low setting.
Beat in the sugar until well blended or "creamed".
Beat in the egg.
In a small bowl mix the flour and baking powder then add to the batter mixture.
Add the lemon juice and mix.
Spoon the batter into a 6 inch cake pan or mini loaf pans, spread evenly.
Bake at 350 for about 20 minutes or until a toothpick or cake tester inserted comes out with just a few crumbs on it. Careful not to overcook.
Set aside and let cool while you make the lemon glaze.
Remove from pan and place on serving dish and drizzle with the lemon glaze.
Sprinkle top with powdered sugar.
Creamy Style Lemon Glaze
Mix all lemon glaze ingredients in a small bowl or measuring cup and stir with a small whisk until well blended and smooth.
Notes
Mixing the glaze in a small measuring cup with a pour spout makes it easy to drizzle the glaze over the coffee cake.
Recommended Products
As an Amazon Associate and member of other affiliate programs, I earn a small commission from qualifying purchases. Any commission earned will not increase the cost to the buyer.