A hearty bowl of slow cooker beef stew for two is perfect for those chilly nights. Fork tender beef slow-cooked in a crock pot or slow cooker melds with the flavors of carrot, onions, and potatoes. My Dad made this for us all time, I adapted his recipe for the crock pot. Cozy comfort food for two and the perfect make-ahead meal for those busy holiday weekends.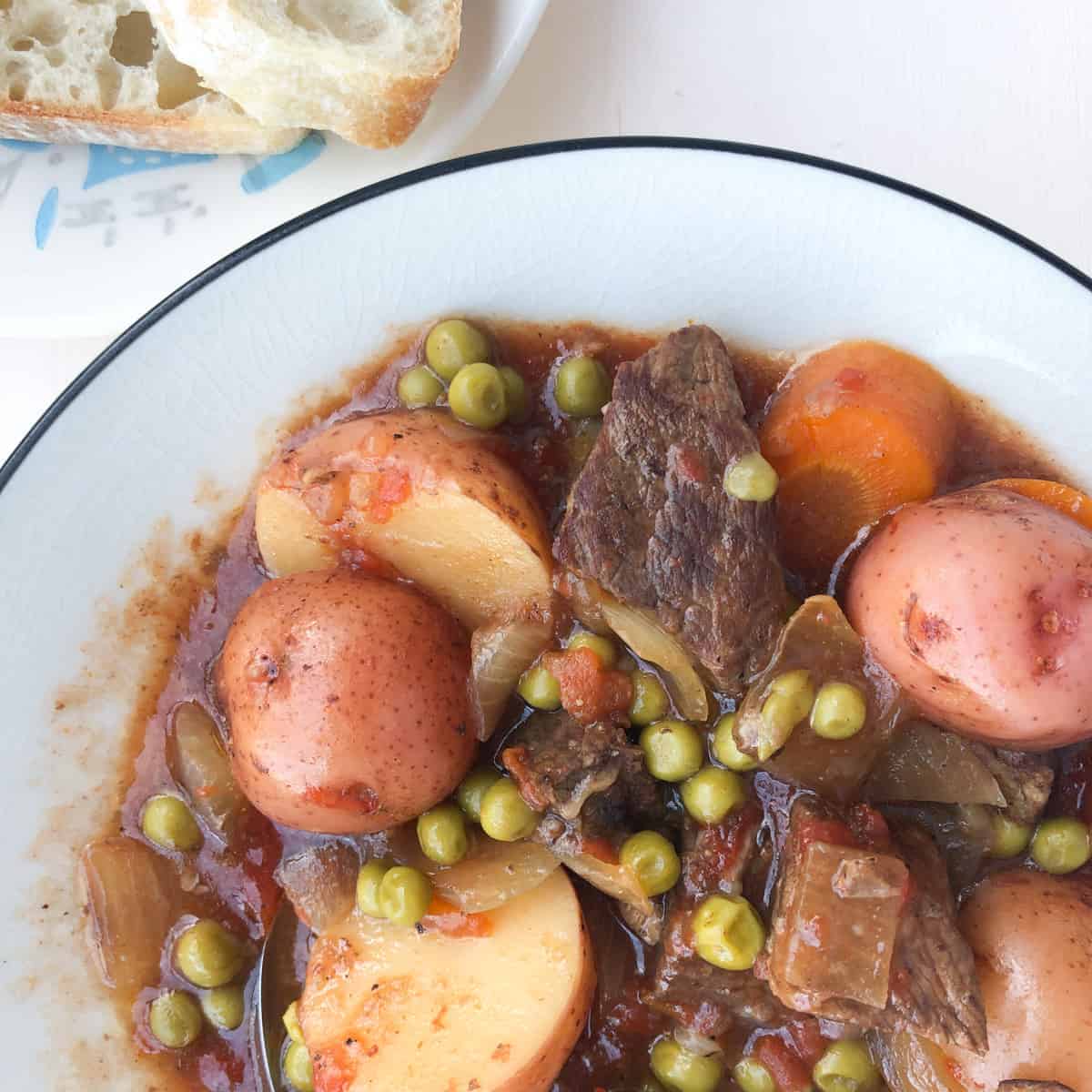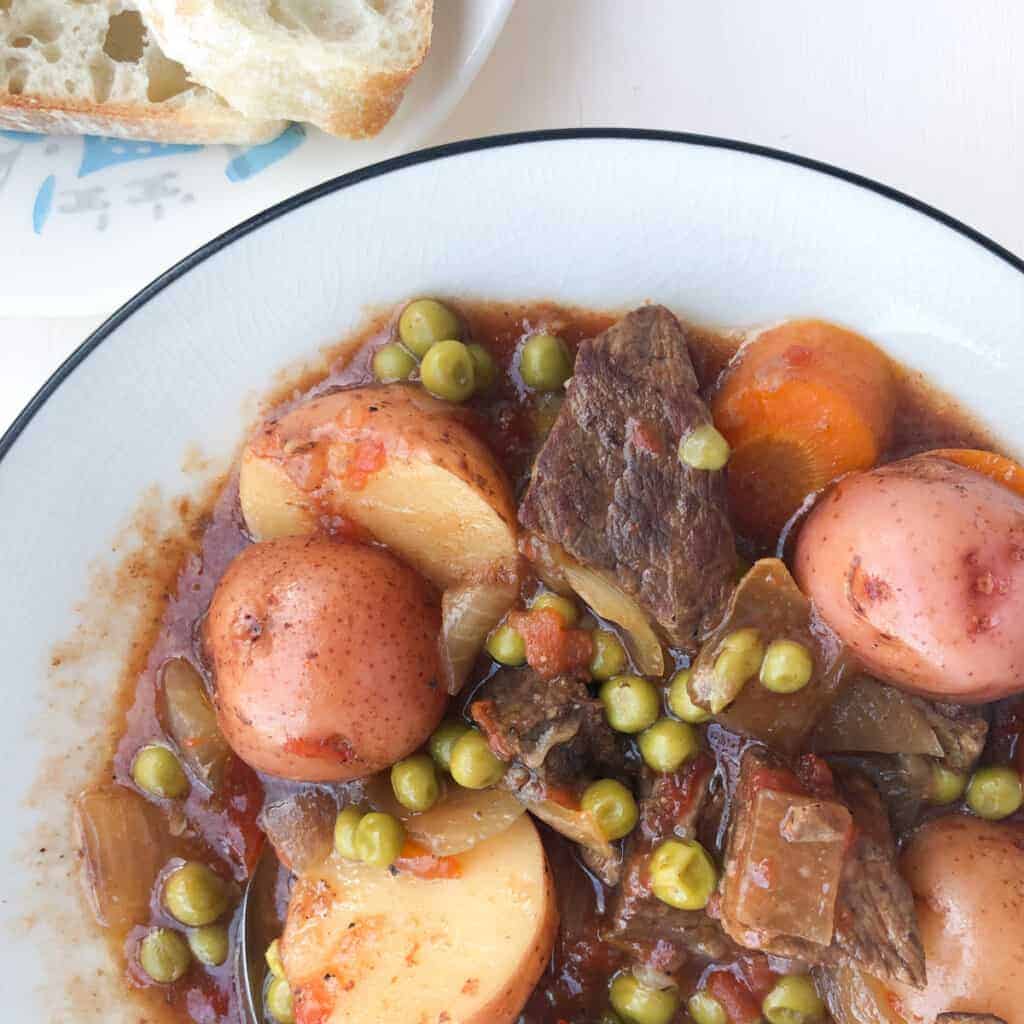 This beef stew recipe can be doubled if you want more leftovers or more servings, however, you will need to use a larger crock pot or slow cooker.
Jump to:
Main Ingredient Notes and Substitutions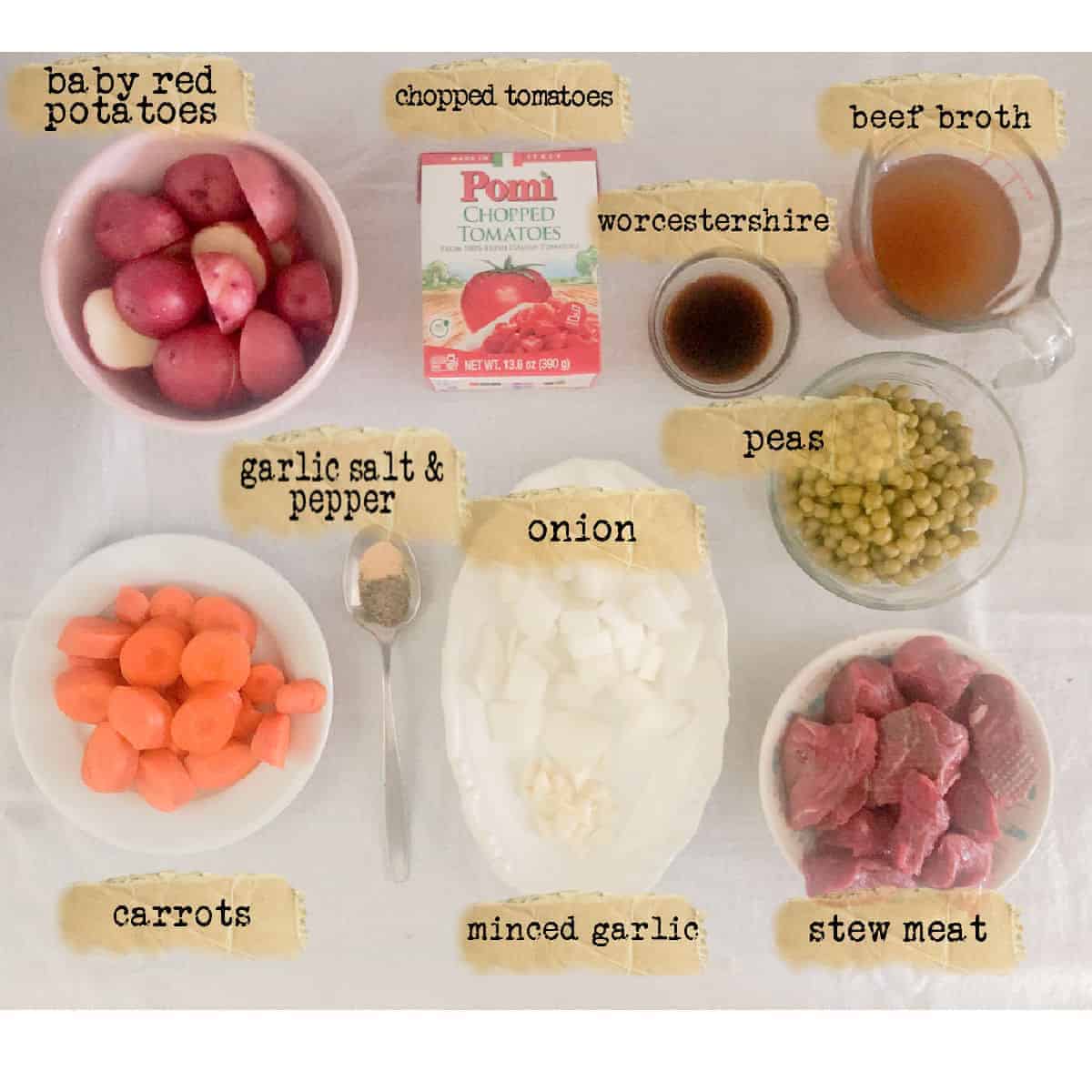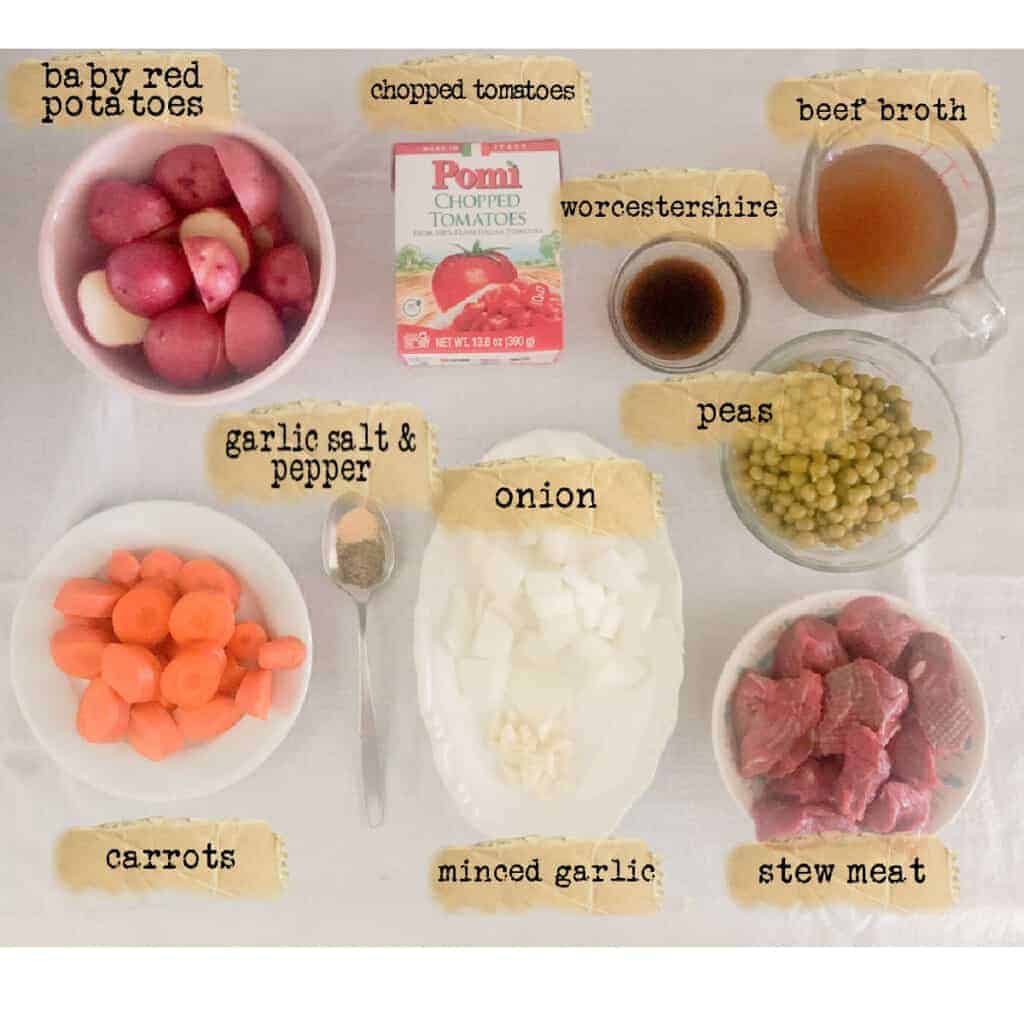 Beef Chuck makes a great stew meat that slow cooks up fork tender. The secret to a tender beef stew meat is to pick a cut with nice marbling or those white flecks or fat running through the meat. This recipe uses about ¾ pound of Chuck roast, if you can't get a small enough amount then freeze the remaining portion of beef.
Vegetables - onions, and a fresh or frozen carrot and peas. When I;m in the mood for more veggie than meat I'll also add green beans and Brussel sprouts. Sometime I'll add Broccoli florets during the last 45 minutes of cooking.
Potatoes - I use unpeeled baby red potatoes or Yukon Gold. If using a Russet potato, peel before cutting and adding to the stew.
Seasoning - of pepper, garlic, garlic salt are used. You can also add thyme or other herbs for an additional flavor note. Dredging the meat in flour and seasoning makes a nice beef stew gravy. If you want to lessen the sodium then use a garlic powder instead of the garlic salt
Low sodium beef broth keep the sodium level lower. If you are serving wine with the stew you can pour a little bit into the sauce.
Tomato sauce and Worcestershire is used as a base for the beef stew gravy. I use don;t have tomato sauce use water diluted tomato paste. Taste the sauce and add more seasoning if needed.
See the recipe card for ingredient quantities.
Recipe Directions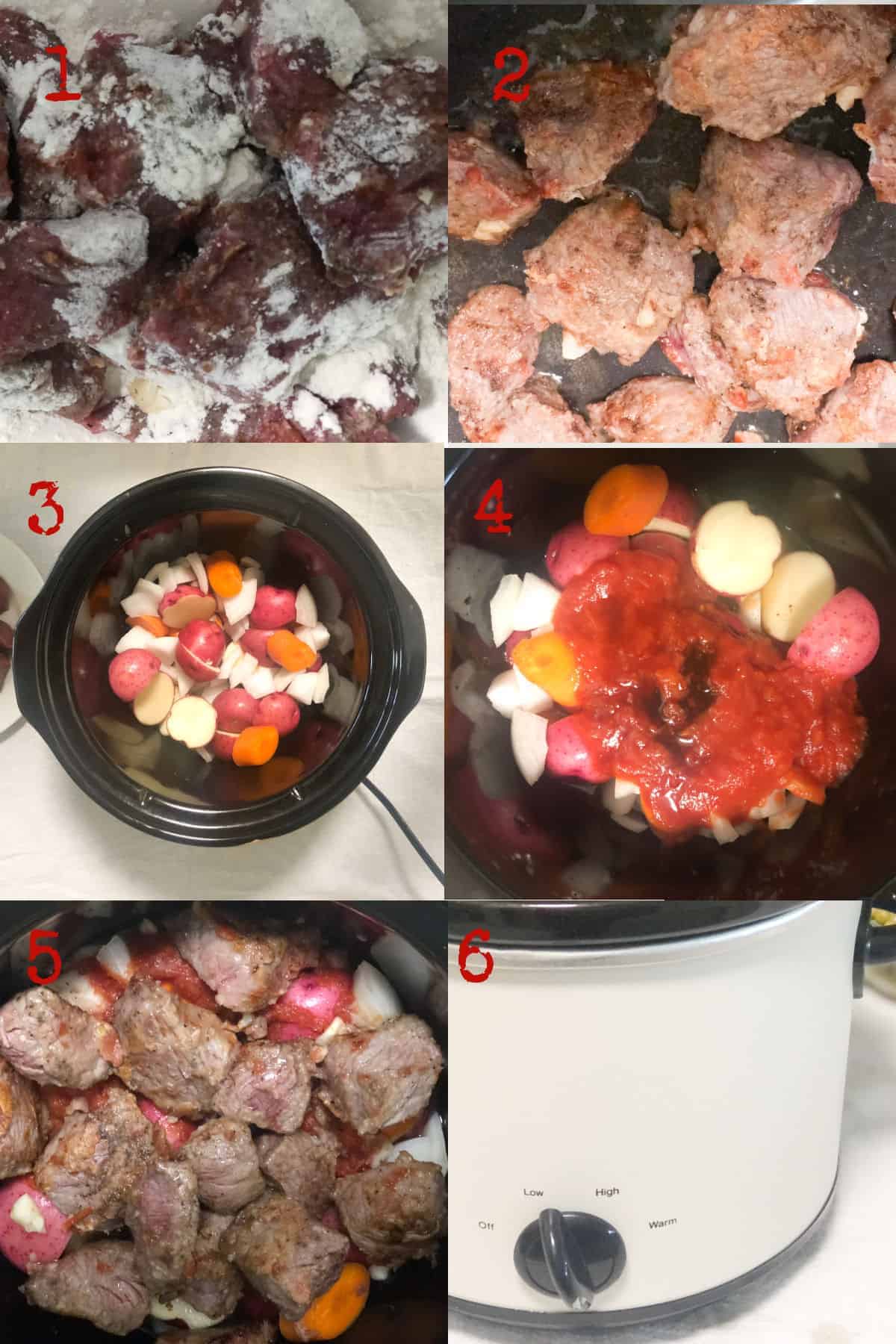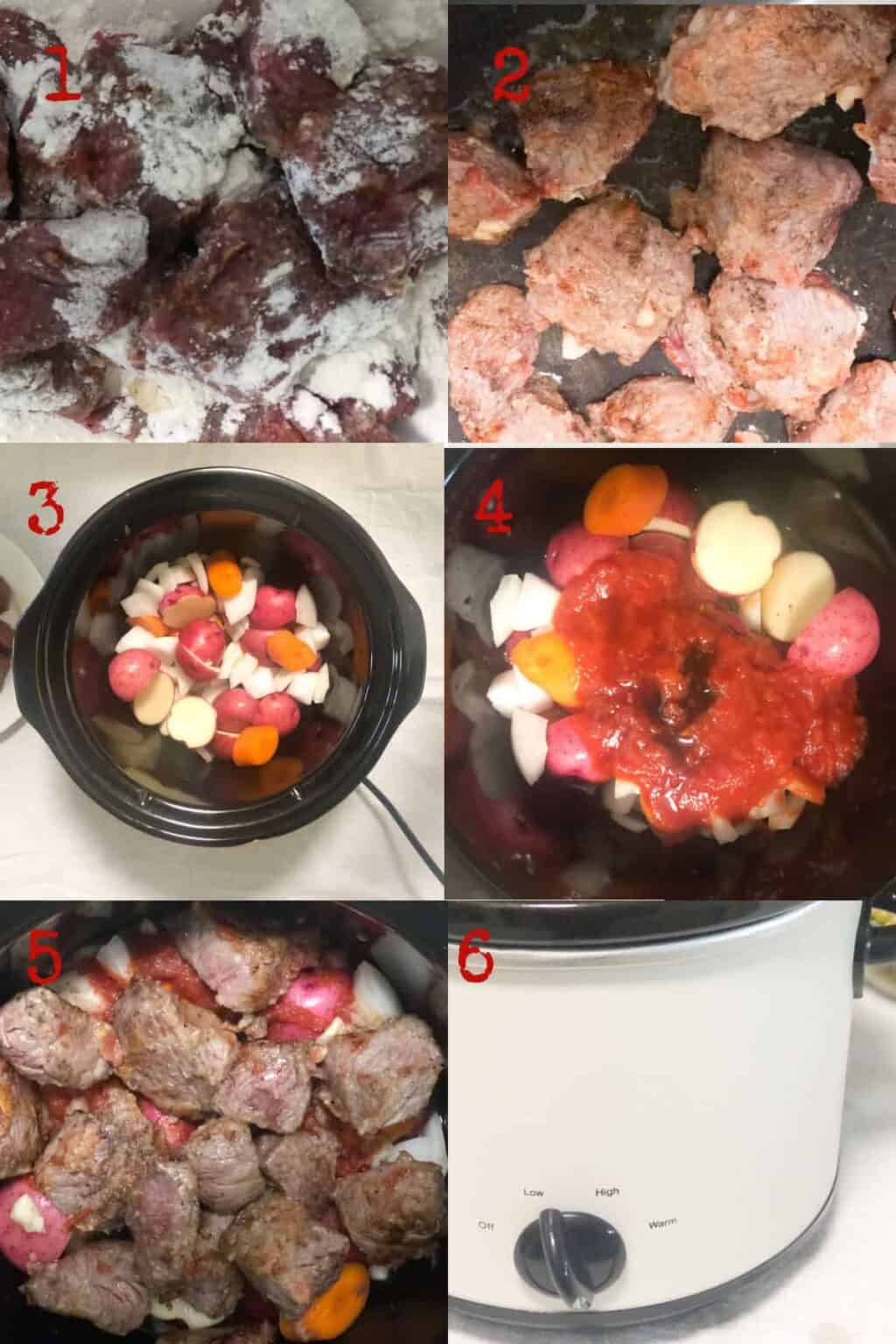 Dice the beef into bite size cubes and season the beef with pepper and garlic salt. In a shallow dish add the flour and dredge the beef stew cubes into the flour and coating all sides.
Heat oil in a 10-inch skillet. Brown the beef.
Add the diced onion, minced garlic, potatoes, sliced carrots to a 3 quart slow cooker.
Pour in the beef broth, tomato sauce, and Worcestershire.
Add the browned beef stew meat on top of sauce.
Cover and cook on low for 5 ½ hours and add the peas during and continue cooking for another 30 minutes for 6 hours total.
Serve with warm crusty bread and a glass of nice red wine.
When the weather starts to cool, I revert back to my Midwest roots and crave meat and potatoes! Another tasty recipe that's super easy is my slow cooker tri-tip roast and my classic chili recipe.
See the web story version of my beef stew for two recipe.
Equipment
If you are looking for a smaller programmable slow cooker the 3.5-quart slow cooker is a nice option.
Visit A Weekend Cooks Small Kitchen Store for great recommendations on the best products to use when cooking in your small kitchen and whipping up small-batch treats.
Storage
Store the leftover beef stew in a covered bowl and refrigerate for up to 2 days. Beef stew is the perfect make-ahead meal because it tastes even better the next day.
Beef Stew Tips
Dredging the beef in flour before browning will help to thicken the sauce however if you want to save some time and clean up just season the meat with pepper and garlic powder and place directly in the slow cooker.
If you want a thicker sauce mix a tablespoon of cornstarch with enough water to make a paste and stir in when you add the peas.
Cook low and slow for tender stew meat.
What to Serve with Beef Stew
Crusty french bread.
Serve the stew over egg noodles.
A green salad or sliced tomato salad.
Common Questions
Can I make this on the Stovetop?
Yes, you will use extra liquid and slow simmer the meat and sauce for about an hour before adding in the vegetables. Add the frozen peas when potatoes are almost done. It usually takes about 2 or 2.5 hours to slow cook on the stovetop. Remember slow and low for fork-tender beef.
Do I need to brown the beef before adding it to the slow cooker?
It's not critical, but browning the beef first will add a nice flavor note and help to thicken the sauce.
How do I make beef stew meat tender?
You want a cut of beef that is well marbleized. In my opinion, a Chuck beef cut is best, it's a tougher cut of beef and will need to cook low and slow to become tender which is what makes it the perfect stew meat full of flavor.
If cooking on the stovetop you need to cook for at least 2 hours at a low temperature. If using a slow cooker for 6-8 hours on the low setting.
📖 Recipe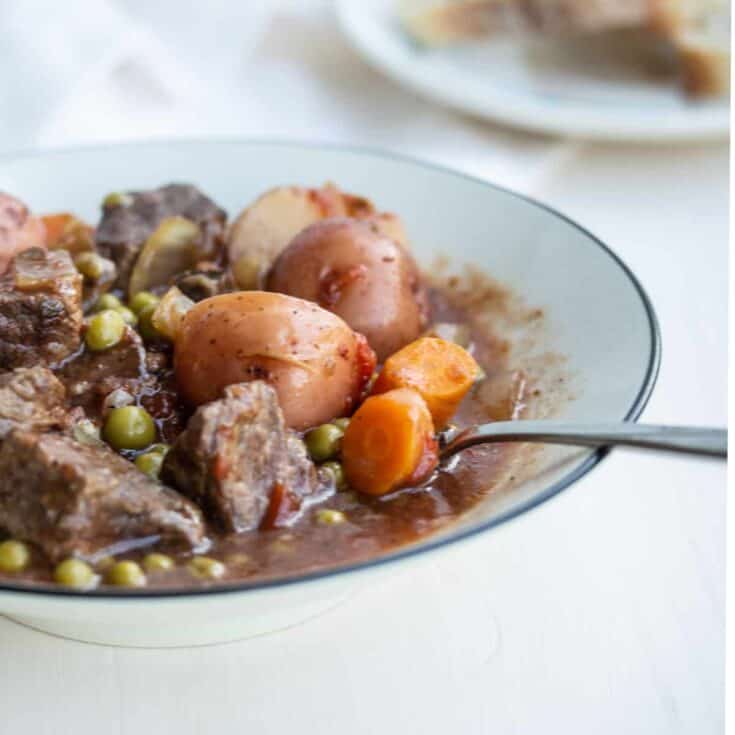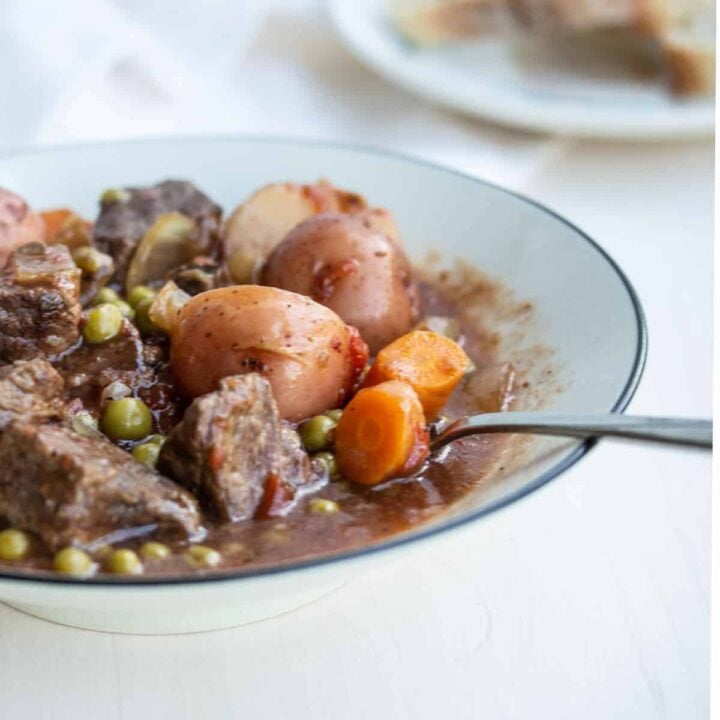 Slow Cooker Beef Stew for Two
Total Time:
6 hours
15 minutes
An old fashioned comfort food beef stew recipe for two, with a ittle leftover for the next day. Perfect meal for a chilly evening..
Ingredients
¼ teaspoon pepper
⅛ teaspoon garlic salt
½ cup flour
1 tablespoon vegetable oil
¾ pound beef chuck, cut into 1-inch cubes
¼ onion, diced
4 baby red potatoes, halved
1 carrot, sliced thick
2 cloves garlic, minced
1 cup low sodium beef broth
1 (14 ounce) can chopped tomatoes
2 teaspoons Worcestershire sauce
Instructions
Season the beef with the garlic salt and pepper. In a shallow dish coat the stew meat with the flour.
coating well.
Over a medium-high heat, heat oil in a 10-inch skillet. Brown the beef on all side, about 2 minutes
Add the onion, potatoes, garlic and carrots to a 3-quart slow cooker.
Pour in the beef broth, tomato sauce, and Worcestershire.
Add the browned beef.
Cover and cook on low for 6 hours. After 5 ½ hours add the peas and continue cooking.
Serve with warm crusty bread.
Notes
Recipe can be doubles, however you will need to use a larger slow cooker or crockpot.
Use a well marbled cut of beef.
Nutrition Information:
Yield:

3
Serving Size:

1
Amount Per Serving:
Calories:

714
Total Fat:

13g
Saturated Fat:

4g
Trans Fat:

1g
Unsaturated Fat:

9g
Cholesterol:

112mg
Sodium:

401mg
Carbohydrates:

99g
Fiber:

9g
Sugar:

8g
Protein:

50g
The nutritional information provided here are estimates and are not calculated by a registered dietitian.
Slow Cooker Food safety
See safe food handling guidelines. and slow cooker safety at USDA.gov