It's Fall and Pomegranate recipes are showing up! My pomegranate orange butter was inspired one day while at work a co-worker brought in a large bowl of organic pomegranates fresh from her tree, so ripe and ready to eat. I recently cooked up a batch of pumpkin butter, apple butter and strawberry rhubarb jam so I was in condiment mood. With the holidays quickly approaching, I thought a nice sweet pomegranate butter would be the perfect treat to slather on Thanksgiving morning homemade biscuits, toast quarter, or hunks of baguette.
How to Cut a Pomegranate and remove the seeds
Remove the stem with a paring knife by cutting around the stem being careful not to cut too deep into the flesh. You want o cut in at an angle to remove the cone.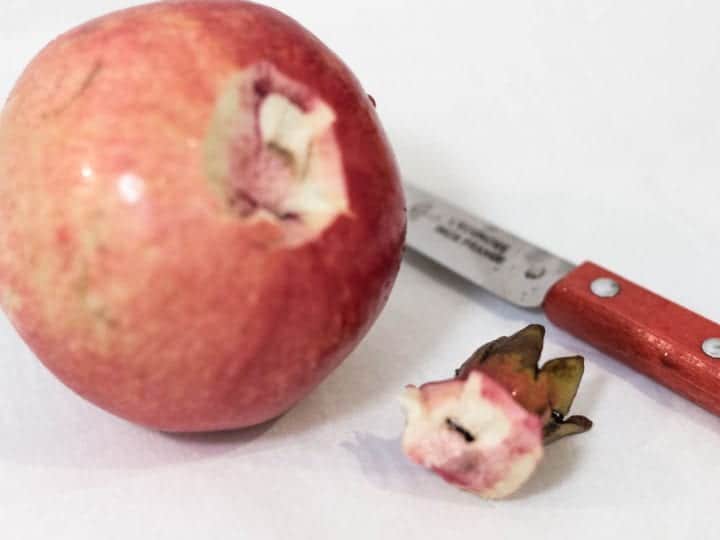 With your paring knife start at the top area where you removed the stem and score the fruit going down the ridges toward the bottom. Cut through the rind of the fruit and almost through the white pith. Do not cut into the seed.
To crack the Pomegranate open, place your thumbs on the top of the fruit and press, then gently pull apart. The Pomegranates should crack open and expose the juicy seeds within.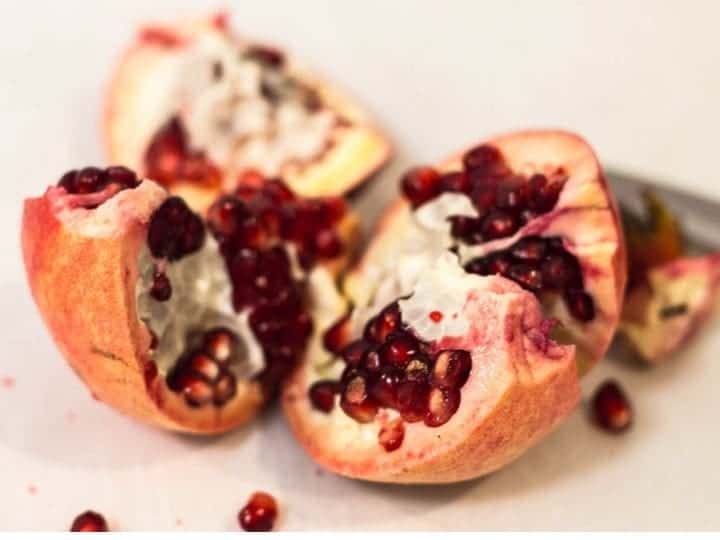 To remove the seeds,gently pry the seeds out with a small spoon. I suggest laying down a sheet of parchment paper when working with the pomegranate
One medium pomegranate should provide the 2 tablespoons of seeds you need.
Preparing the ingredients
Place the butter in a small bowl and let it softened while your prepping the orange and pomegranate.
Use a Microplane grater to easily zest the orange, then cut in half and juice the orange for the two tablespoons. Navels oranges are very juicy and I only needed to use half one large orange.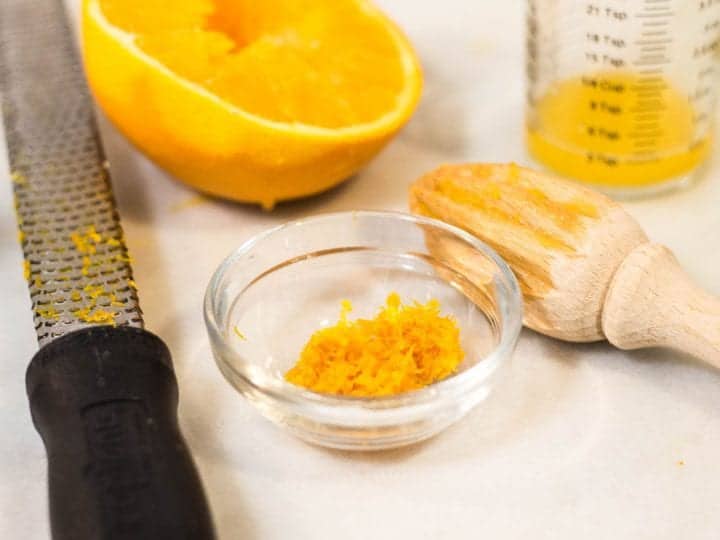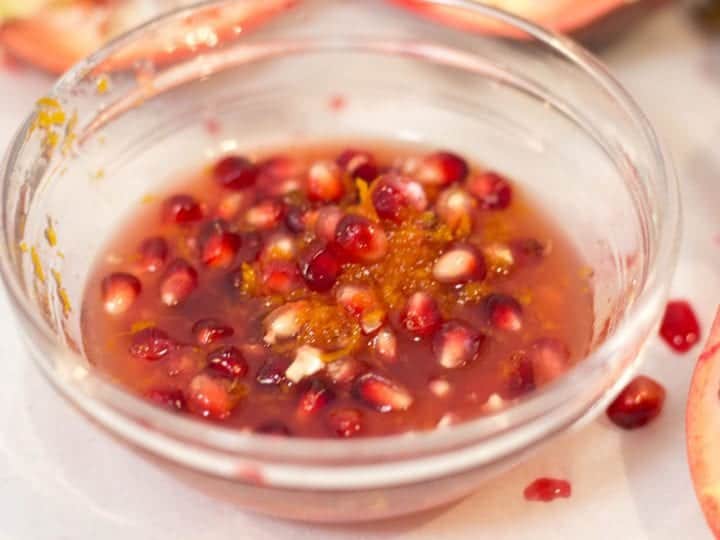 In a small bowl mix the pomegranate seeds, orange juice, orange zest and honey. Use an immersion blender to break up the seeds into a chunky paste. If you have too much juice from the seeds, drain a little bit off.
Add the pomegranate mixture to the butter bowl and mix up with a wood spoon.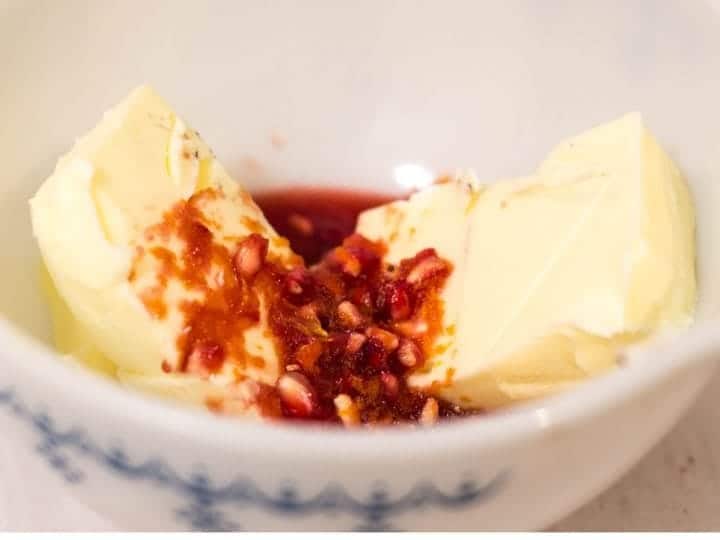 When are Pomegranates in season?
Pomegranates are a Fall fruit and the season runs from September and goes through the end of November.
How to select a ripe Pomegranate?
Look for a round, heavy fruit heavy for their size fruit. Ideally, the flesh should be free from bruises or cuts.
How to store Pomegranates.
Store the whole fruits in a cool dry area for up to a month, the fruit can also, for up to two months. The seed, called pips, can be frozen for up to one year in an airtight container or freezer bag.
What does a Pomegranate taste like?
The seeds are the edible part of the fruit and they have a sweet and tart flavor.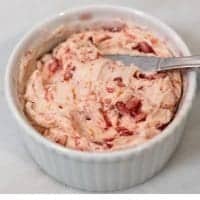 Pomegranate Orange Butter
Sweet and tart butter for your fall holiday meals.
Print
Pin
Rate
Ingredients
8

tablespoons

butter

room temperature

2

tablespoons

pomegranate seeds

2

tablespoons

honey

1

tablespoon

orange juice

1

tablespoon

orange zest
Instructions
Soften the butter in a medium bowl.

Zest and juice the orange.

Cut open the pomegranate.

In a small bowl add the pomegranate seeds, orange zest, orange juice, and honey.

Use an immersion blender to mix and break up the seeds. Mixture will be chunky.

Add the pomegranate mixture to the softened butter and mix together with a wooden spoon. Drain off any excess juice,
Nutrition
Serving:
1
tablespoon
|
Calories:
122
kcal
|
Carbohydrates:
5
g
|
Fat:
12
g
|
Saturated Fat:
7
g
|
Polyunsaturated Fat:
3
g
|
Cholesterol:
31
mg
|
Sodium:
92
mg
|
Sugar:
5
g